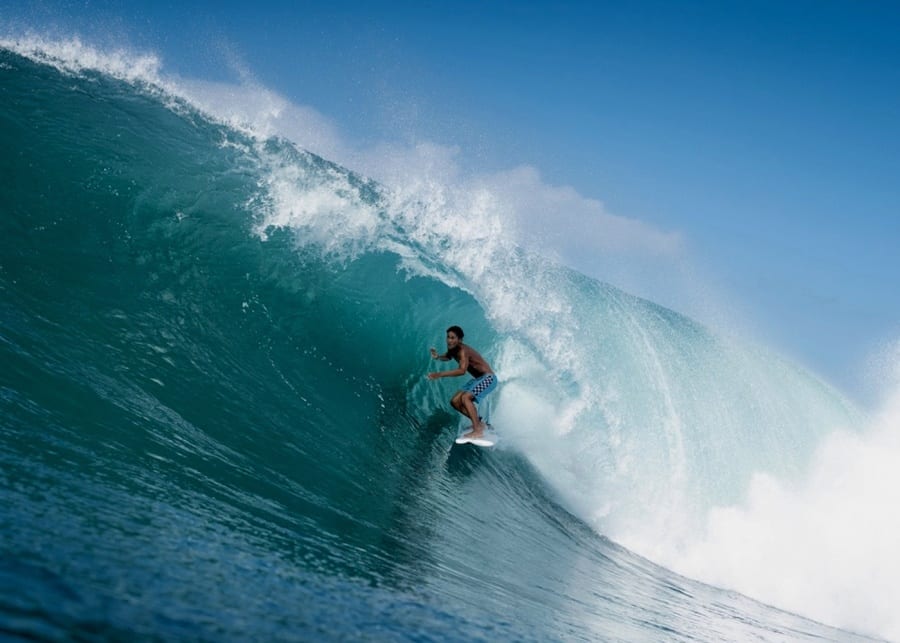 Professional surfer, Rio Waida, talks about the long awaited Tokyo Olympics, how surfing is in his blood, and he even reveals his favourite Bali breaks!
Words by Rebecca Foreman
After casually chatting with Rio Waida about his rigorous daily surfing routine, I'm not at all surprised to hear that the young gun will be representing Asia in the Tokyo Olympic Games. This is a young man dedicated to dominating the waves, never venturing far from the shore or the best breaks in Bali. Coached by Bali's own legendary Tipi Jabrik, Rio is destined for greatness in the surfing arena for his special brand of aquatic aerial trickery.
Rio, please tell us a bit about yourself.
I'm 21 years-old and was born in Saitama, a city in Japan. My father is from Jember in Java, Indonesia. My parents met when my Mum visited Indonesia from Japan. I moved to Bali when I was five years of age and have always lived in Jimbaran, not far from the beach.
Can you tell us the story of how you started surfing?
My parents have always bodyboarded so every time they went to the beach, I had to hang out and wait for them. Then I started bodyboarding also and it wasn't long before I started standing up surfing on the bodyboard. I guess that's when my parents decided to buy me a proper surfboard. I remember one day, my friends started going out very deep into the green water and I just followed them out past the white waves. No one really taught me how to surf, I just learned along with my friends in Jimbaran, Kuta Beach, and then Uluwatu where my parents used to board. I was always having fun in the surf and so were my parents, so I was never afraid of how big the waves were.
Currently, how many hours do you surf on average each day?
Most days it's two surfing sessions a day, so maybe about six hours on a good day. If I surfed three times a day, I would be exhausted. But I'm usually in bed at 9pm!
How do you keep up? Tell us your daily routine.
Normally I wake up at 5am everyday to walk my Golden Retrievers. I have five big dogs and my neighbours are scared of them so I take them out early so not to upset anyone. Then when I get back, I'll do some stretching before breakfast at home. My mum cooks very good Japanese food, so I eat very well. Lots of rice, fish and chicken. Then I check the waves, forecasts and tides on the webcam, and decide where I'm going to surf. Then I'll go surfing for about 2-3 hours. After lunch, I'll have a quick nap for an hour or so, then I go surf again if the waves are good. If not, I work out. If the waves are not crazy then I will alternate with a workout in the morning, usually at F45 Echo Beach, then after that I surf in Canggu. In my lead up to a competition, I can easily go to F45 every day. I've also started doing a bit of yoga for flexibility, especially in my shoulders.
What kind of injuries do you need to look out for in surfing?
I can get stiff shoulders, because of all the paddling. When I do airs (aerials) sometimes I can land hard on my ankles. But for me, so far there hasn't been anything serious. Touch wood!
Can you tell us about any noteworthy accidents?
In the last lockdown I went to Lakey Peak in Sumbawa because I knew the beaches were going to be closed in Bali. I actually got locked down and had to stay there for three months because there were no flights back to Bali. It was there that I had a little accident; the nose of my board went through the side of my cheek and I had to have 12 stitches. Everybody says it just looks like a smile line at the side of my mouth!
What are your signature surf moves?
The Superman move! This is when you let your feet go loose behind you and your hands hold onto the board. But I love going high on the wave and doing aerials – that's what I love the most.
Which surfers do you look up to the most?
When I was a young surfer, it was always Kelly Slater. But now that I'm getting older, I've started watching the hungry Brazilian surfers like World Champion Italo Ferreira and Gabriel Medina who are doing crazy aerial tricks on the waves. The hungry surfers are the ones to watch.
Tell us, how you feel about competing for Indonesia in the Tokyo Olympics, and who are the ones to watch?
I know everyone competing because I've met them all at the World Surfing League. I'm the youngest one competing; the oldest is about 35 years-old I think. People from Europe and Australia are all hungry to win, but the Brazilians I think are the hungriest. Unfortunately, Kelly Slater didn't make it for qualifying this year, but John John Florence and Kolohe Andino are representing the USA. If I win a medal, it will be a medal for Indonesia. But really, I'm just happy to be competing and surfing.
How is surfing even scored in the Olympics?
The panel of judges score you on your speed, power and flow on each wave that you catch, and mark on a scale of one to 10 with two decimal places. For each wave, the highest and lowest scores are discarded, and the remaining three are averaged. I know all the judges, and basically they want you to not waste the wave by doing as much as you can on it. Tricks! Do as many tricks as you can and don't play it safe!
As an athlete, you must love eating healthy food to fuel all that exercise. What are your most loved Bali eateries?
My mum usually handles all that! She is always feeding me healthy Japanese food. But if I eat outside, it's usually in a warung (local cafe), and it's most likely Nasi Campur at Campur Campur on Jalan Uluwatu, close to the Garuda Statue. Otherwise, if I surf at Keramas, on the way back there's Warung Kecil (it means "small restaurant") in Sanur close to the MacDonalds. Otherwise, Good Mantra in Canggu.
Tell us about the best surf breaks in Bali?
Uluwatu is number one for me because there are a number of spots to take off, and it's big. On high tide you can surf on the top and get some good turns in. There can also be barrels. Otherwise, when it's super low tide and when the reef is sticking out, you can surf on the corner at Racetracks, which is almost directly in front of Ulu Cliffhouse. My second favourite surf break would be north Canggu, Echo Beach side, or south Pererenan, because that's good for any tide. It's good practice because it can break anywhere and that makes it hard to read, so I can challenge myself there. Third favourite would have to be Keramas, in front of Hotel Komune, because it's right there: a world class wave that's like a bowl in a skate park when it's good. Everyone loves it, except there are many sea urchins there, which I tend to find in my foot when I finish a surf!
And your fave overnight stay in Bali?
I really love staying at Hotel Komune on New Year's Eve, and then first thing when the sun rises I surf the Keramas wave. You want to start the new year with something good, so this is what I love to do… Surf before the sun comes out! When I'm going to Uluwatu, I might occasionally stay at Uluwatu Surf Villas – you can see the waves from there. Canggu is a bit too busy for me to stay overnight.
Where should tourists visit when they come to Bali?
The waterfalls for sure. I recently went inland from Keramas for a photoshoot and I wish I could remember the name of the waterfall – it was magical. Everywhere you will find waterfalls in Bali. So I would recommend people spend time in nature when they come to Bali. It's so peaceful. But don't go in the rainy season, because the water will be dirty! Nusa Lembongan would also be on my list for recommendations… Nusa Ceningan is also great. Jumping from the cliffs there, the water is wonderful – it's very beautiful. But to be honest, I don't really leave the shoreline that often, because I have a big fear of missing out on good waves! If I'm not in the water or if I don't surf for two days, my body feels weird. It's not right.
If a friend comes to visit you, what do you do with them in Bali?
Surf, only surf. I am always on the beach. I would never do anything else with them other than surf.
For a professional surfer, what do you do for chill time?
I only really chill out at The Istana in Uluwatu, where I will go for an ice bath. I love it. It's good for my body and great for muscle recovery.
We wish you the very best of luck in the Olympics Rio! Will you get to visit your Japanese family afterwards?
No, sadly not. I have all my mother's family in Japan, but we're not allowed to leave the Olympic village when we are there. I also have my father who works in Tokyo. He helped to build one of the tallest buildings in Japan, but I can't even visit him. I have to compete, and then leave straight away!
Look out for Rio surfing Bali's best breaks in no-time, with any luck he'll also be wearing an Olympic medal around his neck! And psst – word on the street he will also be the flag bearer for Indonesia alongside weightlifter Nurul Akmal.