On the hunt for the best new restaurants in Bali? Bookmark this page, because here we bring you the hottest new openings of 2022.
From epic breakfasts and never-ending brunches to cool cafes and ultra-fine dining degustations – you could say we're a little obsessed with food here at Honeycombers. And when it comes to the best new restaurants in Bali? We're all over it. From Seminyak and Canggu to Ubud, Uluwatu and beyond, each month we bring you the best new restaurants, cafes and bars in Bali, keeping you in the loop with all the hottest places to eat across the island.
Honestly, we don't often blow our own trumpets. But if we're talking food, we can always tell you the best place for a local Balinese feast, a drool-inducing burger, or even where to eat vegan across the island. And as for all the brand new, hot-off-the-press restaurants you absolutely need to try? Well, this is everything you need: our Hot New Tables 2022 roundup.
And psst- if you're still hungry for more, check out all of the best meals we ate in Bali in 2021, 2020, 2019, and 2018 too… Happy munching, Honeys!

ALL THE BEST NEW RESTAURANTS IN BALI
Hot New Tables: 2022
Skool Kitchen – Canggu
Backed by some of Bali's biggest foodie names (and housed above Canggu's coolest oceanfront destination), Skool Kitchen is the hottest new restaurant by Tai Buddha and Adam McAsey where every dish is touched by fire. A primitive style of cooking meets contemporary culinary excellence here, with its honest modern menu powered by natural wood and charcoal embers. Try the slow-roasted lamb to see exactly what we mean; marinated for over three days in garlic, yoghurt, and spices, before being trussed and hung over the fireplace to roast to perfection. Even the artisanally crafted cocktails get a taste of the flames, like the Burnt Lemon Daiquiri – perfect for watching a fiery Bali sunset overlooking the waves…
Bonito Fish Bar – Umalas
Fresh-from-the-net sustainably caught seafood is what's on the menu at Bonito Fish Bar – the newest venture from Chef Maurizio Bombini and the sister to Seminyak's acclaimed Mauri restaurant. In comparison to its fine dining predecessor, Bonito is a casual restaurant and seafood delicatessen, celebrating the flavours of the sea with its cooked and raw fish creations. And you can even choose your catch from the chilled display counter, or order the imaginative plates from the menu for a taste of Chef Maurizio's true culinary flair. From oysters and ceviche, to charcoal-grilled prawns and even soft-shell crab tempura sandwiches, Bonito Fish Bar gets three thumbs up from us.
Bokashi – Berawa
A healthy grocery store and Japanese-inspired cafe & teahouse, Bokashi is all about organic produce, farm-fresh ingredients and an earth-conscious ethos. You'll know exactly where your food comes from here, because Bokashi's produce is sourced from their very own organic farm. As for the grocery store, expect the same hyper-local concept, plus bulk goods sold in sustainable or recycled packaging. But back to that food… Japanese influences pay a big role here, not only in the wabi-sabi inspired interiors, but in each dish too. The menu is ever-changing to match the season's harvest, but expect full-flavoured staples like the avocado and edamame smash, the pulled oyster mushroom sandwich, or the hearty seafood pie. We love the earthy interior design as a reflection of the farmhouse-style menu – topped off by an entire tasting menu of teas.
Izzy Izakaya Street – Sanur
This one's not just a restaurant, but an entire street's worth of epic Japanese cuisine. Izzy Izakaya Street is Indonesia's first and only Izakaya street, where you can bounce from different dining destinations throughout the evening for a taste of absolutely everything. The idea is inspired by Kyoto's vibrant nightlife scene, and hosts not one, not two, but six food concepts to munch through. Start at the deep fried bar for delish bites, before meandering to the indoor Ikigai sushi restaurant. Follow it up with ramen, yakitori and teppanyaki, before wrapping it up the dessert shop. Thirsty? There's even a pub on the street slinging cocktails with Japanese twists, as well as nightly live music to keep the Kyoto vibes alive…
Chow Chow – Canggu
Love Ling-Ling's in Seminyak? We have good news: Chow Chow is Ling-Ling's little sister, this time bringing its contemporary Asian fusion cuisine to Canggu. The quirky kitchen team is dishing up everything from Wagyu wasabi tacos and tom yum fried rice, to weird-and-wonderful rolls like the Fist of Unicorn; a magical combo of eggplant schnitzel and sambal matah. Wash it all down with epic cocktails, like the Japanese pomelo margarita rimmed with chilli lime salt, or the Lemongrass Negroni. We'll take two!
Yuki – Canggu
Tuna truffle sushi, nori ahi tacos and even vegan yakitori – Yuki is Canggu's brand new modern Japanese izakaya with some of Bali's biggest hospitality names behind it. And it shows. Served up right beside the seaside, Yuki's boundary-pushing menu is a fusion of fine ingredients and contemporary twists, topped off with an impeccable drinks list and a nifty fit-out too. To find this breezy beachfront spot, follow the beautiful Canggu crowds to the Batu Bolong seafront, where classic cocktails, cold beers and hot sake are served up alongside Japanese aesthetics and some of the best Japanese bites this island has ever seen.
Mosto – Berawa
Indonesia's very first natural wine bar has officially landed in Berawa, and with it comes a relaxed and unadulterated vibe inspired by the neo-bistros of Paris and Sydney's flourishing wine bar scene. The brains behind Mosto are certainly worth a mention too: a powerhouse collective of six industry superstars from Bali's pioneering Mexicola Group: Da Maria, Luigi's, Uni and Motel Mexicola. Together, these F&B trailblazers bring decades worth of experience to the tabletop, and the result is a forward-thinking food menu (hello skewered ox tongue!) and a drinks list of more than 70 different low-intervention wines and zero-waste cocktails. New releases, rare cuvées, special events and international wine fairs will also be a Mosto mainstay, so vinophiles, watch this space!
Burgreens – Canggu
When two plant-based powerhouses collide, you get Burgeens in Canggu – an all-vegan restaurant described as a "Plant-Based Paradise". This collaborative creation is between Burgreens – a leading plant-based food chain in Indonesia – and Green Rebel, an Indonesian food tech start-up developing all-natural plant-based meats and cheeses with authentic Asian flavours. Think vegan Rendang, the Mighty Mushroom Burger, a beef-less steak, and vegan boba. Or our fave: the Balinese Nasi Campur with sate lilit, chick'n sambal matah, long beans plecing, and balado tempeh and tofu. The kicker? Beautiful breezy interiors overlooking Canggu's iconic rice fields…
The Suku Bali – Ubud
A farm-to-table restaurant hidden in the hills of Ubud, The Suku Bali has been built with five of our favourite things in mind: food, community, coffee, art, and music. The restaurant itself is truly breathtaking, but it's what's happening behind the scenes that's really impressive. Suku is committed to supporting an ethical food system, minimising waste and offering world-class quality at a fair price. All of this while changing the menu according to the seasons and produce from local farmers and fishermen. The result? Fresh-from-the-net red snapper with pea puree, pan-search duck with seasonal veggies, and our fave, the carrot ravioli with emmental cream and a parsley oil. Yum!
Poke Theory – Canggu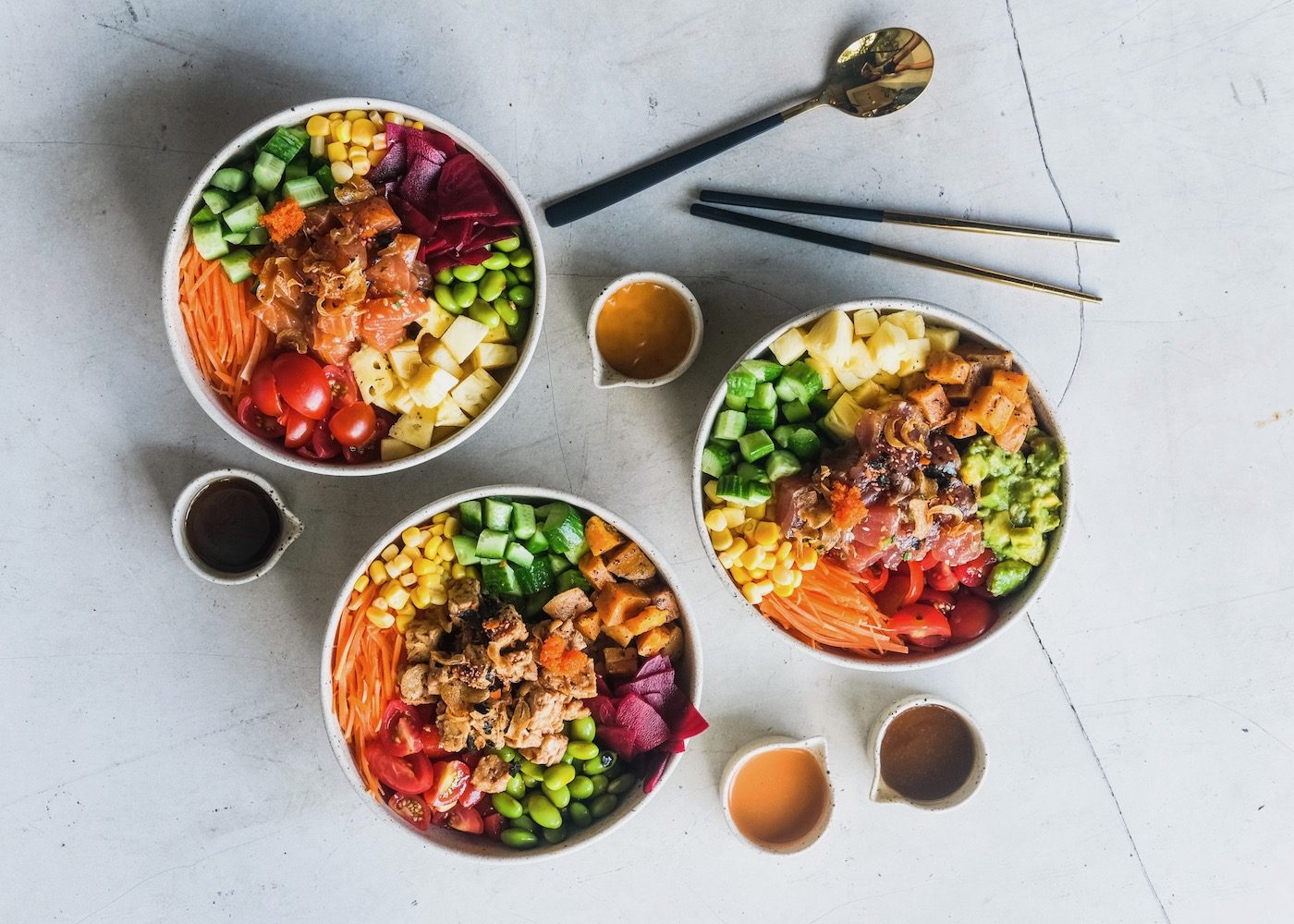 Bangin' food gone healthy! From poke bowls to acai bowls to cold-pressed juices, Poke Theory is the latest poke restaurant that not only values fresh and sustainable produce, but is also on a journey towards being 100% plastic-free. Originating from Singapore, Poke Theory is proving that healthy food doesn't have to be boring, with its signature bowls or build-your-own creations. Load up on fresh tuna or salmon cubes, and if raw fish ain't your thing, add in some sous vide chicken or tempeh. As for the veggies, we say, paint the rainbow!

Tabu – Uluwatu
Mexico meets Japan at Tabu – one of the most exclusive and elegant destinations to open in Uluwatu. Brought to us by the unstoppable Ours Group (the peeps behind Ours restaurant and Our Spa) none of the Ours flair or flavour has been lost at this hot new spot. Think truffle parmesan and olive croquettes, hamachi ceviche rojo and coconut-prawn chipotle tacos. And of course, the cocktails are not to be missed either. A smoking Old Fashioned, Grand Negroni and a Bloody Maria keep us coming back every evening. And it goes without saying, you'll need to make a reservation here, as this place is booked out most nights.
Naughty Nuri's – Sanur
Whether you're a long-time Bali local or just visiting for a holiday, every self-proclaimed foodie knows Naughty Nuri's. People from all over the world queue up at this meat lovers' heaven in Seminyak for a taste of their signature ribs, and now, a second location has opened up on the main Sanur highway. And the best bit? This Sanur hub is enormous enough to fit families, large groups of friends, and of course, anyone looking for that all-important Instagram shot. As for the menu, you'll find all of your favourite Naughty Nuri's signatures here, complete with the famous "Shake Shake" dance with every order of a margarita or martini! If you dare to sip on four of these oversized cocktails in one trip, you'll get your name carved on the Nuri's wall of fame!
Barboa – Canggu
What was once Funky Pancakes is now Barboa – a brand new and breezy destination to eat, work and play. Still with epic pancakes on the menu, at Barboa you can also graze on breakfast burritos, loaded sandwiches and colourful poke bowls. We love the tropical-chic interiors, with different nooks and corners for when you want a quiet laptop lunch, or long benches for brunch with your besties. It goes without saying, the coffee is top-notch here too…
Woods – Pererenan
Inspired by nature, Woods is all about fresh food, fine local ingredients, and some of the most beautifully presented dishes we've ever seen. This green and breezy cafe feels like a fancy treehouse, with hanging plants beside twinkling chandeliers and indoor palms watching over the colourful spreads of eggs, avocado, pancakes, and of course, great coffee. Psst – breakfast cocktails are on the menu too!
Atelier 5 – Canggu
From Paris to Bali with love, and a whole lotta French deliciousness. Atelier 5 is a creative patisserie, cafe and workshop in one, where you can graze on artisanal baked goodies, signature a la carte creations and an entire menu of bespoke teas to wash it all down. Nibble on buttery hazelnut croissants for breakfast, feast on grilled octopus for lunch, and whatever you do, don't leave without trying some of the specialty cakes and desserts from famous pâtissier, Vincent Nigita. Psst – keep your eyes peeled on Atelier 5's social calendar for gourmet workshops too!
Pier Eight – Sanur
Sitting right on the beach in Sanur, Pier Eight is a family-friendly restaurant by day, and a chic beach bar by night. The menu features a variety of cuisines, from pastas and pizzas, to classic Indonesian dishes like satay and soto. With a long (and we mean long!) list of cocktails and house wines, you'll want to spend a long and leisurely evening propping up Pier Eight's bar. On Sundays, Pier Eight brings a Breezy Brunch to Bali's east coast, or drop by any day for an early breakfast, since this restaurant is one of the very best spots to watch the sunrise…
Ulu Garden – Uluwatu
A hidden oasis behind Uluwatu's most happening strip, Ulu Garden is described as a 'multidisciplinary hospitality space' where you stroll in for brunch, catch a live acoustic band over cocktails, or work away on your laptop overlooking the breezy tropical garden. Founded by a Belgian food entrepreneur and a local artist, Ulu Garden captures the best of both worlds: a wholesome and delicious all-day menu, wrapped up with authentic Balinese character and a raw contemporary look and feel. Swing by in the evening to catch Ulu Roots playing live, and come back for a set menu boozy brunch on the weekend.
The Barn – Canggu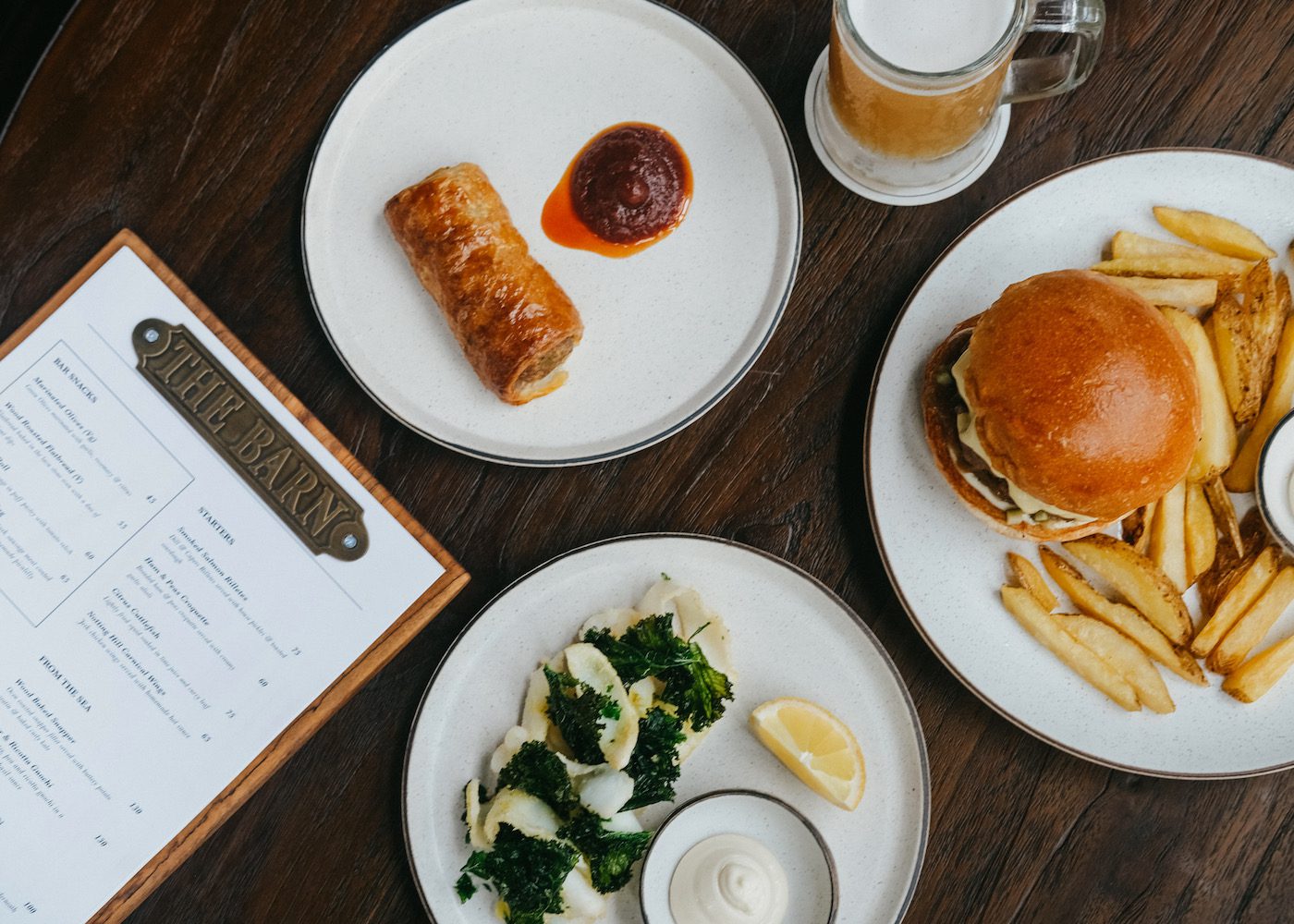 Bringing the charm of a London gastro-pub to Bali, The Barn is where you can feast on all your favourite British pub classics. Think juicy pies, fish and chips and even bangers & mash. In fact, the menu was specially crafted by a top UK consultant and Head Chef Sam Sutanto – a former top Sydney-based chef – to ensure everything's just right. And just like any good English pub, the focus here is on top quality drinks. We're talking craft beer on tap, imported fine wines and premium hand-crafted cocktails too. Top it all off with contemporary yet cosy interiors reminiscent of a London member's club, and you've got yourself a bloody lovely British experience in Bali!
Golden Monkey – Canggu
After the roaring success of its steaming dim sum, sticky char-siew pork and deep-fried Gurami in Ubud, Golden Monkey has now opened in Canggu too. Here, you not only get to feast on all your favourite Chinese staples, you can also settle in for an all-you-can-eat Dim Sum Brunch every Saturday and Sunday. And that's not all. While the Golden Monkey menu is perhaps best known for its succulent Chinese BBQ and specialty meat dishes (like the grilled prime rib in oyster or Oriental sauce), there are also plenty of vegetarian dishes too. Think Eggplant Clay Pot, Fenkow dumplings, salt and pepper tofu and a vegetable congee to name just a few. And of course, it wouldn't be a true Chinese feast without dessert, so save room for the custard cream buns and the traditional Gui Ling Gao. Měiwèi!
Mar Bali – Berawa
A breezy seafood restaurant and poolside lounge in the buzzing Berawa neighbourhood, Mar Bali is the new go-to spot for Portuguese-inspired ocean delicacies done right. Not only is the seafood here both fresh and cooked to perfection, it's also honest, locally-sourced, and honours the sea and its bounty. Raw, grilled or sautéed, pair your chosen catch with the selection of dipping sauces, from authentic Balinese sambal matah to Mediterranean lemon-garlic butter. Our top tip? Go for the Seafood Platter for a taste of everything (lobster, prawns, clams and oysters!) or swing by from 4-7pm for 5k oysters, 50k cocktails and sunset beats by the pool.
Looking for more of the best new restaurants in Bali? Check out our Hot New Tables roundups for 2021, 2020, 2019 and 2018 too!