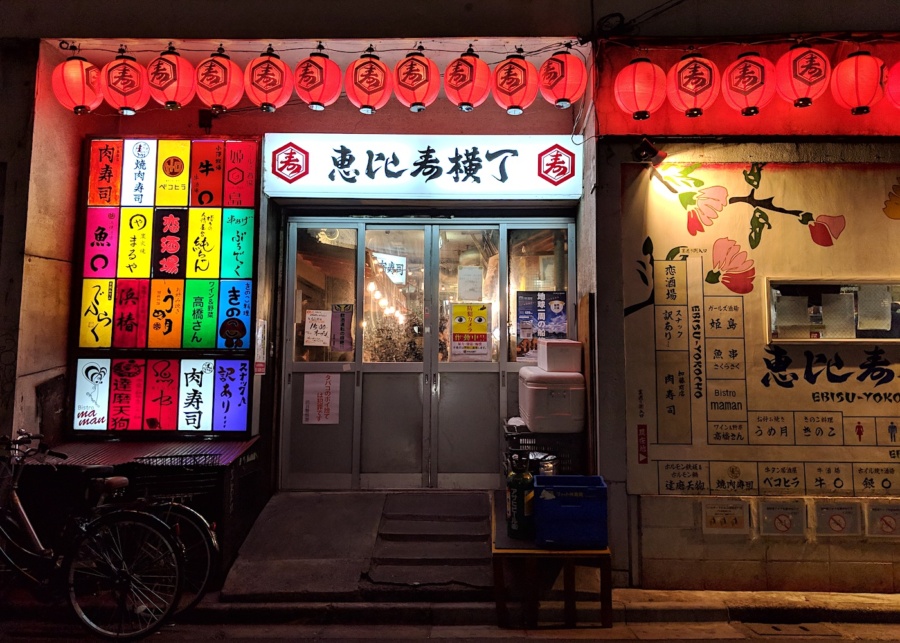 Step inside Ebisu Yokocho for a street-food vibe. Photography: Selina Altomonte
Hidden udon joints, hip cafes and the world's most beautiful bookstore, Ebisu and Daikanyama are Tokyo's best under-the-radar neighbourhood.
If you've had your fill of the usual escapes from Singapore and want a city vibe a little beyond Hong Kong, Tokyo is it. You expect Toyko to be crowded, towering, flashing lights and fast-paced: and sure you get that in Ginza or the over-hyped Harajuku. But Ebisu and the oh-so-close Daikanyama are none of the above – and we think we're in love.
These upscale suburbs in the centre of town are all low-storey terraces, meanderings streets and alleys, boutique shops and cool cafes on every other corner. It's where vintage fashion finds new owners, where coffee is roasted onsite, where nano-stores sport designer threads and floor-to-ceiling treasure. It's still Tokyo, so it's still tightly packed and high energy, but somehow also laid-back – this neck of the woods has even been referred to as Tokyo's answer to Brooklyn. Here are some of our unmissable discoveries…
Street eats: Ebisu Yokocho
We never imagined Japanese food could be like this. It's street food – a collection of micro stalls seating 10-15 pax each – lined up along a corridor that runs from one side of building to another. All along the alley they're grilling and frying in the tiniest kitchens, and locals are downing beers and picking at whatever comes.
Dive into an empty seat as soon as you see one: we struck gold at Kinoko, which has a mushroom-leaning menu, and ended up with spicy cod innards (amazing), crab roe, meaty king trumpet mushrooms with asparagus and a spot of grilled tongue, all washed down with hot sake.
Ebisu Yokocho, Chome-7-4 Ebisu, Shibuya City, Tokyo 150-0013, Japan
Book worship: Daikanyama T-site
This is in Daikanyama, but it's an essential part of the Ebisu experience – an amazing architectural space comprising, for the most part, the wonderful Tsutaya bookstore. The site is a collection of three buildings housing art and design titles, antique and rare books and mags plus vintage vinyl and special edition CDs.
There are listening lounges, a bar and unusual bits and pieces to buy sprinkled everywhere.  Grab a coffee, soak it up, take a bazillion selfies in front of that facade. There's a reason why this has been called the most beautiful bookstore in the world.
Daikanyama T-Site,  〒150-0033 Tokyo, Shibuya City, Sarugakucho, 17−5
Amazing udon: Udon Yamacho
There is nothing better on a cold day than a hot bowl of udon. Yamacho is definitive. The soup is out of this world deep and savoury, and the mixed tempura (it's cold; your body needs tempura) is wonderfully light but also satisfyingly fried and fatty. This one's a little hard to find, but nevertheless arrive early: locals love this spot, and you won't be the only smug foodie who's hunted this place down.
Udon Yamacho: Japan, 〒150-0013 Tokyo, Shibuya City, Ebisu, 1 Chome−1−5
Treasure hunting: Antiques mu.mu
Of course there's a store crammed with vintage kitchenalia, pottery and bric-a-brac in this pocket of town. Antiques mu.mu is described by the owner as a "Western antique grocery store", and she's spot on. This little shop is heaving with treasures she's collected from the UK, Europe and US, and is just our kind of thing.
Antiques mu mu, 1 Chome-21-5 Ebisunishi, Shibuya City, Tokyo 150-0021
Caffeine fix: Duct Coffee Lab
Are we in Melbourne, Brooklyn or Tokyo? Stylin' tiles, neon signs and a creative-type clientele offer the visual cues you need to step inside; all the accoutrements of a third-wave coffee joint signal a damn good brew. And yes, Duct delivers. This one's a chill little spot where you can linger over your latte and some loaded breakfast pastries while you wait for all the enticing boutiques in the direction of Daikanyama to open.
Duct Coffee Lab, 〒150-0021 Tokyo, Shibuya City, Ebisunishi, 1 Chome−33−18

Flea market vibes: Hollywood Ranch Market
Daikanyama has definitely emerged as the hip fashion strip of Tokyo: early arrival Hollywood Ranch Market is on the more casual end of the spectrum, with a flea market feel. It's a fun rummage and hard to miss on your way to Daikanyama T-site: just look for the alligator made out of junk out front.
Hollywood Ranch Market, 28-17 Sarugakucho, Shibuya City, Tokyo 150-0033
Next-level ramen: Afuri
Amazing ramen, recommended by locals in the know, this is in the same hard-to-find laneway as Yamacho, which we told you about earlier: discover one life-changing noodle spot in Ebisu and you're already an insider. It's an elevated experience here: pure water from Mt Afuri is used for the chicken and dashi-based broth – which has a lighter, citrussy profile courtesy of yuzu. If you're used to the deep creaminess of tonkatsu, it's an eye opener. The char-grilled pork delivers the contrast this more refreshing broth needs. Good to know: Afuri stays open until 5am (not kidding) so consider your jet-lagged, ramen-craving self taken care of.
Afuri, 〒150-0013 Tokyo, Shibuya City, Ebisu, 1 Chome−1−7
The out of the ordinary boutique: Okura
So it turns out all the best places to eat and shop in these neighbourhoods are hidden or hard to find: we walked past Okura a couple of times before realising we were at the right spot. A sister store to Hollywood Ranch Market, 'Okura' means storehouse – the boutique is certainly in disguise, and inside you'll find amazing fashion and accessories with a traditional design twist (hello, kimono-style tops). Here's the thing: it's hand-dyed in the most amazing indigo. This place presses all our buttons.
Okura, 20-11 Sarugakucho, Shibuya City, Tokyo 150-0033
For strolling: Yebisu Garden Place
This sprawling square is an unexpected and quiet pocket of Tokyo – once the site of the Yebisu Beer factory, now surrounded by restaurants (the standout, of course, is the grand Joel Robuchon). There are stores and a cinema, but we say the coolest thing here is the Tokyo Photographic Art Museum, but if you're a J-Dorama fan, you'll recognise the statue where Jun Matsumoto waited in the rain during that iconic scene in Hana Yori Dango. No judgment if you just came to get that selfie at the statue – you won't be alone.
Yebisu Garden Place, 〒150-6018 Tokyo, Shibuya City, Ebisu, 4 Chome−20
Where to stay in Ebisu: The Westin Tokyo
Set in the middle of the Ebisu action, The Westin Tokyo is a polished but also welcoming retreat. With views across the area – including of Tokyo Tower and right next to Yebisu Garden Place – The Westin offers elegant rooms that are generous by Tokyo's micro-accommodation standards, with plush furnishings and their signature "Heavenly" bed to crash into after a big night out in Ebisu, along with an in-house spa after a long day of shopping in Daikanyama. The breakfast is feast-grade, and the flagship restaurant Yebisu is a must for serious carnivores. It's strolling distance to all those spots we recommended – and a metro stop or two to the crush of Shibuya or the hustle of Harajuku – it's wonderful to have The Westin to retreat back to for a quiet sunset cocktail at the club lounge looking out over the action, before diving back into it.
The Westin Tokyo, 1 Chome-4-1 Mita, Meguro-Ku, Tokyo 153-8580