Photography: Villa One at The Headland
We've got our eye on Villa One at The Headland for a glorious getaway in Thailand!
A tropical escape is always on the cards for us, especially since we've got endless options surrounding Singapore. But one destination that's caught our eye this year is Koh Samui, and the island's Villa One at The Headland is a gorgeous gem of a find. Your own private villa, complete with poolside luxury and panoramic vistas? We're sold.
Villa One at The Headland: Exclusive beachside beauty
If you're dreaming of sublime sunsets by the sea's sandy shores, you'll want to book a stay in Villa One at The Headland for a blissful vacation. Situated on a natural plateau above the beach on the western coast of Koh Samui, Villa One is adored for its panoramic sights that are second to none. It's located in Baan Taling Ngam, about 40 minutes from the airport, making it ideal for idyllic holidays.
No matter if you're making travel plans with family, friends or your significant other – this luxurious villa offers flexibility, exclusivity and tranquillity. Think lush, leafy foliage surrounding the space, complete with views of Taling Ngam Bay, for the ultimate relaxation. Get comfy at the villa terrace or in your room – whichever you choose, you'll be feasting your eyes on views of the famous Five Islands and Ang Thong Marine Park. Did we mention those stunning sunsets by the infinity pool? All you need is a cocktail in hand and you'll be in paradise.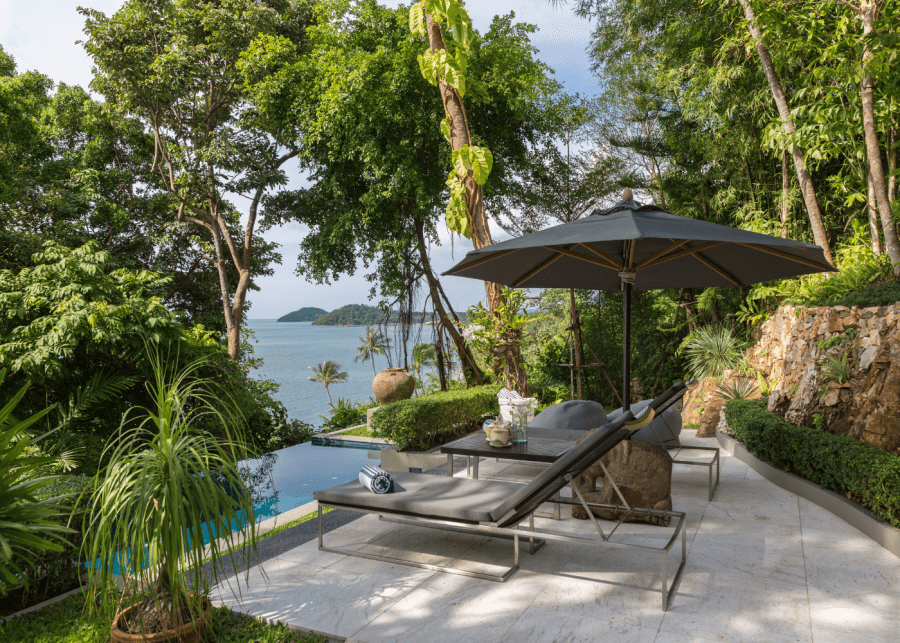 Our favourite part of the villa: hands down, the incredible infinity pool. You can lounge by the water and enjoy ocean vistas or admire the picturesque flora and natural rocks nearby. For more peaceful outdoor experiences, head to the villa terrace and snuggle up on the plush seats with a book in hand. It's also the perfect spot for sunrise yoga, sunset cocktails and afternoon hangouts.
For fun in the sand, head down the private stairs to the beach. You'll have a splashin' time with activities like cycling, stand-up paddle boarding and kayaking (these come at an extra charge).
If you've got a thing for home-cooked meals, the open plan kitchen is fully equipped for anyone who wants to entertain guests with good food and spectacular ocean views around the natural wooden table. Of course, if you prefer to stay out of the kitchen, simply arrange for an in-villa chef to prepare Thai, Western, Chinese or grilled dishes (at an additional cost).
When night rolls around, head to one of the two bedrooms for restful shut-eye. The master suite offers ocean views and a rear garden, with a four-poster bed as the centre of attraction, and both rooms feature local artefacts as part of the decor. There's also a self-contained mezzanine studio space set to a black and white theme, complete with a foldaway double bed, a bathroom and all the amenities you need. Plus, thanks to the warm hospitality of the villa manager and housekeeping services, you won't have to lift a finger while you're on holiday.
So, if you fancy a tropical vacay, you know where to go!
Villa One at The Headland, book online
This post is in partnership with The Luxe Nomad.