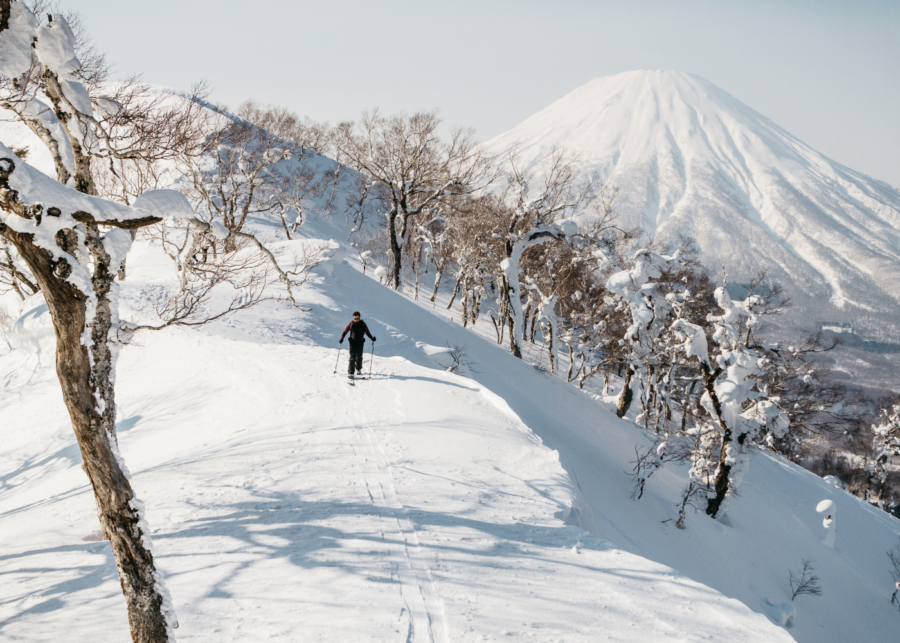 Photography: Niseko Photography
Craving cold weather and want to hit the slopes? There's never been a better moment to visit these ski destinations.
As much as we love skiing and busting out the winter wear, nobody's got time to travel for over 20 hours just to hit the slopes. If a winter vacay – sans the torturous travel time – sounds like your idea of the perfect getaway,  we've got the deets for you. We had a chat with Nickie Mabey, a ski instructor and the founder of Mabey Ski. She dished some insider tips on ski resorts in New Zealand and Japan that you need to put on your radar – because ski holidays go well beyond Niseko, you know.
Beginners, listen up! Before traveling to these ski destinations, take note of these tips from Nickie herself to get you started…
Do your research before you depart
Choose the right ski instructor that will not only teach you how to stop and turn but show you the best way to hold your skis. Pick an accommodation that's not too far from the lifts, but also offers nearby restaurants and home comforts such as log fires and hot tubs to loosen any tired muscles at the end of the day. Book your ski or snowboard hire with a reputable company that will ensure you're fitted properly and comfortably.
Pack the right clothes
Base layers are key to keeping warm in the snow. Look out for merino or acrylic layers, and make sure to avoid cotton, as it gets damp from perspiration and makes you cold. The mid-layer is ideally a fleece or woollen jumper which will regulate your body temperature. Your outer layer should be waterproof and windproof – Gore-Tex is the best material for snowsports – to keep out any fresh snow. Alternatively, some ski rental companies offer rental gear too.
Let a professional show you the ropes
No matter how many YouTube videos you've watched online or how good your friends reckon they are, you won't realise how much there is to think about until you set your skis down on slippery snow for the first time. It's important to take lessons from a professional instructor who will take you on an appropriate terrain and get you up to speed in no time. Book private lessons to get the most out of the experience. Even after 30-odd years of skiing, Nickie still tries to take at least one private lesson each year.
Get in shape before your trip
You don't need to be an Olympian to hit the slopes but the fitter you are, the faster you'll learn. Naturally, a lot of first-timers will lean back – leaning towards the bottom of the mountain as you head downhill means that your legs will burn. Get some leg exercises in before your trip to really work those quads.
Enjoy the experience and don't give up!
It's very easy to get caught up in the falls and wonder whether you're actually making any progress on your first ski holiday. Ultimately, if you're not falling you're not learning, so try not to be so hard on yourself. The first week is definitely the toughest, so give yourself some time off the slopes too.
Psst: Need more advice on the best ski holidays in the Asia Pacific? Nickie can hit you up with the coolest hotel stays, take you through the most unexpected tracks and much more. So, make your way to these ski resorts for an exhilarating ski trip of a lifetime.
NEW ZEALAND
Count on New Zealand to satisfy your mid-year winter wanderlust. With majestic ice-capped mountains, crisp air and iconic glaciers, winter in New Zealand is nothing short of magical. Winter season runs from June to August with temperatures fluctuating from one to 15 degrees Celsius. The North Island may have notable ski areas and is home to New Zealand's only skiable volcano (Mt Ruapehu), but our heart belongs to the South Island. Don't take our word for it – the island boasts the most ski resorts. There's also a range of non-ski activities like wine tasting and other outdoor activities. For an out-of-the-world experience, a helicopter ride to Milford Sound with a glacier landing, followed by lunch atop the glacier is a definite must.
The Remarkables in Queenstown
A little off-the-beaten-track, The Remarkables' high alpine location and 1050 hectares of skiable terrain parks are perfect for an alternative skiing spot. (Especially if you've conquered places like Coronet Peak). The seven various parks are well catered to all levels with fresh batches of snow to cut into the powder. Of course, we can't forget the stunning views to and from the resort that is simply remarkable.
The Remarkables Ski Area, Queenstown 9300, New Zealand
Nickie's Tips: The Remarkables has great off-piste runs when it snows – though you don't end back in the resort so you need to plan ahead – and is a run to the end the day. There are also freestyle and telemarking lessons to challenge yourself further.
How to get there: Fly direct to Queenstown with airlines including Air New Zealand and Singapore Airlines and a 45-minute drive from central Queenstown. Unlike other cities, you stay down in Queenstown and drive up to the resorts each day. You can also take a bus up from the Snow Centre on Duke St in Central Queenstown.
Ski season: June to October
Treble Cone and Cardrona in Wanaka
Known as the largest ski and snowboard resort in South Island, Treble Cone is perfect for all types of skiers. Experienced skiers will love the long groomed trails, off-piste terrain and backcountry areas with stunning views over Lake Wanaka. Cardrona also has the terrain to suit all abilities and is great for beginners and families. Wanna do it freestyle? Cardona has two halfpipes – including New Zealand's only Olympic 22 ft. "Superpipe" – a gravity-X course and a big air jump.
Treble Cone, Mount Aspiring Road, Wanaka 9305, New Zealand; Cardrona, Cardrona Valley Road, Wanaka, New Zealand
Nickie's Tips: For morning run enthusiasts, Lake Wanaka is surrounded by running trails and postcard-perfect views to take in. Alternatively, you can drive up to Roys Peak for similar views. Mabey Ski organises a full-day itinerary which includes skiing at the private Soho Basin ski field, a gourmet lunch with wine pairing at an alpine hut and stargazing while sipping on hot cider.
How to get there: Fly direct to Queenstown with airlines including Air New Zealand and Singapore Airlines with an hour drive to Wanaka. Make a stop at Cardrona Distillery to pace the beautiful drive through the Crown Range.
Ski season: June to October
JAPAN
Hot onsen spring baths, unobstructed views of Mount Fiji, snow monkeys, winter festivals and quiet streets – if this doesn't entice you to experience winter in Japan, we don't know what will. Winter season runs from December to March but it depends on where you're headed. Mountainous regions and Northern parts see the longest winters and high levels of snowfall. With 500 ski resorts around the country, it's a no-brainer that Japan holds the numero uno ski destination in Asia. Nickie recommends staying a night in Sapporo so you can drop by the famous Sapporo Beer Factory before making your way to Niseko. Also, the Sapporo Snow Festival in February can't be missed!
Niseko in Hokkaido
The snow in Japan's ski capital is as soft as powder (Nickie's never experienced anything better than the snow in Niseko), and it's the perfect place to kick off your skiing adventure if you've never hit the slopes. The ski resorts are located at Mount Niseko Annupuri, a mountain with a peak elevation of 1308 metres, stellar terrains and runs for beginners to extreme skiers. Bringing the kids? There are lots of ski schools and activities including sledging, snow tubing and snow rafting.
Niseko, 170-304 Yamada, Kutchan-cho, Abuta-gun, Hokkaido 044-0081, Japan
Nickie's Tips: FYI, Niseko Village is a small resort within Niseko, but it's not the main part of town – Hirafu is the buzzing centre of Niseko. Reservations at restaurants are made way in advance in Hirafu so book them stat to secure a table. Explore incredible onsens outside the resort for an unforgettable experience. Finally, hire a photographer for the day and capture some stunning powder shots for the 'gram.
How to get there: Many direct flight options to Sapporo Chitose Airport. Mabey Ski offers a  private transfer service with an English meet and greet. There are also plenty of bus companies that will take you to the slopes in about two hours.
Ski season: Early December to early April
Hakuba Ski Resort in Nagano Prefecture
The Hakuba Valley consists of 11 resorts (though they're not interconnected) and the must-visit spots are Happo One, Goryu, Hakuba 47 as well as Cortina for those looking for off-piste areas. With over ten resorts, it's no surprise that there are various terrains for all. The long, perfectly-groomed runs and fantastic fall-lines are great for beginners and intermediates alike. Skiing aside, Hakuba has a great mix of non-skiing activities for a full-on cultural experience. The villages here even have a more authentic feel to them rather than the Niseko Villages (yup, we just said that). Some accommodations even offer Westernised Japanese futons on tatami mats.
Hakuba Ski Resort, 170-304 Yamada, Kutchan, Hokkaido, 044-0081 Japan
Nickie's Tips: It's best to rent a car in Hakuba to get around all resorts. Stop over at Nagano (where the 1998 Winter Olympics was hosted) and go for a sake tasting or visit Zenko-ji and Matsushiro Castle. And at Jigokudani, you can also catch snow monkeys bathing in natural onsens. Cute! They're all close by so you don't have to travel too far.
How to get there: Fly direct to Tokyo with airlines including Japan Airlines, Singapore Airlines and Scoot. Transfer to Tokyo Station and take the Shinkansen bullet train to Nagano. Opt for a three and a half to four-hour private transfer or bus to Hakuba.
Ski season: December to April
SOUTH KOREA
Korea may not be the first that comes to mind when you think of a ski holiday – well, at least not before Korea played host to the Winter Olympics in Gangwon-do, back in February. Winter season is one of the best times to visit Korea when postcard-perfect Hanoks (traditional Korean houses) are sprinkled with powdery snow and villages turn into a winter playground. Winter season lasts from late November to early March where things get really chilly (-18 degrees Celsius) in the most northern Provence.
Yongpyong Ski Resort in Ganwondo
Nicknamed the alps and ski mecca of Korea, Yongpyong Ski Resort in Ganwondo is the largest ski resort with a range of 700 metres above sea level. It doesn't matter if you're a beginner or an expert 'cos with 28 slopes, there are plenty of snowy runs to work on your skiing skills.
Yongpyong Ski Resort, 130 Daegwalnyeong-myeon, Pyeongchang-gun, Gangwon-do, South Korea
How to get there: Fly direct to Seoul with airlines including Korean Air and Singapore Airlines, and then take a 250km shuttle bus transfer to Yongpyong.
Ski season: Mid November to early April