Photography: Stephanie Dickson
A passionate advocate for sustainable and conscious living, Stephanie Dickson left the fashion festival circuit to start Green Is The New Black and leave a positive impact on the world.
We love entrepreneurs and small business owners at Honeycombers, which is why we've created Launchpad, a comprehensive digital networking platform (with IRL benefits, too) that encourages connection, business support and community. It's a privilege and pleasure to learn from so many talented and inspiring folks, so we've decided to share the love by interviewing some of the lovely Launchpad members. Looking for inspiration? Check out how Stephanie Dickson, the founder of Green Is The New Black, gets it done like a boss.
How I get it done: Stephanie Dickson
What is your backstory and why did you decide to launch your business?
I used to work in fashion running fashion festivals around Asia. It was my dream job at the time. That is until I discovered fashion was one of the most polluting and social corrupt industries in the world. I felt completely blindsided. I realised I needed to be part of the solution, not the problem. So I quit my job and tried to find a community where I could learn about sustainability, but at the time the events were very business and/or preachy. So I started to do my own.
That led me to launch Green Is The New Black, a media and events platform on a mission to make conscious living and sustainability mainstream, accessible and sexy. The Conscious Festival is our flagship event. And our media platform provides deep dives into sustainable living and action. I also host the Live Wide Awake podcast and am a founding member of UNTAM3D, a women+ in APAC web3 community for impact.
On a typical morning
Working out is my meditation. I love running, doing The Class and hiking on the weekends. When I run I repeat mantras (like "I choose the light, I choose happiness, I choose freedom") – it really gets me going and excited for life and my day. I'll get ready for work, have a healthy brekky and be at the laptop ready to get the day going.
When I have a bit of extra time I like to read one of the newsletters I'm subscribed to or an article I've bookmarked. Mostly these are on self-development (like Mark Manson, Gene Keys or Jamie Varon) or web3 or cyrpto for impact.
On dealing with self-doubt and criticism
This has been a deep battle for the last few years. The funny thing is I didn't even realise how bad it was or how deep a negative self-talk spiral I was on. So I went too extreme and tried to do too many things to spiral myself out of it and ended up collapsing back down after small progress. Now I double down on the things I know really help me and do my best to keep it simple but fun!
This is why I run every other day, do breathwork or somatic healing twice a month, reframe my thoughts and spoken word to positive only, and be way (way!) kinder to myself. Self-compassion is highly underrated. Cutting out complaining has been a real stickler, but the battle is not lost yet! I'm a constant work in progress.
On keeping stress levels low
The biggest thing that's helped with my stress and anxiety levels has been working on personal development and self-love. The more confident I am in myself and less invested in outcomes, the less I integrate my identity as the same as my company, and the more I am able to have the strength to know everything will be okay.
I think I've finally embodied the Marie Forleo quote I idolised my whole entrepreneur journey: "Everything is figureoutable". Only took me seven years, but there's such peace and acceptance in it and knowing that solutions present themselves all the time. The only thing we can control is how we show up and how we react – to the emotions and chatter in our head and to others or situations.
On staying motivated and energised
Having been slammed with burnout and being in the activism space, this is a tricky one. However, I've been working to reframe my focus. So instead of focusing on the doom and gloom the planet and humanity are facing, I focus on the incredible humans who are dedicating their lives and intelligence to solving the world's most pressing issues. And that has made me motivated and excited again. That and taking real disconnected breaks in nature, and nourishing time with friends and family.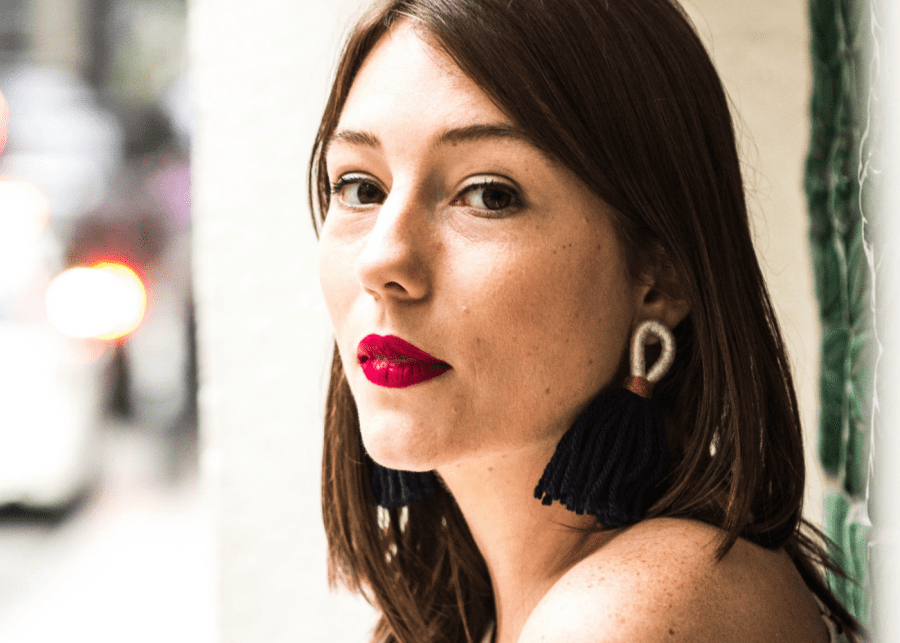 On the advice you'd give your younger self
Invest in yourself first and foremost. You'll have way more to give if you do. Follow what lights you up, not where the money is. Deep down you always know – and if you don't flip a coin, when the answer comes you can tell by your reaction if it's what you wanted or not. Choose the light. The darkness is a fickle place that will always try to keep you stuck in the spirals. Happiness is a choice and you can create it.
On winding down in the evening
I need to work on this more, for sure! But I really do try not to look at a screen for at least an hour before bed. Have some quality time with my husband, even if it's just a few minutes before bed. Read something that inspires me and enjoy a show or movie.
Check out Green Is The New Black and get in touch with Stephanie.
Launchpad is a comprehensive digital networking platform (with IRL benefits, too) that encourages connection, business support and community. It is designed to make the entrepreneurial journey not only easier, and more successful, but also a whole lot more fun. We offer almost daily activities for members to connect, along with weekly masterclasses, member networking roulette, small-business mentoring and media profiles on Honeycombers. Check it out and join us!