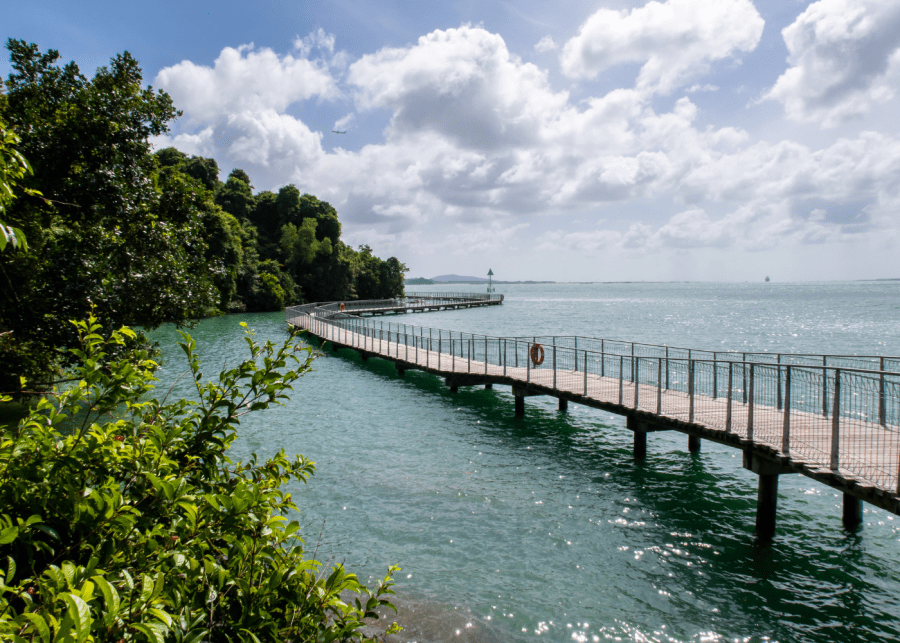 Spend a day exploring the beauty of Pulau Ubin.
Need a short break from city life? Go island-hopping without leaving Singapore.
So you're always thinking about your next vacay but can't squeeze in a quick escape overseas? You can still play your cards right and make use of those upcoming long weekends. Or opt for a cool staycation. But if you're looking to literally get away from crowds over the weekend, why not head to the pier (or go all out and hire a boat) for island-hopping? Yes, our own little island has its own, tinier islands. Mind blown? Here are a few mini islands around Singapore known for their exotic flora and fauna, local heritage and, of course, sandy beaches and unobstructed sea views.
Get your sunnies out at Singapore's offshore islands
1. Pulau Tekukor
If you're interested in the darker side of history, give Pulau Tekukor a visit. This island was previously known as Pulau Penyabong. It was associated with cruel fates and duels to the death between Johor Malays and Bugis warriors from Riau. And if old legends are to be believed, this former ammunition dump was actually cursed, making the land incapable of supporting plant life.
However, despite its ominous origins, this island off the south of Singapore is home to a whole slew of marine life. Both underwater and on the shore, you'll find an array of colourful creatures. It's a popular spot for avid fishermen to reel in their next catch. If you're a big fan of water sports, consider kayaking to the island or taking a dive to catch a glimpse of the vibrant corals.
2. Pulau Ubin
Pulau Ubin is one of our most iconic islands, home to Singapore's last kampungs and the Chek Jawa Wetlands. It's located off the north-eastern corner of Singapore, and easily accessible via a short 15-minute bumboat ride from Changi Point Ferry Terminal. Tickets are under $10, so bring the gang!
Once you've landed, you'll be swamped by the rich biodiversity of flora and fauna. It's estimated to house more than 700 native plant species and over 300 species of mammals, birds, reptiles and amphibians. Expect to meet monkeys too, of course. Plus, explore plenty of old school heritage, from rustic kampungs to traditional shops, making you feel like you've been transported back in time.
3. Kusu Island
One of Singapore's Southern islands, its name means "Tortoise Island" and stems from a legend of a giant tortoise that saved shipwrecked men by turning into an island. Nowadays, you can still see many tortoises at the tortoise sanctuary on the island, but other day trip ideas spots include visits to the various historic shrines and temples.
The temples house deities that grant prosperity, cure diseases, calm the sea and avert danger. There are even shrines to Malay saints at the top of a rugged hillock that you can visit. Many devotees have climbed the steps to pray for wealth, good marriage, health, harmony and fertility. Alternatively, you can grab a picnic mat and relax on the sand with family or friends. There are plenty of swimming lagoons and beaches to explore!
4. Pulau Hantu
It's colloquially known as "ghost island" in Malay, but don't let the foreboding name put you off from visiting. Even though there are some spooky origins to Pulau Hantu's moniker, this untouched island is the perfect getaway from the hustle and bustle of the city. It's actually made up of two islets: Hantu Besar and Hantu Keccil (big ghost and little ghost, isn't that cute?). Both areas have shelters and picnic areas that are perfect for your afternoon beach picnic plans.
Walk by the lush flora, relax on the sandy, white beaches or take a dip in the swimming lagoons. Home to rich coral reefs, Pulau Hantu is a hotspot for scuba divers and snorkelers. Expect to see clownfishes, angelfishes and, if you're lucky, even seahorses!
5. St. John's Island
Fishing enthusiasts will love the clear waters here, but St. John's Island is also known for its pristine beaches and swimming lagoons, trekking routes and an Island Trail that takes you on a tour of the rich biodiversity of the island. For those looking to spend a little more time away from the city, book a Holiday Bungalow that comes furnished with cooking facilities and can house up to a gang of 10. It'll be like having your own private island for a night!
7. Pulau Satumu
Although you might not be able to do typical island activities like picnics and swimming at Pulau Satumu, you can still soak in the allure of the crystal clear waters and towering palm trees. Don't forget to visit the iconic Raffles Lighthouse! Take a guided tour with the Maritime and Port Authority of Singapore to get a glimpse of this fully functioning lighthouse –a perfect photo-op for the 'gram, if you ask us.
Fun fact: unlike traditional lighthouses that are manually operated by lighthouse keepers, Raffles Lighthouse functions on solar power and works on a timer. Besides that, there's plenty of marine life to see as you take a gander around the island. In fact, it has one of the highest percentages of corals in the country.
8. Sisters' Island
Temporarily closed
Legend has it that these islands were formed from the strong bond of two sisters. It's a sad tale, but still a popular island-hopping destination – especially if you're into picnics and snorkelling. The reefs are teeming with marine life, and the clear waters make a good view if you wanna do some picnicking by the sea. You can also explore Singapore's first Marine Park, participate in a dive trail, intertidal guided walks and more at Sisters' Island.
9. Lazarus Island
If a clear, pristine stretch of beach is what you need, here's where you can find it. This lagoon is the perfect place for you to lay down and soak in all that glorious sun to work on perfecting your tan. There's plenty of greenery too, so nature lovers will find it a great option for a quick respite from busy city life.
For dog owners, consider bringing your furry friend along with you for some fun in the sun. Just remember that if you're planning to spend a few hours there, be sure to have a hefty supply of food and water to stay hydrated.
10. Coney Island
You don't need a ferry to get here – just a bicycle and your trusty pair of feet will do as you set off from Punggol. There's a ton of stuff you can do besides checking out beaches and nature trails. It's home to plenty of wildlife, some of which are endangered species, and you can explore mangrove habitats and rich forestry along the boardwalk. Need more tips? Check out our nifty guide to Coney Island Park.
Start island-hopping with your friends around Singapore and tick these spots off your list!