Photography: Lilit
Want to stand out from the crowd? Whether you're looking for a stylish kebaya, baju kurung or jubah, these modest fashion labels are on point.
Modest fashion is making waves worldwide. It's raking up likes via social media on everything from minimalist to frou-frou. To say that modest fashion is exclusive for Muslim women would be rather incorrect. Women from various religions and backgrounds have chosen to cover up for decades. Newsflash: yes, it's a choice. Plus, no one can say no to a good dose of shopping. Expand your wardrobe with effortless and comfy modest Muslimah fashion pieces. Pick from bold and contemporary designs for Hari Raya Puasa and Eid – or throughout the year.
Modest fashion brands in Singapore
1. The Duck Group
Beginning with a love of scarves, Duck launched in 2014 with a slew of beautifully designed headscarves. Since then, it has amassed a cult following and expanded into all kinds of apparel. Founder Vivy Yusof translates her travel experiences into the brand for standout designs – from single-coloured instant scarves to printed fabrics and ones suited for sports. Check out the ready-to-wear section for elegant tunics and dresses. And if you need new prayerwear, this brand's got your back.
The Duck Group, available online
2. Lilit
The biggest thing we love about Lilit? The fact that it's size-inclusive. It's all about comfort and confidence while looking effortlessly chic. Sizes range from XXS to 5XL, so rest assured you'll find something that fits. Besides the stunning Eid collection, it offers activewear, maternity clothes, hijabs, and traditional wear. We're in love with the comeback skirts with pearls sewn in for a sprinkle of sparkle.
Lilit, available online
3. Maqayla
Modest fashion in modern aesthetics and contemporary styles is the name of the game here. The headscarves come in myriad prints and solid colours. You can opt for a khimar, square scarf, or shawl for different styles. As for the prayerwear, it's made of lush satin and comes with a matching pouch adorned with a pearl strap. These colours and fabrics are also used to create the label's menswear, with shirts in fun tartan patterns.
Maqayla, available online
4. Katt & Co.
Local label Katt & Co. is your friendly go-to stop with comfortable twists. The brand reimagines daily essentials with an elevated touch for women of every background. Select from a mix of adorable prints or solid, muted colours with that'll make you stand out. Think elegant high-collared abayas to pastel tent dresses that are perfect for our sunny weather.
Katt & Co., available online
5. Samiha Apparels
This family-run Singapore business founded in 2016 is a one-stop destination for everyday wear. Browse through the affordable collection of kaftans and cardigan midi dresses amongst others. The bright tones and wide range of options are sure to draw you in. Consider getting a mermaid dress for a modern silhouette.
Samiha Apparels, available online
6. Whimsigirl
"Minimal but not typical" – we couldn't agree more! For modest wear with a playful twist, Whimsigirl has it all. We see why this Malaysian label is a favourite amongst comfort creatures. It offers breathable two-piece outfits with unique silhouettes. Like tapered three-quarter sleeves or long, flared bell sleeves. Each piece is ethically created using natural fibre fabrics like linen and cotton. This means they're comfortable even for daily wear.
Whimsigirl, available online with delivery to Singapore
7. Baju by Oniatta
For batik aficionados, Baju by Oniatta is driven by designer Oniatta Effendi's love for the Indonesian decorated fabric. What sets the label apart from other batik brands? The contemporary elements she fuses into her versatile creations. You can expect thoughtfully created patterns used and printed on fabric. You can be formal with a kebaya top or go casual and match your batik piece with a t-shirt! For authenticity, the fabrics are sourced from different parts of Indonesia, and no two pieces are the same.
Baju by Oniatta, 757 North Bridge Road, Singapore 198725
8. Mimpikita
The brainchild of the Zulkifli sisters, Mimpikita translates to 'our dreams', which is also a reflection of the label. The Disney x Mimpkita Midnight Memories collection is definitely one to look out for. Think fitted shirts, belted jackets, and fashionable trench coats.
Mimpikita, available online
9. Anaabu
If we're awarding points, it's going to be A for effortless at Anaabu. This minimalist and sustainable brand wears the androgyny label on its sleeve, featuring almost genderless fashion in its collections. For muted tones, clean silhouettes and attention to detail, this is the place to go. And if you need something for your little one, head to the kid's site.
Anaabu, available online
10. Petra
It's all about prints at Petra. The modest fashion label teases us with vibrant floral and abstract patterns. Plus, eye-catching colours that you can spot from afar. It's literally timeless modern art translated into comfy, sophisticated pieces. Yup, plenty of classic looks for you to snap up.
Petra, available online
11. Arared
Major colour crush moment right here. Born in 2009, Arared began curating vintage collections. Since those humble beginnings, the brand has grown into ready-to-wear pieces for women. You'll find details in cuts, lines, shapes and embroideries. Let's not forget the lovely fabric textures that flow beautifully in the wind.
Arared, available online with delivery to Singapore
12. Zalia
Fair warning if you're looking through Zalia's massive collection. You're bound to check out your shopping cart with more than one piece! This modest fashion label is filled with a blend of vintage silhouettes and contemporary twists. Besides flare dresses and delicate blouses that go with A-line skirts, you can get activewear here too. Grab yourself a pair of joggers or an inner hijab for swimming.
Zalia, available online
13. Deepduzt
Modest, classy and oh-so-comfy. That's how we'd describe the pieces at Deepduzt. Made for Singapore's blazing hot weather, the satin material will keep you cool throughout your Raya visiting. And those earthy, muted tones? So chic.
Deepduzt, available online
14. Adrianna Yariqa
Are you into pastels? If you answer 'yes', check out local modest wear designer Adrianna Yariqa. There are designs fit for everybody. Yes, that includes men and kids! Fit for minimalists, her designs are simple and versatile. And you don't need Hari Raya as an excuse to shop at this place. Check out the casual collections for everyday modest wear. You can even dress your home up with floor mats in playful designs.
Adrianna Yariqa, available online and at 8 Jalan Pisang, Singapore 199075
15. Alia
It's elegance personified at Alia. The leading modest fashion label explores simplicity, style and comfort. Snap up traditional outfits with a modern edge. Or amp it up with a splash of botanical prints. You can also play mix-and-match with clashing patterns and styles.
Alia, available online and at multiple locations including Golden Landmark and Arab Street
16. Happy Vibes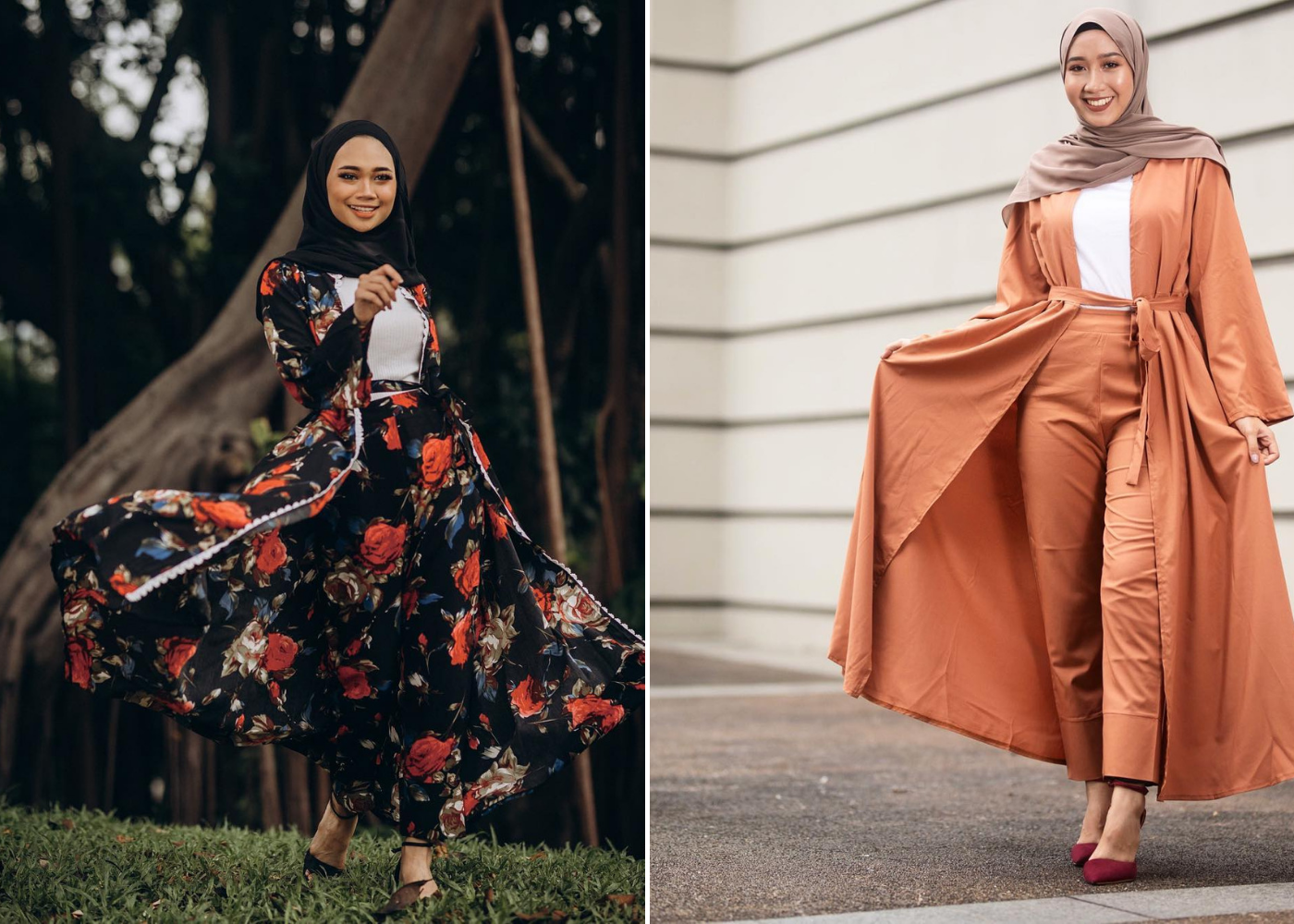 You don't need a celebration to shop at Happy Vibes. Created with a perfect likeness of modern meets modest, Happy Vibes carries swoon-worthy pieces for any occasion. You can pick from flowing maxi dresses for celebrations. Or sort through oversized organza blouses to go with culottes or skirts. But hurry, most pieces sell out fast.
Happy Vibes, available online
17. Poplook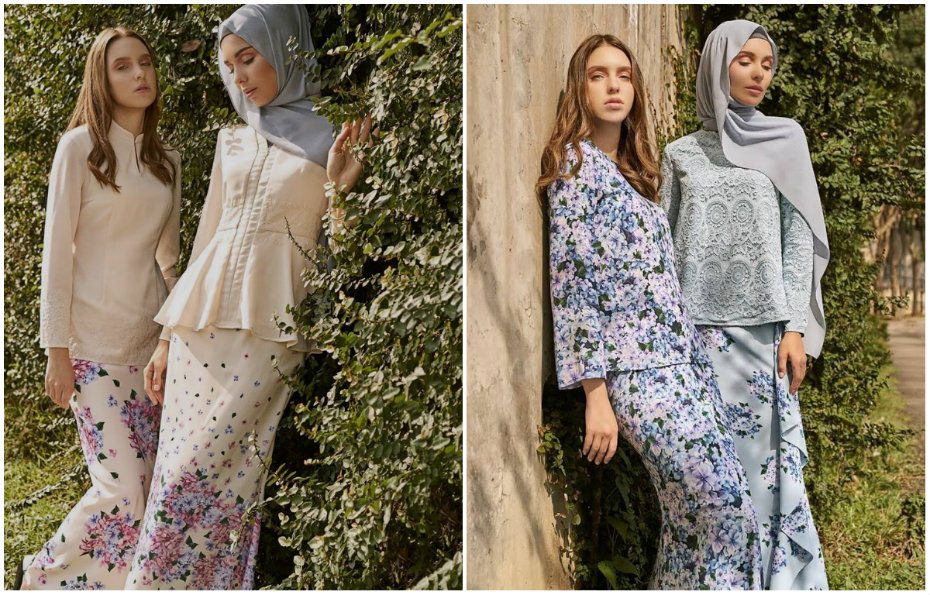 Malaysian e-commerce brand Poplook is another key player when it comes to both Raya and modest fashion. The show-stopping collections feature two-piece suits, A-line maxi dresses, and comfy tunics. Want to match your hijab to your threads? The store stocks a good range of scarves in all sorts of fabrics including chiffon and satin.
Poplook, available online
18. Ayu Apparels
This online marketplace has everything you need for a stylish and trendsetting Raya celebration. It's Singapore's largest Muslimah online store, after all. Our only gripe? There are just too many choices to select from! Step into style right here. First, pick out your perfect dress or pair printed blouses with skirts before dolling yourself up. And if you're looking for a new shawl, just check out the collection.
Ayu Apparels, available online
Time to shop for your modest fashion staples!