Lounge in these comfy pieces. Photography: Whimsigirl
Need new threads in time for Hari Raya Puasa? Whether you're looking for a stylish kebaya, baju kurung or jubah, these modest fashion labels are on point…
Modest fashion is making waves worldwide, raking up likes via social media on everything from minimalist to frou-frou. To say that modest fashion is exclusive for Muslim women would be rather incorrect as women from various religions and backgrounds have chosen to cover up for decades. Newsflash: yes, it's a choice. Plus, no one can say no to a good dose of shopping. Expand your wardrobe with these effortless and comfy modest Muslimah fashion pieces in bold and contemporary designs for Hari Raya Puasa and Eid – or throughout the year.
Modest fashion brands in Singapore
1. Whimsigirl
"Minimal but not typical" – we couldn't agree more! For modest wear with a playful twist, Whimsigirl has it all. We see why this Malaysian label is a favourite amongst comfort creatures. It offers breathable two-piece outfits with unique silhouettes such as tapered three-quarter sleeves or long, flared bell sleeves. Each piece is ethically created using natural fibre fabrics like linen and cotton to ensure they're comfortable for daily wear. In typical Whimsigirl fashion, the newly-released Rasa Sayang collection takes Eid at home to the next level with comfy styles you can wear all day.
Whimsigirl, available online with delivery to Singapore
2. Katt & Co.
Local label Katt & Co. joins hands with homegrown conscious scarf specialist Adlina Anis for a contemporary yet modest collection. Select from a mix of adorable prints or solid, muted colours with intricate details that'll make you stand out. Think high collared round mock necklines, keyhole back designs and boat-neck collars. Oh, and there's even something for the young ones for mother-daughter matching!
Katt & Co., available online with free shipping for orders above $80
3. Anaabu
If we're awarding points, it's going to be A for effortless at Anaabu. This minimalist and sustainable brand wears the androgyny label on its sleeve, featuring almost genderless fashion in its collections. For muted tones, clean silhouettes and attention to detail, this is the place to go.
Anaabu, stocked at #01-46, Oue Downtown Gallery, 6A Shenton Way, Singapore 068815; also available online with delivery to Singapore
4. Baju by Oniatta
For batik aficionados, Baju by Oniatta is driven by designer Oniatta Effendi's love for the Indonesian decorated fabric. What sets the label apart from other batik brands? The contemporary elements she fuses into her versatile creations. You can be formal with a kebaya top or go casual and match your batik piece with a t-shirt! For authenticity, the fabrics are sourced from different parts of Indonesia, and no two pieces are the same.
Baju by Oniatta, Level 2, 757A North Bridge Road, Singapore 198725; also available online
5. Mimpikita
The brainchild of the Zulkifli sisters, Mimpikita translates to 'our dreams' in Bahasa Malaysia, which is also a reflection of the label. The Mkita Lebaran 2021 collection is all about mixy-matchy florals and stripes. Think kebaya and alluring sets in bold colours, polished print-on-prints and unexpected details.
Mimpikita, available online with delivery to Singapore
6. Petra
It's all about prints at Petra as the modest fashion label teases us with vibrant floral and abstract patterns. Plus, eye-catching colours that you can spot from afar. It's literally timeless modern art translated into comfy, sophisticated pieces. Yup, plenty of classic looks for you to snap up.
Petra, available online and via Zalora with delivery to Singapore
7. Arared
Major colour crush moment right here. Arared's latest Raya collection focuses on mood-lifting floral motifs. You'll find flowery details in cuts, lines, shapes and embroideries. Let's not forget the lovely fabric textures, along with chic flushes of blush and fuchsia hues.
Arared, available online with delivery to Singapore
8. Zalia
Fair warning: if you're looking through Zalia's massive collection, you're bound to check out your shopping cart with more than one piece! This modest fashion label is filled with a blend of vintage silhouettes and contemporary twists like peplum pleats and textured fabrics. Feast your eyes on a mix of deep jewel tones, alluring sequin pieces, intricate floral embroidery and dusty pastels.
Zalia, available online with delivery for orders above $50
9. Deepduzt
Modest, classy and oh-so-comfy. That's how we'd describe the pieces at Deepduzt. Made for Singapore's blazing hot weather, the satin material will keep you cool throughout your Raya visiting. And those earthy, muted tones? So chic.
Deepduzt, available online
10. Ayu Apparels
Think beaded sequin kurung sets, brocade maxi skirts, embossed peplum tops and throngs of plain and printed scarves. This online marketplace has everything you need for a stylish and trendsetting Raya celebration. It's Singapore's largest Muslimah online store, after all. Our only gripe? There are just too many choices to select from! Step into style right here.
Ayu Apparels, available online with free delivery for orders over $59
11. Alia
It's elegance personified at Alia. The leading modest fashion label explores simplicity, style and comfort with a touch of modesty in its pieces. Snap up traditional outfits with a modern edge. Or amp it up with a splash of botanical prints. You can also play mix-and-match with clashing patterns and styles.
Alia, multiple locations including North Point City, Tampines Mall and Golden Landmark
12. Happy Vibes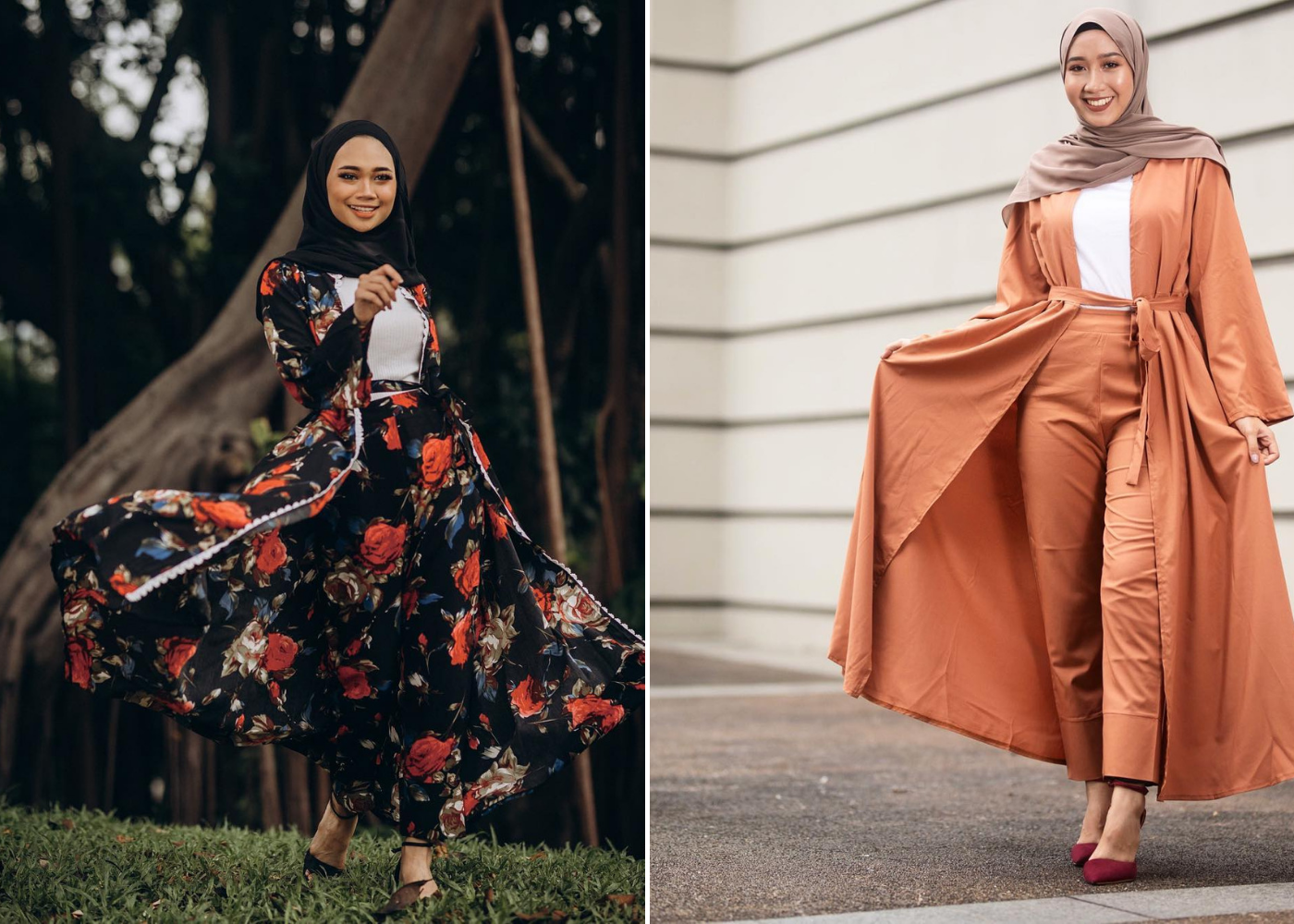 You don't need a celebration to shop at Happy Vibes. Created with a perfect likeness of modern meets modest, Happy Vibes carries swoon-worthy pieces for any occasion at affordable prices. Of course, if you're looking for baju kurung sets and shawls, the shop has got your back. But hurry, most pieces sell out fast.
Happy Vibes, available online
13. FashionValet
For your style fix, FashionValet is here for you. The multi-label online boutique carries designer modest wear. Feast your eyes on gorgeous baju kurung and kebaya pieces in contemporary silhouettes for Hari Raya. They're made by Soonaru, FZK by Fitri Zainal, Larney, Aere and Adrianna Yariqa, amongst others. Besides traditional Malay dresses, FashionValet also stocks a variety of jubah and abaya in velvet, lace and satin for a roomy maxi alternative.
FashionValet, available online with free delivery to Singapore for orders over $50
14. Adrianna Yariqa
Are you into pastels? If you answer 'yes', check out local modest wear designer Adrianna Yariqa. Her collection of brightly-coloured frocks include A-line baju kurung for Hari Raya, dress tops for the office and batik sweatshirts for cooler weather. Fit for minimalists, her designs are simple and versatile. You can also shop for the whole fam while you browse through her online catalogue. There are matching styles for men and kids!
Adrianna Yariqa, available online with free delivery to Singapore
15. Poplook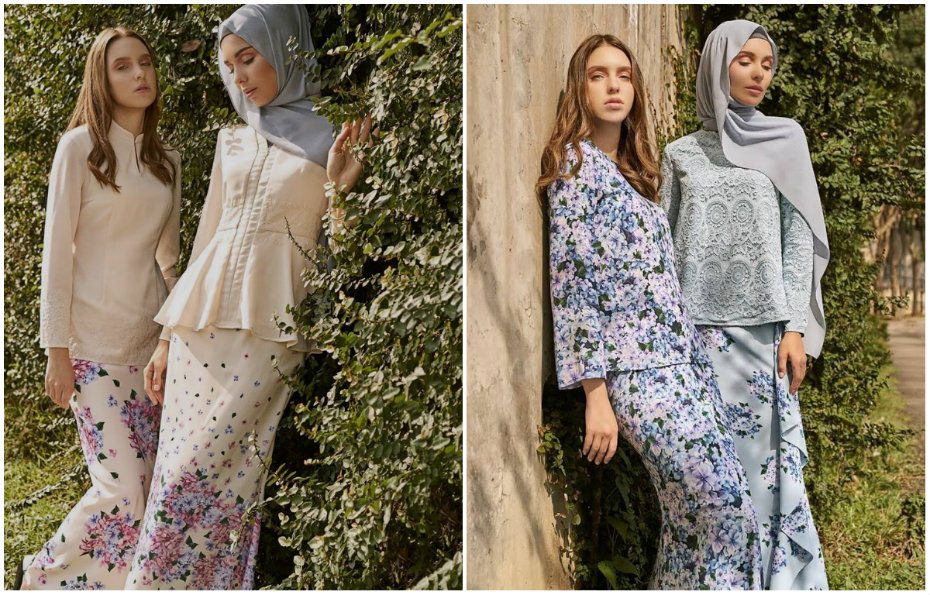 Malaysian e-commerce brand Poplook is another key player when it comes to both Raya and modest fashion. Over four drops have been released so far, each topping the other with showstopping ruffled dresses, lacy kurungs, gartered sleeve end details and printed two-piece suits. Want to match your hijab to your threads? The store stocks a good range of scarves in all sorts of fabrics including jersey and chiffon, with styles like square and butterfly.
Poplook, available online with free delivery to Singapore for orders above $30
16. Uniqlo x Hana Tajima
Looking for everyday casual wear? Or simple contemporary pieces for Hari Raya? You can't go wrong with Uniqlo's modest fashion collab with British-Japanese designer Hana Tajima. Inspired by her Japanese roots and English upbringing, her collection comprises of simple yet elegant skirts, dresses, tunics, hijabs and headbands. Plus, a newly-introduced belted long coat, with fabric drapes and tucks to enhance the design.
Uniqlo x Hana Tajima, available online and multiple locations including Orchard Central and Causeway Point
Time to shop for your modest fashion staples!