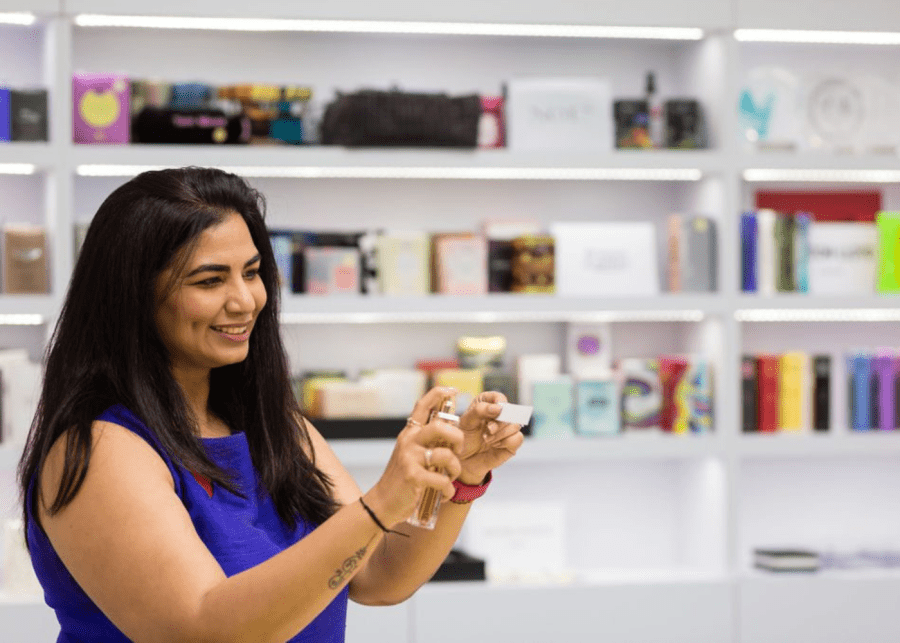 Photography: Puja Surtani
Second generation perfume pro Puja Surtani, whose family is in the business of perfume distribution, tells us about her work launching digital platform Eastern Scent.
We love entrepreneurs and small business owners at Honeycombers, which is why we've created Launchpad, a comprehensive digital networking platform (with IRL benefits, too) that encourages connection, business support and community. It's a privilege and pleasure to learn from so many talented and inspiring folks, so we've decided to share the love by interviewing some of the lovely Launchpad members. Looking for inspiration? Check out how Puja Surtani, the founder of Eastern Scent, gets it done like a boss.
What is your backstory and why did you decide to launch your business?
While Kay Ess Enterprises was established by my dad in 1988, the name is a nod in respect to two powerhouse ladies in his life: his mum and mum-in-law (Kisha and Satbhama). I have expanded the business in a new direction by going online. Eastern Scent, the name for our digital perfumery, is my nod with respect to my dad's original family business, the Eastern Silk Store in Sri Lanka.
Traditional offline channels and our current business partners have been invaluable to our growth over the years, but I felt we needed to establish our digital presence and identity to reach new customers and create a space to connect. The platforms also allow us to promote newer brands that, despite their limited marketing budgets, I believe have something great to offer.
Dealing with a sensorial product like perfume in the digital space has a barrier to entry, as many consumers want to try the products before purchasing. It's understandable, but we've been pleasantly surprised by the level of sophistication many consumers have displayed. They research the products with their favourite influencers and YouTubers before making the decision to purchase. We're also working on creative ways to get samples in people's hands and we're hoping to launch them soon.
What has been your biggest challenge so far and how did you overcome it?
Navigating the business challenges through Covid-19 was certainly the biggest I've had to face so far. Sales dropped, stores closed, and testing and sampling were not allowed. About 50% of the independent stores we supplied to didn't survive the closures, restrictions and rent hikes.
I believe we overcame it like we did many other challenges over the years. Our team has great experience in the business, so we work together to adapt and communicate with our retailers, foster strong relationships, and keep the business growing.
How do you keep stress levels low?
I don't think I've truly succeeded in keeping my stress levels low. However, organising my workflow so things get done in time has been a great help. Often, things can go wrong at the last minute. The more you can get done ahead, the easier it is to breathe and create time for activities you enjoy. Aside from that, swimming is a great stress release for me. We all have days where things just seem to go wrong. Getting that frustration out of my body while I'm in the water and not talking to anyone helps.
How do you deal with self-doubt or criticism?
I surround myself with a great support group. When things come up, I believe it's an aspect I need to improve on. Having a great network of people to reach out to, discuss options, and think things through is key to building an action plan. However, while working through these situations, there have also been times when the action plan is to "stop overthinking because you're on the right path". The process of acknowledging self-doubt or criticism and working through it is important too.
Favourite places to work?
The office! I've strived to create an environment that's interactive, supportive and productive. However, when I'm working on more creative tasks outside office hours, I enjoy being outdoors. The balcony at home or a cafe with an outdoor space in Robertson Quay and Dempsey are usually my go-tos.
Can you share a work mantra that you use?
Everything is "figureoutable". I first heard this from Marie Forleo and loved it. I believe with a mindset like that, the multitude of challenges you face in business don't seem that scary. It's also important to tap into your network for help and support to work through the challenges.
One thing you can keep talking about for hours?
Perfume… and cake. I can't choose just one! With both, I love how a few simple basics can shift and transform the way you put them together.
Flour, butter, sugar and eggs form the basis for cakes that can look, smell and taste so different based on minute shifts in the preparation technique. Just as the chypre accord – consisting of bergamot, oakmoss, patchouli and labdanum, for instance – can range from having a depth of woody notes and feel "heavy" to being "lighter" and fresher simply based on the formulation.
Your go-to self-care activity?
Reiki. I've been a channel since I was 16 and it's the most important thing I do for myself. Meditation every morning is also a great centring activity to gear up for the day ahead.
One piece of advice to your younger self?
Don't trust so easily. Even if you know the person well, have the hard conversations at the start and keep things in your control.
Get in touch with Puja Surtani online.
Launchpad is a comprehensive digital networking platform (with IRL benefits, too) that encourages connection, business support and community. It is designed to make the entrepreneurial journey not only easier, and more successful, but also a whole lot more fun. We offer almost daily activities for members to connect, along with weekly masterclasses, member networking roulette, small-business mentoring and media profiles on Honeycombers. Check it out and join us!