Photography: Sworkit via Facebook
Gym ain't your thing? Download these workout apps, get disciplined and achieve your body goals from home...
If fitness is your weakness, you'll know that there are plenty of activities in Singapore to help you get fit and fab, from running marathons and hiking to alternative workouts. Instead of shelling out cash to hire a personal trainer or signing up for the gym, try these free at-home workout classes, or whip out your smartphone and start downloading these workout apps for home exercises, tracking your progress and planning your #fitspo goals. Got the discipline? Go for the download…
Nike Training Club
For celeb-guided intense workouts
If you're looking for a great free app for an intense sweat sesh, we highly recommend this one. There's a catalogue of over 150 workouts of all levels and durations, including boxing, yoga, strength, endurance and mobility workouts. Workouts are accompanied with easy-to-follow video drills, as well as audio guides from the Nike pros and world-class athletes like Serena Williams. Track your progress (including any activities outside the app) and unlock reward content!
Nike Training Club, available on the App Store (iOS) and Google Play (Android).
Sweat: Kayla Itsines Fitness
For the ultimate bikini body
A little pricey at US$19.99 per month, but if you're familiar with the fitspo game on Instagram, you'll know that Aussie workout queen Kayla Itsines' bikini body guide (BBG) program has helped ladies all over the world transform their bodies. The app includes four video-led workout programmes that are tailored for different fitness levels, including post-pregnancy. Plan your fitness goals and break a sweat with anything from bodyweight and strength workouts to yoga.
Sweat: Kayla Itsines Fitness, available on the App Store (iOS) and Google Play (Android).
Sworkit
For custom no-equipment workouts
Sworkit (a catchier way to say "simply work it") allows you to create your own mix of no-equipment bodyweight exercises, strength training, cardio, pilates and yoga so you wouldn't have to endure the moves you despise (looking at you, burpees!). The app comes with a timer and demos for newbies. The different intensity levels are ace for amping up your fitness routines and reaching your body goals – be it weight loss, muscle gain or to simply live a healthier life.
Sworkit, available on the App Store (iOS) and Google Play (Android).
Strava
For runners and cyclists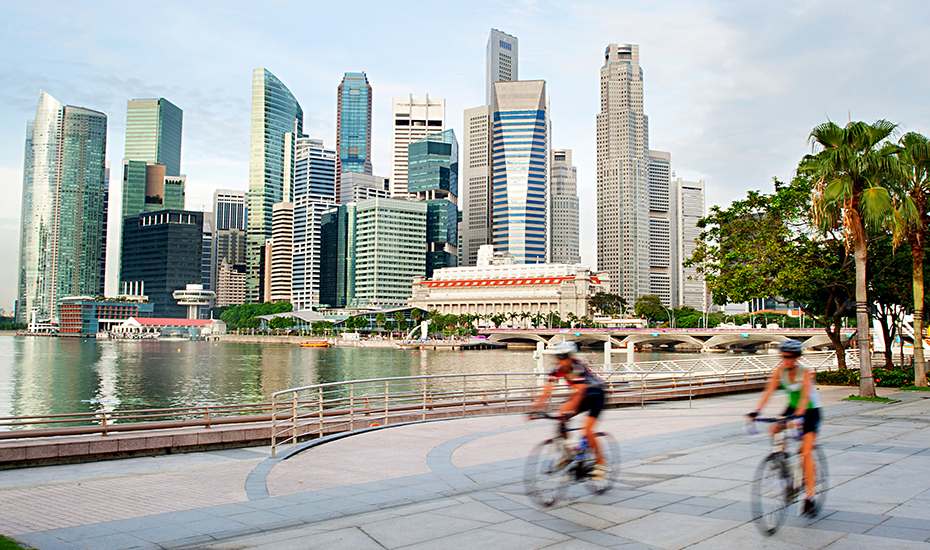 You may have to leave the house for this one, but it's worth it. Whether you're a beginner or a seasoned pro, this app is top-notch for tracking distance, speed, routes and pace while you jog, run or cycle, and analysing your performance after. Here at Honeycombers, we like to compare and share our workouts with one another for a little healthy competition.
Strava, available on the App Store (iOS) and Google Play (Android).
Keelo
For HIIT and strength training
Looking to fast-track your fitness? Say no more. Keelo will have you sweating in no time with over 100 video-led movements that involve barbells, dumbells, kettlebells and more. Go beast mode with a Crossfit-level, high-intensity, full-body workout that will have your heart racing and your muscles burning.
Keelo, available on the App Store (iOS) and Google Play (Android).
Aaptiv
For audio sessions
Best for runners, bikers and elliptical users who aren't big on watching videos or reading the screen while working out, Aaptiv is loaded with audio classes featuring trainers to guide you through a studio-style session and music to keep you motivated. Keep those pulses racing with its high-intensity elliptical interval workout accompanied with pop-rock, or a challenging yoga routine with hip-hop. You can also customise your workouts based on your preferred level and time, or stick to its full-length 5K training plan.
Aaptiv, available on the App Store (iOS) and Google Play (Android).
7-Minute Workout Challenge
For tight schedules
If time's not on your side, this app will help you burn calories in just seven minutes! No matter how busy your day gets, seven minutes of combined strength and cardio training won't kill you (though you might feel like it). Each workout is timed so you can see the number of seconds and cycles you have left. Your progress will also be tracked, resulting in intensified sessions as the day goes by. Keep your eyes peeled for a reward whenever you complete a streak!
7-Minute Workout Challenge, available on the App Store (iOS) and Google Play (Android).
Workout: Gym routines planner by Fitness22
For customized workout routines
While you might not have access to celebrity trainers or the time for that Hollywood bulk-up, you can still achieve your body goals with this powerful app. Believing that everyone is built differently, depending on your fitness levels and body stats, Gym Routines Planner will tailor a workout regime just for you, complete with supersets. So you can forget about the trial and error of building muscle mass.
Gym routines planner by Fitness22, available on the App Store (iOS) and Google Play (Android).