Dig into this spread of authentic Mexican bites. Photography: Papi's Tacos.
Papi's Tacos is serving up serious Mexican in Singapore, but you're going to have to fight for that seat…
If you've gotten a taste for legit Mexican food after spending time in the States, or miss the taco trucks of East London, better haul ass to Seah Street because Papi's Tacos is serving up the real deal. And just days after opening there's already serious competition for a seat. A soundtrack you wanna dance to, leaning over the counter to lob in your order and one fun vibe: if it feels familiar, it's because the crew behind our fave bar in Singapore Employees Only is in on this. You know this is going to be good.
So, who's Papi and why does he have a taqueria on Seah St? You can say 'papi' is the Spanish equivalent of 'dude' – and it's what everyone calls Mauricio Espinoza, executive chef and partner at Papi's Tacos. Up till now, he was head chef at Employees Only. Trained in NYC under serious industry veterans, but with kitchen wisdom from his family in Tlaxcala Mexico, he set off a powder keg by slipping some native bites on the EO menu that made his now business partners crave authentic Mexican. And crave it hard. Take the idea of tacos on tap, an ace team and a spot on Seah St and the rest is history.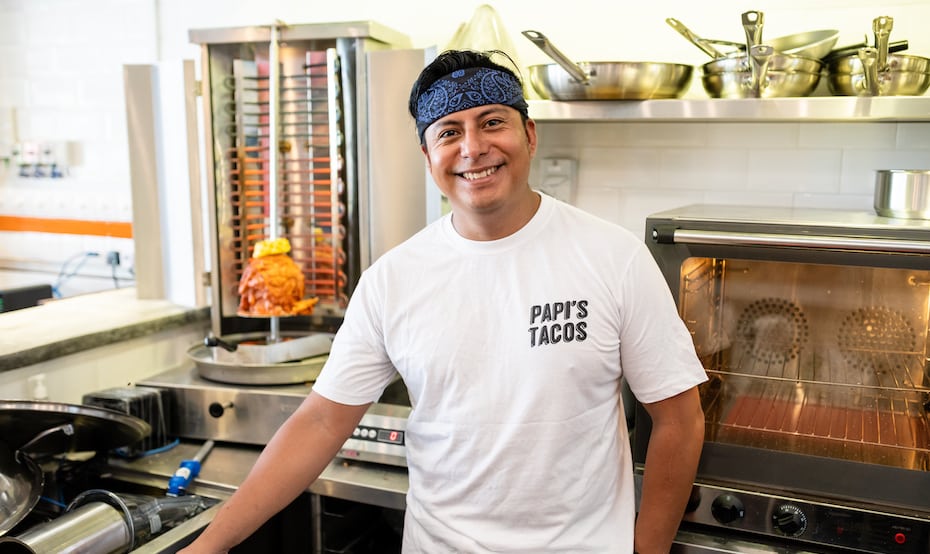 So here we are, in another space where you'll be bumping into people you know and others you just don't know yet, kicking back with a strawberry margarita or house lager by Trouble Brewing. Perched at the counter, you'll also get schooled on what real Mexican food is about as you watch Mauricio scoop steaming-hot black beans over his tomato fried rice (like they do it back home), toss massive bowls of fresh salsa and fold burritos like he could do it with his eyes closed. No need to trick this menu up: it's just damn good.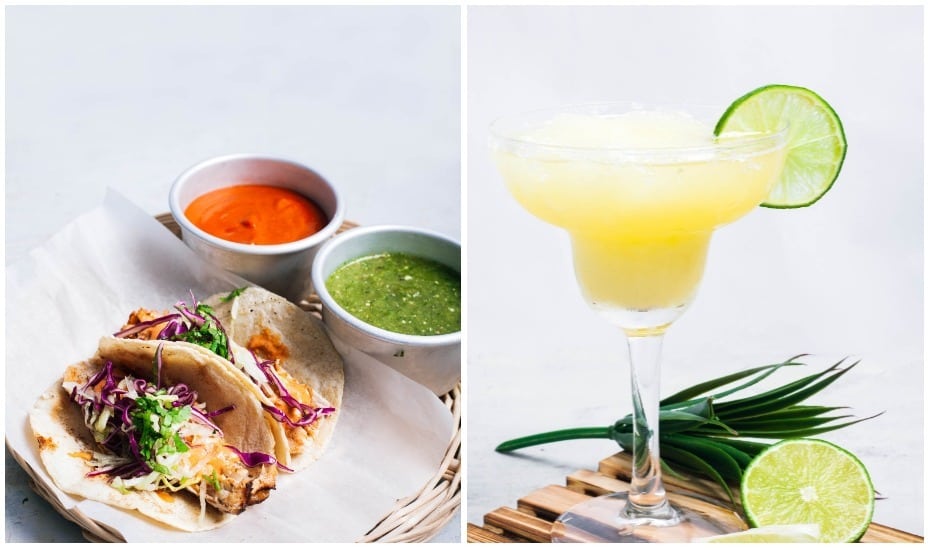 If, like me, you've become used to big-ass burritos and loaded tacos, you'll need to recalibrate to the bite-size serves here. This is how it's really done – same as you'd be served from a traditional taqueria, and just the right proportions to let you stuff yourself with anything and everything you want on the menu.
The tacos de pescado arrive: plump dory fillets, smoky with chipotle mayo. And they're spectacular. Mushroom quesadillas feel anything but vegetarian: ridiculously satisfying, which might have something to do with a killer ooze of cheese and quintessential squirt of hot sauce. The tacos de Cameron are another hit, pan-fried prawns in Mexican spices, and just the kind of thing you'd mainline if nobody was watching. The dessert, tres leches cake, is impossibly airy (given that's laden in cream) and so good it's shared amongst strangers.
And for the lunch crowd, Papi's has kicked off with three set lunches from $14 on weekdays. Think tacos de pollo or that amazing tacos pescado, one of those kickass quesadillas or a super salad bowl with poached Mexican cactus, red onion, red radish and Oaxaca cheese. The set lunches come with chips and pico de gallo, but hell yes we're going to load up with a serve of esquites: that's grilled street corn, smoked chipotle aioli and Mexican cheese.
No reservations and no attitude here. It's super casual and cosy: there are just 16 seats by the bar, and a scattering of tables outside. Just saying, like EO, you'll spot players in the local F&B scene here – one maestro confessed it was the second time he'd been to Papi's this week. Always a good sign, but you know there's gonna be fight for that seat at that bar…
Opening hours: (Dinner)  5.00pm – 11.30pm Mon-Sat, closed Sun (Lunch) 12.30pm – 2.30pm Mon-Sat, closed Sun

Papi's Tacos; 39 Seah St, Singapore 188395
Like this story? Check these out:
Throwback to when Employees Only came to SG
Got a thing for Mexican? Here's more to try in town
Have you eaten your way through these Hot New Tables?
Or found these hidden bars yet?
Or let's take things to the next level: invite us into your inbox