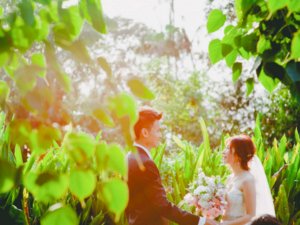 Here are four useful tips to help you plan a cool al fresco ceremony in Singapore.
For most part of the year, there's only two words to describe Singapore's weather: hot and humid. So it's no surprise that many couples shy away from outdoor weddings, even if they dream of tying the knot on the beach or in a beautiful garden space. We're here to challenge that notion. While it's not for everyone, outdoor weddings in Singapore can be comfortable – it's all in the preparation.
Pick the right day
A tour guide once told us: "I can organise my ship, I can organise my crew, but I can't organise the weather". While having fine weather lies out of our control, we recommend choosing the most promising time periods to hold a wedding based on the average weather forecast. Based on past years, the best periods for an outdoor wedding are from February to early April, as well as November. These are months where you'll likely avoid haze, blistering heat, and the much-dreaded monsoon season. Keep tabs on the latest weather patterns by checking out Meteorological Service Singapore.
Pick the right time
Another big factor is the time of day. Pick a cooling time slot – evenings are great because you can enjoy a stunning sunset, as well as two different moods (day and night). If you're having a simple ceremony, why not consider an early-morning solemnisation? Some venues, such as Spruce Phoenix Park and Kombi Rocks are happy to provide breakfast and brunch menus for events. All-day breakfasts are the in thing after all.

Vineyard at Hortpark

Pick the right place
If you want to play it safe, find a venue that has both outdoor and indoor space. That way, you'll get the best of both worlds: a rustic, natural backdrop, and the option of ducking into sheltered, air-conditioned comfort. Vineyard at HortPark, for example, has a sheltered outdoor verandah beside its indoor area. Take your vows outside under fairy lights, then move indoors to eat, leaving the buffet spread outside. Masons at Gillman Barracks has a similar set-up as well (optionally, its carpark can also be rented and used as a space).

Better yet, indulge in Singapore's penchant for climate control and find an air-conditioned 'outdoor' space. Spots that come to mind include Alkaff Mansion's Grand Marquee and Pollen's terrace in the Flower Dome. You could also B.Y.O.T (bring your own tent) to a venue.

Remember to personally visit the venue during the intended timeslot for your wedding, rather than rely on second-hand information. One couple's idea of cool temperature is another couple's warm, so it pays to experience the premises yourself. Have a nice meal there, or specifically request to tour the space at the timing you've picked.

Caught The Light

Prepare your guests… and prepare for them.
Aside from choosing the right venue and time, there are small yet imporant things you can do to make your guests more comfortable.

Be more specific about the dress code. If you can't bear the thought of guests turning up in bermuda shorts and slippers on your special day, spell out what sort of clothing is allowed. "No t-shirts or jeans allowed" says a lot more about dressing comfortably than "smart casual".
Arm your guests against the heat. Consider providing parasols, paper fans or renting a portable air cooler. Providing insect repellent is a good idea too!
Keep your guests hydrated. Have a steady flow of ice-cold drinks, and remember that alcohol can be dehydrating. Try to provide non-boozy alternatives or save the tipple for the cooler part of the celebration.
This article was contributed by Wedever. To find a gorgeous outdoor location to say "I do", check out their list of unique venues.