Photography: Skitterphoto via Pexels
Head this way for fresher smelling clothes and a beautifully scented home! The Honeycombers team reviews laundry capsule hacks and spills the beans on what works best.
Let's talk about laundry capsules: these nifty packets are unsung lifesavers for busy urbanites and adulting newbies alike. And they don't just keep your clothes clean – we've found other uses for them, too! Here, Benita, Nicholas and Natasha from the Honeycombers team share their reviews of their favourite laundry products from ar FÜM, plus three ways to use them.
Tip 1: Laundry capsule + scent booster beads = the ultimate combo
Ever taken an old bedsheet or curtain out of storage and cringed at the unpleasant smell? There's a simple way to keep fabrics in storage smelling fresh for longer with ar FÜM's unique Floral Microscent technology. Just toss your laundry capsule of choice and a handful of scent booster beads into the wash (do this before adding your clothes) for a fragrance that lasts for up to 16 weeks! This is perfect for fresh-smelling fabrics, whether it's for your daily clothes or for items that you're planning to stash away.
Benita shares, "the combination of both capsules and scent booster beads work fabulously for regular clothes, as well as larger items like bedsheets. As soon as the washing machine is done and you pop it open, a lovely fragrance fills the air. What a mood booster! Pink Love, a rose scent, is long-lasting but not overpowering, which is perfect – especially for my bedsheets as they were silky soft and smelled fresh and clean longer than usual. It's also great that the capsules are a combination of detergent and softener, adding to its convenience."
We love how these products are beginner-friendly, too. Nicholas confesses that he doesn't typically do the laundry at home, but he has found it pleasingly easy to use ar FÜM's laundry capsules and scent booster beads. Having tried the lavender variant, he says, "it was a convenient and fuss-free experience. I like that the capsules come in fixed sizes (no need to guesstimate the amount of detergent needed!) and the scent booster's container cap can be easily used to measure the adequate amount of beads required. After a simple 15-minute quick wash, my clothes had a fresh lavender scent that lasted throughout the day, even when I clocked in a 60-minute workout."
Tip 2: Freshen up your home with scent booster beads
Life hack: clothes aside, ar FÜM's scent booster beads can double as a home or wardrobe fragrance to keep your spaces smelling fresh. "I like to leave little sachets of scent booster beads around the house to make my entire living space a tiny bit more fragrant," Natasha shares. If you have a diffuser, pop the scent booster beads in. This easy trick will take your favourite scent up a notch. Soon, you'll have the delightful fragrance wafting through your home.
Tip 3: Choose an anti-bacterial laundry capsule for optimum disinfection
Did you know you can use an anti-bacterial laundry capsule for your gym clothes? We're all about top-notch hygiene (especially during this time!), so we're turning to ar FÜM's anti-bacterial laundry capsules and scent booster beads to do the heavy lifting. This formula kills 99.9% of germs – just what you need to disinfect sweaty gym clothes after a good workout.
Natasha says, "I have been using laundry capsules for over a year now and they are a lifesaver. The anti-bacterial range is great for days when I've got gym clothes to wash, as it helps get rid of any pungent smells and makes the entire washing process a breeze. Plus, the laundry capsules help to save time and effort as it makes the process more efficient!"
Wanna give ar FÜM's products a go?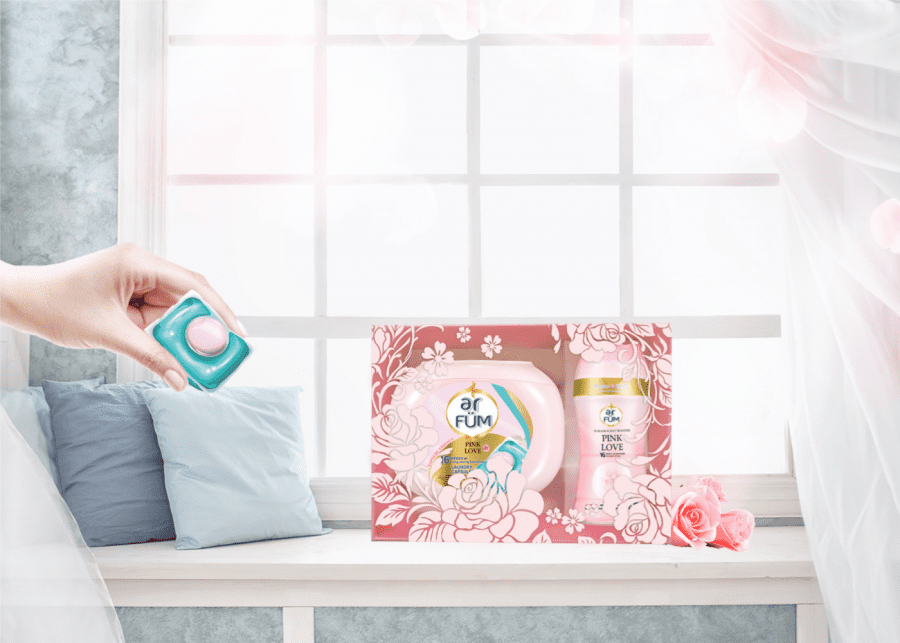 Psst: ar FÜM has launched a limited edition Pink Love gift box, which you can get at $23.90 (RTP: $29.90) with a free 150g container of in-wash scent booster beads worth $7.90. Bag this special box or any of its laundry capsules (available in five variants) and scent boosters (available in three variants) from Shopee, Fairprice and other major retailers.
Now that you're armed with ar FÜM's products, having fresh, scented laundry will be a piece of cake!
This post is in partnership with Whealthfields Lohmann Singapore.