Photography: Amelia Ang
Wanna explore an abandoned (and possibly even haunted) reservoir? We've found just the place…
We've been exploring Singapore's best parks and hiking trails for a while now, but have been on the hunt for something a little more under the radar. And we found just the spot. Dubbed 'the forgotten reservoir', Keppel Hill Reservoir disappeared off of modern maps (don't ask us why) until it was rediscovered a few years ago. This colonial-era reservoir was formerly a source of water for the Tanjong Pagar dockyard before being used as a swimming pool in 1938.
Our adventurous souls wanted an unconventional trekking experience, so we packed our bags and set off to explore this abandoned pocket of Singapore.
Want in on this adventure? To get there, you'll have to first head to Keppel Hill road, either by taking a bus from Harbourfront interchange and walking there (turn into the road from the church) or by driving in (key Wishart Road into your GPS).
Look out for the sign to Joaquim Garden & Landscape. Follow the arrow and walk in.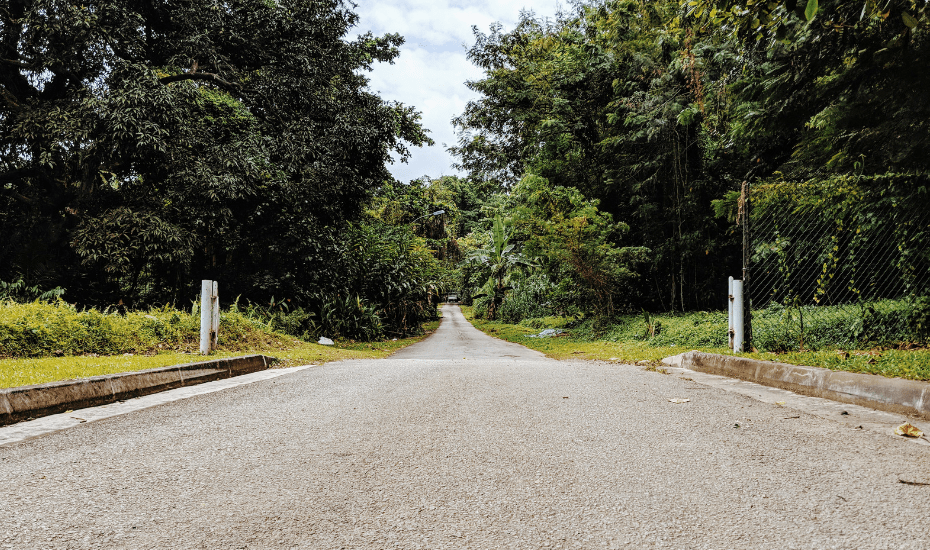 You'll find yourself on a path that forks into two roads, with the main road sloping upwards to the No.11 Keppel House, and the other leading in the general direction of the reservoir.
We got a tad distracted and headed up to take a peek past the rusty gates. After wondering if the house was still inhabited (probably not) and debating if it made sense to jump the fence (it didn't), we took the other road to continue our mission to locate the 'missing' reservoir.
And so it was that we ventured onto this path that took us first to a blue dumpster. (No, it doesn't smell, it's just filled with dead leaves.) Heads up: don't be misled by the dirt trail beside the dumpster snaking into the bushes; you're headed in the other direction. There's a less obvious, man-made trail leading into the tall grass and banana trees, which will take you to the highlight of this trip…
Just keep going until you've Narnia-ed yourself into this little enclave.
Paranormal hunters have sought this place out, but we wouldn't say it's a particularly creepy location – not in the middle of the afternoon, at least. Though, you could attempt to give your friends a scare by reminding them of the drowning incidents that have occured at this body of water. (Two soldiers and a boy drowned in 1936 and 1948 respectively.) Side note: we're still debating over some photos at Honeycombers HQ that appear to show the face of someone who wasn't part of our hiking crew…
Where to next after sharing this lovely bit of info, you ask? Let us take you around.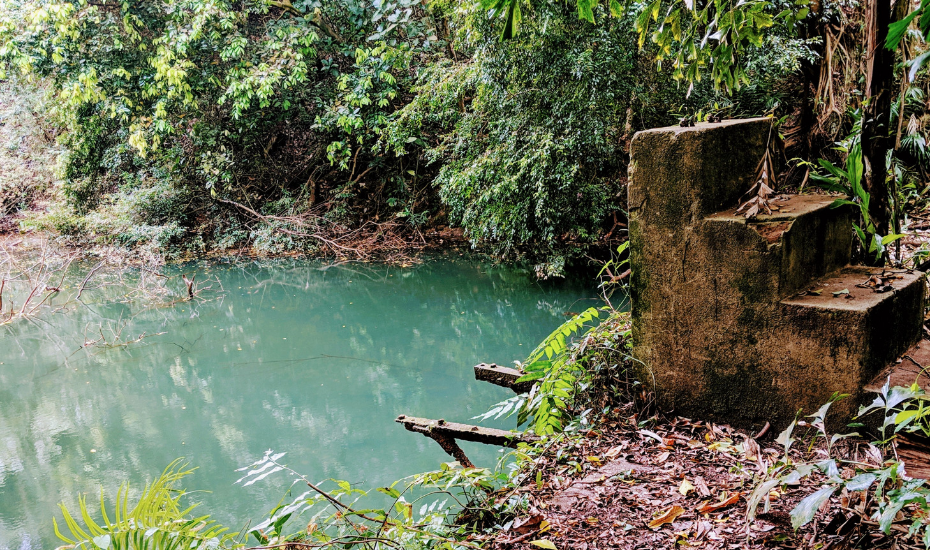 To the right is where the diving board used to be. The remaining steps and the metal hinges that used to hold it make for a pretty poignant scene. Walk past the diving board (and a path of loosely placed concrete slabs… be careful out there!) and you'll come to a small flight of stairs. Climb a little way up and you'll find that fallen trees make the path unwalkable for most – there's just a small opening that only a child would be able to wiggle through. Not a good idea.
On the opposite end of the bank, there's a forested area bordering the left of the reservoir. Look amongst the dead leaves and you might spot a rusty old sign reads 'danger' and advises against a swim in the water. (We figured that much.)
If you're venturing past the faded Mount Faber sign (hanging from one of the trees) and into the undergrowth, watch your step! Tbh, we wouldn't recommend it unless you're an experienced trekker and equipped with pretty good balancing skills – there's not much to hold onto, as most of the shoots around there wouldn't be able to hold a person's weight.
To satisfy your curiosity, we'll have you know that there's more greenery within, along with some rusty old cans. We reckon this was a chill-out place of sorts where former residents used to hang out.
Having explored (or at least attempted to) both banks, we went back down to the main bank area for some photo-taking action. Because Instagram or it didn't happen, right?
Photo ops: pose on the steps leading to the missing diving board, or along the stairs leading to the water.
We found another photo-worthy location that might be unbeknownst to even those who've been here before: an open field of tall grass, located a little further in after walking past the reservoir (go straight into the bushes from the main bank).
Some practical notes
The nearest place for food and drinks: Before the Joaquim sign at Wishart Road, there's a small coffee shop named Lakshmi Vilas. Alternatively, grab something from Cheers at the Esso station which is right by the main road (you'll see it before you turn into Wishart Road).
Nearest public toilets: There's one nestled within the plants at Joaqium (head in and look for the little white shack), as well as at the aforementioned Esso station (we recommend the latter).

Would you go on the Keppel Hill Reservoir trek?
Despite being an abandoned reservoir, locating it is not an impossible task, especially with directions. This is no MacRitchie though; being one-third the size of an Olympic pool, the area isn't as extensive as many of the other commonly known reservoirs or hiking trails in Singapore. What we enjoyed most is taking in the unusual view of the abandoned waters and greenery with no one else around… We just have to remember our insect repellant the next time we go.