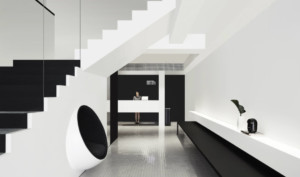 Stay at Hotel Mono in Chinatown
If monochrome themes strike your fancy, you'll wanna stay in this modern and contemporary shophouse hotel in Chinatown. Think about all the Instagram opportunities!
In my books, boutique hotels win over luxury hotels for being inexpensive and Insta-worthy. Often making waves in Singapore are theme-heavy concepts rife with campy, flamboyant settings – whether it's a hotel revamped from old shophouses or one sporting a boudoir-chic aesthetic. But if you prefer monochrome over bright colours, check into Chinatown's latest addition, Hotel Mono, where the old meets new and the bold meets minimalist. Who says mono has to be boring?
Hotel Mono stands out along Mosque Street with its black and white shophouse façade, retaining its heritage while giving its interior a modern makeover. This independent establishment houses 46 rooms, and its bold, contemporary design aims to attract the new gen of foreigners and locals looking for a place to crash during their vacay – or staycay.
Totally affordable, a double room here starts from $160 per night, whereas a room accommodating a family of four starts from $300 per night. The best bit? No two rooms are the same, with each brandishing unique design and décor. And speaking of décor, we just have to give a shout-out to the metal bar that seems to be floating on air in each room, which doubles as a light source and coat hanger. Also sticking to its monochromatic palette are the mosaic tiles planted in each room, emphasise Hotel Mono's signature geometric vibe.
Plus, why stay in a hotel that rinses your mobile data? Hotel Mono's got you covered with their free high-speed Wi-Fi, accessible in each room. All rooms are decked with flat-screen TVs filled with cable channels, air-con for those unbearably hot days, and luxury spring beds with micro-gel fibre pillows, perfect for your beauty sleep.
Hotel Mono, #01-04, 18 Mosque Street, Singapore 059498, p. 6326 0430. For more info on the types of rooms available, visit the website. Reservations can be made at [email protected].
We've also listed down the best boutique hotels in Singapore for your dream staycations. And if you're looking for a hotel with a bit of history around Labrador Nature Reserve, Villa Samadhi is the place to stay in.