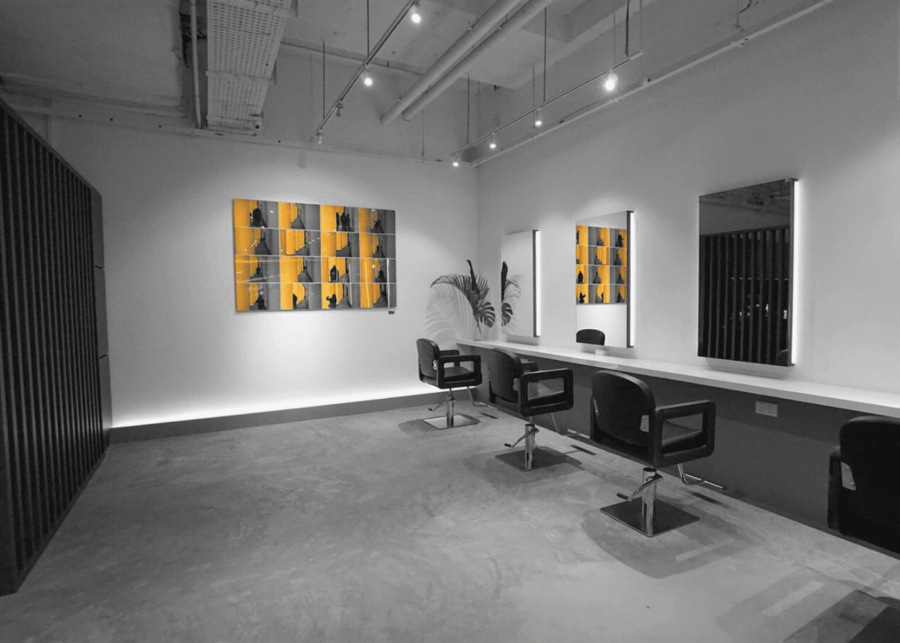 Photography: Yann Beyrie
Tame your mane with a hair spa at this luxe new French salon at Wisma Atria.
With Singapore's humid weather, pollution, the sun and my frequent dips at the beach, my hair often ends up weakened and looking dry or unhealthy. I normally pay a visit to the hair salon two or three times a year to make sure my hair stays healthy and hydrated. This time, I decided to pay a visit to Yann Beyrie Salon, a new salon at Wisma Atria opened by Yann Beyrie (previously Creative Director at Tony & Guy… and a competitive BMX biker!), and I opted to try the Davines Hair Signature Spa.
Melanie goes for the Davines Hair Signature Spa
When you're spending a couple of hours at a salon getting your hair done, it's always a bonus when the staff are friendly and making the effort to make you feel comfortable. They are also very well-versed in their techniques, products, and equipment and explain exactly what they are doing to your hair. They also give you tips on how to keep your hair healthy at home.
Treatment
Yann Beyrie Salon uses the organic product line, Davines (a personal favourite of Yann Beyrie himself), which contains only natural products. The essential oils, fruits, and herbs also make it smell spectacular! And there's no extra perfume present in the products.
The Davines Signature Hair Spa itself is the equivalent of a spa treatment for your hair, that works to strengthen your luscious locks and prevent them from breaking. More importantly, it also reverses the aging process of the hair, making it easier for you to grow your hair out.
The first product used is a cleanser that helps remove pollutants, sebum, and chemicals from your hair. All these impurities aren't easy to remove through normal washing. Once the hair is cleansed, the second product applied will strengthen and deeply hydrate the hair to prevent it from aging.
Of course, the equipment used at Yann Beyrie Salon is also top of the line – only the best tools are used like Dyson Hair-dryers and GHD hair straighteners. The steaming machine is unlike most others and actually converts water to oxygen, delivering an oxygen mist instead of steam. This enhances the treatment and reduces damage to hair.
Result
The result? My hair feels hydrated, strong and has a healthy sheen! The best part is that I'm able to keep my hair long!
Dinesh (finally) gets a haircut
I like to keep things simple when it comes to hair and usually find myself getting the buzz cut treatment at the nearest barber – it's a simple look that works. But it's been a while since I've had a proper haircut, so I decided to follow Melanie to Yann Beyrie.
Unlike Melanie, I was in and out in about an hour, but that was long enough to notice the quality of service you get at Yann Beyrie. Customers are offered coffee, tea, or water and you'll get explanations for every procedure done to your hair – I got quite an education here. The salon is even decked out in a minimalist modern-industrial style, and the chairs are plush and comfy.
The haircut
Before even snipping off a lock of hair, Yann Beyrie took a look at the shape of my head. I had gone in with no idea what kind of hair style I wanted, so this helped him pick one for me. At this point, I looked like Ronald Mcdonald's raven-haired twin, so he suggested I shorten my sides but keep a little on the top for texture.
After a having my hair washed, Yann began to work his magic on my hair. He made very minimal use of the electric shaver (used only for neatening the edges), and did most of the work with a pair of straight scissors. And when my haircut was over, my hair was styled with a just a little Davines hair product that smelled fantastic!
The result
This is definitely one of the best haircuts I've ever gotten and I'm particularly impressed by his attention to detail. The most compelling reason to go back is that Yann understands how to cut your hair in a style that's appropriate for your head shape.
Yann Beyrie, #03-01D, 435 Orchard Road, Singapore 238877; Open daily 10am-8pm. Hair spa ($68-158), cut and finishing ($79-$171).