Geylang Serai is back in business! (Photography: via Honeycombers)
Oh, Geylang Serai bazaar. How we so much wanted to love you...
Like many other Malay-Muslim families in Singapore, one of my family's annual Ramadan traditions has always been to visit the Geylang Serai bazaar. Bellies full after buka puasa (to break fast), we'd troop to the market late in the night, hunting for food and last-minute bargains with festive Raya tunes guiding our way. I'd never forget the blaring of loudspeakers as stallowners shouted out hourly deals, trying to outdo each other with hilarious pantun (poems). The air would be thick with with smoke from grilled satay, but that'd hardly detract from the euphoria of hardcore bargain hunters. It was an incredible time to be alive.
But in recent years, my family's visits to the market have dwindled – people of my parents' generation prefer to cross the causeway for real bazaars, where traditional food is still coveted, and far more varied and fresh.
I, on the other hand, am still clinging on to nostalgia. And it's this that drove me and my colleagues to give the market a second chance. Despite last year's lacklustre experience at the Geylang Serai Bazaar (read all about it here), we came armed with 80 dollars and an open mind. We dish out our honest thoughts on the market below…
You'll still have your bazaar classics…
In case you're a Geylang Serai bazaar newbie, know this: you simply can't have a pasar malam without classics like the Ramly burger, keropok lekor or vadai. Others you absolutely have to have? Air katira: a pandan-infused milky drink with biji selasih (also known as basil seeds).
…your fusion food fix
Traditional food gets a little makeover at the Sofnade stall. Mee kuah (noodles in a peppery red broth) and tulang merah (bone marrow in a spicy red broth) come together in a hearty kuah tulang dish. Dishes like apam balik (griddle pancake) gets modern with flavours like nutella. The classic Indonesian version of this, called the martabak manis is offered in flavours of kitkat and milky cheddar.
…and food that's actually good
We're not all about critique. There actually are worthy finds in the market like Word's Gangster beef ribs pictured above. Served with fries or rice, these fall-off-the-bone ribs are packed with oodles of flavour. Also make a beeline for Beef Bro's Mentaiko Blow-Torch Beef cubes. It's served with sambal belacan for a fiesty kick.
But enough with the bleeping buckets…
Blame it on hipsters but we've had enough with the buckets. It seemed that at every turn, we'd find food and drinks served in these colossal plastic containers, including shaved ice drinks, rainbow beverages, fries and even…meatballs. Yup, you read that right.  
…the rainbow food
Please, for the love of God, enough with the rainbow food. This year's fresh rainbow hell takes shape in the The Flaming Unicorn, which is purple ice cream topped with fruity pebbles and multi-coloured marshmallows and then served to you via a fire stunt. Another major talking point is rainbow grilled cheese toast. 'Cause plain ol' grilled cheese just isn't grammable enough. #foodporn? We think not.
…or the tacky gimmicks
Three words: Food-fad fanaticism. This year, people are losing their sh*t over voice-changing edible balloons. Filled with helium, these are wrapped around pocky sticks and change the pitch of your voice as you gulp it down. Unsurprisingly, liquid nitrogen and dry ice make a comeback this year. If you're a fan of cheap thrills, look out for drinks which seem to be filled with flashing lights. You're better off spending your cash on Broti's $4 mega sized drinks, which come in flavours like Masala tea and teh tarik.
Yet another Artbox
If this was yet another Artbox or its equivalent, we'd hardly bat an eyelid. But, as we've said before, this ain't yet another hipster local market. Traditionally, the bazaar is held for the Muslim population during the holy month of Ramadan. Its location in Geylang Serai is of importance too, as it's a focal destination for Singaporean Malay-Muslims.
Of course, the changing face of the bazaar doesn't rest squarely on the shoulders of vendors. Rental fees have shot through the roof over the years. According to reports by Berita Harian, the highest rental fee for a 3 metre by 3 metre stall has now reached $20,000. Of course, fees differ according to area, but factor in the cost of electricity supply and you can understand why mom-and-pop stalls have disappeared and why existing stalls feel the need to go above and beyond with drawing crowds on visual appeal alone.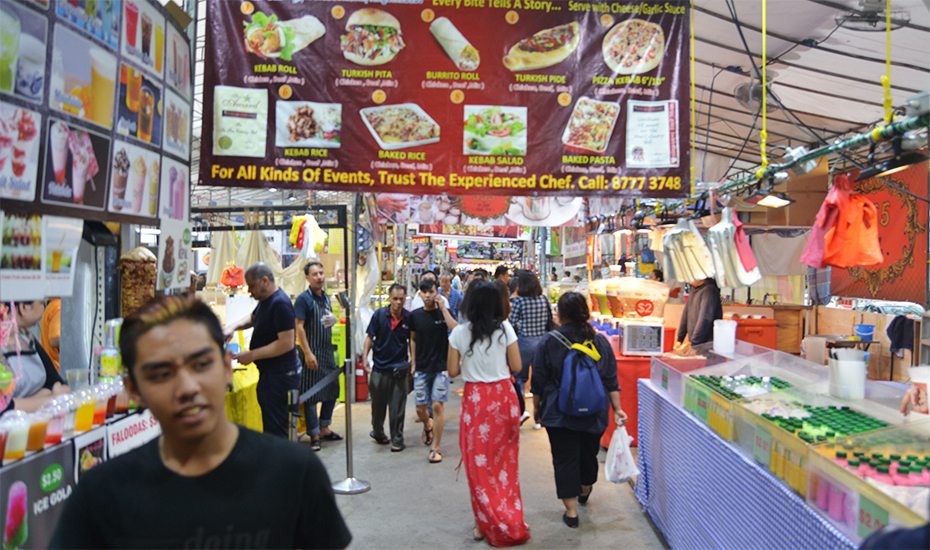 We left with $43 still in our pockets, which was more than half of our budget. Unsurprisingly, we won't be returning to the market again. Markets in smaller neighbourhoods fare better in keeping the balance of traditional and 'hipper food' – in Woodlands for instance, you'll find plenty of kuih stalls next to cool burger joints. Shopping in the Geylang Serai bazaar is out of the question too, as non-food stalls are few. Plus, e-commerce stalls are knocking it out of the park with Raya fashion, decor and even traditional snacks. It's a sorry state of affairs, but don't just hear it from me. Here's what the rest of the team had to say:
"We started out pretty positive actually (we were hungry as well) because it's always nice to bask in the festive vibes of Geylang but after seeing so many gimmicky food stands, ugly fonts and in-your-face signs, I began to feel really bummed. Firstly, there was a lack of ACTUAL good food and secondly, there was nothing to remind me of Ramadan and all the good things it brings. I think if anything, the Ramadan Bazaar is an annual glorified pasar malam. What the Ramadan Bazaar brought me: anxiety."
– Delfina Utomo
"My goal of visiting the Ramadan bazaar every year is to buy myself dendeng (thinly sliced dried meat). After trying a couple of the new stalls, I'm still skeptical about the new "hipster food". Who needs rainbow food? Maybe only five-year-olds. My favourite will still and forever be Ramly Burger. Give me ten of those please!"
– Hubab Hood
Like this story? Check these out too:
Ramadan 101: What to know about the Muslim holy month
Where to break fast this month
Raya fashion: where to shop kurungs and kebayas