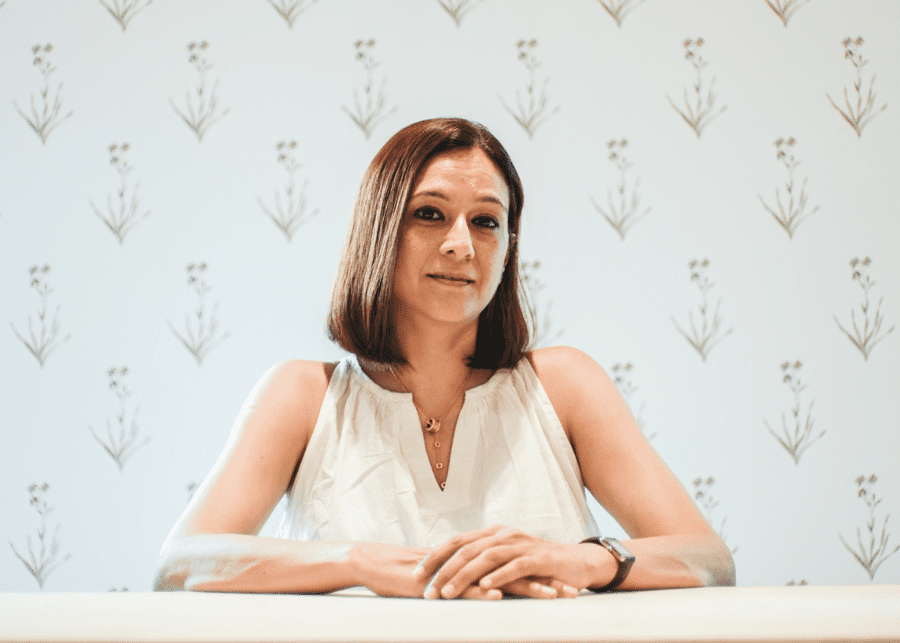 Photography: Ferzin Patel
A space filled with sustainable fashion, homeware and original artwork, Canvas & Weaves is Ferzin Patel's love letter to the planet and talented makers.
We love entrepreneurs and small business owners at Honeycombers, which is why we've created Launchpad, a comprehensive digital networking platform (with IRL benefits, too) that encourages connection, business support and community. It's a privilege and pleasure to learn from so many talented and inspiring folks, so we've decided to share the love by interviewing some of the lovely Launchpad members. Looking for inspiration? Canvas & Weaves founder Ferzin Patel had a vision for her new studio, which opens this month as a space to foster collaboration and showcase the work of artists and creatives. Pop by for a look at the beautiful curation of pieces, as well as new launches that keep things fresh. Check out how she gets it done like a boss.
What is your backstory and why did you decide to launch your business?
After spending years in finance, I decided to embark on a new journey. Having been born and raised in the land of Gandhi, handloom had a big influence on me growing up in Ahmedabad, Gujarat. I was always exposed to the beauty of handwoven textiles and traditional embroidery. However, when I moved to Singapore, I witnessed the proliferation of fast fashion brands, which made me question the need for change.
For me, fashion isn't just about following trends. It's also a way of expressing yourself and making a statement. I wanted to give consumers the power of uniqueness, superior quality, and handcrafted clothing. That's how the vision for Canvas & Weaves was born. To democratise creativity and sustainability by making it accessible beyond the traditional elite circles. We wanted to break barriers and encourage people to appreciate art for its intrinsic value rather than the price or the artist. To disrupt the fast fashion giants and give consumers the power to choose unique and ethically-made pieces that reflect their personalities and values.
We partnered with the new wave of ethical and sustainable brands in India. They were passionate about preserving heritage crafts and promoting conscious consumption. We aimed to create a positive impact on society and the environment, leading the way for a new era of sustainable fashion.
Today, Canvas & Weaves has evolved into much more than just a fashion brand. It's a celebration of the creativity and originality that flows from working with traditional techniques and heritage crafts. Our pieces are made with sustainable materials and time-honoured practices that connect the past to the present.
In May 2023, we're proud to open our first physical space, Canvas & Weaves Studio (#01-32, 318 Tanglin Road). We want to continue collaborating with like-minded makers and artists to host talks and curate experiences that offer a unique, innovative, and fresh take on art. The space will be cosy and intimate. You'll feel right at home when you visit.
What has been your biggest challenge so far and how did you overcome it?
When I first started my business in 2018, my biggest challenge was to promote and democratise sustainability and creativity while curating the best art and everyday fashion. We partnered only with brands and makers that were unknown in Singapore. We also had to overcome the challenge of competing with established fast fashion brands that were easily accessible and ubiquitous. This meant we had to change the mindset of consumers who were accustomed to buying frequently and not caring about the quality or longevity of their purchases.
Slowly but steadily, we gained acceptance in the community by curating pop-ups and art shows that showcased our passion for sustainability and creativity. Our efforts paid off as we built a loyal customer base that appreciated our mission and values. We also offered styling and art curation advice to customers.
How do you stay motivated and energised?
Entrepreneurship can be a lonely journey. At times, it's easy to feel uncertain and unsupported. When I'm in this situation, I remind myself of my purpose and lean on my support network of fellow entrepreneurs, family, and friends. Launchpad has been incredibly helpful to me; I highly recommend it to any budding entrepreneur.
Staying focused and motivated can be a real challenge. That's why I break down my goals into smaller, more manageable tasks. That allows me to track my progress and feel a sense of accomplishment with each milestone. To prevent burnout, I take breaks and travel to new places to recharge and gain new perspectives. Experiencing new cultures and meeting new people helps me stay energised and motivated.
Lastly, I prioritise intrinsic motivation, which comes from completing a task over external rewards. This approach helps me feel more fulfilled and satisfied with my work. I also believe in surrounding yourself with positive energy and people who inspire you to reach for your dreams.
How do you deal with self-doubt or criticism?
As the saying goes, "Self-doubt is the genius killer." It's a truth that's resonated with me on my journey. It's all too easy to become bogged down by the opinions and expectations of others and algorithms. But to truly live a fulfilled life, I need to prioritise my own passions and dreams. If I listened to the naysayers, Canvas & Weaves may never have gotten off the ground. That's why I make a conscious effort to stay true to myself and forge my own path.
Of course, that doesn't mean that I'm not open to constructive criticism or feedback. Discussing my flaws and challenges in a healthy, productive way is crucial to my personal and professional growth. Rather than striving for perfection, I focus on breaking down my goals into manageable steps and celebrating each small win along the way. By doing so, I build my confidence and stay motivated, even when faced with obstacles or setbacks. It's all about believing in myself and trusting that I have what it takes to succeed.
Favourite places to work?
Before the pandemic thrust us all into the world of WFH, I was already a seasoned pro. My business was born and bred in the comfort of my own home. I've become quite the expert at managing to work whilst also juggling the demands of family life. My trusty study is where I get the bulk of my work done.
But when I need a change of scenery, I venture out to other haunts. I used to frequent Crane at Kim Yam Road, but alas, they've flown the coop to Claymore. Now, my favourite place to work is my brand new Canvas & Weaves studio. It's like a magical place full of creative steroids, where my ideas can come to life and my productivity goes through the roof.
Favourite business tool or a work 'mantra' that you use?
"Fiercely believe in yourself" is the mantra I breathe and live by every single day! As for the business tools that have made life easier for me, they'd have to be Omnisend, Trello, Instagram, Canva, Photoshop, and Splice.
One thing you can keep talking about for hours?
I'm not one to drone on about a particular topic for hours. I much prefer engaging in lively conversations that ebb and flow organically. But I find myself gravitating towards fashion-forward ideas, art, music, Bollywood, and spirituality. Discussions that revolve around personal growth and self-awareness light my fire. I'm inherently a curious person, so if someone's doling out free knowledge, count me in. I'm all ears!
Your go-to self-care activity?
Nothing beats the invigorating effects of nature. The sight of majestic mountains or the vastness of the ocean is like a dose of intellectual and emotional energy. It helps clear my mind and replenish my soul. I find reading books and listening to my favourite podcasts and music equally rejuvenating. They help me unlock my creativity and give me the inspiration to tackle life's challenges with renewed vigour.
One piece of advice to your younger self?
Before Canvas & Weaves, I had achieved significant success in my previous business ventures. In 2004, my women's apparel line was ahead of its time and my line of healthy snacks was highly popular with health-conscious mothers. However, I made the mistake of taking a break, assuming I could easily pick up where I left off. I soon realized that time waits for no one. The business landscape is ever-changing.
Competition grows, new players emerge, and consumer preferences shift rapidly. Success is a precious commodity that should never be taken for granted. To younger entrepreneurs, I'd advise seizing every opportunity and taking calculated risks, while staying vigilant and adaptable.
Get in touch with Ferzin Patel online.
Launchpad is a comprehensive digital networking platform (with IRL benefits, too) that encourages connection, business support and community. It is designed to make the entrepreneurial journey not only easier, and more successful, but also a whole lot more fun. We offer almost daily activities for members to connect, along with weekly masterclasses, member networking roulette, small-business mentoring and media profiles on Honeycombers. Check it out and join us!