We chat with seven chefs in Singapore about their favourite comfort foods and where they get them from.
Most people have at least one dish that brings them comfort. For some, it's a heartwarming bowl of soup or noodles. Others count on hearty fare like prata, ayam penyet, or even fast food. What about the professional cooks? What do they eat to nourish their souls? We speak to seven chefs in Singapore, who tell us about their favourite comfort foods and where they get them from.
Chefs in Singapore reveal their favourite comfort foods
Inderpal Singh, MasterChef Singapore Season 4 winner
"Food is an emotion that can make people feel better, even for a few minutes. It transcends so many places," Inderpal Singh tells us over the phone. Would you believe it wasn't his first time signing up for MasterChef Singapore? Inderpal applied in 2018 when the show started, though he couldn't make it for the cooking audition. Well, that's happenstance – he managed to join in Season 4, and we all know what happened in the end.
When asked if there were any dishes he created during the show's run that he's proud of, Inderpal lists three: the 'no-crab' chilli crab roti john (omelette sandwich), Bak Bak Soy (his version of chicken rice), and chaat (an Indian street snack).
Inderpal's favourite comfort food: "This is going to make me sound so bad," he jokingly groans. "My ultimate favourite food is chicken rice!" According to Inderpal, a "good plate hits the spot every single time", though he tries not to eat it too often. "At the moment, I'm eating it once every two weeks," he confesses.
Where he gets his comfort food in Singapore: Inderpal tries as many places as he can, but his favourites are all found in Yishun, where he lives. He rotates between Yishun 925 Chicken Rice, Wee Kim Hainanese Chicken Rice, and Tiong Bahru Hainanese Chicken Rice.
Alynna Tan, sous chef at Humpback
If you ask chef Alynna Tan, her injury at Lasalle College of the Arts led her down the culinary path. "I realised that cooking was what I wanted to do, so I enrolled in the CIA (Culinary Institute of America) and never looked back," she explains. Her journey saw her in the kitchens of modern European restaurants like Gastrologik in Stockholm and Maaemo in Oslo, as well as local Michelin-starred establishments like Odette and Esora, before her current stint at Humpback. In fact, she had a hand in crafting the restaurant's latest menu!
Chef Alynna's favourite comfort foods: Her two choices are stir-fried mee tai mak (short rice noodles) done Kuala Lumpur-style, and Korean-style beef and tofu soup.
Where she gets her comfort food in Singapore: Even though her specific noodle order is uncommon here, she still manages to satisfy her craving at Eat Bar, a hawker stall in Toa Payoh. As for the other dish, chef Alynna says: "After a long day at work, I sometimes cook myself a comforting bowl of Korean-style beef and tofu broth at home."
Tariq Helou, chef-owner of Fleurette
It seems some of Singapore's prolific chefs found their calling when they were young. That includes chef Tariq, who dreamed of being a culinary artist since he was four. After National Service, he trained in Europe and Japan before returning home. "I wanted to pursue my dreams with my family and friends around," he tells us. "Also, I wanted to be a part of the new breed of Singaporean chefs showcasing what local talent can do." That led to the birth of Fleurette at Rangoon Road, and the rest is history.
Chef Tariq's favourite comfort food: Mushroom gravy with rice and beef that his grandmother makes. He explains: "Basically, it's steak with Japanese rice and mushroom gravy on top. While I do try to make it for myself sometimes, it doesn't compare to when she makes it."
Where he gets his comfort food in Singapore: Of course, nothing beats his grandmother's cooking. Otherwise, he finds comfort in "a cheeky McSpicy" occasionally. "Nothing beats a good McDonald's meal with friends late at night, which is something I believe every Singaporean can relate to," he says. According to chef Tariq, the Scape outlet "was a classic and will always live on in my memories". The branch at Forum Shopping Mall, however, is a close second fave.
Quynh Brown, chef at Lo Quay
How we turn out later in life can sometimes be attributed to a person's influence. For chef Quynh Brown, it was her grandfather while she was growing up in Vietnam. Chef Quynh brought everything she'd learned from him – especially self-sufficiency skills – along with her as she travelled worldwide. After cooking up a storm at Nobu across the US and Zuma in Hong Kong, she set her sights on Singapore.
"Lo Quay was the product of fortunate circumstances. Everything fell into place: the right location, timing, and people," she says. "Now that it's happening, it feels even more powerful than I imagined."
Chef Quynh's favourite comfort foods: Her family didn't have much, so pho (Vietnamese soup dish filled with rice noodles, meat, and herbs) and banh mi (Vietnamese sandwich) were big treats for her. "My go-to as a kid is banh mi bread with fried runny eggs, finished with Maggi seasoning or salt and pepper." If she's feeling fanciful, she'll get a banh mi nhan thit (sandwich with cold cuts and pate) or banh mi thit nuong (sandwich with grilled pork and pate).
And why pho? The dish is "the epitome of comfort, warmth, sharing, and hospitality," according to chef Quynh. "Pho reminds me of growing up and what my mum and I shared. Sidewalk street pho with egg, onions, and noodles in the broth was all we could afford back then."
Where she gets her comfort food in Singapore: Unsurprisingly, she prefers cooking them at home, which is simpler and only for herself. "It's comforting to feed and nourish myself," she says.
Stephan Zoisl, chef and founder of Chef's Table
Cooking has always been a part of chef Stephan's life. He grew up in his parents' restaurant in Austria, before working behind the scenes as a dishwasher. Eventually, his father passed on basic cooking skills and knowledge to chef Stephan, and he's remained in the kitchen since. He started the omakase-style Chef's Table on his own in order to have absolute control and freedom when it came to cooking.
Chef Stephan's favourite comfort foods: An Austrian staple he absolutely loves is wiener schnitzel – a breaded and fried veal loin served with parsley, potatoes, and cranberry jam. He also appreciates a solid kebab and fried carrot cake.
Where he gets his comfort food in Singapore: "There aren't that many places [in Singapore] that cook [wiener schnitzel] the traditional way," he laments. Regardless, he drops by Brotzeit for schnitzel. As for fried carrot cake, he'll get it at a local market in Bishan, or Maxwell Food Centre, which is near his restaurant.
Saurabh Udinia, chef-partner at Revolver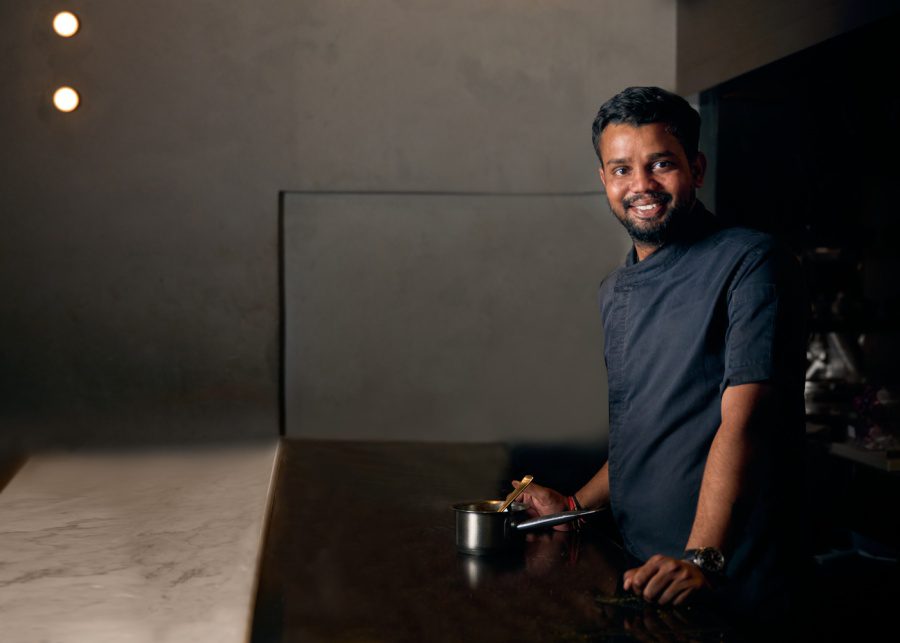 Despite his love for food, chef Saurabh had never considered becoming a chef. He was pursuing a medical career before finding himself in a catering college. "I haven't looked back since," he states. His goal is to present authentic Indian cuisine that's not just curry, biryani, naan, and dosai; establishing Revolver here "was a step in the right direction" in relation to his objective. His reasoning? "Singapore is a global food hub," he simply puts it.
Chef Saurabh's favourite comfort food: Dal chawal sabji, which translates to lentil stew with rice and vegetable dishes. He eats it three to four times a week for dinner, which is lovingly prepared by his wife or mother. "I only cook when there's no other option."
Where he gets his comfort food in Singapore: "I have yet to find a place [in Singapore] that serves my comfort food better than homemade," chef Saurabh says. According to him, the best place to enjoy this meal is in New Delhi, followed by Manipur, Rajasthan, and Karnataka.
Kurt Sombero, chef and co-owner of Kubo
Do you know what a "pugon" is? That's Tagalog for wood-fired oven, which chef Kurt's grandmother used to cook traditional Filipino dishes. He grew fascinated by the cooking process and how it brought people together. This eventually led him to set up Kubo, inspired by Filipino recipes but with a twist: the restaurant incorporates new flavours and techniques to present an exciting menu.
"We want to be a space that offers Filipino cuisine with the contemporary Kubo touch. There's a time and space for everything, and this is ours," he proudly declares.
Chef Kurt's favourite comfort food: "Anything [that's been] kissed by fire," he says. He believes in the "magik" of cooking with fire, as it transports him to a place where he feels warmth and comfort. "I'm just lucky to be cooking in a wood-fired kitchen; tasting it daily is such a joy and pleasure."
Do you share any favourite comfort foods with these chefs?