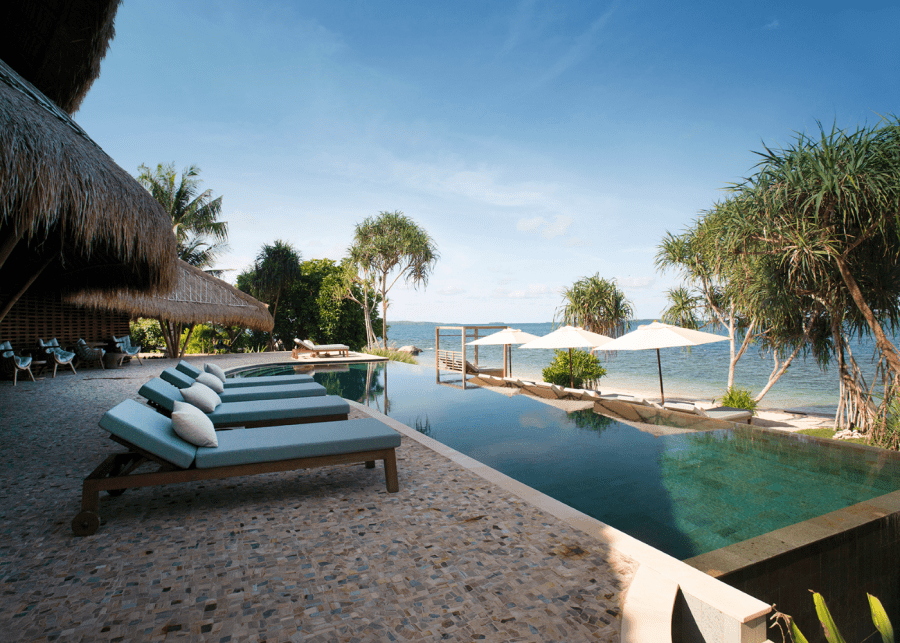 Photography: Cempedak Island
Head to the private Cempedak Island for a relaxing retreat amidst gorgeous flora and fauna. It's absolute bliss!
Combining a luxury getaway with an eco-conscious slant, Cempedak Island offers the best of both worlds. Curious about the name? It comes from the native Indonesian fruit tree, which is related to jackfruit. As soon as you near the private island on your speedboat, you'll spot its hand-crafted bamboo villas peeking through the lush jungle foliage. The gleaming azure waters surrounding a blanket of white sandy beach beckons, and the resort delivers everything you need for a quiet escape. Here's what we love about it…
Cempedak Island is a little slice of paradise
If you're all frazzled by the city bustle, a vacation in this peaceful haven is what you need. Housing a maximum of 40 guests, the adults-only idyllic island offers plenty of space for seclusion and reflection. The rooms aren't kitted out with TVs, so there's no temptation. And you can easily disconnect from endless social media scrolls.
Twenty two-storey villas dot the beach-side stretch, each with its own deck and plunge pool. Opt for the hillside villas if you want stunning views of the Riau Archipelago. Or go for the ones at sea level to enjoy a private garden and direct access to the beach.
What a holiday here looks like
We'll never tire of Cempedak Island's calming scenic sights. But, if you're in the mood for a divine massage, head to Rock Spa. It sits on top of towering granite boulders in a mangrove bay, with three double treatment rooms that offer ocean views. But if you'd like to work up a sweat, head outdoors for a game of tennis or croquet. Afterwards, make a splash with snorkelling, diving, sailing, windsurfing, island-hopping and kayaking activities – just swing by the Boathouse!
Keen to learn more about the island's fascinating wildlife? A little exploration around the area might bring you up close to small clawed otters, silvered leaf monkeys, hawksbill and green sea turtles, and even the endangered sunda pangolin.
To fuel up, head to Cempedak's spectacular restaurant and bar. It's built with black bamboo and a spiral-shaped thatched roof made of ijuk (a black palm fibre). You might just feel like you're floating above the trees while you sip on your cocktail!
Stroll across a treetop walkway to the main dining room, where you'll spot executive chef Dika and his team of locals in the open kitchen. The cuisine served is local. Think fresh fish and locally-grown fruits and vegetables (some even from the island's market garden). For after-dinner drinks, head to the bar by the infinity pool and lounge the night away.
Its love for the planet shines through in every way
Cempedak Island makes sustainability spectacular, and we're all for it. Eco-friendly initiatives are at the heart of everything the private island does. And that speaks to its genuine love for the Earth. Constructed from bamboo and local alang alang grass, the buildings have minimal disruption to the natural landscape. Other materials used on the island include recycled teak, lava stone and petrified wood.
To save water, the island collects and purifies rainwater for use. Each villa's plunge pool and the beachside pool are also maintained with saltwater chlorinators. Plus, the wastewater garden cleans water to be reused for irrigation. We also love how the rooms have bamboo fans instead of air-conditioning units. With sensors to detect movements, they do away with the need for remote controls.
Need a vacation from Singapore? Take a 55-minute ferry ride to Bintan, a one-hour drive to the dock at Kawal, and a 25-minute speedboat ride to Cempedak Island for a luxurious holiday amidst untouched nature.
This post is in partnership with Cempedak Island.