Photo: Don't forget to party with us at Amoy St. this April
Spice up your April with Ben & Jerry's Free Cone Day, the local music scene at City65, a Game of Thrones Exhibition, Singapore's twist on Artbox Bangkok, and more happenings in the city.
Aside from being a short month with a long weekend (14 April is a public holiday thanks to Good Friday), April is once again a month full of things to do in Singapore. So, we've scoured the city for 30 activities in April that will make your days feel less meh and more yeah! Get ready for the largest flea market to hit Marina Bay, a Game of Thrones exhibition, a #supportlocal music fest, as well as a pre-Record Store Day music event with Fred Perry. Oh, and don't forget to party with us at this year's Amoy St. Bloc Party! Whatever you're into, we've got just the thing for you.
1. Party like there's no tomorrow
A lunch haunt for office drones by day and a hotspot for after-work tipples by night, Amoy Street is a slice of paradise in the CBD. The restaurant- and bar-filled street will be transformed into a buzzy block party come Sunday, 23 April, for the second edition of the Amoy Street Bloc Party.
2. Find yourself in a state of trance
Long before the EDM explosion, there was the global triumph of trance. And leading the movement, even 'til this day, is Armin van Buuren. The trance titan returns to Singapore in April for a massive rave, packed with special guest DJs, and he'll make sure there's no dry eye left in the crowd with his euphoric anthems.
3. Catch this legendary guitar hero
Revered as one of the greatest guitar heroes of our time, Carlos Santana is making a monolithic comeback to our shores. Backed by a full band, the Mexican-American icon inspired millions to pick up the axe, and is now about to school everyone once more with his impossible riffs, frenetic fretwork and alluring showmanship that's made him a phenom in his craft.
4. Bag contemporary art at affordable prices
You won't have to break the bank for this one; stunning pieces created by local and international artists can be bagged home for as low as $100 at the Affordable Art Fair 2017. Expect over 40 local and international exhibitors at the F1 Pit Building from 7 to 9 April.
5. Get totally MAAD at this monthly bazaar
Hosted by Red Dot Design Museum, this hip flea market boasts a display of original designs and innovations by talented creatives, as well as live performances by local musicians. What treasures will you find this time?
6. Catch Fifth Harmony dominate at The Star Theatre
Can't help singing along to catchy pop tunes like "Work From Home", "All In My Head (Flex)" and "That's My Girl"? Pop starlets, Fifth Harmony, brings their saucy charisma, jaw-dropping moves and tight harmonies to the Singapore stage.
7. Stock up your vintage wares
From vintage fashion and home décor, to old-school stationery and vinyl collections, expect to find seasonal goods at Journey East's Vintage Fair from 8 to 9 April. Love a bargain? You get 20% off on all vintage furniture – steal!
8. Check out Bangkok's hottest flea market… in Singapore
The rumours are true; Artbox finally arrives in Singapore! Get a taste of Artbox Singapore, showcasing original ideas and products from over 300 international entrepreneurs and designers, including quirky lifestyle and home décor products, DIY and handmade crafts, and even music at the Bayfront Event Space over two weekends.
9. Dig into special releases on Record Store Day
It's time for another round of crate-digging, guys and gals. Find titles by late legends, David Bowie and Prince, in time for Record Store Day's 10-year celebration. Vinylicious Records, The Analog Vault and Hear Records are the only ones carrying these Record Store Day exclusives on 22 April.
10. Get your jazz hands out
Hope you cool cats are hanging tight, because it's finally official – the Singapore International Jazz Festival returns for its fourth year at Marina Bay Sands from 31 March to 2 April. Catch the likes of Corinne Bailey Rae, David Foster, Incognito, Basement Jaxx, Rudimental and more.
11. Be seen in the local music scene
Held at Tin Hill Social Kitchen & Bar on 15 April, City65 Music Festival is the newest contender in the homegrown fest circuit, and it promises a full day of 13 upcoming and veteran acts, with headliners including soul maverick, Dru Chen, and indie-rock rebels, Stopgap. #supportlocal
12. Brace yourself for these noise-rockers
Bursting into the alt-rock scene with blistering guitars and Dylan Baldi's scratchy vocals, Cloud Nothings are one of the hardest-hitting bands you'll ever see – trust us, they tore through the proverbial roof during their Laneway Festival set. Their drummer, Jayson Gerycz, is also a total beast.
13. Run. Rave. Repeat
The Electric Run combines the vigour of a dance party with the calorie-burning benefits of your average race. Themed dance party zones will greet you at every kilometre, and culminates in a finish line after-party with a live DJ.
14. Experience rugby like never before
Aside from being just a two-day sporting fest, the HSBC Singapore Rugby 7s is a family affair with all sorts of fringe activities. Enjoy an array of food and beverages at the sports park, and dance along to live music and parties over the weekends starting on 15 April.
15. Survive this gruelling fitness competition
Thinking of taking your #fitspo to a whole new level? Now that the sun's out, it's time to get your guns out at Under Armour's Test of Will fitness challenge with a tough four-minute circuit at Bugis Junction. If you come out on top, you'll earn both bragging rights and even cash prizes.
16. Turn up the heat with this saucy musical
In no relation to the beloved duo, Wham!, Tropicana the Musical is a theatre production about the swingin' '60s in Singapore and the Las Vegas-inspired nightclub at the heart of Orchard Road that hosted topless shows. Part-fact and part-fiction, this musical is set to blow you away from 13 to 30 April at Capitol Theatre.
17. Go glam with this party that floats our boat
The Singapore Yacht Show sets sail for ONE°15 Marina Club at Sentosa Cove from 6 to 9 April, bringing with it the latest yacht displays and a massive luxe party for the rich and famous – or if you're simply hip enough, like us.
18. Bring your fur-kids out to Singapore's biggest pet expo
Letting the dogs out from 14 to 16 April at Singapore Expo, the fourth edition of Pet Expo 2017 will expose you (and your trusty companion) to vendors and activities that'll foster their well-being, and you'll even get to meet like-minded pet owners too lest you're looking for a new stroll buddy.
19. Turn your body into a canvas
Mark your calendars for the Singapore Ink Show – it's set to be the largest gathering of international and local tattoo artists here. From 21 to 23 April, get inked by the best, or simply swing down to watch as the artists test their skills in contests for the best arm sleeve, realism colour and cover-ups.
20. Tap into your inner Game of Thrones fan
Revisit Westeros with 16 Game of Thrones-themed sculptures, carved into the tips of graphite pencils at Scotts Square from 22 April to 4 June. "Game Of Thrones A Pencil Microsculpture Exhibition by Salavat Fidai" is definitely an exhibition for you Khaleesi and Jon Snow supporters.
21. See Vincent Van Gogh's "The Starry Night" come to life
Be mesmerised by the beauty of more than 100 types of colourful tulips and hyacinths decorated in the Flower Dome. Boasting fascinating floral displays that take the shapes of works by famous painters, Tulipmania Inspired is yet one more reason to visit Gardens By The Bay.
22. Test Chanel's new beauty products with a cuppa on the side
Brace your cheeks and lips for Chanel's Coco Café – a beauty pop-up concept that allows you have a cup of coffee or tea while you browse through the new Chanel Cruise makeup collection – Les Indispensables de L'été. Keep your schedules free from 8 to 16 April, ladies!
23. Unite for Fred Perry's Record Store Day event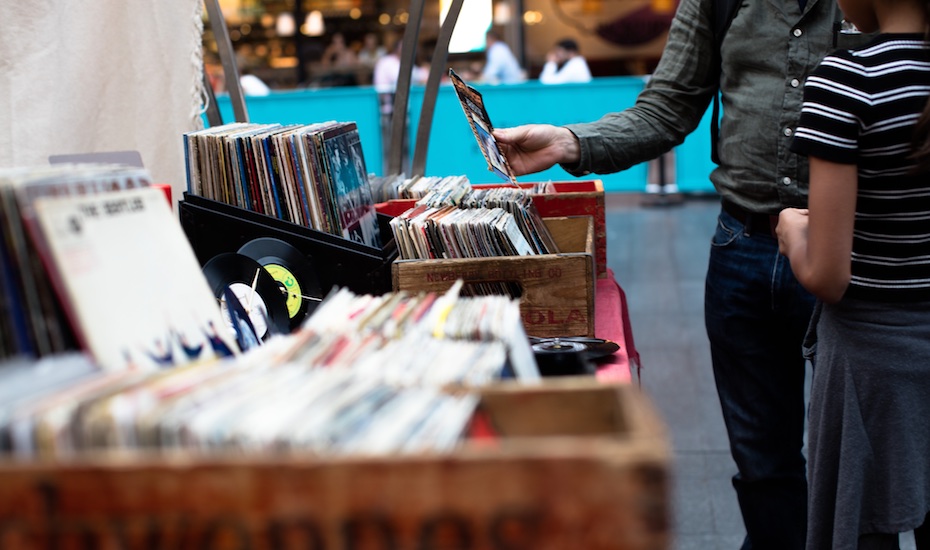 Leading up to this year's Record Store Day, Fred Perry is throwing a pre-RCD party on 15 April – Fred Perry Record Rally. With music performances from local bands, an art exhibition and lots of vintage vinyl records to browse, what more could music-lovers and crate-diggers want?
24. Catch one of our generation's greatest singer-songwriters
Whether you know her for her easygoing ballads like "Bubbly" and "Realize", or her duet with Jason Mraz on "Lucky" that inspired millions of YouTube covers all over the globe, you can't deny the enormous – yet earnest – influence of Colbie Caillat. The singer-songwriter returns with her doe-eyed demeanour and tender vocals this April, and we won't judge you if you shed a tear or two.
25. Profess your love for the King of Fruits… or not
Durian season is around the corner, and we can usually count on Goodwood Park Hotel to stun with its Durian Fiesta offerings. From early March to 31 July. Goodwood Park Hotel will showcase 14 different confections, including six new creations. These include the D24 'Starry Starry Night' Ice Cream Cake, the D24 Cashew Nut Crumble Tartlet, D24 Matcha Cake, and even a D24 Salted Caramel Cuppa if you need a caffeine boost.
26. Meet the elusive Tiong Bahru Satay Man
The latest instalment of Moosehead's Supper Series sees the resto collaborating with the legendary Tiong Bahru Satay man, Ah Pui. Previously a roadside hawker in the '70s, he can now be found grilling his signature satay for private house parties. But thanks to this rare collaboration, you'll now know exactly where to find him, cooking his spectacular lemongrass- and coconut-marinated satay.
27. Soak up the razzle dazzle of a Broadway twist
Never thought you'd see Tony-award winning La Cage Aux Folles getting a Singapore makeover? Take in the glitz and glam of Glen Goei's version that sees a shift of the beloved Broadway musical from its French setting to familiar venues like Tanjong Pagar and our local kopitiams. Exploring issues like homosexuality, sexual freedom and self-acceptance, this latest production will be staged from 19 April to 13 May at the Victoria Theatre. Tissues on the ready for this glittering tearjerker that will leave you laughing (and crying) for more.
28. Witness a battle of racquets
Catch the biggest names in badminton serve and smash their way to the Super Series championship title. Dress the part (who says your badminton gear has to stay in the wardrobe for this?) and support your favourites at the OUE Singapore Open 2017 from 11 to 16 April at the Singapore Indoor Stadium. Just make sure you don't get knocked out by a shuttlecock before the games end.
29. Check out the new museum in the 'Gotham City' building
Singapore's very own 'Gotham City' building – or as it's officially called, Parkview Square – has just opened a contemporary art museum within its ritzy Art Deco premises. Known simply as Parkview Museum Singapore, the private gallery launches with a strident start, touching on the tenacious topic of shark protection and ocean conservation. And not only will this exhibition run every day 'til 9 September, it's absolutely free to enter.
30. Be 'kiasu' and get your free ice cream cone
Here's an excuse to leave your office before lunchtime: Ben & Jerry's Free Cone Day 2017. Ice cream is always good for our hot weather, and it tastes even better when it's free. Find a Scoop Shop near you on 4 April – save the date! And bring your boss along if you have to.