There's always a new eatery to discover at every corner in Hong Kong (Photography: Felix Lannoo via Unsplash)
Home to Temple Street Night Market, YMT has got lots to choose from if you're hungry. Here's a list of our fave Yau Ma Tei restaurants
Surprise, surprise! The Temple Street Night Market has topped Ocean Park and the Peak and became one of the the top Hong Kong tourist attractions. Not only is it most known for its vibrant street market, there are also loads of local dining options available (including our favourite Hong Kong street food). Therefore, we've put together a list of all the greatest outdoor dai pai dong restaurants, cafes and diners in Yau Ma Tei, so you know where to get your hangry fix. Enjoy your stuffing yourself silly at these Yau Ma Tei restaurants.
Check out these Yau Ma Tei restaurants
1. Tong Tai Restaurant
Although technically in Jordan, a list of Yau Ma Tei restaurants would not be complete without a reference to at least one of the popular outdoor dai pai dong restaurants which sit in between the two districts. These bustling restaurants are a popular tourist jaunt and hark back to the origins of the area, serving up seafood dishes in frill-less surroundings, when the area was a typhoon shelter before the surrounding land was reclaimed.
Tong Tai Restaurant is one of the more popular ones, with seats that overflow from the restaurants onto the surrounding pavements. Expect a fun, loud and sloppy, finger-licking affair, with dishes like clams and crabs, which are all the perfect accompaniment to some refreshing chilled carbonated bottled beer.
Tong Tai Restaurant, G/F, 184A Temple Street, Jordan, Kowloon, Hong Kong, p. 2384 5269, 佐敦廟街184A號地下
2. Hing Kee Claypot Rice Restaurant
Leave the frills at the door – this is not a fine dining experience. The menu is simple and the décor even more so, but the dishes Hing Kee serves are full of flavour, and this is why there are cues of patrons outside the restaurant every evening. It specialises in warming 'bo jai faan' claypot rice which is mainly a winter dish, but is available here all year round. Don't miss the fried oyster omelette or the chicken and preserved Chinese sausage claypot rice.
Hing Kee Claypot Rice Restaurant, G/F, 15-19 Temple Street, Yau Ma Tei, Hong Kong, p. 2384 3647, 油麻地廟街14, 19, 21號及鴉打街48號
3. Kubrick
Kubrick is one of those places that Hong Kong needs more of. While you might have heard some dismiss the 852 as a cultural desert, places like Kubrick send home such accusations, as the café oozes creativity and refinement. In fact, it was even patronised by one of the highest-grossing directors in history, Christopher Nolan, when he visited Hong Kong in July (he's a fan of Stanley Kubrick). Part bookstore, part art gallery and part café with potted flowers thrown into the mix, this is a lovely spot to find a bit of inspiration. It also serves up some awesome pastas and homemade cakes to inspire your taste buds as well.
Kubrick even made it to our guide to the best coffee in Hong Kong.
Kubrick, 3 Public Square Street, Yau Ma Tei, Kowloon, Hong Kong, p. 2384 8929 , 油麻地眾坊3號駿發花園H2地舖
4. Mido Cafe
As far as sexagenarians go, Mido Café is about as eye-catching as they come. Positioned in a stand-alone building, the iconic cafe features highly instagrammable 1950s-style decor, which consists of gorgeous tiling and great views over the Temple Street Market night through the old-school window frames from the second floor. The fittings and the food have stood the test of time, with a distinct East-meets-West mix of flavours on the menu. Highlights include the milk tea, the epic French Toast, and garoupa with macaroni. Let's just hope they can endure the ugly hand of gentrification forevermore.
Mido Cafe, 63 Temple Street Street, Yau Ma Tei Public Square, Yau Ma Tei, Kowloon, Hong Kong, p. 2384 6402, 油麻地廟街63號地下
5. Yokozuna
Yau Ma Tei is the last place anyone would expect to find an authentic Japanese ramen eatery, but this place does it with flair – and the queues outside are testament to this. The ramen is definitely worth the 30-minute wait though, with the cramped seating inside reminiscent of Tokyo and Osaka diners. The scrumptious soft-boiled eggs are perfectly liquescent and firm at the same time.
Check out our fave Japanese restaurants in Hong Kong.
Yokozuna, Yun Kai Building, 466-472 Nathan Road, Yau Ma Tei, Kowloon, Hong Kong, p. 2783 0784, 油麻地彌敦道466-472號恩佳大廈地下
6. Pho Viet
Situated two minutes from Yau Ma Tei, this eatery is on a colourful street frequented by sexworkers and businessmen. The focus here is on fresh ingredients, meaning the dishes are extra delectable. Although there is only space for around 10 diners, the restaurant personalises the dining experience, taking time to prepare the food with care. The authentic Vietnamese honey chicken wings are not to be missed, making it one of our fave Yau Ma Tei restaurants.
Pho Viet, G/F, 390 Portland Street, Mong Kok, Kowloon, Hong Kong, p. 6884 8898, 旺角砵蘭街99號地舖
7. MUM's NOT HOME
For a splash of vibrant colours – in their decor, food, and drinks! – head to MUM's NOT HOME for a sweet escape. There are nine different cheesecakes to choose from in unique flavours you're unlikely to find anywhere else; masala, butterfly pea lime, turmeric, and durian to name a few. The cafe is also famous for its insta-worthy drinks, pick between hazelnut chocolate latte, secret of butterfly pea, or pineapple of the sea soda (it's a very hard decision, folks!).
MUM's NOT HOME, 1/F, 302 Shanghai Street, Yau Ma Tei, Hong Kong, p. 9770 5760
8. Manakamana Nepali Restaurant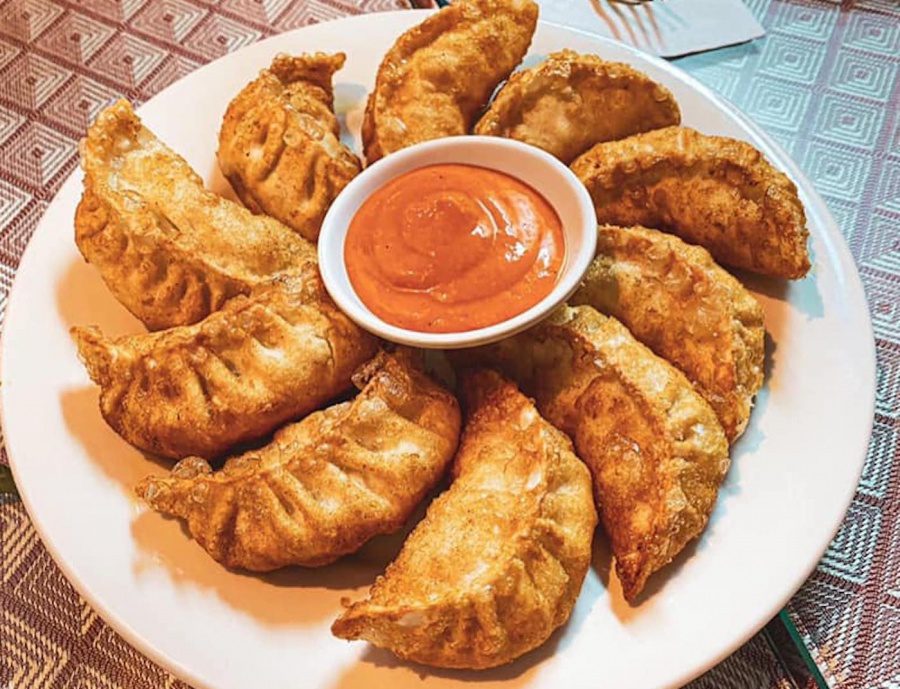 If you like it spicy, then you need to check out Manakamana in Temple Street. We particularly like the amazing samosa chaat, pani puri, mango, lassi and more! There's plenty of vegetarian options on the menu and you can ask to adjust spice levels. Plus, the momos here are uh-mazing!
Manakamana Nepali Restaurant, 107 Temple Street, Jordan, Hong Kong, p. 2385 8293