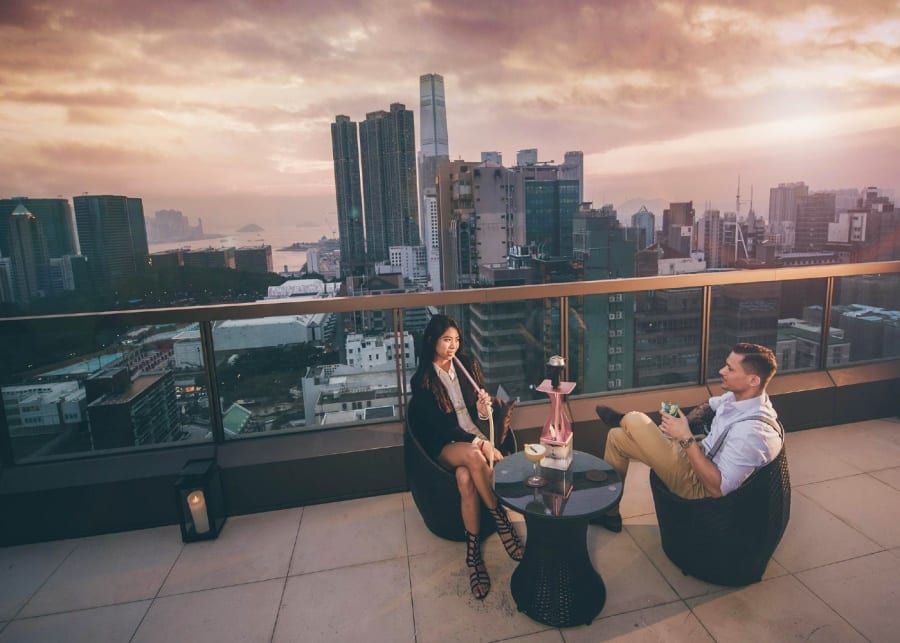 There are a few rooftop bars for shisha on this list, with HYC being one of them (Photography: HYC Bar & Lounge via Facebook)
First things first: kids, smoking isn't good for you. But if you're down for a good time (and not a long time), we ain't gonna judge either. You Only Live Once – here are the best shisha bars and hookah lounges in Hong Kong.
Despite the fact that the pandemic situation has been getting better in Hong Kong (and fingers crossed it stays this way!), this city is still notoriously stressful to live in. While some people prefer to sweat it out at the gym, or practise mindfulness at home for some inner peace, others might opt for activities that are a little more… indulgent. Admittedly, smoking shisha isn't good for our health. But in case you'd like to blow off some steam, we're happy to give you some cheeky recommendations, too. So, here are our favourite hookah lounges and shisha bars in Hong Kong.
Best shisha bars in Hong Kong
1. HYC Bar & Lounge
If you're a fan of gin or shisha (or both), don't miss out on the deluxe experience at HYC. With a great selection of spirits and gin-spired cocktails, you're bound to find your favourite tonics and other creative concoctions. As for the shisha, HYC has around 20 different flavours, as well as three signatures, including the Tropicana which has an amaretto base. Also, you can indulge yourself in the Krysalis shisha package which includes a table-side demonstration, a complimentary base, and a tobacco refill. Don't forget to head out onto the terrace for some stunning views of the city!
HYC Bar & Lounge, 22/F, Nathan Hill, 38 Hillwood Road, Tsim Sha Tsui, Hong Kong, p. 2572 6388, 尖沙咀山林道38號銀座38 22樓
2. Space X
Not to be confused with SpaceX the tech giant, Space X is a local shisha bar with space-themed interiors and neon signs, which give this hookah lounge its distinctive look. Furthermore, Space X has around a dozen signature cocktails, including some for sharing (echoing the social nature of hookah), and the Space Yakult which is a vodka-based cocktail served in an oversized Yakult container. Most importantly, Space X has around 50 shisha flavours for you to choose from. And it doesn't matter if you're a beginner, as the friendly team is always down to guide you through its menu.
Space X has locations in Lan Kwai Fong and Tsim Sha Tsui.
3. Zeng
At Zeng, not only do you get to enjoy fusion plates and creative cocktails, but you'll also be able to take in a panoramic view of the Kowloon Peninsula once you head out onto the terrace. And what better way to boost this experience than trying Zeng's luxurious in-house shisha? Using the best ingredients, expert preparation techniques, and an innovative ice hose tip, Zeng aims to deliver the smoothest hookah experience for its guests. Moreover, there is a range of flavours for you to tailor-make your own shisha, or you can opt between the five special mixes. If you're looking for a fun yet sophisticated shisha bar to hang out at, Zeng will be your best bet.
Zeng, 30/F, V Point, 18 Tang Lung Street, Causeway Bay, Hong Kong, p. 2353 0053, 銅鑼灣登龍街18號V Point 30樓
4. Nu Aer
Previously hidden away in an upstairs space in a commercial building on Hart Avenue, Nu Aer has moved a few blocks over to Minden Avenue in Tsim Sha Tsui. This reservations-only hookah lounge may be pretty low-key, but it consistently provides high-quality shisha, food, and drinks. There are over 30 flavours for the shisha at Nu Aer, as well as five signature mixes. Each mix caters to different tastes, so whether you like your hookah being fruity, floral, minty, refreshing, or creamy, Nu Aer has you covered.
Nu Aer, G/F, Kam Wing Commercial Building, 28 Minden Avenue, Tsim Sha Tsui, Hong Kong, p. 2363 2087, 尖沙咀棉登徑30號錦榮商業大廈地舖
5. She Says
Who run the world? Girls! She Says is a shisha bar and cafe that has multiple Instagrammable features for the KOLs amongst you. These include chic neon signs, Wonder Woman graffiti, a wall of pink flowers, seasonal cocktails, and more. Furthermore, She Says has some relatively rare offerings, such as the wookah (wooden hookah) and even absinthe. Oh, and if you're wondering if there's a He Says, the short answer is: yes. Go check it out!
She Says, 4/F, Soho Tower, 25 Hart Avenue, Tsim Sha Tsui, Hong Kong, p. 2732 2229, 尖沙嘴赫德道25號蘇豪坊4樓
6. 14:41
With 1,440 minutes in a day, where would you spend your time if you had one extra minute? Simply head to 14:41 to unwind, take a hit, or even play some ping pong on the second floor. Whether you feel like getting caffeinated or letting off some steam, 14:41's food, drinks, and shisha menus are available from morning till late to cater to your every need. In addition to happy hour drinks, there are also happy hours for shisha here. Between 11:41 and 17:41 on weekdays (we love the play on numbers, hah), you can order a shisha with a mix of three flavours, along with a coffee or tea for just around $300.
14:41, G/F, Cheung Hing House, 41 Peel Street, Central, Hong Kong, p. 2390 0778, 中環卑利街41號祥興樓地舖
7. Be Humble
Feeling stuck in Hong Kong? Let your mind escape to the Middle East while taking in the Bohemian interiors and laid-back vibes at Be Humble. This Instagram-worthy Turkish cafe and restaurant serves an array of snacks, desserts, and alcoholic beverages. And of course, on top of that, there's the shisha. With over 40 flavours and create-your-own mixes to choose from, you'll be sure to find something you fancy.
Be Humble, 18/F, Mongkok Metro, 594-596 Nathan Road, Mong Kok, Hong Kong, p. 5348 1417, 旺角彌敦道594-596號旺角新城18樓
8. Shahrazad Lebanese Dining Lounge & Bar
For those in search of somewhere truly authentic with its hookah (and top-tier Lebanese cuisine to go with), look no further than Shahrazad. Offering 30 basic flavours, plus several fresh-fruit shishas, you'll be whisked away to the Middle Eastern kingdom with just a few puffs. Apart from basking in the stunning deco and taking pics for the 'gram, you might even catch some belly dancers – prepare to be wowed and have your Arabian Night taken up a notch!
Shahrazad Lebanese Dining Lounge & Bar, 2/F, Carfield Commercial Building, 77 Wyndham Street, Central, Hong Kong, p. 2330 0242, 中環雲咸街75-77號嘉兆商業大廈2樓
9. Polar Lounge
A reservation-only shisha bar, Polar Lounge is an exclusive space for hookah aficionados in Hong Kong. A trendy hideaway with a terrace, this lounge offers a deal from 2 to 5pm every day, known as the Meditation Hour. During this period, customers can enjoy one shisha, along with a non-alcoholic drink, for just $270. However, the best thing about Polar has got to be its amazing selection of shisha flavours – somewhere between 100 and 150 of them (!) – as well as premium equipment. For the discerning smokers amongst you, Polar should be on your to-go list of shisha bars (if you haven't been already!).
Polar Lounge, 16/F, The L Square, 459-461 Lockhart Road, Causeway Bay, Hong Kong, p. 6388 0878, 銅鑼灣駱克道459-461號The L Square 16樓
10. SipSip Rooftop
More views, everyone! And this time, it even comes with… Cantonese soup? If you think shisha can't go well with double-boiled soups, think again, because SipSip Rooftop has been nailing it. Don't get us wrong – the soup isn't the base of the shisha (thank god) – but it is one of the major characteristics of this rooftop bar and restaurant. Designed to be the alternative dining and hookah lounge of SoupDay, a popular soup shop in Hong Kong, you can nourish yourself with the hearty soups and Cantonese rice bowls at SipSip Rooftop. As for the shisha, there are a few signature flavours to choose from, including the Fruit Ninja, Thai Cola, and more.
SipSip Rooftop, 26/F, Morecrown Commercial Building, 108 Electric Road, Tin Hau, Hong Kong, p. 5131 7189, 天后電氣道108號冠貿商業大廈26樓啜
11. Arkadia
Sitting across the street from its sister bar, Babylon (which is also an LKF favourite for shisha), Arkadia is an unmissable spot for cyberpunk fans. Aside from its shisha, of which you can choose from around 20 flavours, give the cocktails a try as well. If you're looking for a space that's a little more discrete and intimate, Arkadia is a good shout.
Arkadia, Room 1A, 1/F, Block A, Winner Building, 27-39 D'Aguilar Street, Central, Hong Kong, p. 6271 5406, 中環德己立街27-39號榮華大廈A座1樓1A室
12. Gypsy Lounge
Having only opened in July 2021, Gypsy Lounge is one of the newer hideouts for shisha lovers. Inspired by the bohemian spirit, this lounge is homey, cosy, and down-to-earth. There are no lack of Instagrammable spots, as Gypsy Lounge is complete with a hanging basket chair, cute neon signs, bohemian furniture, and more. As for its shisha, the lounge has secret recipes for its mixes, using imported ingredients and various bases. There are 15 items on its menu, including I Love You 3000 and Havana Banana – sing the latter in order to get a $2 discount! 😛
Check out our guide to cafes, restaurants, and bars in Causeway Bay while you're in the area.
Find out more about Gypsy Lounge.
13. Cosha
Founded in June 2021, Cosha is a cosy space that serves Aussie-style brunches by day, drinks and shisha by night. Once the sun sets, you can forget about their signature Crispy Gees and UFOs, because Cosha's all about fumes and booze when it hits 6pm on Friday and Saturday. Its ​​Stündenglass gravity hookah is a treat for the 'gram (a rotating hookah, anyone?), so remember to book ahead to reserve your spot.
Cosha, G/F, 61 Elgin Street, Mid-Levels, Hong Kong, p. 6765 0435, 半山伊利近街61號地舖