Carrot and orange; beetroot, spinach and apple; kale, cumber and lemon - whatever your favourite flavour combination, we've found the best juice bars in Hong Kong
With the wellness trend taking over the globe, vegetarian restaurants, vegan restaurants and vegan ice-cream shops have been popping up throughout Hong Kong. But there's nothing like a cold-pressed juice when you have just finished a workout or if you're looking to detox. So find your favourite flavour at these quality juice bars in Hong Kong and enjoy!
Check out these juice bars in Hong Kong
Genie Juicery
Started by two best friends from Australia, Genie Juicery began life as a detox programme and has been delivering cold-pressed juices to health conscious folks in Hong Kong since 2011. Ranging from one to six days, Genie still offers its cleansing programmes, but is most well known for its juice bars that pump out tasty juices, smoothies and nut milks on a daily basis. PLUS the team at Genie Juicery have made the switch to glass bottles, which is great for both you and the environment! Definitely one of our fave juice bars in Hong Kong.
Must-try juice: Beaches – pineapple, strawberry, mint and organic acai
Read our full review of Genie Juicery.
Genie Juicery, 2096B, Podium Level 2, IFC Mall, 8 Finance Street, Central, Hong Kong, p. 2549 2778, 中環港景街1號國際金融中心2樓2096B號舖
Moksa
Part juice bar, part nail salon, part apothecary and part ethical retail shop, Moksa is one of our fave places to hang in Central. Sit in the Balinese-inspired inspired interiors and enjoy a range of juices in a setting that feels distinctly un-Hong Kong! Treat your nails and your skin while you're there, and you will be living your best life in no time.
Must-try juice: Detox Green – apple, celery, cucumber, lemon, ginger
Read our full review of a Moksa manicure.
Moksa, 1st Floor, 30 Hollywood Road, Entrance on Shelley Street, Central, Hong Kong, p. 3421 2007, 中環蘇豪荷李活道30號1樓 (入口位於些利街)
Be Juiced
The team behind Be Juiced worked closely with a nutritionist to develop a number of juice recipes that give the body the correct nutrients, vitamins and minerals that may be missing from a standard diet. The brand offers three different programmes: Reboot, Grounding and Veggiecation and also has an outpost in Central. Definitely one of the best juice bars in Hong Kong!
Must-try juice: Green Crack – spinach, kale, lettuce, almonds, dates and vanilla bean
Be Juiced, 45 Peel Street, Central, Hong Kong, p. 3693 4550, 中環卑利街45號地舖
12Noon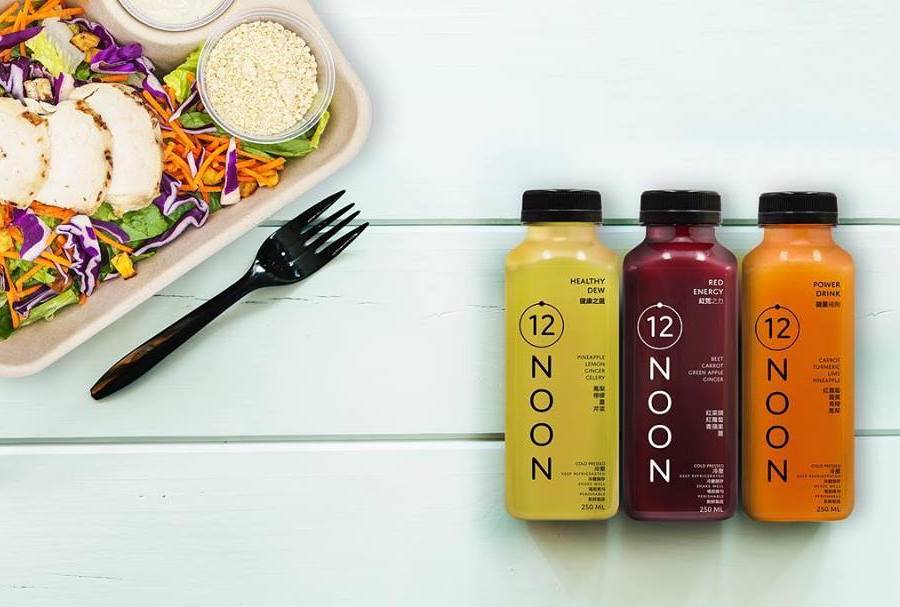 Located in Nan Fung Place in Central, 12Noon is a healthy eatery dedicated to delivering tasty handcrafted fresh fast food. They offer a great selection of salads (with or without meat), as well as their signature cold-pressed juices, with flavours like broccoli and pineapple, carrot and lime.
Must-try juice: Red Energy – beet, carrot, green apple, ginger
12Noon, Grand Millennium Plaza, 181 Queen's Road, Central / Sheung Wan, Hong Kong, p. 2890 9849
Water Juicery
Created by Michelin-Starred French Chef Akrame Benallal, Water Juicery offers 25 cold-pressed juices and three cold-pressed smoothies, all of which are raw, fresh and unpasteurised. The juice menu is divided into four colour categories: red, orange, yellow and green, to make it easier for clients to recognise which product is best suited to them, dependent on their personal dietary needs.
Must-try juice: Pineapple Power – tarragon, pineapple, orange, passion fruit, coconut water and lime
Water Juicery, Shop 393A, Level 3, New Town Plaza Phase I, 18 Sha Tin Centre Street, Sha Tin, Hong Kong, p. 2325 9368, 沙田新城市廣場1期L3 shop 393A
Nood Food
Alongside its healthy meal and snack options, Nood Food creates a HUGE selection of fresh and tasty juices that are packed full of goodness. The juices fall in to a range of categories, such as: Energise Me, Hydrate Me and Nourish Me, making it super easy to select the juice that's right for you. Not only is it one of the best juice bars in Hong Kong, we also think they have the best salads.
Must-try juice: Mighty Melon – Apple, Cucumber, Honey Dew, Melon and Parsley
Nood Food, 2/F, Kinwick Centre, 32 Hollywood Road, Central, Hong Kong, p. 8199 8189, 中環蘇豪荷李活道32號建業榮基中心2樓
Bless
Bless is a cold-pressed juice company with a number of outlets throughout Hong Kong, whose recipes are created in conjunction with both a dietitian and a nutritionist. Offering a selection of different cleanse options, the overall menu here is slightly smaller than other juice bars, so picking a healthy favourite will be much easier!
Must-try juice: Strawberry Dream – strawberry, guava and Asian pear
Bless, Shop 25, G/F, New Mandarin Plaza, 14 Science Museum Road, Tsim Sha Tsui East, Hong Kong, p. 2673 0299, 科學館道14號新文華中心商場地下25號鋪
Whether you are looking to shape up for summer or simply need some post-workout goodness, these juice bars in Hong Kong have you covered!