Bring your grocery bag, it's simple and saves SO much plastic! (Photography: @thecreative_exchange via Unsplash)
Follow our waste-free groceries guide and find your perfect shopping spot, no matter where you are in Hong Kong
If you wish to make a commitment to sustainability, start by cutting out single-use plastic and learning more about sustainable fashion and vegan skincare in Hong Kong. Shopping waste-free is also one of the keys to reducing our plastic waste and ditching unnecessary packaging. Getting fresh produce and healthy staples in bulk is way better than stocking up on small quantities in the supermarket, so we've sorted out the best places to get waste-free groceries in Hong Kong. Enjoy everything from pasta to cacao, guilt-free!
Where to get waste-free groceries in Hong Kong
1. Live Zero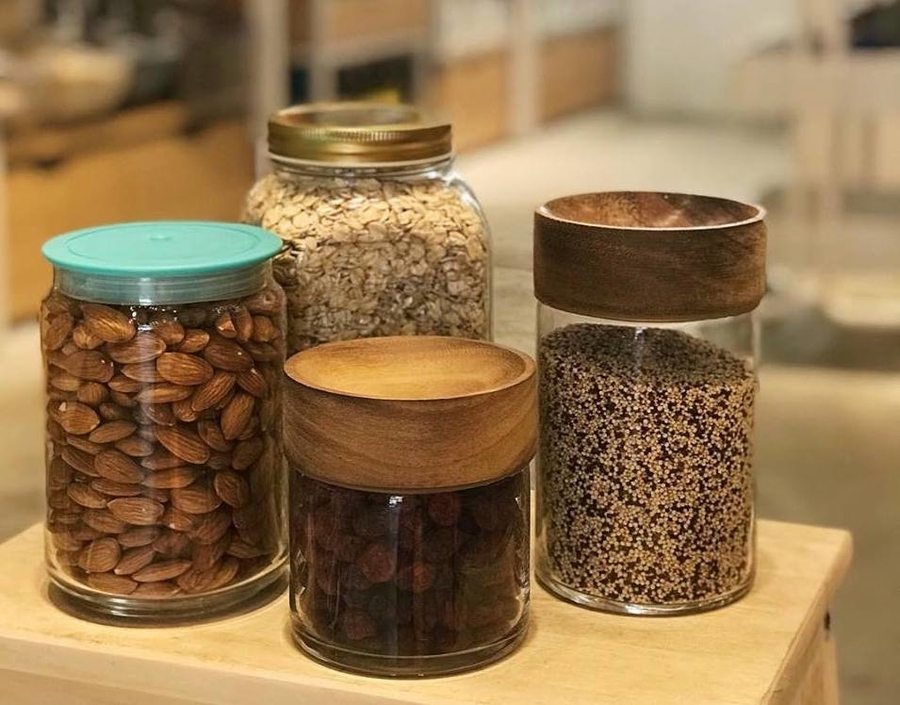 When speaking about waste-free groceries in Hong Kong, you can't miss Live Zero, which was Hong Kong's first zero waste bulk food store. You can find everything from legumes, dry fruits, seeds and nuts to other daily essentials and body care products over at the Sai Ying Pun store, which has recently moved a few doors down. Bring your own container and buy in bulk. This is definitely a place to kickstart your zero-waste lifestyle. For those who live in New Territories, Live Zero has recently launched its second branch on Tak Lung Back Street in Sai Kung. Plus, we hear a rumour that great waste-free beauty may be coming to the store next door in SYP, so stay tuned!
Live Zero, 24 High Street, Sai Ying Pun, Hong Kong, 西環西營盤高街24號
2. Slowood
One of the our favourite new spots to shop waste-free groceries, Slowood believes that zero waste is an essential part of the modern life. Dedicated to promoting a genuinely sustainable lifestyle, Slowood offers a comprehensive array of eco-conscious, recycled and biodegradable lifestyle alternatives, including rice, snacks, spices, body care products, cleaner supplies and tableware.
Slowood has multiple locations in Hong Kong.
3. VomFASS
VomFASS aims to provide exclusive fruit vinegars, fresh oils, select wines, brandies and more in Hong Kong. Customers are encouraged to reuse and refill their vomFASS bottles at their retail stores.
VomFASS has branches across Hong Kong.
4. Edgar
Looking for waste-free groceries in Hong Kong? Located in both Tsim Sha Tsui and Sha Tin, Edgar is an environmentally-friendly and conscious retail store that provides natural, organic and fair trade products sourced from Europe that are made by long-established brands and independent artisans. Shop products like dried vegetable chips, organic biscuits and chocolates at Edgar.
Edgar, 5 Moon Street, Wan Chai, Hong Kong
5. Regency Spices
With wholesale and bulk packaging being Regency Spices' speciality, they offer a diverse range of high quality spices and herbs that are natural, gluten-free, chemicals-free to home cooking enthusiasts and restaurants in the city.
Regency Spices, 8A Ming Wah Industrial Building, 17-33 Wang Lung Street, Tsuen Wan, Hong Kong. p. 3525 0060, 荃灣橫龍街17-23號明華工業大廈8A
6. Wet markets
Visit the local wet market, bring your own shopping bag and container to get your fresh fruits and vegetables. Just remember to tell them in advance that you have got your own bag before they drop the produce in a plastic bag.