Keeping it quietly classy (Photography: Alena Shekhovtsova from corelens)
Craft your capsule collection: dive into Hong Kong's quiet luxury fashion scene for sustainable, stylish essentials to elevate your wardrobe.
Have you noticed how style is getting more low-key these days? Big flashy logos are out, while high-quality basics that look good and last are in. This is what we call "quiet luxury". As consumers increasingly demand ethical production and sustainability, Hong Kong local brands and international labels are answering the call. Practices like circular fashion and premium basics are rising in popularity, stepping away from fast fashion. In this piece, we'll explore how to curate an everyday wardrobe that embodies quiet luxury in Hong Kong. With mindful construction and materials, we'll share tips on building your quiet luxury aesthetic through quality over quantity.
Exploring quiet luxury in Hong Kong, from head to toe
Where to shop linen blazers
A linen blazer is a versatile piece that embodies the essence of quiet luxury fashion. Linen is a lightweight fabric perfect for hotter climates and the blazer silhouette lends an elegant shape. Though traditionally masculine, design details like ruffled cuffs or nipped-in waists allow women to make the style their own. The best part? A neutral linen blazer will offer endless styling potential in your wardrobe for years to come.
1. @WHITE by Gosia Orlowska
Hong Kong's own Gosia Orlowska Designs blends Asian craftsmanship with European style in its intentional jewellery and apparel. Its "Lyla" blazer exemplifies the brand's quiet luxury aesthetic, crafted from 100% breathable linen ideal for year-round wear. Praised for timeless wearability, the lightweight linen blazer makes the perfect addition to women's wardrobes as a go-with-anything closet staple.
@WHITE by Gosia Orlowska, G/F, Kingearn Building, 24-26 Aberdeen Street, Central, Hong Kong, p. 9014 7003
2. Love, Bonito
Singapore-based women's brand Love, Bonito brings thoughtful designs catered to the modern Asian woman. Its Silvia linen blazer encapsulates the commitment to quality, fit, and versatility. Crafted from breezy linen, this relaxed-fit blazer features classic tailoring like a collared neckline, long sleeves, and front pockets. Designed to empower, the Silvia blazer embodies Love, Bonito's ethos of accessible, confidence-boosting pieces for life's journey.
Love, Bonito has multiple stores across Hong Kong.
Where to shop midi dresses
The midi dress is a wardrobe staple, with its length hitting below the knee or just above the ankle. While still playful, the midi silhouette looks polished whether paired with flats for daytime or heels at night. Offering versatility from the office to dinner dates, midi dresses allow you to get the most out of a simple garment.
3. Tove & Libra
Tove & Libra is all about making fashion stylish and sustainable. One of its standout pieces is the Ruffle Sleeve Ribbed Midi Dress. It's easy to wear and super versatile – you can dress it up or down. What's even better is that it's made from eco-friendly bamboo and cotton blend. This means it's soft, breathable, and even has antibacterial properties. It's a chic, easy-care dress that shows you can look good and do good for the planet.
Tove & Libra, S205, Block A, PMQ, 35 Aberdeen Street, Central, Hong Kong, p. 9662 9923
4. Kin Made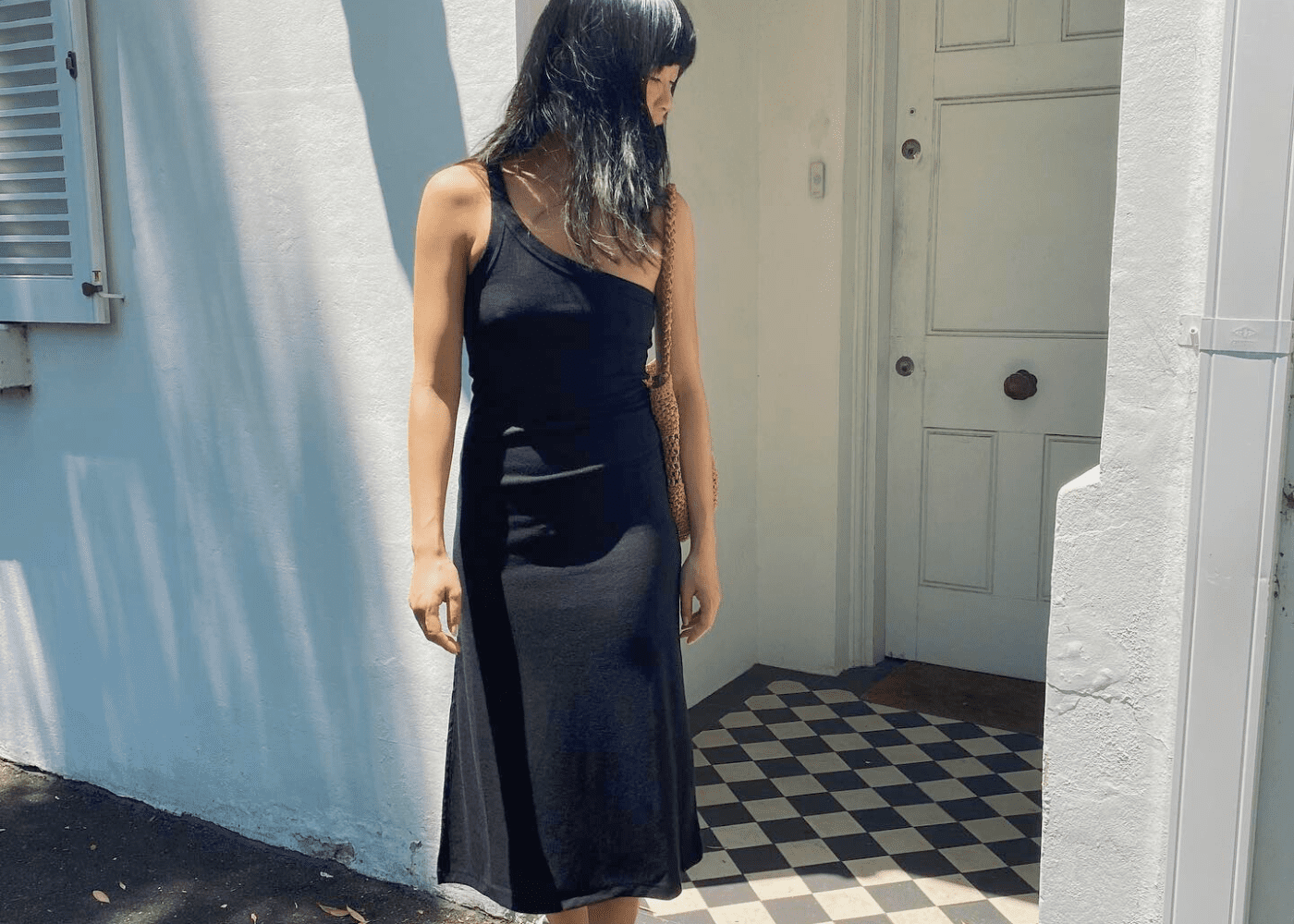 With a minimalist approach and a focus on timeless design, Kin Made offers womenswear that makes a statement. The brand name, "Kin Made", not only signifies close connections but also resonates with the Chinese word "建" (kin), which means "to build". This reflects the brand's mission to build a bridge between style and sustainability. A highlight from its collection, the Harper Dress in black is an elegant, midi-length dress that's as sustainable as it's stylish, made from surplus soft black rib knit fabric. It has a single shoulder strap and a breezy side slit, making it a perfect summer piece. Pair it with sandals for a casual look, or dress it up with heels for a night out. In cooler months, it layers great with a blazer and sneakers.
Shop Kin Made online.
Where to shop coordinated sets
Coordinated sets reign as another wardrobe necessity. They offer the utmost versatility, as they can be worn separately, or together for a cohesive look, instantly multiplying your outfit options. By incorporating a few of these sets into your closet, you're equipped to create effortless and elegantly coordinated quiet luxury outfits in no time!
5. Anaphe
Anaphe, created by Katy Poyner, is a brand committed to redefining fashion through a lens of investment and quality, rather than quantity. It stands against the fast-fashion culture that has become prevalent in our society, focusing instead on creating timeless, versatile pieces that will last season after season. An example is its sand-washed silk cropped blazer and high waist bias trouser set. The blazer, with its luxurious sand-washed silk finish, transitions naturally from day to night, offering the wearer unrestricted movement and comfort. The trousers, designed with a slight flare and a high, tapered waist, pairs beautifully with the blazer for an office look, or with sneakers or sandals for a casual vibe.
Anaphe has two stores in Central.
6. She Creates Stories
If you'd like to explore the vibrant and playful side of quiet luxury in Hong Kong, look no further than She Creates Stories. Inspired by her two-decade-long career in retail buying, Bex has curated an online fashion destination for women seeking stylish, high-quality clothing. We're loving the vibrant Blaze pink high-waisted linen shorts and matching Stacey top set. The shorts, featuring a wide elastic waistband for comfort and longer-length crotch design, pair perfectly with the square-neck, loose-fit Stacey top for an easy chic look. Both pieces are crafted from high-quality linen and ethically produced in Bali, blending sustainable practices with fashion-forward design.
Shop She Creates Stories online.
Where to shop simple jewellery
Simple jewellery is a key part of the quiet luxury style. Instead of big, flashy pieces, look for items like small and delicate hoops, chains, rings, and bracelets. These pieces can add a touch of elegance to your outfit without being over the top. Whether you choose gold or silver, these understated accessories will make you look polished and refined.
7. Karma Links Jewellery
Inspired by empowering ancient symbols, Karma Links Jewellery crafts demi-fine jewellery pieces that encapsulate the essence of quiet luxury. Pieces such as the Gold Herringbone Choker and Aventurine Ring are prime examples. The choker, a stunning necklace made with 18K gold over 925 sterling silver, adds a subtle touch of luxury, whether worn alone or layered with other necklaces. The Aventurine Ring, adorned with polished Aventurine stones and cubic zirconia, promises not only an undeniable beauty but also the positive qualities of abundance and good luck.
Karma Links Jewellery, G/F, 74A Hollywood Road, Central, Hong Kong, p. 6056 5191
8. Linjer
Despite its humble Hong Kong roots, Linjer has become a global sensation, with its pieces gracing the wardrobes of celebrities worldwide. Founded by seasoned entrepreneurs Roman and Jennifer, their mission was simple: to bridge the gap between fast fashion and exorbitantly priced luxury goods.Their dedication to sustainability and high-quality materials, including recycled metals and ethically sourced gemstones, is reflected in every product. Our favourite piece from Linjer is the 14k yellow gold Diamond Eternity Ring, which captures the brand's commitment to affordable elegance. It's no wonder Brie Larson is obsessed with their rings!
Shop Linjer online.
Where to shop high-quality bags
To achieve the quiet luxury aesthetic in Hong Kong, the key lies in choosing structured bags without prominent logos. This can seamlessly elevate any outfit and tie the look together. Whether you prefer a shoulder bag or a tote for your daily tasks, it's the quality of the material that truly stands out.
9. Campo Marzio
Hailing from Rome's historic Campo Marzio artisan district, Italian brand Campo Marzio has crafted quality leather goods since 1933. Its Double Tote Bag showcases the company's heritage of versatile, contemporary design at an accessible price point. Sporting a reversible colorway, the tote easily transforms looks with a quick flip. On the inside, the spacious interior helps keep daily essentials organised, while the removable pouch serves as the ideal storage for small items like phones and keys. In essence, by offering Italian styling in a lightweight carryall, the Double Tote provides affordable luxury that transitions seamlessly from work to weekend.
Campo Marzio has stores in Admiralty and Tsim Sha Tsui.
10. Charles & Keith
Known for its creative and original collections that blend work and play, Charles & Keith is a Singaporean fashion label established in 1996 by entrepreneurs Charles and Keith Wong. The brand's spirit is captured beautifully in its Petra curved shoulder bag. The shimmery blue rendition is a fashion enthusiast's dream, with a sleek curved silhouette and a sculptural handle designed for a perfect fit, whether on your shoulder or in the crook of your arm. The bag's distinct square buckles add an edge, while its adjustable, detachable strap offers versatility for different style explorations.
Charles & Keith has multiple stores across Hong Kong.
Where to shop neutral shoes
Quality shoes in neutral hues offer versatility and long-lasting wear, making them a key investment for your wardrobe. Timeless silhouettes like sleek loafers, classic pumps, or white sneakers transcend trends and complement any outfit.
11. Sam Edelman
With a unique blend of classic elegance and modern luxury, the footwear crafted by creative visionary Sam Edelman and his wife, Libby Edelman, stands out in the fashion industry. Their designs, like the Teana Slingback Loafer, are the epitome of quiet luxury. These shoes offer a smart blend of comfort and class with their heritage-inspired design and cosy low block heel. With stores spread from Cali to Hong Kong, this brand is making quiet luxury accessible to everyone, everywhere.
Sam Edelman has stores in Causeway Bay and Tsim Sha Tsui.
12. Veja
Veja sneakers have become a wardrobe staple for many, from influencers to celebrities like Emily Ratajkowski, Emma Watson, and even royalty like Kate Middleton. The brand's signature "V" design has become the symbol of understated chic, proving that comfort and style can coexist. Produced in high-standard factories in Brazil, the brand's sneakers epitomise quiet luxury with their subtle style and commitment to sustainability. Veja incorporates organic cotton from Brazil and Peru for the canvas and laces, Amazonian rubber for the soles, and uses various innovative materials derived from recycled plastic bottles or recycled polyester. Whether you're considering the longevity, materials, or value for money, Veja ticks all the boxes when it comes to crafting the perfect quiet luxury footwear.
Shop Veja through various stockists in Hong Kong.