Hong Kong-based NFT artist Claudia Chanhoi explores themes of gender and sexuality in her works (Image: Claudia Chanhoi via Facebook)
New to the wonderful world of NFT art? Start by following these NFT artists in Hong Kong on Instagram.
From inspirational women to talented queer artists, the Hong Kong Instagram community has no lack of extraordinary individuals to follow – and that includes pioneers in NFT art, too. Whether you're a fan of art galleries, or are just curious about NFT art, here are some amazing NFT artists in Hong Kong you should follow on Instagram.
Oh, and while you're on Instagram, make sure to follow us @HoneycombersHK, too! 😉
Get inspired by these NFT artists in Hong Kong on Instagram
1. Claudia Chanhoi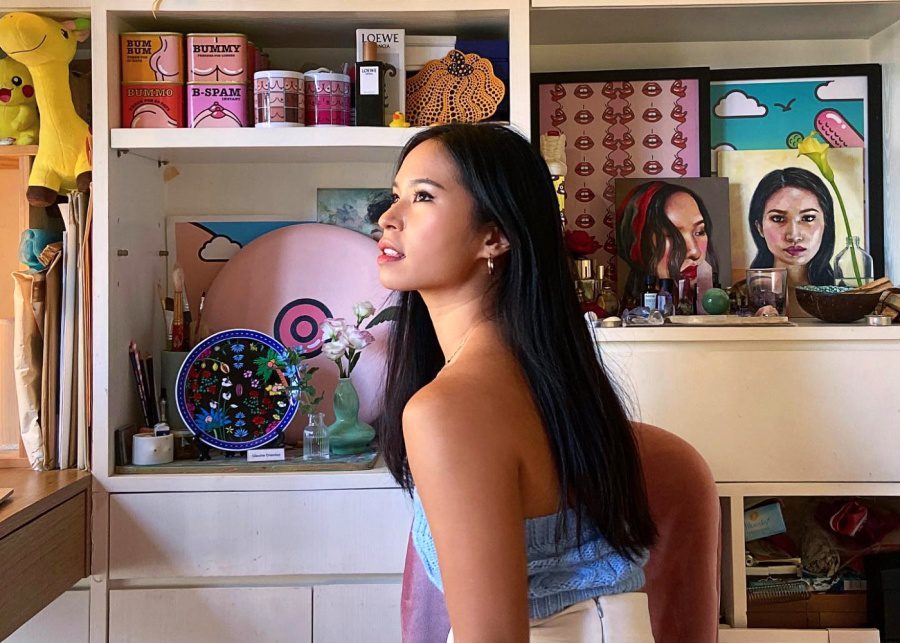 If you use dating apps, chances are Claudia Chanhoi's humorous artworks will resonate with you. Inspired by her own experience in the modern dating scene as a heterosexual woman, Claudia explores the topics of gender and sexuality in a playful way, using vibrant colours and a cartoon style. But, Claudia also blatantly features butts, breasts, and other symbols of sex in her art. While this gets her into trouble with Instagram's community guidelines, she continues to push the boundaries and isn't afraid to speak up – and we love her for it! So, be sure to check out Claudia's NFT art on Refinable.
Find out more about Claudia Chanhoi and follow her on Instagram.
2. Szabotage (Gustav Szabo)
Have you spotted Szabotage's graffiti art across the city? (Hint: he's best known for his iconic koi fish design.) Gustav Szabo, better known as Szabotage, is a contemporary urban artist born in Brighton, UK. After relocating to Hong Kong, the artist soon stood out in the local and international street art scene. His works are generally in an old-school graffiti style, using neon colours and often paying tribute to pop culture, urban architecture, and surrounding communities. Take a look at his art on Refinable and OpenSea.
Find out more about Szabotage and follow him on Instagram.
3. Ophelia Jacarini
Ophelia Jacarini is a prolific artist who's been based in Hong Kong since 2013. With a background in ballet, Jacarini mostly explores human anatomy, movement, and physical transformation in her art. In 2021, she started exploring the digital art scene, employing AI in her art and investigating themes of time and space. She's recently dropped her NFT series 'Akasha' – check it out!
Read our full interview with Ophelia Jacarini regarding her previous works on the subject of female nude.
Find out more about Ophelia Jacarini and follow her on Instagram.
4. Papersneaker (Natalie Wong)
Led by Creative Director Natalie Wong, Papersneaker is a multidisciplinary design studio based in Hong Kong and London. You might recognise Natalie's famous '100 Paper Sneakers' (2016) project, which went viral several years ago. Relatively new to the NFT art scene in Hong Kong, Natalie minted her first NFT series in April 2021, 'Neon Rap Portraits V2.0'. In addition, she's currently contributing to the charity project, SCMP x Operation Santa Claus, for Christmas this year. We look forward to seeing more of her snazzy designs in Hong Kong's NFT art community soon!
Find out more about Papersneaker and follow her on Instagram.
5. Derry Ainsworth
With a background in architecture, British photographer Derry Ainsworth has been one of the most recent and strongest forces in digital and NFT art in Hong Kong. Since his arrival in the city in 2014, Derry has been increasingly active in the commercial and visual arts scene. Not only has he held over 10 exhibitions here, but he's also partnered with major events, including Clockenflap, Rugby Sevens, Art Central, and more. In addition, he's the creative director of Digital Art Fair Asia. You can find his NFT art on Refinable.
Find out more about Derry Ainsworth and follow him on Instagram.
6. The French Girl (Caroline Tronel)
Born and raised in Paris, Caroline Tronel, or The French Girl, has been surrounded and inspired by street art from a young age. Making use of bright colours and owning her iconic Double Heart design, Caroline's works always brim with liveliness and positivity – #GoodVibesOnly! While this artist is also relatively new to the NFT art scene in Hong Kong, we're digging her Crypto Hearts Genesis series, which she minted exclusively for the Digital Art Fair Asia.
Find out more about The French Girl and follow her on Instagram.