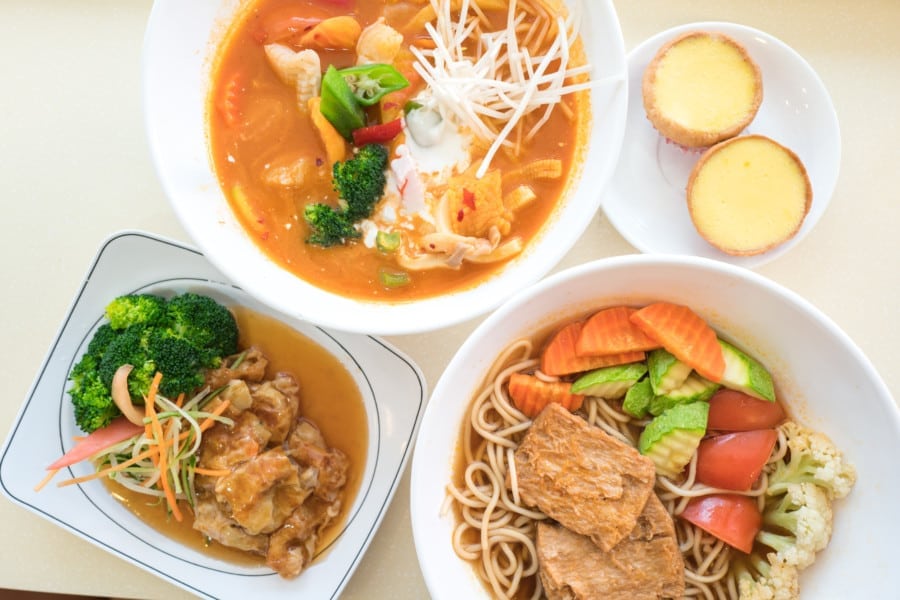 Whatever you order at Loving Hut, you won't be disappointed
Created with the vision to bring peace, love and harmony, international vegan chain restaurant Loving Hut offers a diverse range of vegan Asian food in Wan Chai.
Being a vegan or vegetarian doesn't mean that you have to sacrifice taste for health. If you've got a sweet tooth and are looking for vegan cakes in Hong Kong, there's The Vege Lab, Sweet Secrets and The Cakery. And if you prefer something savoury, Loving Hut Wan Chai – a fast-growing internationally renowned vegan chain restaurant – serves a huge variety of affordable Asian food, including fried vermicelli, sweet and sour tofu, dairy-free desserts like tiramisu and eggless egg tarts. See why that got even our omnivore colleagues drooling!

My favourite dishes at Loving Hut Wan Chai
The Taiwanese formosa stew style noodle bowl may look mundane but it delivers in flavour. The herb-infused house-made broth – aka the essence of the dish – elevates the taste by giving all the vegetables an identifiable smoky aroma, and the soya chunks on top are nicely seasoned and have an amazing chewy texture. Its simple yet noticeable depth of flavour wins our heart.
If you crave something more distinctive and spicy, go for the Thai-influenced vegan Tom Yum noodle soup. Loving Hut incorporates all sorts of vegan seafood that is made of konjac. With a myriad of incredible seafood substitutes, this dish showcases innovation and is wonderfully indulgent, with a little kick.
One of the most common dishes that you'd order at a Chinese restaurant are the traditional vegetable rolls wrapped in fried tofu sheets. What makes this dish special here is the ginger and vegan oyster sauce. The sauce works really well with the slightly fried tofu sheets, giving each piece a gentle crisp bite.
When talking about local street food in Hong Kong, we have to mention the iconic egg tart. Even the name is full of dairy, so how can you make an egg tart eggless? Loving Hut uses coconut milk and vegan custard to create their own version of vegan-friendly egg tarts, and even though the crust is not as buttery as the usual ones, the filling is surprisingly silky smooth. They are definitely worth a try.
Loving Hut also has dairy-free icecream, homemade cookies, condiments, and even vegan pet food for sale, so head over there if you want to stock up your pantry with lots of healthy goodness.
Loving Hut, 2/F, Luen Tai Building, 93-99 Wan Chai Road, Wan Chai, Hong Kong, p. 2574 3248, 灣仔灣仔道93-99號聯泰大廈2樓