Meat-free but not mundane: Organic, vegetarian fare by Cordon Bleu-trained chef, Peggy Chan
In this edition of Hot 50 Tables, we went to check out the delightful Grassroots Pantry, a perennial favourite amongst the health conscious crowd in Hong Kong
While a lot of shade has been thrown at vegetarians in the past, recent times have seen the tides a-turnin', as many people see the benefits of going green. We've found vegetarian restaurants in North Point and the best vegan restaurants in Hong Kong, but after a rejuvenating class at Kita Yoga in Sheung Wan, Grassroots Pantry was the perfect spot for us to reenergise. Offering an exciting vegetarian menu with a number of vegan options, Peggy Chan and her team concoct delicious food by marrying unique flavours and presenting them impeccably on the plate.
Why you need to visit Grassroots Pantry
Go Green or go home!
Grassroots Pantry is led by Chef/Founder Peggy Chan, who is also a key driver of Hong Kong's green-eating movement – a thoughtful effort to get more Hong Kongers to think before they eat. The team focuses on making every element of their dishes from scratch in order to steer away from unhealthy, refined or highly processed ingredients.
This homely space sports a relaxed community feel, boosting warm woods and plenty of greenery. There's a farmhouse vibe that means you won't be just in-and-out here, and we love how welcoming it feels.
What we tried (but the menu changes seasonally)
On the menu are vegan, gluten-free, raw and of course organic options – a timely reminder that by being more eco-friendly with your food you're making a positive impact on the environment. So when the popcorn "chicken"starter arrived at the table, we were bowled over by Peggy's tweak.  Instead of the typical chicken, it uses fresh hedgehog mushrooms that are sourced from Taiwan. This was a standout dish, and was oozing with goodness as it's high in minerals, amino acids and dietary fibres.
The next dish, which also packs a nutritional punch, was the teff shiitake gnocchi. This pillowy gnocchi dish features teff flour, an ancient grain from Ethiopia and the superfood du jour. Interestingly enough, the umami-rich & dairy-free "cheese" used in this dish is made with smoked macadamia nuts, and this spectacular combination was another winner.
We loved the presentation of the bagna càuda, a salad that looked like a mini garden in a flower pot – only difference, this one's edible! Filled with local spring vegetables, we thoroughly enjoyed drawing on the optimal nutritional benefits of each ingredient and dipping it into the fermented tofu cashew dip.
We couldn't wait to tuck into the macro tsukemono donburi, which we had heard so much about. In this dish, organic short grain brown rice is mixed alongside unagi, hijiki and black beans in coconut aminos teriyaki sauce. The addition of sansho-aonori (Japanese spices) and assorted homemade pickles are satisfyingly piquant and holds this robust dish together. We must admit that the savouriness is incredibly satiating.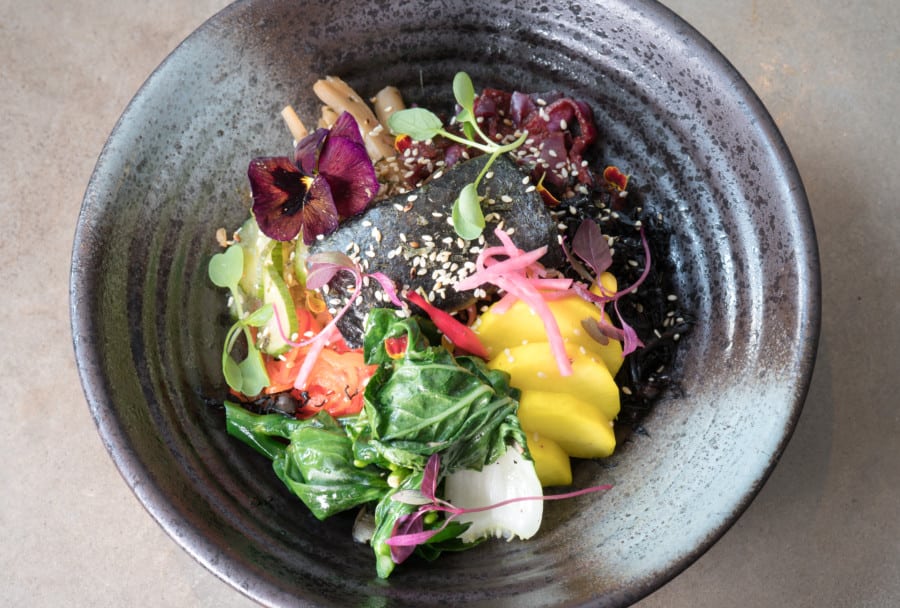 Although many non vegetarians may be apprehensive at first, Grassroots Pantry proves that taste doesn't need to be compromised when it comes to meat-free food. This is a haven for the health conscious, and if you want to do your bit for the environment then definitely head here.
In five words or less
An "Eat Pray Love" moment
Grassroots Pantry, 108 Hollywood Road, Sheung Wan, Hong Kong, p. 2873 3353, 中環荷李活道108號
Been to Grassroots Pantry and looking for more t9op restaurants in Hong Kong? Check out Hutong, indulge at Mrs Pound, or find out why we love Arcane.