End the year with a bang! (Photography: cottonbro studio via Unsplash)
Thank you, next! Here's what to do in Hong Kong this New Year's Eve.
2023: It hasn't been the best, but it also hasn't been the worst. So, we're feeling hopeful about next year and welcoming the arrival of 2024. While you are shopping for some lovely gift baskets or gorgeous gowns for your end-of-year party, you might be wondering about the best places in Hong Kong to celebrate New Year's Eve. Other than checking out these latest sweet deals, make sure to secure these amazing festive dinners and staycations before everyone else!
Things to do in Hong Kong on New Year's Eve: Party at these bars and clubs
Psst: We're working on updating our list for 2023-2024 as more information comes in, so stay tuned for updates!
1. Countdown Party at The Lounge, The Hari
The Lounge at The Hari is going all out for a countdown party to remember! Piano prodigy Arthur Altamirano and artist Kara Belle will be in attendance to take you on a musical journey to the New Year. Come by at 10pm to grab some drinks and shimmy the night away to this musical duo's jazzy, upbeat tunes.
The Lounge, The Hari Hong Kong, 330 Lockhart Road, Wan Chai, Hong Kong, p. 2129 0388
2. Let It Snow, Let It Glow at Vibes, The Mira
Bummed you can't go skiing this year? Let Vibes bring the Austrian Alps to you as it gets transformed into a "skihutte" for the festive season. The open-air lounge will host a countdown party with chic wintry vibes this New Year's. You can grab a cup of mulled wine or a spritz from the bar as you enjoy authentic Austrian bar bites. Make sure to have your cameras ready for the countdown, as the Snow Spectacle will unfold when the clock strikes midnight!
Find out more about Let It Snow, Let It Glow at Vibes.
Vibes, The Mira Hong Kong, 118-130 Nathan Road, Tsim Sha Tsui, Hong Kong, p. 2315 5599
3. Hong Kong New Year Countdown Celebration
Victoria Harbour will be the star this New Year's Eve with a countdown performance for the books. A special edition of "A Symphony of Lights" will usher in 2023 with a multimedia light and sound show that illuminates the night sky. The show will be synchronised with pyrotechnics set off from the rooftop of buildings on Hong Kong Island to end the year with a bang. Wondering where are the prime spots to catch the show on New Year's? The Tsim Sha Tsui Promenade, Central Ferry Pier, or even The Peak are places where you can enjoy the display. Be wary that there will likely be huge crowds, so plan accordingly and get there early. For those who'd rather stay in, you can still marvel at the spectacular show from home with the live broadcast on the Discover Hong Kong Youtube channel and local TV channels.
Find out more about Hong Kong New Year Countdown Celebration 2022-23.
4. Studio 54 New Year's Eve Party at Mr. Wolf
Don your best disco duds and head to Mr. Wolf for a Studio 54-themed New Year's Eve party! If you prefer to line your stomach with some food first, come by at 7pm for the Groovy Dinner ($888). Dine on European bistro fare while a DJ plays some tunes for you along with Hong Kong drag queens, Asia Miles and Emma Ohrey. Just in the mood for some partying? You can opt for the Hey Mr. DJ Cocktail package ($358) with which you can have two drinks and some canapes from 10pm until countdown. There will also be a Champagne tower and a photobooth – maximum fun guaranteed!
Find out more about Studio 54 New Year's Eve Party at Mr. Wolf.
Mr. Wolf, 5/F, Crawford House, 70 Queen's Road Central, Central, Hong Kong, p. 2526 0838
5. The White Carnival at The Sixteenth
Don your best white duds for The White Carnival New Year's Eve party at The Sixteenth! One of Hong Kong's largest outdoor terraces, this venue is the perfect place to ring in 2023 under the stars. Come by at 10pm to dance to a live DJ, guzzle some free-flowing drinks, and munch on some canapes. Tickets are priced at $880 online until 30 December and $980 at the door, so plan ahead to seize the deal!
Find out more about The White Carnival at The Sixteenth.
The Sixteenth, 2/F, Oxford House, Taikoo Place, 979 King's Road, Quarry Bay, Hong Kong, p. 2788 1993
6. Countdown Party at Argo, Four Seasons
Head to Argo, one of the hottest bars in Hong Kong, on NYE for a countdown party like no other. The party starts at 10pm with tickets priced at $1,320 for early bird and $1,650 at the door. A complimentary glass of Champagne will be served to help you party into 2023 and greet the new year in style.
Argo, Four Seasons Hong Kong, 8 Finance Street, Central, Hong Kong, p. 3196 8888
7. "Nuit Blanche" at LPM
Ever heard of those legendary "White Parties?" Get ready to experience one of your own at the "Nuit Blanche" (White Night Party) at LPM this New Year's. A white theme is extending throughout the restaurant, with tablecloths, flowers, balloons, crockery, and decorations – so make sure you follow that white dress code! DJs will be playing everything from 70s disco to modern hits, so come in your best white duds and party away.
LPM, UG/F, H Queen's, 23-29 Stanley Street, Central, Hong Kong, p. 2887 1113
8. Masquerade Soirée at Zuma
Get ready for a night filled with opulence at the masquerade soirée ($1,080) at Zuma. Free-flow Champagne, beer, soft drinks, and two cocktails will begin the night at 9.30pm. Entertainment will be provided all night by a DJ and performers, all ready to guide you into the countdown. Feeling peckish before a night of partying? You can start the festivities early at 8pm with Zuma's New Year's edition of Yashoku Night Brunch ($1,880). The meal includes two hours of free-flow bubbles and automatic entry into the countdown party.
Zuma, Level 5 & 6 Landmark Atrium, 15 Queen's Road Central, Central, Hong Kong, p. 3657 6388
9. NYE Tokyo-style at Foxglove
Groove into 2023 at Foxglove! The night will be hopping with jump blues and swing band Bloodest Saxophone from Tokyo. Starting at 7pm, a New Year's Eve dinner will be served ($2,380 per person) from Chef Chan. Follow that with three hours of free-flow Champagne ($980) from 10pm and the night will be perfect for festivities. Old-school tunes will be the soundtrack of your night as you eat, drink, and be merry on your way into the New Year.
Foxglove, 2/F, Printing House, 6 Duddell Street, Central, Hong Kong, p. 2116 8949
10. Angels & Demons DJ Party at Woobar, W Hong Kong
Have you been naughty or nice this year? Face the music (literally) at the Angels & Demons DJ Party at Woobar this New Year's from 9pm till 3am. A live DJ performance and dancers will be on hand as you party and get ready for countdown. Be sure to come in your best costume, as the three best-dressed partygoers will win a free stay at the W Hong Kong!
Woobar, 6/F, W Hong Kong, 1 Austin Road West, Kowloon, Hong Kong, p. 3717 2889
11. NYE party at Ink Seafood Cafe & Bar
Welcome 2023 while overlooking the scenic Victoria Harbour from Ink with its New Year's Eve Party Package ($790). From 9.30pm to countdown, you can delight in free-flow drinks, made-to-order snacks, and artisan ice cream. Enjoy it all in Ink's semi-covered alfresco space where DJ Just Bee will be spinning tracks all night long. Dance your way into the New Year in style!
Ink Seafood Cafe & Bar, G/F Hong Kong Museum of Art, 10 Salisbury Road, Tsim Sha Tsui, Hong Kong, p. 3500 5881
Things to do in Hong Kong on New Year's Eve 2022: Eat up at these gorgeous restaurants
12. Bostonian Seafood & Grill, The Langham Hong Kong
Get a taste of some surf and turf this New Year's Eve at Bostonian Seafood & Grill. If you're starting your celebrations early, stop by for the New Year's Brunch ($888) on 31 December or 1 January 2023. All the crowd favourites will be there, including Boston lobster, shrimp, lobster bisque, and chocolate log cakes. For those wanting to celebrate a little closer to the countdown, the New Year's five-course dinner ($1,388) is waiting for you. Foie Gras Terrine with Smoked Pigeon is among the dishes that will start the meal. The main course will consist of Petit Beef Mignon, and Lobster served with Bordelaise sauce. Make sure to leave room for dessert, where a decadent Strawberry Pistachio Mousse is waiting.
Bostonian Seafood & Grill, Lower Lobby, The Langham Hong Kong, 8 Peking Road, Tsim Sha Tsui, Hong Kong, p. 2132 7898
13. Popinjays, The Murray Hong Kong
Reach new heights this New Year's Eve at the rooftop restaurant, Popinjays! Elegant with a terrace to die for, Popinjays is offering a five-course New Year's Eve Dinner ($1,888 per person) to keep you satisfied while you wait for 2023 to arrive. Start off with Fine De Claire Oyster and Jerusalem Artichoke Risotto before digging into mains like Pan Seared Halibut or Pan Seared Wagyu Striploin. A selection of celebration treats will also be provided to start the new year off right. Make sure you also sample the famous cocktails to top off a night to remember.
Popinjays, Rooftop, The Murray Hong Kong, 22 Cotton Tree Drive, Central, Hong Kong, 3141 8888
14. Salisterra, The Upper House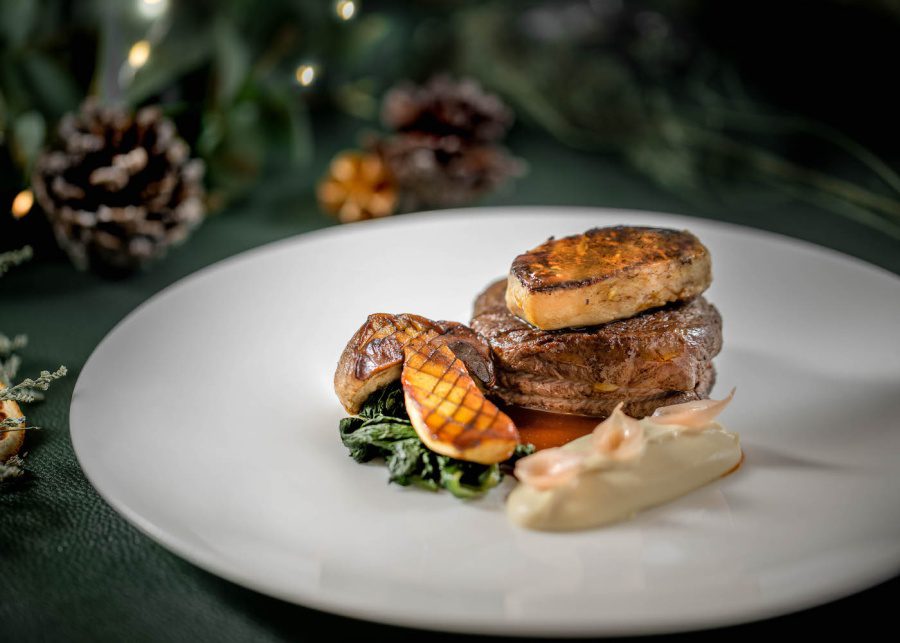 If you want to ring in 2023 in true style, head to Salisterra for an unforgettable experience. Indulge in a four-course menu ($1,588 per person) from 6 to 8pm, or enjoy a six-course menu ($2,488 per person) after 8.30pm. Executive Chef Cary Docherty has created a stunning menu, featuring Lobster Consommé and Wagyu Beef Fillet among other tasty delights. For those who want to celebrate more intimately, Salisterra offers a Private Dining Experience with a five-course menu ($3,388 per person) for 10 guests for the ultimate New Year's Eve event. After you finish your meal, you can head over to the Green Room ($1,288 per person), where you can dance your way into 2023 with DJ Guido on the decks. Free-flow nibbles, Champagne, and wines will be available to keep you sated until the New Year arrives.
Salisterra, Level 49, The Upper House, Pacific Place, 88 Queensway, Admiralty, Hong Kong, p. 3968 1106
15. The Market, Hotel Icon
Feast on the bounties of the sea at The Market! This buffet has two seatings on New Year's Eve 2022 (from $1,098 per person) where you can stuff yourself with the best of the best in seafood and festive favourites. Oysters, Snow Crab Legs, Clams, and Lobsters are all on the menu, as well as Honey-Glazed Ham, Roasted Suckling Pig, and Salmon Wellington. In addition, sip on complimentary free-flow sparkling wine throughout the night to ring in the new year. Feeling too spent to go out at night? The Market is also offering a New Year's Eve Brunch ($828 per person) where you can indulge on the same treats as the dinner buffet.
The Market, Hotel Icon, 17 Science Museum Road, Tsim Sha Tsui, Hong Kong, p. 3400 1388
16. Uma Nota
Usher in 2023 Brazilian-style with Uma Nota's NYE Tasting Menu (from $690 per person). Kick off the feast with Truffle Coxinhas and A5 Wagyu Brioche among other tasty bites. The main course has three luxurious choices, including Carne De Fumeiro; Confit Pork Shoulder with Edamame Vinaigrette and Cassava Farofa; and Lobster with Den Miso and Green Papaya Pickles. Later, in anticipation of the countdown, Uma Nota will be lighting up a Flambéed Pear Tatin to celebrate the New Year right. With bold flavours and a playful atmosphere, Uma Nota is a great place to spend the last few hours of 2022 in Hong Kong.
Uma Nota, UG/F, Peel Street, Central, Hong Kong, p. 2889 7576
17. Bedu
Welcome 2023 at Bedu, where you can dine on the New Year's Eve Tasting Menu ($680 per person) that features all your favourite Middle Eastern dishes. The nibbles menu includes Fine De Clair Oyster, Honey Baked Feta Cheese, and Beef Kibbeh Nayeh. The main course consists of Blackened Salmon and Truffled Three Yellow Chicken for a hearty feast. Finish off your meal with Grapefruit Sorbet and Spiced Bedouin Cake to end the year on a sweet note. Prefer to celebrate at home? Bedu still has you covered with its catering set ($450 for two), featuring Smokey Hummus and Cranberry Tabouli.
Bedu, 40 Gough Street, Central, Hong Kong, p. 6343 5622
18. Carbone
Celebrate the New Year the New York way at Carbone. This red sauce joint will be serving up customer favourites like the Caesar Salad, Mario's Meatballs, and of course the Spicy Rigatoni Vodka. These New York-Italian dishes will provide you with a hearty meal to give a satisfying end to 2022. As you cap off your meal with a treat from the decadent dessert trolley, a live DJ will spin tunes to guide you into 2023.
Carbone, 9/F, 33 Wyndham Street, Central, Hong Kong, p. 2593 2593
Things to do in Hong Kong on New Year's Eve 2022: Staycations
19. The Fullerton Ocean Park Hong Kong
Enjoy a two-night getaway by the sea at The Fullerton Ocean Park Hong Kong this festive season. A daily breakfast for two adults and one child is included for you and your family while overlooking picturesque views of the sea. The Merry-Go-Round Holiday Getaway also provides fun-filled activities for you and your loved ones to enjoy. A DIY cupcake decorating workshop, gingerbread house family workshop, and handmade Christmas card workshop is waiting as you enjoy the ultimate escape for the holiday season.
The Fullerton Ocean Park Hong Kong, 3 Ocean Drive, Aberdeen, Hong Kong, p. 2166 7388
20. Mandarin Oriental, Hong Kong
Mandarin Oriental, Hong Kong is delivering a deluxe selection of festive offerings this season, including staycation retreats, decadent feasts, and blissful spa treatments. Bask in the full view of the New Year's Eve fireworks display from your hotel room by booking the Celebration Suite staycation package (from $6,880 per room per night, available until 31 December 2022). This package includes 20% off on selected suites, a complimentary guest room on the same floor, and premium welcome amenities, including a bottle of Champagne and more. As for the gourmands amongst you, opt for the Festive Wonder Staycation at M.O. (from $6,288 per room per night) instead or dine at the Hotel's prestigious restaurants and bars, which are all offering various festive dining specials. Last but not least, don't miss out on the seasonal treatments at The Mandarin Spa, Salon, or Barber, available only in December 2022.
Mandarin Oriental, Hong Kong, 5 Connaught Road Central, Central, Hong Kong, p. 2522 0111