Winstons has opened its second branch in Kennedy Town (Photography: Winstons Coffee via Facebook)
Looking for the perfect flat white or craving delicious weekend brunch? We've got the skinny on the best cafes in Kennedy Town
Ever since the MTR arrived in this charming waterside neighbourhood, those looking to enjoy a few hours away from the hustle and bustle of Central have been flocking to Kennedy Town. Perfect for a lazy weekend, this laid-back foodie hub is teeming with excellent restaurants like Aziza and Mama Malouf,  but where are the best cafes in Kennedy Town? We're here to help.
The best cafés in Kennedy Town
1. Winstons Coffee Kennedy Town
You may already be familiar with Winstons in Sai Ying Pun, and since we believe that you can never really have enough of a good thing, we're happy to report that the Melbourne-style coffee joint just opened their new branch a few steps away from the Kennedy Town MTR Station. Winstons Coffee does a mean flat white as only the Aussies know how, and come happy hour bespoke cocktails are also on the menu. If you're feeling peckish, they've got a delicious selection of bites, but it's their avo baps and matcha egg tarts that are truly legendary. We think this is gonna be one of the hottest cafes in Kennedy Town!
Winstons Coffee Kennedy Town, Shop 8, 11 Davis Street, Kennedy Town, Hong Kong, p. 2697 2878
2. Arabica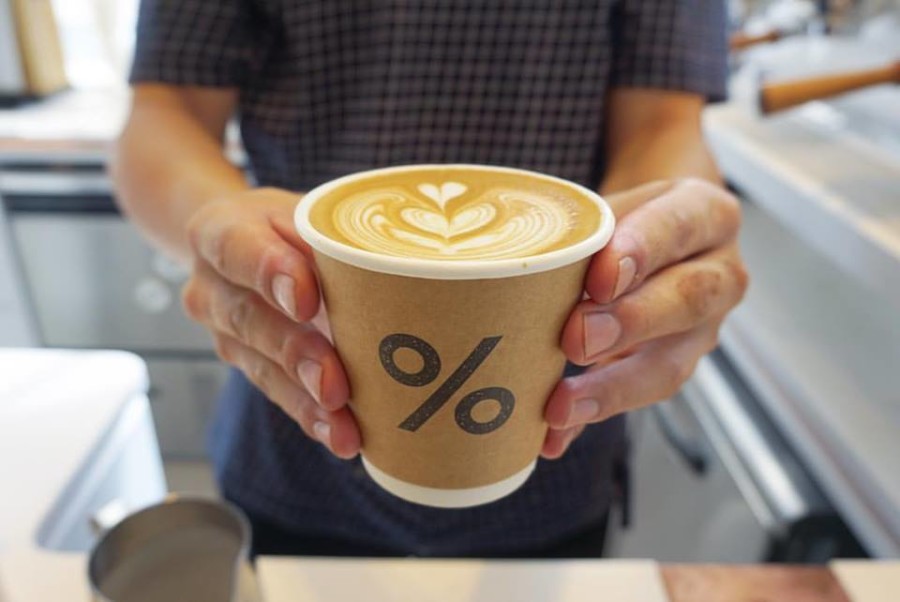 Famed for its % logo and minimal packaging/design, Arabica is a beloved coffee favourite in Hong Kong with branches across town. The Kennedy Town branch is everything you've come to expect from this brand that has spread across the globe, and the coffee is always on point.
Arabica Kennedy Town, Grand Fortune Mansion, Shop 4, Ground Floor, No. 1 Davis St, Kennedy Town
3. Waffling Beans
Looking for a laidback cafe ideal for weekend brunch? As their name suggests, Waffling Beans are the experts when it comes to waffles and coffee. Here, freshly made Belgian Liege waffles are served in both savoury and sweet form. Crowd favourites include the brunch appropriate Waffles Benedict, and 7th Heaven with strawberries, cream and homemade jam. Other must-tries include their All The Best – freshly baked waffles with bacon, mozzarella, tomatoes and spinach; and American-style fried chicken and waffles. For a boost of caffeine, get an order of their artisanal hand-drip coffee or matcha latte, one of the best in town.
Waffling Beans, Shop 9, New Fortune House, 4-8 North St, Kennedy Town, Hong Kong, p. 2855 8890
4. The Cofftea Shop
Italian coffee reigns supreme at The Cofftea Shop, a little Kennedy Town hole-in-the-wall situated on the corner of Catchick Street where caffeine addicts can grab-and-go their dose of morning cappuccinos. The Cofftea Shop serves excellent brews and treats to go along with your hot cuppa – an extra order of freshly baked waffles, muffins, bagels, or cakes is essential. We recommend their famous carrot cake topped with a generous serving of walnuts.
The Cofftea Shop, Shop H, 78-86 Catchick Street, Kennedy Town, Hong Kong, p. 9104 2404
5. Maison Eric Kayser
Great for grab-and-go or dining in, Maison Eric Kayser has multiple branches around Hong Kong and if you're around K-Town, you need to make a pit stop! Choose from fresh French pastry batched every day, sandwiches, or all-day breakfast to go with your cuppa tea or coffee. We love how creamy and indulgent their chocolate and hazelnut cakes and Le Casanovas are!
Maison Eric Kayser, 11 Davis St, Kennedy Town, Hong Kong, p. 2577 1980
6. Affee
A pet-friendly cafe in the heart of Kennedy Town sounds about right! Affee is a cosy coffee corner with regular pop-ups around Hong Kong and multiple branches on the Island. It's almost a crime to not pair your coffee with their homemade cheesecake that comes in a perfect portion (and yes, you WILL be tempted to get another one!). We recommend their hand drip and dirty for caffeine lovers – for to-go, their bottled cold brews are a great option.
Affee, 19 Hau Wo Street, Kennedy Town, Hong Kong, p. 6379 2755 
7. Little Cove Espresso (Kennedy Town)
Famed Sai Kung cafe, Little Cove Espresso, opened a new Kennedy Town branch in August 2022 that hungry cafe-goers and caffeine-addicts alike have since flocked to. The spacious location is sun-drenched and airy, evoking the same vibes that made the original branch such a hotspot to begin with. You can go classic with Smashed Avocado on Sourdough Rye, or venture a little outside your comfort zone with Merguez Shakshuka – either way, you can't go wrong here!
Little Cove Espresso – Kennedy Town, Shop 3, G/F, New Fortune House, 3-5 New Praya Road, Kennedy Town, Hong Kong, p. 6737 6242
8. Blend and Grind
Martini, anyone? You heard that right, at the Kennedy Town branch of Blend and Grind, come sundown you can treat yourself to an Espresso Martini nightcap to take the edge off a hard day's work. You can complement that drink with some Bao Tacos or a Steak Board for some savoury delights. For filling your stomach during the day, try the Blueberry & Banana Pancake Stack or Grilled Bacon & Egg Bao Sandwich which you can enjoy outside with your favourite four-legged friend. Of course, as the cornerstone of any cafe, the coffee is nothing to turn your nose up at either. The cappuccino is the perfect foamy caffeine boost you need to get your day going and the latte is a no-frills classic.
Blend and Grind, Town Place, 20 Catchick Street, Kennedy Town, Hong Kong, p. 6905 4038
9. First Boy Coffee
Named after the founder's son, First Boy Coffee is a one-of-a-kind motorcycle coffee shop by a coffee/coffee equipment importing company. The motorcycle aspect comes from the company's business partner, Man Wai Motorcycle, while the coffee aspect comes from being powered by Ravishing Coffee Solutions. First Boy Coffee is as neighbourhood-focused as it comes, with two coffee blends named after the streets where it's located – Praya and Shipyard. And as with any Australian-style cafe, be sure to try out the flat white and feel free to accompany it with the Blueberry Cream Cheese Loaf.
First Boy Coffee, G/F, 33 Praya, Kennedy Town, Hong Kong, p. 3611 3851
10. Wheat and Wood
Calling all board game aficionados! Wheat and Wood will soon be your new favourite hangout, as a board game cafe where you can school your friends in your game of choice alongside a nice cup of joe. While you're at it, load up with some Nachos or Open Faced Sandwiches to fuel your winning streak in Rummikub, or throw a wild card with a refreshing cocktail while you play Uno. What's more, you get your first non-alcoholic drink for free when you purchase unlimited play time on Monday to Thursday – talk about a sweet deal!
Wheat and Wood, Shop 6, G/F, Brilliant Court, 28 Praya, Kennedy Town, Hong Kong, p. 2399 0433
Joint (MOVED)
Indie coffee shop Joint lets their drink speak for itself. Inside the no frills café there is little room to linger, encouraging patrons to focus on the coffee instead. Baristas brew up your standard espresso-based offerings, like excellent flat whites, piccolo, lattes, and of course, capppppppuuuucccccccccino, while a small selection of delicious baked goodies are available to accompany the coffee you've just knocked back. Despite the small shop being mostly bare, it's the little details, like Joint's hand-drawn takeaway cup and can't miss it green store front that really catches the eye. No wonder it's one of our favourite cafes in Kennedy Town!
Joint, 8 Wood Rd, Morrison Hill, Hong Kong
Lex Coffee (CLOSED)
This boutique cafe and coffee situated in Kennedy Town is the perfect spot for an afternoon of catching up with your best friends. Not only does Lex Coffee have stunning high ceilings and stylish interiors (perfect for that Insta-pic), the cafe does excellent specialty coffee. Of course there are lattes and the like, but for the true Lex Coffee experience order the signature Lex – hot milk poured over iced chocolate or coffee cubes. If you are hungry for more, there's a great selection of all-day dining and desserts on the menu so you and your mates can park yourself on one of their comfy couches for hours.
Lex Coffee, 100 Belcher's Street, Kennedy Town, Hong Kong, p. 2149 9633