This Saturday 11th August, something big, something beachy and something oh-so tropical is coming our way. We're going as far to say it'll be the best new opening of 2018...
Picture this. The palm trees are swaying, the piña coladas are flowing and a flamingo-print shirt is bouncing from pool, to beach, to the bar and back again. Coconut oil is melting in the sun, shellfish is sizzling on an open fire and the sounds of splashing, chatting and toes tapping reverberate against the sea. This is Tropicola, and this brand new Bali beach club is opening this Saturday, 11th August!
A utopian beachfront invention from the unstoppable squad that gave us Motel Mexicola in Bali and Bucket List in Bondi Beach, Tropicola is officially opening its doors this weekend on Seminyak's seemingly endless stretch of golden sand – and we can hardly wait.
Designed, curated and perfected by the island's most progressive F&B group, it's no surprise that these guys aren't doing things by halves here. The beach club sits on a whopping 7000 square-metre expanse of beachfront hedonism, with three bars scattered across multiple levels, two giant pools teetering on the shoreline, a wood-fired open kitchen slinging some of the best beachy bites around, and of course, more cocktail-sipping, sun-soaking spots than you can shake a sarong at.
Yup, all of the stars have aligned for this brand new summertime destination. For starters, the interiors are as iconic as Mexicola's, but instead of a technicoloured urban oasis in central Seminyak, Tropicola's show-stopping decor rises up from the sand in a riot of colour and movement, surrounded by seaside scenery, salty air and sun-soaked, summertime vibes. Paradise done right!
And then there's the food. If you thought Mexicola's tacos, taquitos and tostadas were too bueno to be true, then Tropicola's progressive menu will rock your sandy socks off. Chef Steven Skelly is once again taking the reins, but instead of Mexican-fusion munch, Tropicola will be all about wood-fired bites, fresh seafood, grilled meats and veggies at their best. Nothing too heavy nor overdone, just great produce prepared beautifully and simply. This is seaside grazing, after all.  
Add to that the Tropicola touch, and you'll see why we're so excited about this new Seminyak superstar. With years of service under their belts, expect expert hospitality at its finest. Staff in crisp white and red will be weaving their way through the crowds, flitting and flowing from table to table and sunbed to sunbed with trays of complimentary sunset drinks – a signature ritual that'll certainly set the tone for Tropicola's ascendancy.
But that's not all. The beach club is just the beginning. Behind the scenes over the coming year, the Tropicola team will be rolling out even more reasons to raise a glass or two. First will come a spectacular 60-seat restaurant steered once again by Chef Steven Skelly, followed by a dazzling rooftop bar and a jaw-dropping event space that'll be blessed with vast, uninterrupted views of the coastline, all the way from the Bukit peninsula in the south, to Tanah Lot in the north.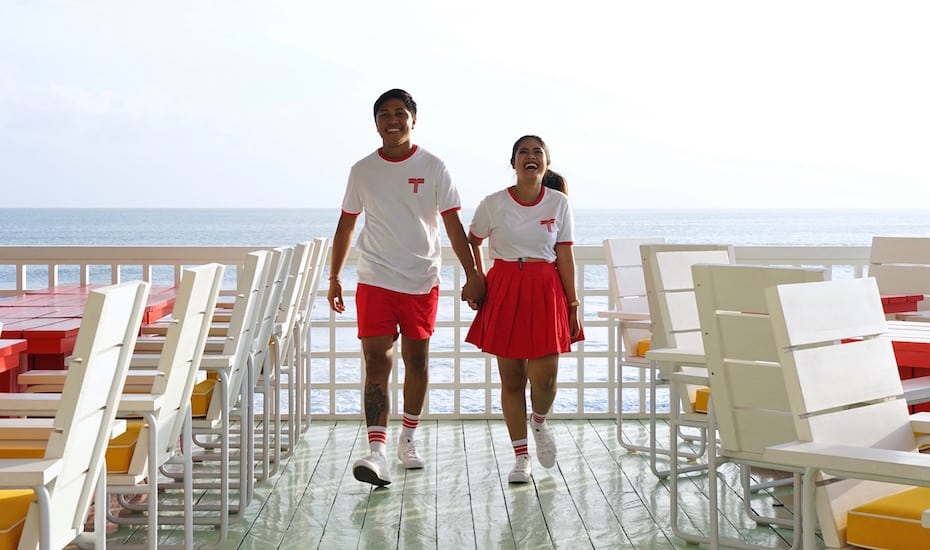 But wait, there's more. Completing Tropicola's island domination will be an epic finale: a 60-room hotel that'll marry the fun and irreverence of Tropicola with slick, unadulterated luxury – all at an affordable price too, starting from just $100 a night (yes you read that right!)
The Tropicola team really have thought of it all. The inspiration has come from a nostalgic tribute to places both real and imagined; memories of Miami, Acapulco, Palm Springs, Tulum and Playa del Carmen. A beach club, restaurant, rooftop bar and hotel all rolled into one – Tropicola is one name you need to know.
See you on the sand this Saturday, Honeys!
Tropicola Beach Club, Jl Pantai Batu Belig No.5, Seminyak, e. [email protected] Opening Saturday August 11th 2018
Like this story? Here's four more we think you'll enjoy!
Hip Seminyak Guide: All you need to know
Bali's best beach clubs for your hit list
30 best sunset bars for a golden hour that glows
Shopping in Seminyak: A complete guide