If you're attending a pal's big day in these richly-cultured parts, we have some tips on navigating common customs, plus a breakdown of traditional Indonesian weddings for each major culture.
Considering how Indonesia is made up of 17,000 islands, has six official religions and is home to over 300 ethnic groups, keeping up with the country's wedding etiquette can be overwhelming. When you know what you're getting into, you'll be in for a treat!
General etiquette
The invitation and plus-ones
Indonesians definitely abide by the saying, "the more the merrier". Unless specified, it is acceptable to bring friends who were not directly invited to the wedding, or to join friends who have been invited. Although couples do try to give enough lead time before their big day, it's common to receive an invitation just days before the wedding. It's also not unusual to get a verbal invitation, or even one via SMS or email. Don't be alarmed and don't feel like your presence is an afterthought.
Attire
For most Indonesians weddings, formal, traditional wear is recommended. Indonesians love a reason to dress up, so anticipate some awesomely-attired attendees, and an even more opulent-looking bride and groom. Most women will don Indonesian kebayas and sarongs (styles from any region are acceptable), but a formal, Indonesian-inspired outfit or a Western dress will blend right in too. Women are not required to cover their hair. While it is generally advised to come with your shoulders and upper legs covered, you can play it by ear depending on the family and the style of the occasion. For example, you might see Indonesian women clad in classy cocktail dresses for a banquet reception, and especially hip ladies will even pair a crop top with a sarong tied high at the waist.
Gifts
Gifts are not required but are recommended. Indonesian couples don't usually have a bridal registry, so cash is the preferred gift. The amount can vary incredibly, depending on the socio-economic status of the couple, but giving around Rp. 300,000 to Rp. 500,000 is a safe bet. You may be asked to submit your cash gift into a numbered envelope, and the corresponding number will be written next to your name in the guest book. Although it's common for the couple's family to keep track of who's given what, don't be offended if you don't receive a thank-you card – wedding favours are often given in lieu.
Alcohol
Because most Indonesians are Muslim and traditional ceremonies are quite solemn, alcohol is usually not served at weddings. That said, many Chinese-Indonesian reception dinners and parties, which are held the day after the wedding, include alcohol.
Javanese Weddings
As the Javanese are an ethnic majority – 56 percent of Indonesia's population – attending a Javanese wedding is a good way to acclimatise to the nation's culture. Javanese weddings begin with a formal meeting and agreement between the couple's families. Once they have collectively set a date, decided on the budget, and divvied up tasks between themselves, the preparations begin.
The three-day celebration starts with the Siraman, a beautiful and touching ceremony where the bride and groom's parents shower them with a water-and flower-based concoction. This symbolises the last time they are bathed by their parents, and serves as a reminder of how they were cared for. After the Siraman, the bride is dressed as a princess and assigned to a room, where she is accompanied by female relatives – sometimes including those from the groom's side – for the entire night. Meanwhile, the groom will wait outside her home, symbolising that he will be a doting and patient husband throughout their marriage. Normally, the Siraman is reserved for the family, but it's possible to be invited to witness the heartfelt custom.
Day two is when the civil wedding occurs, and when all guests join in the merry-making. In line with the couple's religion, an official will legalise the marriage as they sign their wedding documents. After the paperwork, the couple performs a series of rituals, including throwing betel nut leaves at each other to ward off evil spirits. Finally, they seek blessings from their parents and elders.
Usually, this is followed by a reception, as the couple should eat together for the first time as a married couple. Guests are invited to eat at this point, and may leave after the refreshments. People often skip the ceremonial part of the wedding and arrive about 30 minutes to an hour before the reception, when guests take turns to greet the couple in between eating. Families often arrange for traditional entertainment during the mingling.
Sundanese weddings
While the Sundanese are also from Java, they are traditionally from the western part of the island. One of the main differences between them and the Javanese is that a majority follow Syariah cultural and religious practices.
The Sundanese also perform the Siraman despite it not being a traditional Syariah practice. During the Ahad Nikah, or marriage, a scarf is draped over the bride's and groom's heads, symbolising the union of their minds. After the formal wedding, the couple also receives blessings from their elders. Then, while under the cover of an umbrella, unmarried guests are 'showered' with coins, gifts, turmeric rice and sweets for good luck. This is followed by a series of games that are meant to teach the couple how to live harmoniously. Finally, the couple is fed by their parents, signifying the last time they are under their parents' wings.
After the traditional solemnisation, there is a reception where guests can congratulate the couples personally.
Balinese weddings
Balinese people are primarily Balinese Hindu, which is a mixture of Hinduism, Buddhism and Animism. The Balinese have three marriage ceremonies and – in the same vein as the Hindu epics – they are melodramatic.
The first is called the ngerorod, or the elopement. The bride is 'kidnapped' from her parents' house and brought to a pre-arrange spot while she acts distressed. The bride's family will arrange a fake search party who, after searching high and low, will not be able to find her. Meanwhile, the bride and groom will be performing rituals to the gods and start living as husband and wife. In a few days, both their families will meet and agree on a price for the bride. This will be followed by customary celebrations, as they are already considered married in the eyes of the gods. The ngerorod is a more economical option without much extravagance.
The second way, mapadik, is more aligned to other Indonesian wedding ceremonies – as resplendent as they are on Java. This time, the groom must formally ask for the bride's hand in marriage. Once permission is given, the bride and groom will have wedding prayers at a temple, conducted by a priest, and are legally married. After this, guest can take part in the pomp of traditional dance, music and food – usually organised by the groom.
The third ceremony is reserved for families with no sons – instead of giving away a daughter, the bride's family gains a son. It's another more economical option, as the bride and groom are blessed by a priest in a simple ceremony.
Because most ceremonies are held at a temple, guests are required to wear sarongs, a waist scarf and a top that covers their shoulders and upper arms.
Chinese-Indonesian weddings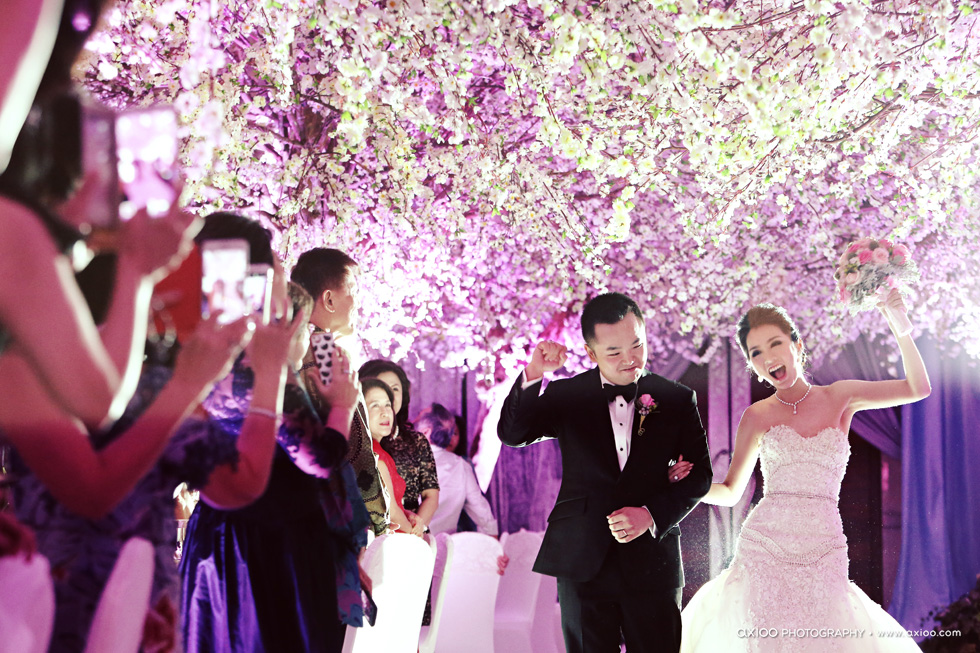 There is a significant number of Chinese-Indonesians scattered all over the Indonesian archipelago, and most are Catholic or Protestant. Although their ceremonies are very different to traditional Indonesian ones, they retain some Asian charm.
On the morning of the wedding, the bride's family invites the groom to her home for a tea ceremony. After this small, private gathering, everyone heads to the church for the wedding. The ceremony is very much the same as other Protestant or Catholic ceremonies, but conducted in Bahasa Indonesia.
The reception, which is similar to Western ones, is usually held on a grand scale – more than 1,000 guests can be invited. There will be dinner and some dancing, and the bride and groom will likely be holding court on stage while guest take turns to congratulate them.
As the church ceremony tends to be quite intimate compared to the reception, be sure to check with your host if you are invited to both or just the reception.
This story was contributed by Gabriela Bhaskar, writer and wedding photographer. See some of her amazing photos here.