Photography: Maddi Bazzocco via Unsplash
Enjoy a sustainable pop-up, sky high grub, an inclusive film festival and countless digital events.
We've got news for you. There are only four months until the end of 2020. Before you think of cancelling this crazy year, why not enjoy what's left of it? Participate in numerous virtual events, enjoy exciting promotions with the whole fam, discover the Mid-Autumn Festival (and chow down on mooncakes), plus learn how to shop responsibly. Here's the 411 on all the best things to do in September!
Things to do this September 2020 in Singapore
Activities: Attractive F&B, attraction and hotel deals at Sentosa
All month
Sentosa is pulling out all the stops to provide you with plenty of deals for endless good times this month. We're talking promos at F&B spots like Hidemasa by Hide Yamamoto, Quentin's Bar and Restaurant, Mess Hall and Malaysian Food Street; attraction discounts at Sky Park by AJ Hackett Sentosa and HeadRock VR; and fun staycation packages at Capella Singapore, The Barracks Hotel Sentosa and W Singapore Sentosa Cove, just to name a few.
Revisit Sentosa like a tourist and make use of one-for-one Sentosa Fun Pass deals with Mastercard. Want the day planned for you? Experience specially curated packages of tours and activities themed around Island Life, Heritage Discovery, Wellness Escape, and Nature Adventure.
Psst: Enjoy free entry to Sentosa via Sentosa Express or by car all month. Or just use the promo code "SentosaFun" to get $5 off your Grab ride there. And don't you worry 'bout a thing as stringent safe distancing measures around the island are in place.
Sentosa, enjoy these fun deals from now till 30 September; Sentosa Island, Singapore 099981
Celebrate: Mid-Autumn Festival
From 18 Sep
Light up the lanterns, munch on mooncakes and peel a pomelo 'cos Mid-Autumn Festival is here. This year's festivities will be scaled down due to the pandemic but there's no shortage of traditional and unique mooncakes, along with light-ups and virtual events.
Mid-Autumn Festival, 18 September – 4 October
Drink & Give Back: Negroni Week 2020
14 – 20 Sep
This year, Campari will be giving back to communities and F&B businesses affected by the pandemic around the globe. At home, Campari's working with Majulah Movement, an initiative that provides set meals and treat packs to those who need 'em most. A donation of $10 will cover about two meals or snack packs to migrant friends, elderly from low income families and healthcare frontliners. Or just buy a box of bon bon chocolates – some of the proceeds from each box will also go to the initiative.
Learn to make a classic negroni at home with Campari brand ambassador Dave Yeung and a guest bartender at a live session on 16 September or try the new Campari Negroni RTE while you're at it.
Plus, enjoy tasty renditions (available for delivery and takeaway) from your favourite bars like Mo Bar, Manhattan, Anti:dote and others.
Negroni Week 2020, the Negroni x Majulah Movement is extended till 30 Sept, online.
Art: ThisConnect: Threading Worlds
10 – 27 Sep
In conjunction with Suicide Prevention Awareness Month, Deck is showcasing a multidisciplinary exhibition called ThisConnect: Threading Worlds. Featuring works by social artist duo Hunny and Lummy, the exhibition touches on themes like courage, love and the power of authenticity. Go on an introspective journey as you explore the realm of human connection and what influences our journey of life.
FYI: If you haven't heard, Deck will bid farewell to its current space with the demolition of its iconic shipping containers in March 2021. The team needs your help to raise $500,000 for a new permanent building. Show your support by donating to the crowdfunded campaign #SaveDeck Building Fund. Let's help keep this progressive art institution alive!
ThisConnect: Threading Worlds, Deck, 120A Prinsep Street, Singapore 187937
Fitness: Outdoor workouts with GuocoLand and CruCycle
All month
Now that all outdoor exercises have resumed, GuocoLand has partnered with CruCycle for endorphin-pumpin' weekend workouts at the Urban Park communal space. Select from CruCycle or CruYoga workouts for a solid sweat sesh.
Register online, Level 1, Guoco Tower Urban Park, 1 Wallich Street, Singapore 078881
Party: #AvenueAtHome: No More Monday Blues
21 Sep
Avenue's virtual party series is back! Headlined by New York City-based DJ Mel DeBarge, put your dance moves to the test with ear-penetrating hip hop, rock, soul, funk, disco and reggae beats.
#AvenueAtHome: No More Monday Blues, 9pm-10pm, watch via Facebook.
Exhibition: Planet or Plastic?
From 12 Sep
The ArtScience Museum welcomes its first exhibition post-circuit breaker with a thought-provoking topic. Joining hands with National Geographic, Planet or Plastic? is a photography exhibition that uncovers the origins of plastic and its environmental impact through mass production. All 70 powerful photographs – shot by renowned photographers around the world – depict the global and local waste crisis. The exhibition also spotlights innovative marine scientists, ecologists, biochemists, conversationalists and even local beach clean-up community Seven Clean Seas for their efforts to solve this worldwide problem.
Planet or Plastic?, till 28 Mar 2021, ArtScience Museum, 10 Bayfront Avenue, Singapore 018956
Exhibition: Every Body Plays a Part: A Showcase of Public Health Crises and Responses in Singapore
From 18 Sep
Now here's a fitting exhibition for the current climate. The National Museum of Singapore is launching an online showcase about the city's past experiences with infectious diseases, highlighting how some of these measures are still in place for today's pandemic. The exhibit brings together 39 never-before-displayed artefacts and a newly-commissioned photograph.
Every Body Plays a Part, available online.
Play: Winter Shooting Arena at Snow City
All month
Snow City unveils the Winter Shooting Area, a fun new indoor activity for the whole family. Perfect for ages over 14, this paintball experience will be one to remember – y'know, with the sub-zero temperatures and all? Be the first to hit all 12 targets at the target shooting activity or form a team of two to five for a friendly close quarter battle across the snow field.
Winter Shooting Arena, Snow City Singapore, 21 Jurong Town Hall Road, Singapore 609433; from $19 for an hour of snowplay and 1 round of target shooting or close quarter battle.
Eat: Lazy Breakfast at Andaz
All month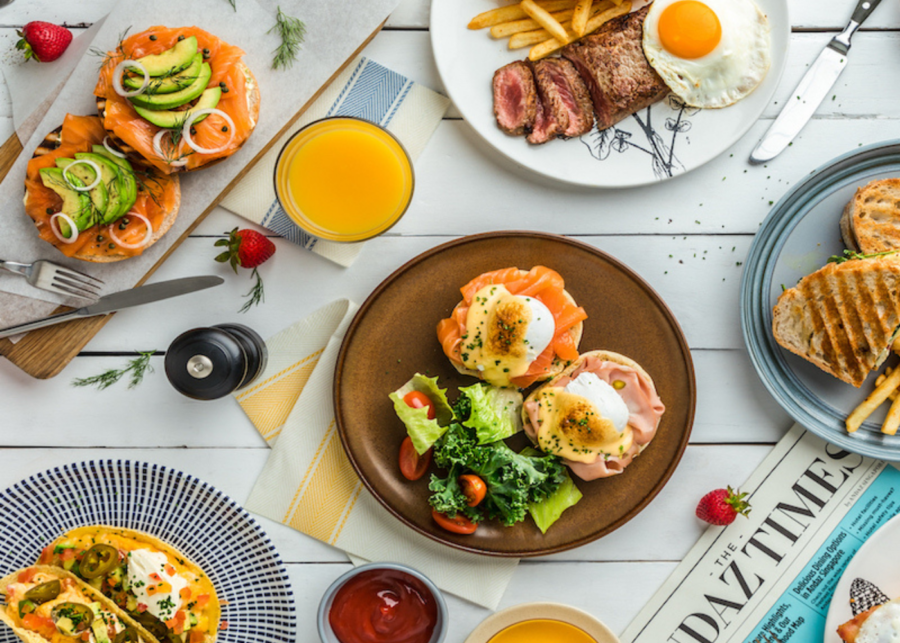 Andaz Singapore has recently reopened and, together with its third birthday celebrations, is kicking things off with a lazy breakfast-themed weekend lunch. Served right to your table a la minute, brunch munchies include one breakfast main (from avocado toast to breakfast beef burger) and unlimited a la carte plates (cold seafood, cold cuts, chia seed pudding, salad, cheeses and eggs, just to name a few). Feeling thirsty? Sip on free-flow local beverages, detox juices, coffee, tea and more! End your day on a sweet note with unlimited waffles, berry crumble tarts and soft serve ice cream.
Lazy Breakfast, Alley on 25, Andaz Singapore, 5 Fraser Street, Singapore 189354; $50++, top up $45++ for free-flow beer, wine, Prosecco and soft drinks, available from 19 Sept on weekends & PH, 12.30pm – 2.30pm.
Art: (Re)Imagining The Image
All month
New offline art exhibition (Re)Imagining The Image showcases photographic artworks from eight Southeast Asian artists. They're not just plain old photos, though. These artists have manipulated film to create original works of art, from oil paintings to mixed-media pieces. For the homebodies, check out digital exhibition Fresh Vision, where big names from the art scene share their favourite art collection. In the inaugural edition, Richard Hassell of award-winning architecture firm WOHA (responsible for Oasia Hotel Downtown and SOTA), is the guest curator.
(Re)Imagining The Image, #03-04, Gajah Gallery, Bolloré Logistics, 39 Keppel Road, Singapore 089065; till 4 Oct. Fresh Vision, available online.
Shop: Boutique Fairs goes online
All month
The biannual curated fair, which sees a line-up of cool underrated local brands, is going online! For those who miss walking through the shopping maze at the massive F1 Pit Building, you can now fill your void by shopping to your heart's content 24/7.
Boutique Fairs, shop online.
Shop: The Lounge by Zerrin returns
All month
Sustainable purveyor Zerrin welcomes its third edition of The Lounge pop-up. Expect some of the best indie sustainable fashion designers, beauty and jewellery brands under one roof. That's not all! Look forward to livestream interviews and collection walkthroughs with the designers themselves, as well as personal styling sessions and virtual talks covering the impact of fast fashion, the power of swapping, and more!
The Lounge by Zerrin, The Social Space at Marina One, 2nd floor, Singapore 018935; from 8 Sept to 8 Dec 2020.
Eat: Karl Lagerfeld Dining Experience
All month
Any Karl Lagerfeld fans in the house? Celebrate what would have been the fashion mogul and creative director's 87th birthday with a unique dining experience at So Sofitel Singapore. Marrying the best of fashion and dining, the exclusive experience encompasses an all black three-course meal, two hours of free-flow wine, beers and Taittinger brut and gin cart, plus a gift. Whet your appetite with tuna tataki with black bean hummus, popped wild rice and black garlic aioli, squid ink spaghetti with seafood aglio olio and burnt cheesecake with mixed berries compote, just to pick a few.
Karl Lagerfeld Dining Experience, So Sofitel Singapore, 35 Robinson Road, Singapore 068876; 1-30 Sept, $138 per pax, includes 3-course set, 2 hours of free-flow beer, wine and Taittinger Brut & Gin Cart and a gift by Karl Lagerfeld.
Event: Silver Arts 2020
1 – 13 Sep
Silver Arts celebrates seniors and the arts with immersive offerings like digital commissions, artist-led workshops, short films and a webinar on how to engage with seniors in a digital era. Very fitting, as this is the first digital edition of the event. Get the whole family along with your ah ma and ah kong to participate in this immersive line-up of activities. The events will be led in English, Mandarin, Malay and Tamil, as well as Chinese dialects.
Silver Arts 2020, check out the Facebook event page for updates.
Arts & Culture: CultureFest 2020
5 – 20 Sep
Tap into the diversity of Indian arts, culture and heritage at the first digital edition of CultureFest. The massive line-up organised by the Indian Heritage Centre includes cultural performances, panel discussions, workshops, art installations, immersive storytelling sessions and cooking demos. We're particularly interested to catch the opening programme, a classical dance performance by Apsara Arts (image above), and the four-part Ramayana, The Journey Begins drama series by Maya Dance Theatre.
CultureFest 2020, check out all programmes on the Facebook page.
Art: Becoming and Being by Hong Zhu An
Till 17 Sep
Be wowed by the artworks of senior Singapore artist, Hong Zhu An. Titled Becoming and Being, the 65-year-old's very first virtual solo exhibition celebrates the human spirit and ability to overcome challenges. Aside from showcasing 40 artworks, the virtual tour features audio narrations and videos of the pieces.
Becoming and Being by Hong Zhu An, until 17 September, view online.
Drink: Invite Heineken® 0.0
All month
Cure Work From Home Fatigue (WFHF, yep it's a thing) without a notice from HR. Sip on zero alcohol beer Heineken 0.0 during your virtual meetings. All you have to do is invite Heineken 0.0 into your meeting calendar (literally at [email protected]), two working days before your meeting. You and up to 20 attendees will receive a special WFH pack of Heineken 0.0 right at your doorstep for free! Limited slots are available each day so organise those meetings, stat!
Invite Heineken 0.0, available for meetings from Mon-Fri, 8am-5:30pm, while stocks last.
Culture: Italian Film Festival
All month
The Projector is throwing a virtual Italian Film Festival on its online streaming platform, The Projector Plus. Teaming up with the Embassy of Italy in Singapore, it offers a deluge of relatively new Italian films available on a pay-per-view basis till 31 September. Plus, the alternative cinema has joined forces with Institut Français to bring French Cinema to our sunny shores, including movies like Les Invisibles, Baden Baden and more.
Italian Film Festival, watch online.
Beauty: Lancome Genifique #LiveYourStrength virtual flagship
Till 20 Sep
Experience Lancome's popular Advanced Génifique Youth Activating serum via an immersive 3D virtual shopping experience. The virtual store sees five unique zones – discover, explore, inspire, live and shop. By the end of it, you'll probably be an expert on the cult Advanced Genifique range. Visitors can even redeem a seven-day Lancôme Advanced Génifique trial kit at the virtual flagship.
Lancôme Advanced Génifique #LiveYourStrength Virtual Flagship
Workshop: Remember When #6: From Memories to Monologues
All month
Seniors can participate in a creative writing workshop to translate life memories into monologues. Led by theatre director and drama educator Jeffrey Tan, the seven session workshop will be held online. Participants will recite their work during the eighth and final session at The Arts House's Play Den.
Remember When #6: From Memories to Monologues, until 15 Oct, $25 for all 8 sessions.
Arts: Proposals for Novel Ways of Being
All month
We've said it once and we'll say it again – no coronavirus is going to stop the arts scene from thriving. Case in point: The National Gallery Singapore and Singapore Art Museum are joining forces with 10 other local and indie art institutions to launch a new initiative. Titled Proposals for Novel Ways of Being, the project will feature a series of online and physical exhibitions by over 170 local artists.
Proposals for Novel Ways of Being, until February 2021.
Watch: Emily @ Home
All month
Fans of the beloved local stage performance Emily of Emerald Hill can watch Margaret Chan's version in the comfort of home. On top of that, theatre geeks can show off their acting chops by submitting their interpretation of Emily based on five iconic passages from the play. Fun stuff, we tell you.
Emily @ Home, watch online.
Arts: @Home, Truly
All month
Do we have our history buffs in the house? Fuel your mind with the highs, lows and everything in between of Singapore's storied history with a granddaughter and grandfather duo. This is a digital version and teaser of Home, Truly: Growing up with Singapore, 1950s to the Present, a physical exhibition that will open later this year.
@ Home, Truly, until 31 December, online.
And there you have it, a roundup of the best things to do in September. Enjoy, folks!
---
What you missed!
Music & Arts: Red Dot August 2020
Till 7 Sep
Yup, we've got another National Day-related event in the mix. Esplanade presents a line-up of free online programmes catered to everyone. We're talking storytelling sessions to watch with the kids, poetry plays, an improv game show and multiple musical acts.
Red Dot August 2020, until 7 September 2020, online.
Watch: Pink Screen LGBTQ Film Festival
Till 15 Sep
The Projector is back with its Pink Screen film festival! Presenting a queer-lity line-up of LGBTQ films both in cinema and on demand at home, the stories celebrate inclusivity, diversity and positive representation. Those who choose to rent a film at home can watch it at just $10 with a 48-hour viewing window.
Pink Screen LGBTQ Film Festival, until 15 September, #05-00, Golden Mile Tower, 6001 Beach Road, Singapore 199589; or rent a movie at home.
Eat + Drink: Sky High Hawker
5 – 6 Sep
Feast on delish hawker fare, 57 levels up in the air, at Ce La Vi's Sky High Hawker series. After a successful launch during the National Day weekend, the rooftop bar is back with an all-women line-up. Skip your diet for signature dishes by Janice Wong of 2am:dessertbar, Petrina Loh from Morsels, Zirah and Ijah from the Cookoh Project, Aisha Hashim of Haig Road Putu Piring and Jasmine Tan from Mui Siong Minced Meat Noodle, just to highlight a few. Wash down all the food with Peranakan-inspired cocktails in collab with Brass Lion Distillery.
Sky High Hawker, from $10 per dish, 12pm-10pm, Ce La Vi, Level 57, Marina Bay Sands Hotel Tower 3, 1 Bayfront Avenue, Singapore 018971
Digital event: HoneyKids Asia International School Digital Fair
12 Sep
Those with kids, unsure of which international school to send your kids to in Singapore? Our sister site, HoneyKids Asia, is having a digital International School Fair and it's free! Get real-time, face-to-face responses from school representatives, listen to e-talks from a host of experts and more! Register now to secure a spot.
HoneyKids Asia International School Digital Fair 2020, 9.30am-3pm, register online.