Check out all the best things to do in Singapore this February!
What does February have in store? Read on for the most exciting things to do in Singapore this month!
Ah, the month of cupid is just around the corner! We're excited for lovebirds to celebrate Valentine's Day – but if you're looking for more things to add to your list of activities this month, we've got plenty on the cards to choose from. Check out our guide on the best things to do in February.
Best things to do in February in Singapore
1. Event: Glow Festival 2023
4 – 12 February
Are you all about wellness and self care? You've got to check out Glow Festival. This tech-forward event at Marina Bay Sands invites stressed souls to unwind and work out in a simulated natural environment. Influential local and international fitness practitioners will be in the area to guide you through yoga, barre, spin, Pilates and CrossFit practices all week long. Think names like Hiro Landazuri, Amanda Bisk and Jonah Kest. Psst… you don't want to miss out on the epic afterparty as well.
Glow Festival 2023, tickets start at $49; Sands Expo & Convention Centre, Marina Bay Sands, 10 Bayfront Avenue, Singapore 018956
2. Food and drink: Stadium Waterfront Carnival at the Singapore Sports Hub
4 – 5 February
We may be at the tail-end of Chinese New Year celebrations, but the festive fun lives on at the Singapore Sports Hub. Pop down to indulge in Asian fare and locally-inspired cocktails at the Asian Food Street. And don't miss happening live performances and a "prosperity" race you can win prizes in. We're looking forward to sipping on Stadium Top – a special edition cocktail designed just for the Singapore Sports Hub using local and tropical ingredients like lemongrass and lychee. Delish! Tip: check out the online schedule before heading down to catch your favourite events.
Stadium Waterfront Carnival at the Singapore Sports Hub, free admission; Singapore Sports Hub, 1 Stadium Drive, Singapore 397629
3. Food and drink: Chatuchak Singapore
From 7 February
The world's first Chatuchak Night Market outside of Thailand returns to Singapore for two months! Make your way down to The Grandstand to take part in this experience. There will be 60 exhibitors peddling the likes of street food, handicrafts, and antiques. Combined with local vendors, you'll get to trawl through up to 180 stalls. Feeling hungry after all that shopping? Chow down on Thai hor fun, look choob, chicken satay and banana roti.
Chatuchak Singapore, free admission; The Grandstand South Carpark, 200 Turf Club Road, Singapore 287994
4. Wellness: Secret Sunrise Singapore: Sunset – Share the love
11 February
Connect, dance and celebrate the joy of life and movement at this sunset session event organised by Secret Sunrise. This global wellness movement celebrates its second birthday in Singapore with a guided meditation overlooking the city skyline. Put on headphones and bliss out to an inspiring playlist that encompasses mindfulness, connection, playfulness, fun, and dance. The best part? Everyone's invited, regardless of age, body type and fitness levels.
Secret Sunrise Singapore: Sunset – Share the love, tickets start at $16; The Promontory, Marina Bay, 11 Marina Boulevard, Singapore 018940
5. Entertainment: The Paiseh Pieces musical
8 – 12 February
This local musical follows the story of three young adults – Tobias, Rina and Sara – as they navigate adulthood in Singapore. In fact, it's a love letter to youths who struggle to follow the "normal" path in life. The production is backed by experience and award-winning creatives like Nabilah Said, Petrina Dawn and Joanne Ho. Enjoy heartfelt storytelling as you jam out to eight original pop-rock songs produced by Bennett Bay (with witty lyrics by Stephanie Phang).
The Paiseh Pieces musical, tickets start at $38; Project Studio, Wisma Geylang Serai, 1 Engku Aman Turn, Singapore 408528
6. Food and drink: Les Jardin du Sofitel botanical afternoon tea
From 13 February
This February, 1864 will transform into a botanical wonderland with an all-day dining menu featuring edible flowers and fashion elements. Go on a tai tai adventure with its afternoon tea set that pays tribute to spring fashion shows. Menu standouts include savoury creations like the light truffle duck rillette croquette and cod fish brandade. You can satisfy your dessert cravings with sweet treats like the 64% chocolate manjari mousse and blossom white chocolate bar. Did we mention there are more than 20 premium blends of TWG tea to choose from?
Les Jardin du Sofitel botanical afternoon tea, $150 for two guests; Level 5, 1864, Sofitel Singapore City Centre, 9 Wallich Street, Singapore 078885
7. Event: Artbox
24 – 26 February
Artbox is back after a long three-year hiatus, and it promises to be bigger, better and cooler than before. Expect up to 300 vendors from Southeast Asia hawking everything from cool clothes to street food to art. Come and immerse yourself in a night market experience like no other. We hear there'll even be a National Shake Leg Championship, roving mini-games, and a first-ever fan meet-and-greet with familiar faces from SGAG.
Artbox, tickets start at $5; Hall G, Singapore Expo, 1 Expo Drive, Singapore 486150
8. Exhibition: Circular Futures: Next Gen at the National Design Centre
All month
Big on sustainability? You'll love this new exhibition at the National Design Centre. It's filled with myriad artworks that explore and examine zero waste, circularity, emerging technologies and potential solutions. You'll even get to submerge in the full experience when you interact with these designs using VR headsets.
Circular Futures: Next Gen at the National Design Centre, free admission; National Design Centre, 111 Middle Road, Singapore 188969
9. Exhibition: Creamier x Catbee Anything Monsters art exhibition
All month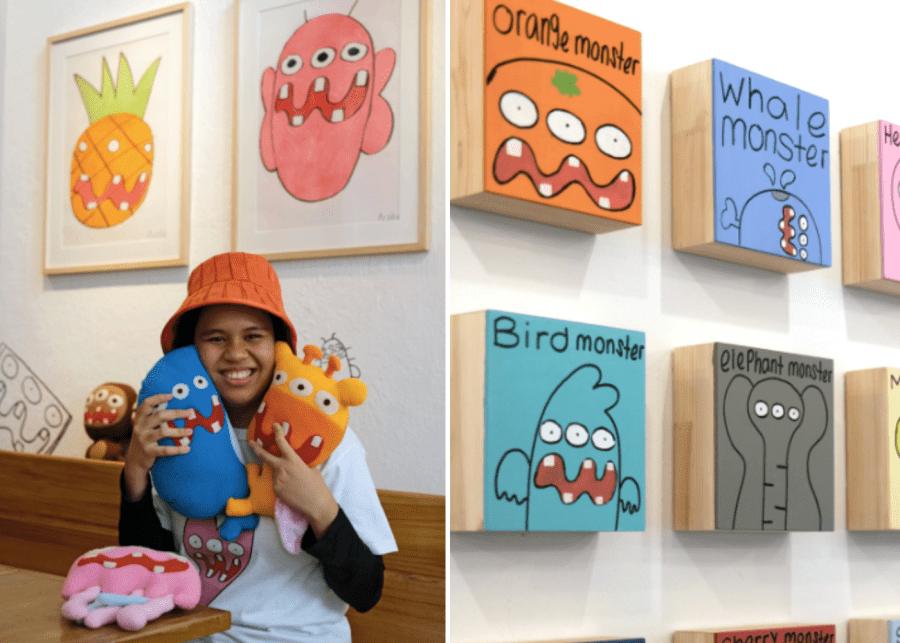 This immersive art exhibition at Creamier Tiong Bahru features the adorable creatures from CatBee's Anything Monsters series. Think triple googly eyes and toothy grins on a variety of mediums. Come and browse this fun collection, and even take home a piece of it if you'd like. Visitors can purchase virtual artwork through QR codes at the cafe, or browse a range of Anything Monsters-themed t-shirts, enamel mugs, tote bags and prints at the location.
Creamier x Catbee Anything Monsters art exhibition, free admission; #01-18, Creamier, 78 Yong Siak Street, Singapore 163078
10. Exhibition: Sneakertopia
From 25 February
ArtScience Museum presents a colourful larger-than-life celebration of the art and culture of sneakers this February. The all-new Sneakertopia makes waves as the first immersive, large-scale exhibition on sneakers in Singapore. Come feast your eyes on over 100 limited edition sneakers from the most iconic brands in the industry. There'll be up to 50 murals and installations on display, showcasing works by 13 top American creatives such as McFlyy, Michael Murphy and Mimi Yoon. Sweet!
Sneakertopia, ArtScience Museum, Marina Bay Sands, 6 Bayfront Avenue, Singapore 018974
Say adieu to January and make room for exciting memories in February with these amazing things to do in Singapore!