Photography: Danist Soh via Unsplash
Chinese cuisine, gourmet coffee and tea, wall art and even fab manicures – it's all in Chinatown, of course!
Whether you're new to Singapore or curious about one of the city's oldest and thriving neighbourhoods, you have to check out Chinatown. This kitschy tourist chic precinct is home to some of the most bustling (and our favourite) streets – from Ann Siang Hill and Club Street to Amoy Street, Duxton Hill and Keong Saik Road. Buckle up for our complete guide to Chinatown!
Chinatown guide: Food & drinks
1. Li Ji Chuan Chuan Xiang
This hot pot hangout in Chinatown is raved about for its fresh seafood choices, flavourful soup bases, and succulent meat skewers. It's also a great location for communal dining. Cool down with an ice-cold beer or a young coconut drink. And for all you supper fanatics, you'll be happy to know that this restaurant closes at 1am.
Li Ji Chuan Chuan Xiang, 295 South Bridge Road, Singapore 058838
2. Hunan Cuisine Restaurant
This Chinese restaurant is one of the many zi char spots in Chinatown and it's well worth a visit. Why? The Hunan dishes are absolute stars and come in big portions. Order fall-off-the-bone tender pork ribs, steamed chilli fish head, la zi ji (Sichuan chicken), stir-fried lotus, and pumpkin pancakes.
Hunan Cuisine Restaurant, 8-10 Mosque Street, Singapore 059488
3. Nomiya
A cosy little izakaya tucked away in the bustling heart of Chinatown, Nomiya sits behind an unassuming entrance that you'll likely walk past if you didn't know any better. But step in and you'll be treated to an incredible dining experience that's worlds apart from its neighbouring touristy hangouts. This casual eatery, which opened in 2021, whips up tasty Japanese fusion small plates paired with great sake. We love that it doesn't put on any fancy airs; the owners are friendly and more than happy to talk you through their sake collection, which includes seasonal bottles from small breweries. Book a table for dinner so you can drink to your heart's content!
Must-tries on the menu include gold dust charcoal chicken, tender charcoal-grilled skewers of chicken, pork and veggies, cold udon with truffle, and yuzu-glazed char-grilled pork jowl. If you're dining with a group, get the signature izakaya sets. You'll enjoy some of the restaurant's best dishes including foie gras chawanmushi, lobster croquette and oden. This is one place you'll be returning to time and again.
Nomiya, 11 Trengganu Street, Singapore 058465
4. Yum Cha
Chinatown is filled with dim sum restaurants and one popular spot is Yum Cha. It's been around since 2000 so it's a fan fave establishment. Have your fill of the usual suspects like spring rolls, wanton, dumplings, congee and egg tarts, as well as modern creations such as mango prawn sesame fritters and squid ink dumplings.
Yum Cha, #02-01, 20 Trengganu Street, Singapore 058479
5. Don Dae Bak Restaurant
Who's in for Korean BBQ? It's tough to deny fine meats of ggoksal (beef flower prime rib), saengsamgyyeopsal (pork belly), chadolbagi (beef brisket) grilled right in front of you. Go for free-flow, a la carte and hot pot options.
Don Dae Bak Restaurant, 35 Kreta Ayer Road, Singapore 089000
6. Hawker centres
Wanna grab a meal at a hawker centre? You've come to the right place. In Chinatown, you can hawker centre-hop your way to delicious grub. There's Chinatown Complex Food Centre where you'll find several Michelin Bib Gourmand award-winning stalls and People's Park Complex Food Centre across the street to get your mala hot pot fix.
At Hong Lim Food Centre nearby, expect more Michelin Bib award-winning food and some young hawkerpreneurs. Plus, y'all know we love Amoy Street Food Centre and Maxwell which are also in this cultural precinct. Pro tip: want hawker centre-like delicious food and prices but with the comforts of aircon? People's Park Centre, an old-school mall opposite Chinatown Point mall, has a small but fab food court.
7. Chong Qing Grilled Fish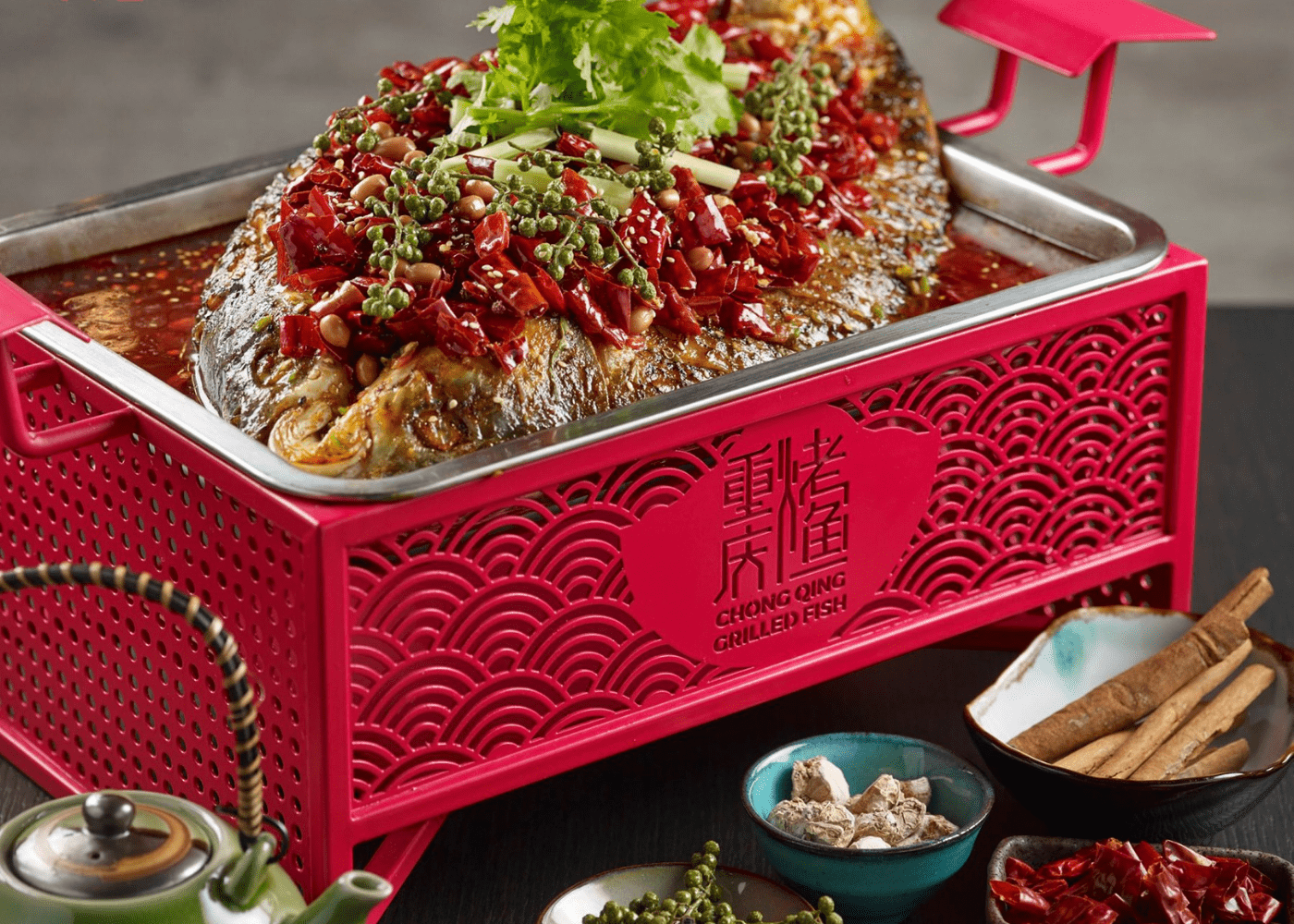 Chongqing's most recognisable export to Singapore might be its grilled fish dishes if the regular queues at Chong Qing Grilled Fish are any indication. Try the signature flavours like pickled cabbage, mushroom herbs, hot and sour and more. Expect a cross between marinated grilled fish and the intense flavours of Sichuan hotpot, a taste that'll keep your chopsticks going.
Chong Qing Grilled Fish, #01-01, 18 Mosque Street, Singapore 059498
8. Guo Fu Steamboat
If you're craving steamboat and xiao long bao at the same time, get the best of both worlds at Guo Fu Steamboat. Here, your hotpot meal can be complemented with free-flow xiao long bao to munch on while your soup is cooking. This steamboat spot is also known for its fresh beef slices, so order up a few portions for the table!
Guo Fu Steamboat, #01-31, Cross Street Exchange, 20 Cross Street, Singapore 048422
9. Red Star Restaurant
We just have to start with our favourite type of Chinese food: dim sum. We like ours traditional at Red Star Restaurant, dated decor and pushcarts included. Dim sum aside, the menu's authentic Cantonese fare includes fried yam pots filled with scallops, prawn and cashew nuts and crispy thin suckling pig skin served with seasoned jelly thin strips.
Red Star Restaurant, #07-23, Block 54, Chin Swee Road, Singapore 160054
10. Taikoo Lane
We can't say no to a warm bowl of steamboat soup, and Taikoo Lane delivers. Take a sip of the collagen soup that's said to have skincare benefits, or get an addictive kick from the mala soup base. For maximum enjoyment, drop by with a group and get four soup flavours to share! And if you're after less conventional dishes, try the unique picks like dragon fruit prawn paste and the exploding volcano mashed potatoes.
Taikoo Lane, #B1-16, Chinatown Point, 133 New Bridge Road, Singapore 059413
11. Tiong Shian Porridge
Calling all porridge aficionados (and supper club members)! Tiong Shian Porridge does excellent Cantonese-style congee and Chinese-styled fish carpaccio.
Tiong Shian Porridge, 265 New Bridge Road, Singapore 088745
12. Koo Kee Yong Tow Foo Mee
People's Park Food Centre is chock full of local food, but Koo Kee Yong Tow Foo Mee is one of our favourites (noodles with tofu stuffed with fish paste).
Koo Kee Yong Tow Foo Mee, #01-1114, Blk 32, People's Park Food Centre, New Market Road, Singapore 050032
13. Original Chew Kee Eating House (Chew Kee Soy Sauce Chicken)
Once you've had a plate of the humble yet wholesome dish, you'll be completely won over. Think springy egg noodles (you can also select rice or kway teow) and flavourful braised soy sauce chicken along with soy sauce that brings the dish together.
Original Chew Kee Eating House (Chew Kee Soy Sauce Chicken), 8 Upper Cross Street, Singapore 058327
14. Old Chengdu Sichuan Cuisine Restaurant
Think you can handle the bold, fiery flavours of Sichuan cuisine? Look no further than Old Chengdu Sichuan Cuisine Restaurant. The dishes are as close as the real deal. Don't leave without trying standouts such as Yuxiang shredded pork, double-boiled fish and special roast chicken. Oh, and remember to bring some tissue packets as it will get hot and sweaty!
Old Chengdu Sichuan Cuisine Restaurant, 80 Pagoda Street, Singapore 059239
15. Liao Fan Hawker Chan Chinatown
Liao Fan Hawker Chan Chinatown has a lot to brag about. It is, after all, the world's first hawker stall to receive the prestigious Michelin star. The row of roast chickens and slabs of roast pork hanging over the stall is enough reason to brave the queue. Say yes to juicy chicken and pork, roasted to perfection.
Liao Fan Hawker Chan Chinatown, multiple locations including Chinatown Complex Market & Food Centre and 78 Smith Street
16. Dong Bei Ren Jia
Get your fill, a la zi char style, at Dong Bei Ren Jia. This Chinese restaurant serves up generous portions of your favourite dishes. Highlights include scallion pancakes, mung noodles and mapo tofu, just to name a few.
Dong Bei Ren Jia, 22 Upper Cross Street, Singapore 058334
17. The Food Peeps Coffee and Deli
The bustling energy in Chinatown can get pretty overwhelming so if you looking for a place to chill, this is it. The Food Peeps Coffee and Deli offers excellent cafe grub with an Asian twist. Think rendang on toast, Hong Kong breakfast bagelwich, and spicy prawn burger with chilli oil. We hear they whip up a solid cuppa coffee, too.
The Food Peeps Coffee and Deli, 34 Sago Street, Singapore 059026
18. Mei Heong Yuen Dessert
Cool down with traditional desserts that hit the spot. There are variations of snow ice bowls including durian, mango and lychee, mango with pomelo and sago, bird's nest, cheng tng and more. Pad your stomach with Cantonese dumplings, carrot cakes and chee chong fun.
Mei Heong Yuen Dessert, multiple locations including Temple Street and Chinatown Point
19. Tong Heng
For old school Chinese culture, it doesn't get more authentic than Tong Heng. This bakery is best known for having the most exceptional traditional Chinese pastries and desserts in town, especially its signature egg tarts and mooncakes.
Tong Heng, 285 South Bridge Road, Singapore 058833
20. Nanyang Old Coffee
Coffee lovers who love traditional coffee can grab a fortifying cup of kopi at Nanyang Old Coffee at South Bridge Road. Accompany your drink with some traditional sweets, too.
Nanyang Old Coffee, 268 South Bridge Road, Singapore 058817
21. Dorothy's Bar
Fondly known as one of the oldest gay bars in Singapore, this is a great place to mingle with the LGBTQ+ community. Enter through the 'yellow brick road' (they don't call it Dorothy's Bar for nothing) and step inside a cosy space. Stay comfy with daily promotions like all-night happy hours and discounts on selected cocktails.
Dorothy's Bar, 13A Trengganu Street, Singapore 058467
22. Potato Head Singapore
There's no doubt that PTT Family's venture in Singapore has taken Keong Saik by storm. Offering an awesome three-in-one dining concept, choose to dig into gourmet burgers at Three Buns (level one and two), lounge at reservation-only bar Studio 1939, or hit the rooftop garden and soak up the sights and sounds of Chinatown over a cocktail. Head down early or risk being put on a lengthy waiting list.
Potato Head Folk, 36 Keong Saik Road, Singapore 089143
23. Sago House
It speaks volumes when a bar has received high accolades in just a short amount of time – it debuted as 49th in 2021's roundup of Asia's 50 Best Bars. Conceptualised during the circuit breaker in 2020, Sago House is a bar with character, cool vibes and even cooler cocktails. The weekly rotating menu of cocktails includes cheeky names like Laksa U Long Time, Am I right or Amarett? and Maple Bottom Jeans. Come hungry to try the famous mac and cheese!
Sago House, 40B Sago Street, Singapore 059029
24. Smith Street Taps
In the mood for a craft brew but don't want to skip out on fantastic hawker food? This hawker stall craft beer bar at Chinatown Complex offers an impressive number of draft beers – up to 12 at any one time. Here's your chance to sample unique and uncommon brews, paired with char kway teow, Hokkien mee, chicken rice and more.
Smith Street Taps, #02-062, Chinatown Complex, 335 Smith Street, Singapore 050335
25. Lime House
Spend your nights at Lime House, a Caribbean restaurant and bar that's totally sublime with its classic cocktails paired with delicious Caribbean meals.
Lime House, 2 Jiak Chuan Road, Singapore 089260
26. Pek Sin Choon
Rather a spot of tea? Get your Chinese tea leaves such as jasmine, pu'er, oolong, tie guanyin and more from Pek Sin Choon, one of the most established tea merchants in Singapore.
Pek Sin Choon, 36 Mosque Street, Singapore 059514
---
Chinatown guide: Where to shop
27. Easi Grow
If the lack of outdoor space is keeping you from having a green thumb, indoor plants are the way to go. You can get started at Easi Grow, a cool plant shop that carries a range of indoor plants including succulents and air plants (which are less hard to kill). Have a chat with the friendly staff and get to know all about hydroponic, aeroponic and aquaponic systems. You're sure to leave the place with a new pot of tiny succulents. Super cute!
Easi Grow, 33 Erskine Road, #01-10, Singapore 069333
28. The Social Space
We're big fans of this multi-concept space: it's a cafe, boutique store and nail salon rolled into one. But that's not the only reason why we love The Social Space. Sustainability is the name of the game here – there's a fair trade retail area that promotes accessible conscious living. Plus, the nail salon offers vocational training programmes for underprivileged women and the cafe has a wholesome food and beverage menu with planet-friendly ingredients.
The Social Space, #01-14, 333 Kreta Ayer Road, Singapore 080333
29. The Tintin Shop
Fans of this iconic series of books will squeal with joy at the number of collectables and memorabilia found at this official merchandise store. You'll find everything from figurines to stamps and tote bags to comic books. They also telecast episodes from the original series here.
The Tintin Shop, 28 Pagoda Street, Singapore 059188
30. People's Park Complex
If you're looking for textiles, buttons, costume jewellery and the like, check out the second floor of People's Park Complex. This place has a variety of shops – it's an absolute DIY heaven.
People's Park Complex, 1 Park Road, Singapore 059108
31. Pagoda Street Market
Yes, it's full of touristy tat, but when you want a lion dance puppet for the kiddos, a giant paper lantern or good luck pineapple (or have a hankering for some fresh durian), this is where it's at. Pagoda Street Market is a spectacle after the sun sets and the lanterns switch on. We still love it.
Pagoda and Temple Streets, open daily
32. Yue Hwa Chinese Products
Of course, you can't miss Yue Hwa Chinese Products on Eu Tong Sen Road. It's your go-to emporium for all things Chinese – handicrafts, porcelain, furniture, herbs and loads more.
Yue Hwa Chinese Products, 70 Eu Tong Sen Street, Singapore 059805
33. Sia Huat
For the kitchen buffs, Sia Huat occupies three shop spaces along Temple Street and supplies top-grade kitchen tools to restaurants and hotels. Everything from Cole and Mason to KitchenAid can be found here.
Sia Huat, No. 7, 9 & 11 Temple Street, Singapore 058559
---
Chinatown guide: Things to do
34. Fu Tak Chi Museum
The oldest Chinese temple in Singapore, Fu Tak Chi Museum now displays over 200 artefacts donated by former residents of Chinatown. The building is one of the area's finest examples of restored architecture.
Fu Tak Chi Museum, 76 Telok Ayer Street, Singapore 048464
35. Heritage Collection on Chinatown
Looking for a place to stay in Chinatown? On the hunt for a cosy staycay spot in a cultural enclave? Heritage Collection on Chinatown offers newly refurbished rooms within walking distance of Chinatown MRT. Expect a retro-styled stay with an ensuite bathroom and photo-worthy shophouse murals that are inspired by the streets outside.
Heritage Collection on Chinatown, 227 South Bridge Road, Singapore 058776
36. Cool wall art
We're so here for Yip Yew Chong's beautiful murals that practically create portals into Singapore's culture-filled past. His 44m-long Thian Hock Keng mural took him 10 weekends to complete between work and three overseas trips. For more wall art inspo, check out our street art series.
37. Buddha Tooth Relic Temple
Behold, the magnificent Buddha Tooth Relic Temple. Named after what's believed to be the left canine tooth of Buddha, the temple is based on Tang dynasty architectural style. It holds many relics including the sacred Buddha tooth (which can be viewed from the viewing gallery on the fourth floor) and a giant stupa made with 320kg of gold. Join the weekly guided tour to unearth more treasures, relics and secrets.
Buddha Tooth Relic Temple & Museum, 288 South Bridge Road, Singapore 058840
38. Sri Mariamman Temple
Singapore's oldest Hindu temple, built in 1827, is one of the most iconic Hindu temples in Singapore. It's dedicated to the goddess Mariamman, whose power is to cure illness and disease.
Sri Mariamman Temple, 244 South Bridge Road, Singapore 058793
39. Masjid Jamae (or Jamae Chulia Mosque)
Only in Singapore will you find a mosque, a Buddhist temple and a Hindu temple located just a few steps away from each other. Sitting along South Bridge Road, Masjid Jamae is one of the oldest mosques in the city. The mosque stands out for its unique South Indian and neo-classical design. And that's just one of the reasons why it was gazetted as a national monument.
Masjid Jamae, 218 South Bridge Road, Singapore 058767
40. Chinatown Heritage Centre
(Temporarily closed)
Chinatown Heritage Centre is filled with recreations from the late 19th century and early 20th century. This authentic slice of Singapore history is all the more fascinating due to the presence of glinting skyscrapers just a few blocks away.
Chinatown Heritage Centre, 48 Pagoda Street, Singapore 059207
41. Admire the architecture
Some of Singapore's most iconic architectural structures are in and around Chinatown, from the protected heritage shophouses to Pearl Bank Apartments (now demolished to make way for a new condominium). Tip: to get a bird's eye view, head to the viewing gallery ($6) on the 50th floor of The Pinnacle@Duxton – the site of one of the oldest HDBs in the country that was redeveloped in 2009.
Double tip: don't have the time or inclination to head to The Pinnacle's gallery? Hop over to the fifth storey of the green-hued HDB complex on Upper Cross Street (above Hong Lim Food Centre) for a good enough (and free) view of the precinct.
Now you're armed with all the info you need to explore the best of Singapore's Chinatown!