To help you decide, here's a mini guide to the most popular wedding flowers and the meanings behind their petals.
Flowers are always the focal point of every wedding; be it in bouquet form or decorating the event space. Beautiful as they are, it can be overwhelming picking your favourite from the thousands of varieties and colours available. So what's a bride to do?
Roses
Probably the most recognised and beloved flower out there, roses are the all-star of the wedding scene, thanks to its universal symbol of love, devotion and commitment. But did you know that meanings differ according to colour?
Red represents love and respect; pale pink represents grace and joy; white symbolises innocence and secrecy; yellow represents joy and friendship; and orange symbolises fascination – usually sent when a friendship blossoms into love. Aww!
Lilies
Lilies are most commonly associated with funerals as they symbolise the innocence that's restored to the departed soul. However, lilies can also symbolise purity, partnerships, and long lasting unions – making them appropriate for weddings. But our personal fave? Orange lilies, which symbolise passion.
Peonies
These abundant, fluffy blooms are a popular choice amongst brides – and for good reason. Peonies symbolise a happy life, happy marriage, good health, and prosperity.
Orchids
Not only are orchids the national flower of Singapore, they also say, "I will always love you". They're traditionally associated with love, beauty and refinement, with pink and white being colours of sympathy.

Ranunculus
Also known as buttercups and Coyote's Eyes, ranunculus flowers are multi-petalled beauties that come in a range of colours including white, yellow, orange and pink. In the language of flowers, a bouquet of ranunculus says "I am dazzled by your charms."
Sunflowers
Sunflowers are well known for being 'happy' flowers that symbolise adoration and dedicated love. In Chinese culture, sunflowers also represent a long life and good luck – a sweet and sunny way to bring happiness to your big day.
Tulips
Tulips represent elegance and grace although like roses, their meaning can vary with colour. Red symbolises perfect love; yellow tulips are a symbol of renewal and fresh starts; and if you're asking for forgiveness, you might want to consider sending white tulips…
Hydrangeas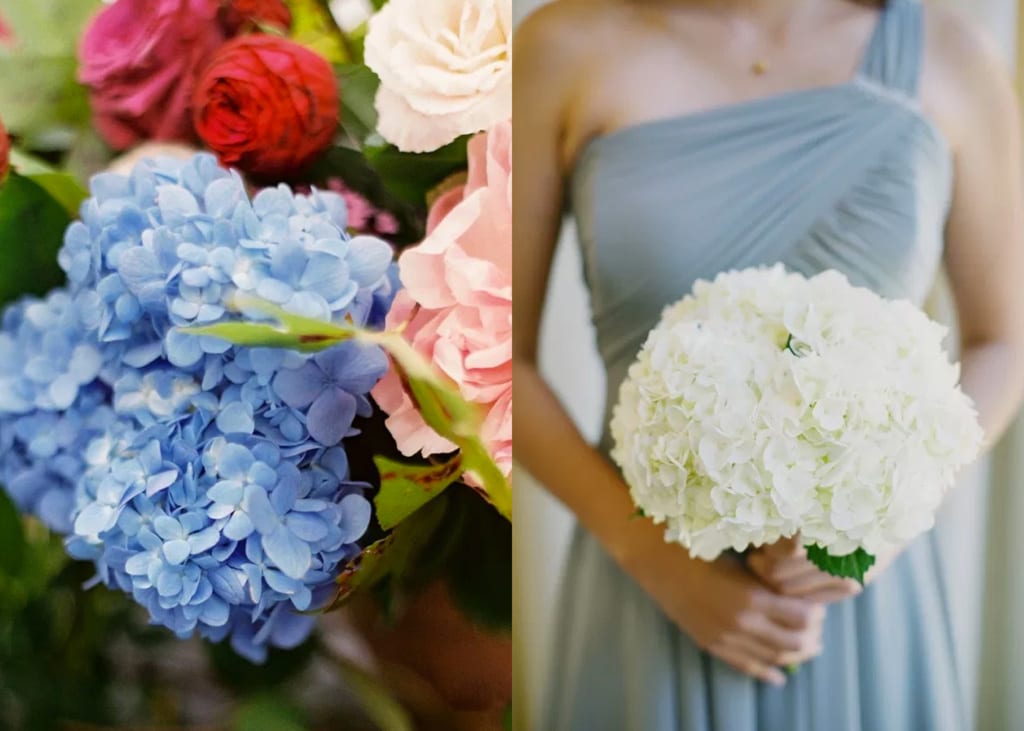 Send someone hydrangeas as a gesture of genuine sincerity as they symbolise true, heartfelt emotions. It can be used to express gratitude. On the negative side, hydrangeas can also symbolise frigidity and heartlessness.
Dahlias
With its striking appearance and delicate beauty, the dahlia flower comes in an astonishing variety of sizes, flowering patterns, and colours such as red, pink, white, orange, yellow, and deep purple. Dahlias symbolise elegance, inner strength, creativity, and dignity.