Photography: Purana Suite Ubud
Steal our wish list of planet-friendly stays – these sustainable hotels are tempting us with stunning views, luxe suites and a greener vacay.
Since the last two years made us press pause on our travel plans, we're seriously missing the thrill of a proper getaway. The pandemic may have thrown a spanner in the works, but that doesn't mean we can't dream about our next flight out! That said, one of the downsides to conventional travel is its impact on the environment. So as the borders gradually reopen, how do we go on adventures abroad while earning eco points? Fret not: we've found five amazing sustainable hotels in Asia, thanks to Booking.com.
The platform's first-of-its-kind Travel Sustainable badge lets you easily discover greener accommodation options. These properties' sustainability practices have been assessed through Booking.com's independently verified criteria model – that means you'll have a transparent, consistent and easy-to-understand way to access more sustainable hotels around the globe. Read on for our picks.
Purana Suite Ubud
Did someone say beach holiday? Bali is on the top of our list, of course. Book a stay at Purana Suite Ubud (pictured top) for a guilt-free resort vacay that's kind to the environment. Fun fact: each building is designed around the rare trees in the surrounding landscape. This commitment to preserve nature has resulted in a beautiful tropical space featuring pockets of foliage, natural finished teak wood and natural stones. Settle into the serene surroundings and take a breather within nature at this sustainable resort, where the sunsets are pretty and the cocktails are strong!
Rosewood Hong Kong
Towering over the iconic Victoria Harbour, Rosewood Hong Kong is a popular stay along the Kowloon waterfront. This sustainable hotel's initiatives include the introduction of vegan and environmentally-friendly bathroom amenities, and the implementation of Nordaq water filtration units at Rosewood Residences in a bid to reduce single use water bottles. Check into its stunning suites that offer unparalleled comfort, and be sure to look out of the floor-to-ceiling windows for a sight to remember.
Parkroyal Collection Marina Bay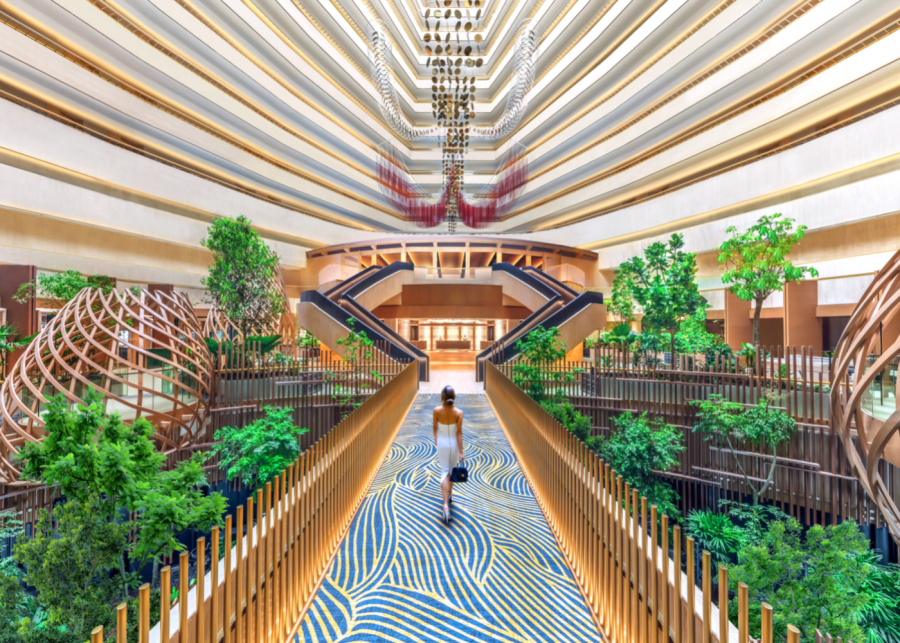 Now, here's a getaway idea that doesn't require leaving the country. Step inside the "garden-in-a-hotel" at Parkroyal Collection Marina Bay, with over 2,400 plants, trees, shrubs and groundcovers from more than 60 varieties of flora. Housed inside Southeast Asia's largest indoor skylit atrium, this is a 21-storey-tall architectural design that will take your breath away. Add to all that its eco-conscious practices and we're sold. At this sustainable hotel, green perks include reusable glass bottles in each room, as well as motion sensors that enable intelligent temperature control for energy efficiency.
Kyomachiya Suite Rikyu
Picture this: you're halfway across the world, sipping tea at a traditional holiday house nestled in a historical Japanese district. How's that for a getaway from city life? If that sounds like a dream for your tired soul, check out Kyomachiya Suite Rikyu, a sustainable stay that's as quaint as it is cosy. Nestled within Higashiyama, this beautifully preserved Japanese-style machiya town house is designed to celebrate the region's tea culture (Kyoto, where this neighbourhood is located, was where the Japanese tea ceremony was born!).
Bomgoro Guesthouse
If you're in the pursuit of a stay that's a little more homely, we suggest spending a night (or two) at the cosy Bomgoro Guesthouse. This bed and breakfast in Daegu is warm, welcoming and easy on the purse strings. It's also a planet-friendly stay that says no to common plastic items like single-use miniature body wash bottles, plastic straws and cups. Other sustainability measures include energy-efficient lighting and water-efficient showers. And if you're ordering up a feast, you can rest easy knowing that most of the meals are made with locally-sourced food that is kinder to the environment.
Ready to take that first step towards travelling more sustainably? Browse these sustainable hotels with Booking.com and get packing for your next adventure!
This post is in partnership with Booking.com.