Admire the beauty of Little Guilin while feeling like you're overseas.
You don't have to go far to escape from the city. Just head to these places in Singapore that'll make you feel like you've travelled the globe!
Stuck in a rut in Singapore? Desperate to travel but can't? We totally feel you. Thankfully, the city is full of secret spots, hidden heartland cafes and gardens tucked out of sight. So you can totally shake off the crowds and get some alone time. But if you'd like to jet off on a vacay without leaving the island, we've got your back. Introducing: Breathtaking places in Singapore that'll make you feel like you're overseas. Whether you want to relive your holiday memories or pretend you're anywhere but here, these locations are perfect for a day of exploring.
Places in Singapore that look like overseas destinations
1. Little Guilin
One of the gems of the west, this serene spot at Bukit Batok Town Park offers the spectacular sight of a granite rock within a lake. Reminiscent of the actual limestone karst hills in the Chinese city it's named after, Little Guilin is a tranquil place in Singapore for 'overseas' picture-taking. As you wander along the banks and marvel at majestic rock cliffs, quiet waters and scenic landscapes, you'll easily forget you're still in the Lion City.
Little Guilin, Bukit Batok Town Park, along Bukit Batok East Avenue 5
2. Fort Canning Park
Dreaming of a beautiful beach holiday in Bali? We've got a little slice of that right here in Singapore… and it's hidden among the trees of Fort Canning Park. Sang Nila Utama Garden is named after the Palembang prince, and it's a tranquil recreation of Southeast Asian gardens from the 14th century.
The symmetrical space features Javanese split gates and a reflective pool swimming with lily pads (if you'd like to do some meditation). It's also decked out with pretty plants and statues of frogs, fish and ducks. Keen to stay and luxuriate in the peacefulness of it all? Find a seat at one of the benches nearby and fantasise for a moment that you're at Bali's famous 'Gates of Heaven'.
Fort Canning Park, bounded by Hill Street, Canning Rise, Clemenceau Avenue and River Valley Road
3. Bukit Timah Saddle Club
It's not every day you get to ride a horse amidst idyllic scenescapes. That's where Bukit Timah Saddle Club comes in. Want to admire the majestic animals in their element? The sprawling greenery is home to stables, riding arenas, trail rides, grass paddocks and over 40 well-trained horses and ponies. Even if you're just here for brunch at Riders Cafe, this is one unique way to spend an afternoon. It's as if you've stepped out of Singapore and into the quaint European countryside.
Bukit Timah Saddle Club, 51 Fairways Drive, off Eng Neo Avenue, Singapore 286965
4. Jurong Lake Gardens
This green respite takes up 90 hectares with Lakeside Garden and the currently-closed Chinese and Japanese Gardens. It's home to swamp forests, wetlands and the glittering waters of Jurong Lake. You can easily lose yourself in nature trails with coastal plants, play areas and flower fields dotted with butterflies. Oh, and keep an eye out for wildlife in the gold-tinged grassland habitats. Think rustic resort life, but without the hassle of travelling. Plus, when the Chinese Garden reopens in 2021, you'll want to explore features like the bamboo tunnel, moon lantern terrace and bonsai garden.
Jurong Lake Gardens, along Yuan Ching Road and Boon Lay Way
5. Quayside Isle
The beauty of Quayside Isle lies in its location. Hidden from the crowds, this Sentosa Cove hangout is all about the view. As you stroll along the boardwalk and look out on yachts – especially under a twinkling night sky – you can easily wax nostalgic about your favourite waterfront destination. We suggest you complete the magical mood with a Spanish, Mediterranean or Italian meal at any of the nearby restaurants. And if you'd like to linger in holiday mode, cap off your experience with a staycay at the nearby W Singapore – Sentosa Cove.
Quayside Isle, 31 Ocean Way, Sentosa Cove, Singapore 098375
6. Raffles Marina Lighthouse
Built in 1994, this lighthouse at Raffles Marina Club overlooks the Tuas Second Link. It's a popular hangout for photography enthusiasts, thanks to its unobstructed views. The structure is best viewed in the evening during sunset, so you can amble along the pier and gaze at the lighthouse surrounded by orange-reddish hues. Oh, and since it's open to the public, it won't cost you a cent to transport yourself to the picturesque waters and promenades of Australia.
Raffles Marina Lighthouse, 10 Tuas West Drive, Singapore 638404
7. Southern Islands
Can't get away to Phuket? Missing your regular trip to Langkawi, Krabi, or even Bintan? It's Singapore's offshore islands to the rescue! Just carve out a day in your schedule to hop around from Kusu and St. John's to Lazarus and Sisters' Islands. This is the easiest way to indulge in a beach vacay without your passport. So pack a picnic, grab your sun essentials and have a splashin' time in the glittering turquoise waters.
8. Kong Meng San Phor Kark See Monastery
Otherwise known as Bright Hill Temple, this place of worship was established in 1921 as one of the first traditional Chinese forest monasteries in Singapore. Today, it's the largest Buddhist temple in the city, with massive prayer halls, a memorial museum, a garden and pond, a library, and a crematorium and columbarium on its 12-hectare site. As you take in the art, culture and Chinese architectural designs in its peaceful surrounds, you'll feel like you've been transported to China – without the hordes of tourists.
Kong Meng San Phor Kark See Monastery, 88 Bright Hill Road, Singapore 574117
9. Coney Island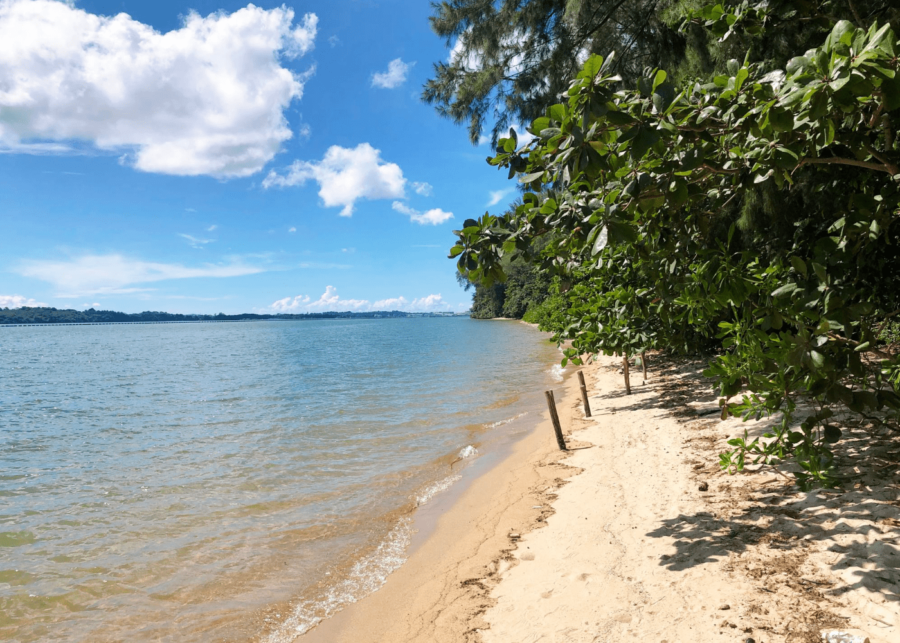 Want to immerse yourself in the beauty of nature? For undisturbed quiet time in the great outdoors, head to Coney Island. You won't recognise the Singapore you know at this rustic spot. The park is full of flora and fauna, sunny beach areas with azure waters, towering trees, and an all-natural playground constructed from recycled materials. It's worlds apart from the bustling city and feels just like a back-to-nature retreat, which we love.
Coney Island
So, which 'overseas' places in Singapore are you thinking of travelling to next?