Always wanted gorgeous eyebrows with minimum effort? We do too, which is why our beauty writer tested the new Brow Resurrection options at Browhaus. Keep reading for the full review!
If you've always wanted gorgeous brows with little effort on your end, I'm guessing eyebrow embroidery has crossed your mind. As a low-maintenance beauty junkie, microblading my brows seemed like the perfect way to shave precious time off my makeup routine. But truthfully, the entire concept used to scare me. I feared the pain, the cost, and most of all, that my brows could turn a nasty shade of algae (ala the green arches of some elderly Chinese ladies).
But when I stumbled upon the new Brow Resurrection treatments from Browhaus, I knew it was time to try it. How could I not? Browhaus is the leading expert of everything to do with brow grooming. Think threading, waxing, and of course, eyebrow microblading.
The difference with Brow Resurrection
Called Brow Resurrection, the microblading service gives you beautiful brows by creating realistic hair strands from root to tip, using natural-looking strokes drawn by a tiny blade. This results in a finer, and more detailed finish. While previous options for Brow Resurrection were only limited to Classic (for bold and clearly defined lines) and Soft (finer strand-like strokes), Ombre and Full treatments were recently added to the lineup.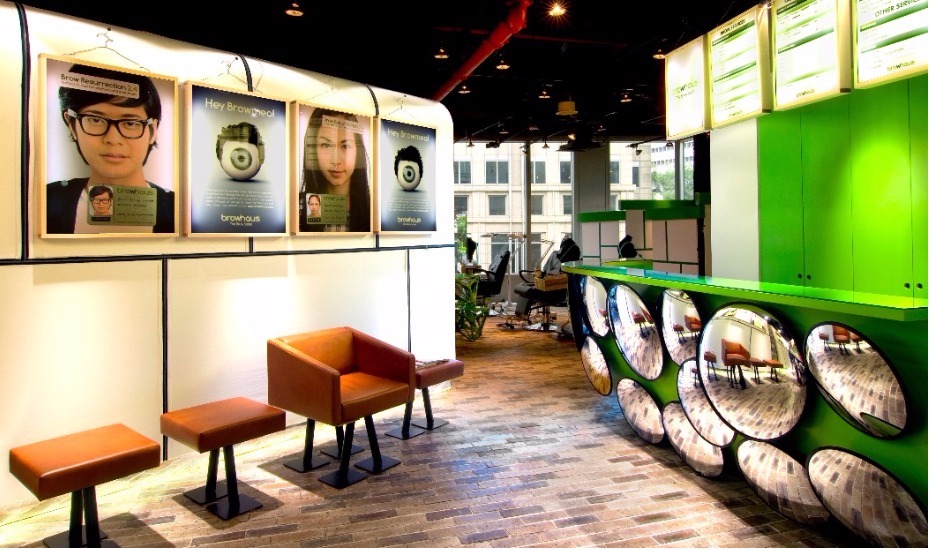 I went with Ombre as this promised to give me full brows with a gradient base, so it'd look like I always have brow makeup on, but with a realistic finish. Ombre is suitable for all skin types, even for mine that's oily and sensitive. While I don't have sparse brows, I do have gaps between hairs which take ages to fill, thanks to a clumsy hand and inaptitude for drawing fine lines in general. Eyebrow embroidery would mean the end of fussing over my eyebrows and creating overly drawn and dark arches.
Pre-treatment
On arriving, I answered a couple of routine questions on skin allergies. Once done, I was led to the treatment area, where my therapist explained the process. After cleaning my brows, we discussed my dream brow shape. I requested medium arches, with nothing too squarish or rectangular (no K-pop brows for me!) and for them to look as natural as possible.
After much analysis, she drew two different shapes on both my brows in pencil to determine my preference. Once I picked one, she applied my numbing cream as I lay back and tried to calm my nerves while waiting for the effects to kick in. As for colour, she insisted that my previously drawn brows were far too dark so we decided on a taupe shade for my brows.
The treatment
While I wouldn't go as far as to describe the experience as relaxing due to my nerves, the session was almost painless thanks to the numbing cream. It was only towards the end of my session when the cream wore off that I started feeling the tiny pricks which were akin to threading. Half an hour later, I was done with my eyebrows and left with a small bag full of aftercare products and advice on how best to care for them.
Here's a before and after for reference
Where there used to be sparse areas, were now fine, realistic-looking hairs. My eyebrow shape also looked more defined, but subtly so. The darkness of the newly inked brows faded over the next ten days, and shed in flakes to reveal a more natural-looking shade.
Aftercare
Post treatment, you'll receive a kit (sold separately at $160.50) to help you care for your brows. It'll include Build, a serum to repair and regenerate damaged skin cells, Fix, a vitamin-rich anti-scarring balm to fix skin wounds, as well as a pigmented eyebrow powder (while stocks last) to fill in your brows. Be sure to regularly apply Build and Fix as recommended by your therapist to ensure proper healing.
After a month
My brows have now faded to a more natural shape. These days, I usually skip filling them on normal workdays, but for weekends, I fill them with pomade for a bolder look. It only takes about a minute to do this, as I no longer have to fuss about their shape.
I'm due for a tune up (touch up) soon and I'm a little nervous as that means having a needle go over the scar tissue of my eyebrows. I'm confident it'll be a near painless process, but what's a little pain for effortlessly gorgeous brows right?
Browhaus, multiple locations including Raffles City, Plaza Singapura and Raffles Place.