Photography: Wendy Wei via Pexels
From jazz bars to casual spots: Check out the best bars, cafes and arts venues to hit up for live music in Singapore!
To us, no night out is complete without live music. Sure, you can head to a bar or pub to enjoy an ice-cold pint with your friends and catch each other up about the week's shenanigans. But the night isn't complete without a bit of live music to get you grooving your way to the weekend. Or just to coast through the mid-week blues. Without further ado, here are the top spots for live music in Singapore (best enjoyed with cocktails and delicious bar bites in hand).
Where to catch live music in Singapore
1. Cool Cats
You'll be transported to a whole new era at this swanky cocktail bar and live music lounge. Get signature cocktails with unique stories like the Harlem Revolution, which features single malt scotch whisky, or a smoked fig Sidecar. Take a seat and enjoy performances by a slew of jazzy bands that'll take the stage by storm.
Cool Cats, The NCO Club, 32 Beach Road, Singapore 189761
2. Yin Bar
If you're on the lookout for an alfresco bar with live music, Yin at Clarke Quay fits the bill to a T. Situated along the Singapore River, Yin is a casual spot that's perfect for nightly gatherings with friends. We highly recommend checking out the cocktail menu here too. It's full of whimsy and creatively named drinks. The Dragon's Breath is a tequila-based drink that's both spicy and sour in the best way. Or go for the Secret Garden that leans on the sweeter side (it's the Honeycombers team's go-to drink). Psst: drop by the sister club Yang on Tuesdays and Thursdays for more live performances with a full seven-piece band!
Yin Bar, #01-02, 3A River Valley Road, Singapore 179020
3. Le Noir
You'll know you're at Le Noir from the sound of the music – it's the only bar with a live band in its vicinity. Dine alfresco and sip on fantastic cocktails from friendly bartenders while being serenaded. Plus, you can catch light and water show Spectra right from your seat! Talk about a sweet deal. This place is quite a hotspot, so be sure to get a reservation to avoid disappointment.
Le Noir, #01-84, The Shoppes at Marina Bay Sands, 2 Bayfront Avenue, Singapore 018972
4. Offtrack
When we tell you this space is created by the founders of local music collectives Darker Than Wax and Ice Cream Sundays, you know this is the place to be for live music in Singapore. Offtrack is a music-centric bar serving up pan-Asian delights to a backdrop of diverse music programs. Everything, down to the carefully designed music system and acoustically tuned space, ensures you'll have a listening experience like no other.
Offtrack, #01-01, 34 North Canal Road, Singapore 059290
5. Esplanade
This one's a no-brainer if you constantly take strolls near the Merlion. Whether you're chilling indoors at the roomy concourse or sitting on the giant steps facing the skyline at the outdoor theatre, you've probably caught a live music act here at the bay. Esplanade is also the birthplace of possibly the most important local music festival – Baybeats. There's an ever-rotating list of events and programmes to catch, so if you wanna see what's on, just hop over to the website.
Esplanade, 1 Esplanade Drive, Singapore 038981
6. Timbre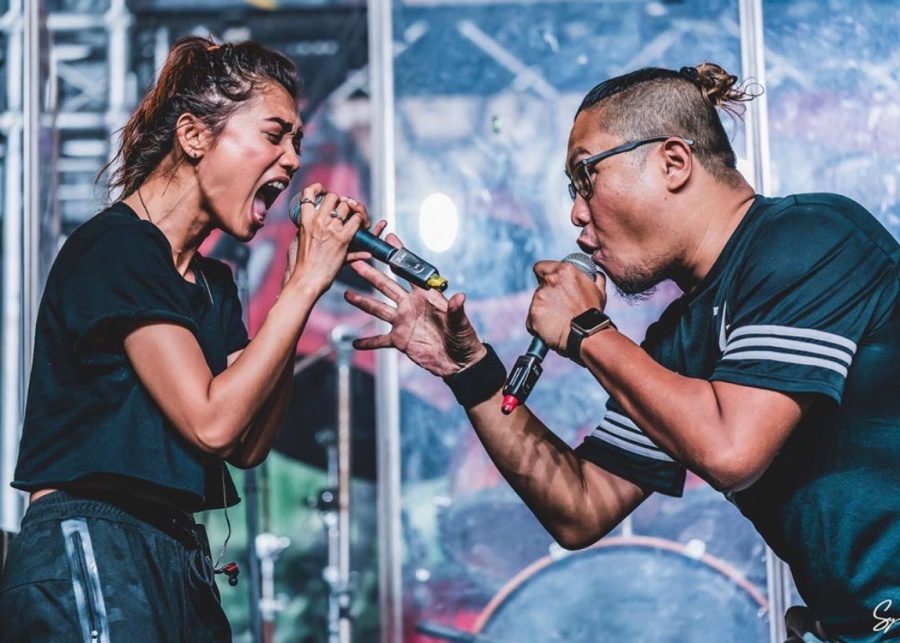 Arguably the most popular of the lot, the Timbre franchise has always been known to allure all sorts of gig-hunters, from post-work yuppies to after-school undergrads. Why is that? 'Cos you can expect nothing short of quality with its robust sound system and diversely-curated programmes. It features Top 40s resident bands, classic rockers of yesteryear and local acts. Drop by either Timbre X S.E.A or Timbre+ for beers to go with your live music entertainment.
Timbre, available at multiple locations including Old Parliament Lane and One North
7. Cuba Libre
If you're on the hunt for buzzin' Latin American tunes, Cuba Libre is the place to be. It features live music, as well as an extensive selection of Cuban rums. If that's not up your alley, cocktails like a refreshing mojito or a classic daiquiri are available too. Expect an impressive lineup of live music performances by a roster of bands and DJs. From jazz and Latin beats to energetic salsa and infectious reggaeton, the stage comes alive with vibrant beats.
We're dropping by for Adrenalina, a group of five talented Cuban musicians, who bring the vibrant and energetic rhythms of Latin music from Havana to Singapore. Veteran local band, Stereofly, is also on the list of acts, promising electrifying performances of Top 40 hits. Plus, keep an eye out for resident turntablist, DJ Boi Kay, on the decks most nights. Drop by for the lively atmosphere, tipples and irresistible rhythms!
Cuba Libre Cafe & Bar, #01-03/04, Block E, 3E River Valley Road, Singapore 179021
8. Level Up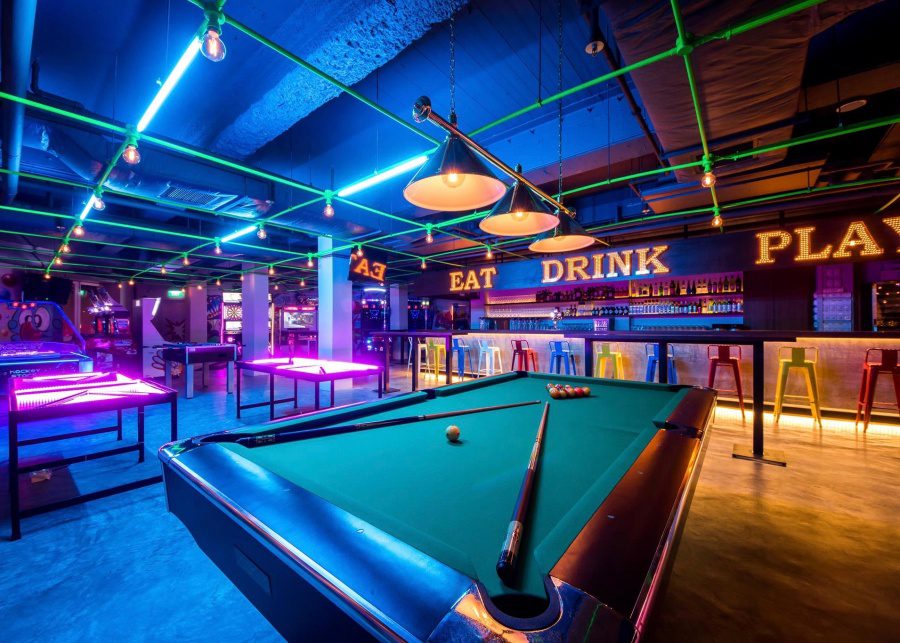 It's all fun and games at this retro-arcade bar in Clarke Quay. Come for the 80s hangover – think colourful neon lights, nostalgic arcade games (hello, Street Fighter) and bar games. And of course, listen to live bands play on stage at the DJ booth. With vintage games, great drinks and a vibrant space, you'll forget all about your weekday blues.
Level Up, #02-04, Block A, 3A River Valley Road, Singapore 179020
9. OSG Bar
As music appreciators, we can easily imagine referring to live music in Singapore as "Our Simple Goodness", and that's exactly what the moniker of this Suntec City bar stands for. The live music acts are catered to parched businessfolk looking for a reprieve in the city. Forget all about that dreadful day at work once you step into this bar!
OSG Bar, #01-510/511, Suntec City Tower 1, 3 Temasek Boulevard, Singapore 038983
10. Maduro
Having shifted from its original location in Dempsey Hill, Maduro has found a new home in Sofitel Singapore Sentosa. Founded by former jazz pianist Peter Ng (also fondly known as Mr. P), you can be sure that everything is curated to the nth degree. From the space, designed to look like the cosy living room of an eclectic, design-savvy friend, to the food, and of course the live music. You can expect to see some of the best local chanteuses and crooners working their magic with first-call musician counterparts.
Maduro, Basement level, Sofitel Singapore Sentosa, 2 Bukit Manis Road, Singapore 099891
11. Paulaner Brauhaus
As Singapore's only German microbrewery and restaurant, you can bet that Paulaner Brauhaus has quite the reputation amongst German gurus here. You won't just be stuffing your face with breaded pork schnitzels and sausage platters. You'll also be marvelling at live acts as they amp up the vibe.
Paulaner Brauhaus, #01-01, Millenia Walk, 9 Raffles Boulevard, Singapore 039596
12. Acid Bar
If there's one thing we love about this Peranakan Place fixture – aside from how it used to be a rowdy hangout to appease our post-work thirst – it's how the bar created opportunities for budding singer-songwriters and cover bands. Catch its line-up of performances that give patrons something fresh to listen to (and musicians a chance to hone their chops).
Acid Bar, Peranakan Place Complex, 180 Orchard Road, Singapore 238846
13. Scape
While it's catered more to the youths of Singapore, this lifestyle hub in the heart of Orchard is a reputable spot for providing opportunities to nascent local bands with bright futures ahead of them. Indie darlings like Stopgap, Linying and Cashew Chemists have all honed their chops at Scape's regular Confessions series, so who knows which future star of tomorrow you'll spot! As a bonus, you can catch plenty of dance performances too.
Scape, 2 Orchard Link, Singapore 237978
14. The Star Theatre
A key venue of The Star Performing Arts Centre, The Star Theatre is fitted with high-end audio, video and production lighting systems for an exceptional and magical audio-visual experience. Featuring a traditional horseshoe shape, this auditorium offers custom-designed seating, including stalls and two circle levels. The last row of seats at the upper circle level is just 56 metres from the stage, creating an intimate ambience for this grand 5,000-seat venue. Keep tabs on it as it plays host to upcoming acts!
The Star Theatre, #04-01, 1 Vista Exchange Green, Singapore 138617
15. Tipsy Penguin
Hey easties, this one's for you. Conveniently located across Tampines Hub, Tipsy Penguin is a cosy bar with live bands performing every night. Get a plate of fresh oysters and kick back with affordable drinks – the music will keep you vibing all night long. The friendly staff are also happy to make recommendations if you can't decide what to order! Tip: this is a fully cashless bar, so be sure to have your card ready.
Tipsy Penguin, #01-02A, 300 Tampines Avenue 5, Singapore 529653
16. Hard Rock Cafe
This jaunty hideout that's a household name in the rock 'n' roll industry remains consistent in dishing out a dose of retro vibes that all nostalgia romantics can enjoy. It doesn't have a regular live music program right now, but we know it's the hub for great parties. From Emo Nights to sweet soirees, you'll get your music fix one way or another.
Hard Rock Cafe, #02-01, HPL House, 50 Cuscaden Road, Singapore 249724
We don't know about you, but we're big fans of the live music scene in Singapore!