Unleash your inner diva at these KTV bars in Singapore. (Photo via Billboard)
Attention divas, here are all the karaoke joints and KTV bars to hit in Singapore when the urge to sing hits hard.
Some might call it cheesy, but karaoke has got to be one of our ultimate guilty pleasures. It's also the perfect indoor activity if the rain dampens your plans or if you need something to do prior to late-night supper plans. Doesn't matter if you're a bathroom singer, show-stopping diva or can't hold a note to save your life – KTV bars provide a safe space to just sing and have a ball of a time with friends and families. So… clear your throat, do some lip trills and breathing exercises and get ready to impress us with your talent (or lack thereof) at these karaoke bars in Singapore. Hit that track!
Manekineko
Manekineko has to be one of our favourite karaoke places in Singapore for three reasons. One, it's fortune cat-themed. Two, its rooms are cosy and come with WiFi and charging points. Three, standard prices include free-flow drinks and snacks; upgrade if you want a buffet dinner. Book the corporate room if you're throwing a party – it comes with a pool table and can fit up to 30 people.
Manekineko, various outlets islandwide including Cathay Cineleisure and Marina Square.
Ziggy's
Karaoke with the complete VIP experience? Count us in! Ziggy's gives you the ultimate party experience with private rooms, suites, late night dining options and – wait for it – a full-fledged bar with handcrafted cocktails. Perfect for parties, the deluxe and VIP suites sit up to 25 guests and come complete with a selection of party games, percussion instruments, in-room phone chargers, a champagne pong table and over 100,000 songs to choose from.
Ziggy's, #01-27 Robertson Walk, 11 Unity Street Singapore 237995
HaveFun Karaoke
HaveFun Karaoke is not your average KTV spot. With 28 themed rooms and plenty of activities such as drinking roulette, darts machines, basketball machines, beer pong, board games and pool tables, you almost forget you're here to belt out some tunes. The outlet at Somerset is open till 5.30am every day so you can sing into the wee hours of the morning.
HaveFun Karaoke, three outlets at Somerset, Bugis Cub and Downtown East
K.Star
Touted as the first theme Karaoke studio, K.Star provides 25 themed rooms to accommodate groups of six to 35. Rooms based on hourly rates but for the ultimate value deal, go for the drinks package that includes three hours of unlimited karaoke fun.
K.Star, 181 Orchard Road, Orchard Central #05-01, K.Star, Singapore 238896
Kloud Karaoke
For a no-frills karaoke sesh with affordable prices, Kloud Karaoke is the place. Whether you're going during the weekdays or weekends; before 6pm or after 6pm, the three-hour package is just $12 per pax (with a complimentary drink for everyone). You get a great deal if you're going with groups of three pax or more so gather the singing crew, stat!
Kloud Karaoke, Kinex Mall, 11 Tanjong Katong Road #03-08/09 Singapore 437157
Skinny's Lounge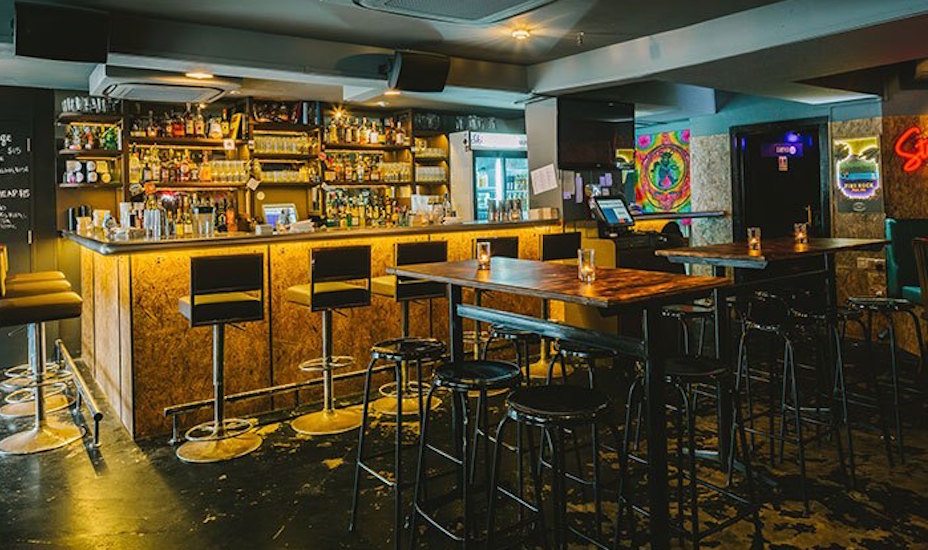 At the end of Boat Quay, you'll find an American bar and KTV joint Skinny's. It's open till 3am (and 4am on Saturdays!), so when you don't want a good night to end and the urge to sing hits hard, you know where to go. Skinny's does good classic cocktails with some fun stuff thrown in, so that bottle of wine you happen to have in your handbag? Put it away, ladies. There's just one KTV room at Skinny's, so book ahead (reservations are $200 per hour) so you don't resort to trying to gatecrash someone else's party. Not that we'd ever try to do that.
Skinny's Lounge, 82 Boat Quay, #01-02, Singapore 049870
Ten Dollar Club
Living up to its name, this is the place for a fun sing-along session with your mates without having to burn a huge hole in your pockets. At $10 per session, you'll get the bare karaoke essentials as well as free-flow of hot and soft drinks. You're even allowed to bring outside food just in case all that belting makes you hungry!
Ten Dollar Club, outlets at Chinatown, Balestier and Downtown East.
Teo Heng
Strictly no smoking, no alcohol; this is your best bet to bring your family out for a karaoke night. This family-friendly KTV bar offers clean and vibrant looking studios, exuding warmth and safe ambience. Aside from providing free WiFi at all their outlets, do note that its rates are hourly-based, depending on room sizes.
Teo Heng, various outlets islandwide including Suntec City, JCube and Bedok Point.
Tang Music Box
A hit with most karaoke lovers in Singapore, Tang Music Box has an extensive selection of songs in a myriad of languages. Feeling a little chilly in the studio? They'll kindly provide you with blankets. Need a breather? Then head over to The Meeting Place, the main hall where you'll get to mingle with like-minded people while deciding which snacks to get. Psst…they are typically open 'til 6am on Fridays and Saturdays.
Tang Music Box, #02-03/04 Foundry, Clarke Quay, 3B River Valley Road Singapore 179021
Cash Studio
If you are looking for top-charting songs or classic oldie hits, Cash Studio has it all. But what's more interesting about Cash Studio is that it's known amongst fans of Japanese and Malay music for having a good assortment of J-pop, J-rock and uber sentimental Malay music in its mix. And if the room is vacant after your designated timeslot, they might let you stick around a little longer!
Cash Studio, various outlets including Ming Arcade, Cuppage Plaza and Paya Lebar.
Party World
You can't think of karaoke in Singapore without immediately thinking of Party World. This KTV institution offers a gamut of song choices in a variety of languages, and reasonable prices which include alcohol. After all, what's a karaoke party without booze, right?
Party World, various outlets islandwide including Nex, Liang Court and Bukit Batok.
---
And if you need inspiration for mixing up your karaoke repertoire, check out these go-to songs from the Honeycombers crew…
We're remaining anoymous for this one!
"Is it really even karaoke if you don't sing a terribly epic rendition of Bohemian Rhapsody?"
"Backstreet Boys 'cos we're basically 90s kids."
"It's Britney, b*tch! Her debut album, in particular, was my jam… Baby One More Time and also Oops I Did It Again."
"It has to be Shake It Off by Taylor Swift, my go-to song when I need to remind myself that I'm a badass b*tch!"
"All hits from Queen is a must! I Want to Break Free, Don't Stop Me Now, Radio Ga Ga, Somebody to Love and of course, Bohemian Rhapsody. I could go on all day."
"How can we forget Queen Ri Ri? There's Diamonds, We Found Love, Unfaithful, Only Girl in The World. Ultimate guilty pleasure."
"I HAVE to sing Hold On by Wilson Philips. It's a song I sing for positive, personal empowerment."
"Anything from the Princess of Pop: Britney Spears. The original Queen B. I will sing anything from her first album to last. Or any broadway song. And the occasional Whitney and Mariah. I find that I can definitely reach those notes after three glasses of wine."
"A few drinks inside me and Trace the Face busts out the moves and the notes to Madonna's Like A Prayer. Every. Single. Time."
"When I karaoke I don't even know myself. I pick boyband songs from across the generations like Backstreet Boys, *NSYNC, One Direction… and then I move on to Southern hip-hop which is really crass compared to their East Coast counterparts. And then I cover emo-pop ditties like Fall Out Boy and the sorts. Hell is other people's music and the karaoke room is purgatory."
"I'm that guy who's convinced they can rap after a few drinks, so everyone has to suffer through Gangsta's Paradise by Coolio."