Photography: Dolo Iglesias via Unsplash
Got a performance coming up or looking to gather friends for a few hours of cathartic guitar playing? Rent a music recording studio in Singapore.
Let's be honest, you're not gonna be the next Yung Raja without putting in a few hours of practice every day. But unless you have the luxury of a large space to accommodate your mates and soundproofing installed on your walls, you're probably on the lookout for your next go-to studio for practice. Lucky for you, we've got top picks for music recording studios to rent in Singapore!
Recording studios in Singapore for a rockin' good time
1. Decibel Studios
When the founders are fellow jammers themselves, you know they've got you covered with everything you can possibly need for a fuss-free jamming experience – from the studio space right down to the equipment. No need to worry about hidden costs! There's even a special discount for students and NSFs. The space is also open 24 hours, and if you ever need any help, the team is always contactable and readily available.
Decibel Studios, #05-01, Ming Arcade, 21 Cusacaden Road, Singapore 249720
2. Roar Studios
Whether you're a hobbyist looking to rehearse with your friends or you want to set up your band's debut, Roar Studios is perfect for just about anyone. When booking a session in the lion's den, you'll have full use of the instruments and equipment available, plus a sound engineer. If you're looking to do a low-cost gig, opt for the livestreaming package with cameras, lighting, and live audio mixing that can be streamed to Zoom, YouTube, or Facebook Live.
Roar Studios, #07-02, Advance Building, 19 Burn Road, Singapore 369974
3. Tonehouse Studios
Tonehouse Studios is basically your one-stop-shop for any recording needs. Start off with your rehearsal or jam session in the Bed Room before moving on to a recording session or live stream in the Living Room, which also doubles up as an event space. Want a place to host your next performance? Look no further!
Tonehouse Studios, #03-09, Parklane Shopping Mall, 35 Selegie Road, Singapore 188307
4. Red Roof Records
Ever wanted to know what the inside of a record label's studio looks like? Check out Red Roof Records. The independent label opens its state-of-the-art studio filled with everything you need to produce that next track you've been writing for months. You even have the option of renting a studio with a sound engineer or producer.
Red Roof Records, 12 Mount Sinai Drive, Singapore 277073
5. Trinity Music Studio
Straightforward bookings and self check-in systems make this studio the perfect choice for those who want a space to get down to business. You can book time in this cosy spot through the website and find package deals with 10 hours' worth of sessions that can be redeemed over the course of two months.
Trinity Music Studio, #B1-29, The Promenade@Pelikat, 183 Jalan Pelikat, Singapore 537643
6. Music Brio Studio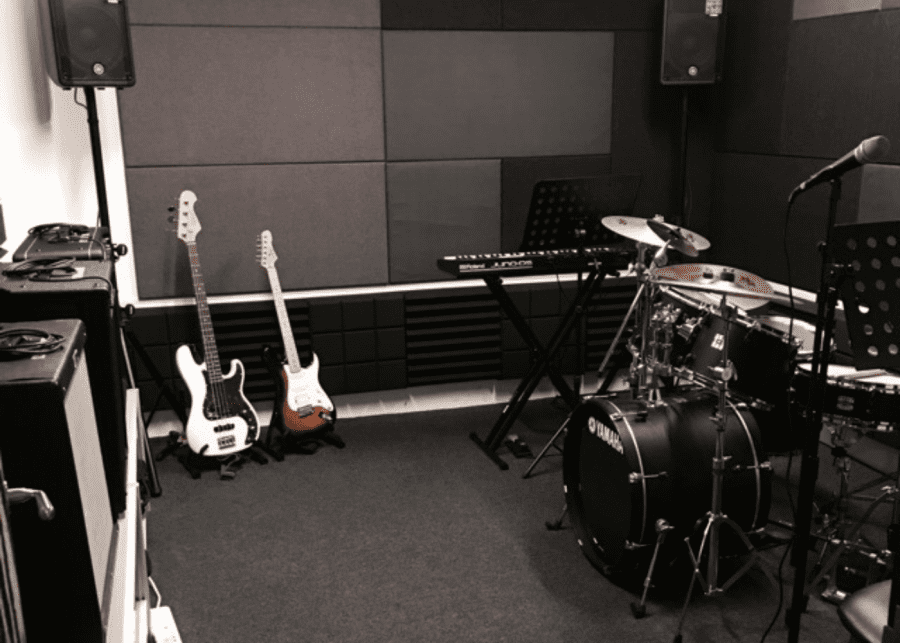 Founded by a guitarist and music teacher, Music Brio Studio aims to create a space for more than just jamming – it's also a place to learn. Not only do you have access to a studio space that boasts well-maintained instruments and brilliant acoustic treatment, but you can also get music lessons for drums or the guitar as Music Brio Studio is partnered with Rock School.
Music Brio Studio, #02-19, Grandlink Square, 511 Guillemard Road, Singapore 399849
7. The Music Parlour
If famous names in the music scene like Charlie Lim and Dru Chen have chosen this studio to host their performances, you know you can't doubt the street cred of this place! Established in 2015, The Music Parlour aims to create a safe space for musicians to practice and explore their craft. It provides instrument rentals and professional recording sessions, too.
The Music Parlour, #04-20, Peninsula Shopping Centre, 3 Coleman Street, Singapore 179804
8. The Basement Studio
If you're itching for a jam after a hard day's work, this is an ideal location in the central area. Located at Golden Mile Tower, the place comes with its own recording room and state-of-the-art equipment. Plus, it's open 24 hours! Night owls who find your inspiration in the wee hours of the morning will have a haven to write and record.
The Basement Studio, #B1-84, Golden Mile Tower, 6001 Beach Road, Singapore 199589
9. Backbeat Studios
Music is serious business, and the team at Backbeat Studios knows this well. Sound engineer Frank Lee, who's worked with household names like Dick Lee, Kit Chan and JJ Lin, designed the rehearsal studios – the dimensions are calculated down to a T to squeeze out every drop of audial goodness during jam sessions.
Backbeat Studios, 215A Jalan Besar, Singapore 208898
10. Plugged Studios
You know you can trust a music studio when its owners are musicians themselves. You'll find Plugged Studios on the fringes of Orchard Road near Tanglin Shopping Centre. It's run by Junaidi Kusnong – respected drummer of Amateur Takes Control and T-Rex – and his wife. Get cosy in their studio space and start jamming!
Plugged Studios, #06-05/06, Ming Arcade, 21 Cuscaden Road, Singapore 249720
11. Lithe Style
If you've been around the music scene for a while, you might have heard of the Lithe name floating around. The studio is no stranger to local musicians and gig-goers islandwide. What was once originally Lithe Paralogue turned into Lithe House with a rebrand, before becoming Lithe Style under new management. One thing's for sure: there's something about this place that everyone loves and wants to keep alive.
Lithe Style, 23 Madras Street, Singapore 208418
12. Alliance Music Group
If metal bands such as Kamelot and Nightwish are your cup of tea, you'll feel right at home 'cos the owner of this much-frequented studio is a fan of devil horns himself. Lined with heavy metal posters, this place boasts a spacious main studio – couch included for plus ones! – with equipment that can accommodate an eight-person band (we've boldly attempted this from past experience).
Alliance Music Group, #02-43, Sultan Plaza, 100 Jalan Sultan, Singapore 199001
And there you have it, the best music recording studios in Singapore. Make sure you tune up your guitars and warm up your vocal cords!