Photography: Aundraj Jude via Instagram/@assthrowknot
Aundraj Jude lets us in on his journey as a visual artist and his augmented reality artworks.
The Covid-19 pandemic has rendered us not only home-bound but screen-bound. There's been a lot of extra effort put into sitting around scrolling on our phones in 2020. Now, more than ever, the appetite to view beautiful, entertaining, endorphins-hitting creations from the handset is insatiable. To not only discover but also to marvel and share visual creations found on social media that are complex and edgy yet question our views on what defines art… this where we are now and this is where the work of local visual artist Aundraj Jude steps in.
Meet Aundraj Jude
Besides creating video content for Singapore's biggest brands, the 29-year-old is emerging as one of Singapore's burgeoning pandemic success stories. That's all thanks to his novel visualisations and unique talent in producing on-point 3D augmented reality videos. Many of them are set against everyday backdrops showcasing the little red dot. Even with his crazy work schedule and bubbling media interest, we managed to connect for an online get-together through a series of piecemeal Zoom and WhatsApp chats.
Aundraj was born and bred in Singapore. He obtained a degree in computer science and cybersecurity at Murdoch University, but quickly realised a high-paying job in cybersecurity was an ill-fitting match for his creative soul. So he worked hard at teaching himself the necessary tech required to secure the role of offline editor at video production house Epitome. That's where he had the opportunity to connect some of Singapore's biggest brands and audiences through stills and video content.
Please maintain social distancing at all times
If you haven't seen Aundraj's Dhoby Ghaut shark visual on Instagram, just know that it went viral on TikTok and received over 1.4 million views and climbing. You can easily see how this kind of visual art is touted as the next step in social media artwork. It created quite the stir! Just look at the sheer amount of comments insistent for confirmation on whether it was in fact real-life or, as the hashtag clearly stated, #c4d. That means he used the software Cinema 4D to create this piece of 3D artwork.
But Aundraj takes it all in his stride and has welcomed the creative job offers he's received for Insta and TikTok. Meanwhile, he graciously navigates his journey toward establishing his own unique form of artistry in this new augmented reality world. The best part? He showcases it against the backdrop of everyday Singapore.
"I didn't want my work to be associated with just one thing. I wanted it to stand out and to make it my own; my work is ever-evolving. The shark thing is great. People like it, I get a lot of shares, but how am I improving on the theme? That is the real basis of what I do. I want people to see different parts of Singapore with what I do, to open up people's imagination as to what could actually be in this area of Singapore," Aundraj explains.
He took the 2020 circuit breaker as a chance to explore new ways to improve his style of 3D art and develop his interest in real life 3D composting, which is the basis of augmented reality.
"While working remotely, I was reading articles and watching countless tutorials and reference videos to get a better understanding of the process that goes into this. I also experimented with my own view on how these art pieces would look like and refined my own style of compositing art," he elaborates. "I naturally have a hunger to completely understand the inner workings of 3D processes, so this has meant countless sleepless nights. But it's this drive that actually keeps me hungry to learn more about augmented reality."
Humans craving interaction as inspiration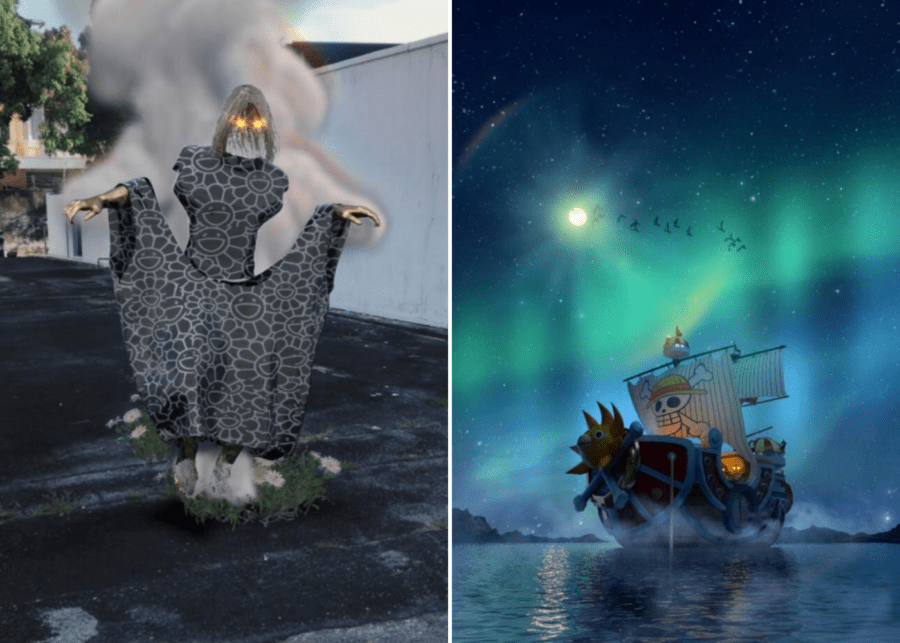 Aundraj talks enthusiastically about the six-week AR Creator Residency program he has recently completed with Snapchat. That allowed him free reign to develop his own lens with the caveat that it had to be 3D and interactive for people, not the usual augmented reality you see on social media.
He was the only person from Asia to be selected and it gave him the rare opportunity to work with some of the best augmented reality artists in the world today. When you experience his hologram koi fish filter swimming around your hand through the phone camera, in a 'Blade Runner 2049' Chinatown scene kinda way, it's plain to see how his inspiration stemmed from humans craving interaction during lockdown.
"The experience I've had through working with Snapchat media is something that I feel I could not have achieved here in Singapore, in terms of the scale and the number of people I've been speaking and working with. Just to have conversations with these people is one of the things I'm very fortunate to have had and hope to give to others in the future," he muses. "The 3D community is insane here in Singapore. It's great, but it's not at Snapchat's level where there are people working with these applications constantly, on a daily basis with 3D augmented reality."
Aundraj talks with so much gratitude about the sharing of knowledge in this new visual arts community. How he's been sent countless codes, scripts and articles that offer invaluable knowledge about the craft. "I have been most blown away by the mentorship aspect of this experience. The sharing of knowledge in this community, not just from people that work for big corporations in America, but from within the community. There's no animosity, no negativity in this community; it's incredibly humbling."
Shedding light for artists and opportunities
Our conversation veers toward growing up through the Singapore schooling system, the trials and tribulations of achievement, the incredibly high standards, and the pressure to get results. He wants to chat about this, not to criticise a linear school system, but to shed light on the fact that there are opportunities for artists, though it may not seem to be the case.
We also talk about the pressures of schooling in Singapore and the mental health issues this can create. He knows it all too well and has enormous empathy for kids going through it now, especially during the pandemic.
"I think one of the hardest things about it (the pressure to succeed), is that people have been taught not to talk about it. And I can only talk from myself, but that's bad. It's bad not to talk about it. Whenever I give interviews, my objective is always to shed light on the fact that there are opportunities for artists out there," he says.
"Here we are in 2020, where creativity should be at its prime… but kids don't want to fail," he explains. "To me, that's the biggest flaw of education today. Growing up, I just didn't want to fail in my schooling and disappoint anybody, not because I was genuinely interested in education. It never registered to me that I should enjoy going to school for the privilege of learning and learning from failure. The weight of not failing, the weight of being the best, it's never the best version of yourself if you think like that."
So what's his advice on this? "From a technical standpoint, I think understanding why kids are good at something and letting them harness that… that's the best of education."
Art trends of the future
Aundraj is a true believer in art taking all forms. "I do feel Covid-19 has pushed visual art to the forefront, mainly because no one could actually go out and experience the physical art world, especially how we are accustomed to it."
"People started living the world through their phones and computers, opening up a new version of the digital age. Augmented reality has become a solace for many who want to experience the world from the comfort of their homes, which also means the ability to see art through augmented reality as well. I believe it's the appreciation of AR art itself that will take time, and also the adaptability of artists to move towards that direction."
He surmises that the future trend will be to view artworks through augmented reality filters in real-time. Still, the beautiful thing about art is that it's fluid, ever-changing and beautifully inclusive. It's delivered in a variety of different forms that can be appreciated by people from all demographics.
"As amazing as the software is at the moment, it truly still is in its infancy. In the future, they'll probably be a lot more stable in terms of real life tracking of surroundings, making use of surroundings to affect the materials you see in AR to make them even more realistic," he says. "To live in an age where we can connect with art, through the very things we keep in our hands constantly – mobile phones – to create this ease of access, this is truly unparalleled."