Photography: Actspressions via Facebook
Get it together – never miss a thing, a deadline or a date with these adorable planners, journals and calendars.
A new year comes with such hope and countless resolutions to be better. And with everything that we've been through this year, a whole new perspective of life calls for new resolutions. If we're going to have any hope of keeping half of them, we've got to arm ourselves with these mighty powerful journals and diary planners. Some are meant to keep you organised, while others are designed to keep you from going loco for cocoa puffs. Everyone who journals or bullets journals will testify – these diaries combined with commitment can work wonders.
Best diary planners and journals
For mindfulness quotes: Actspressions
This weekly planner is a treat to the eyes with soothing hand illustrations and thoughtfully curated quotes finished with '2021' in metallic copper foil stamping on the cover. There are even strategically-placed areas to jot down your daily tasks, notes and doodles.
Actspressions, available online or via Naiise, The Social Space and Spectrum Store
For flower addicts: Typoflora
Do we have a crazy plant lady or flower fanatic here? Well, you're probably fawning over the lovely picture above. Watch your goals bloom to life with Typoflora's blush and tropical-inspired planners. All 175 pages come with illustrations, chic rose gold edging and our personal fave – an illustrated sticker sheet so you'll never forget those important dates. If planners aren't really your thing, beautify your desk with the foliage illustrated weekly pads and their tear-off pages.
Typoflora, available online at Revel, Lazada and Naiise
For whimsical illustrations: Original Ordinary
If you're big on mindfulness, the My Mindful Days diary planners will keep you company. There are poems about mindfulness, habit trackers, weekly spreads and monthly to-do lists adorned with the most gorgeous illustrations. Best news: There are no dates listed on this perennial journal so you can use it any time, any year! Psst… you can also check out its designs at the Gelam Gallery.
Original Ordinary, available online
For the prettiest things: Rifle Paper Co
Forever trying to perfect that Pinterest-worthy life? Get a load of everything Rifle Paper Co. From planners and journals to calendars and pens, this is a stationery lover and illustration junkie's happy place. Just look at those flowers in the brightest and prettiest hues. If they don't put a big smile on your face, we don't know what will!
Rifle Paper Co, available online
For minimalism x chic lovers: The Paper Bunny
We're mildly obsessed with this local stationery and lifestyle brand that gives us incredible designs and custom stationery. The 2021 planner collection has six great designs in compact and regular sizes. Easy strokes, the gold foiled declaration of the year and hand-lettered quotes inside are just plain class. Regular users of The Paper Bunny's diary planners will be glad to see thicker pages (to prevent bleed), a sweet new weekly view with a dotted section for to-do lists, meal plans and water goals and new activity pages.
The Paper Bunny, available online
For personalised planners: Bynd Artisan
If you love a sleek planner of your own, Bynd Artisan's range comes in 10 colours from bold shades to soft hues for every personality. Each also comes in a natural grain leatherette cover. Make it exclusively yours with an initial or word of your choice in a range of fonts and foil-stamping colours. Sweet!
Bynd Artisan, available online
For happy feels: Typo
Trust Typo to have a never-ending supply of cute things decked in glitter, unicorn prints, pop culture references, adorable cats and doggos, as well as tongue-in-cheek quotes. We bet the adorable and ultimate planners will have you drooling. They've got it all – weekly layout, a pretty hardcover, a bucket list, 'challenge yourself' questions, notes sections and more.
Typo, available online and in stores
For bold statement pieces: Collins Debden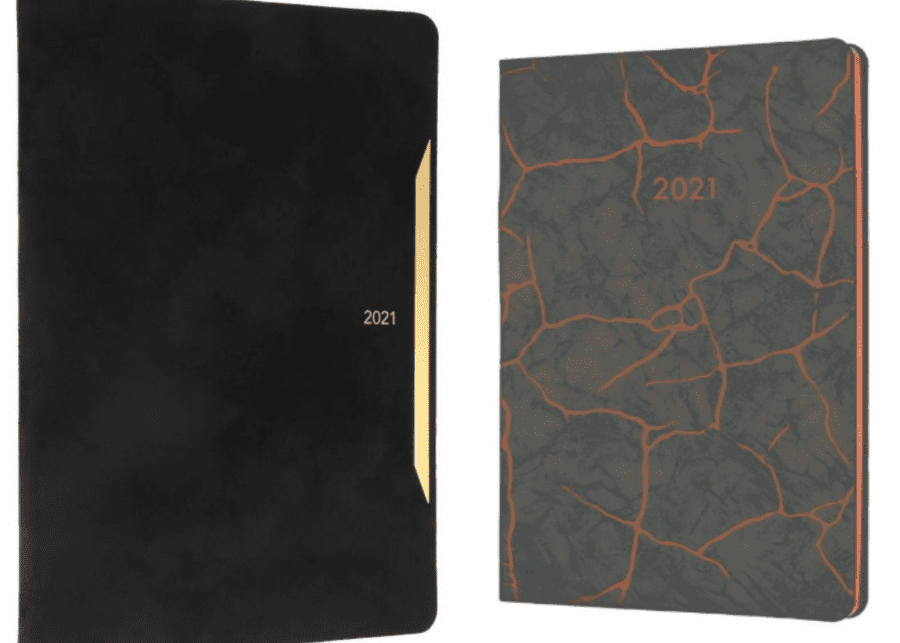 We've got artsy-fartsy and ridiculously adorable choices in the mix but if you're looking for something edgy, chic and sophisticated, Collins Debden has something for you. We're eyeing the Diva series, which comes in a suede velvet cover; or the Enigma collection adorned with cover foil accents and gilt edging. A great gift for guys too!
Collins Debden, available at Times, Kinokuniya, NBC, Popular and online
For dreaming big: Kikki.k
It's mighty hard to pick just one from this popular Aussie brand. If you're looking for a gift for bibliophiles, you'll find Your Dream Life Starts Here by Kristina Karlsson up high on our recco. It's a hybrid self-help book slash journal and workbook that's meant to encourage you to dream without limitations, and it's our bedside table must-have. As for 2021 planners, stay tuned for mood-lifting designs!
Kikki.k's Dream Life, available online and in stores
For sanity's sake: The Positive Planner and Bullet Diary
Get rid of all things toxic in 2021 and surround yourself with positive vibrations. Designed by UK-based mums Ali and Finn, The Positive Planner and The Positive Bullet Diary will be your light at the end of a long day. The planner has it all – from a mood tracker to a meal prep section – to organise your day like a pro. As for the bullet diary, it's an inspiring place to aid efficiency, creativity and happiness. Most importantly, both these books can help improve your mental health.
The Positive Planner and Bullet Diary, available online
Which diary planner in Singapore are you gonna arm yourself with to tackle 2021?