The new norm in style
Face masks have become a part of daily attire and we think you should know the best places to shop for face masks in Hong Kong.
We don't need to mention how much the pandemic has changed our lives. From staying in quarantine, to losing loved ones from afar, to heightened racism in recent times, life as we know it will never be the same. Face masks have in no doubt become part of the new normal – how often did you rush back inside the house because you forgot your mask (like you're Batman or something)? We have compiled the ultimate list of places to shop for face masks in Hong Kong, ranging from standard to stylish.
The responsible and reusable masks
1. Enro
Marrying safety and day-long comfort, Enro masks have the highest-grade PM0.1 filtration which is equivalent to Level 2 surgical masks. The high quality filtration is well-maintained even after 100 washes! They come in six sizes – ranging from kids to adults – for the best fit possible so you won't need to tie knots to make the masks fit your face.
These eco-friendly masks come in bold and vivid designs with over 70 colours and prints to match any outfit, mood, and style. Be it the solid colours, floral patterns, or camo, Enro perfectly balances chic style with comfort, all the while maintaining the safety standard.
Shop Enro online, enjoy free shipping to Hong Kong for orders of 3 masks or more.
2. Determinant
Though they predominantly sell men's clothes, we think Determinant's DET30™ face masks deserve some loving attention. They sell subtle and classy colours – we're saying burgundy, navy blue, and black, with adjustable straps (very thoughtful and useful). Selling two masks for $65, each mask can be washed and reused for up to 30 times. We've tried and tested these, they're breathable and fit like a glove.
3. Bamboa Home
We need to talk about two things – the material and the colours of these face masks. Produced using 100% organic bamboo fibres in three layers, the masks are breathable, cooling, durable, and biodegradable. The colours come in pastel pink, mint, sky blue, white, and darker tones. Adult masks cost $130 while kids ones cost $110.
Bamboa Home, S304, Tower A, 35 Aberdeen Street (PMQ), Central, Hong Kong, p. 2291 0285
4. Margareth Handmade
These fabric masks are made with love and it's evident in the quality. The designs are unique and definitely add a pop of colour to your everyday look. Adult masks cost $50 and the kids ones cost $45, there are four different measurements for you to choose from. They come alongside a mask pouch and they can be washed and reused as long as the fabric is not damaged. We've tried and tested Margareth Handmade and we absolutely love their masks.
Shop Margareth Handmade on Instagram
5. Saupei
Imitation denim, cactus prints, and flamingo prints? Count us in. The cotton face masks were soaked and washed in high-temperature for added softness. It comes with a middle pocket for adding a filter. A reusable mask costs $98, and a filter can be purchased separately for $100.
The safe and standard surgical masks
1. Banitore
Specialising in 3D medical masks that come in three different sizes (small, medium, and large), Banitore manufactures disposable masks that are comfortable and come with a good fit (you won't have to tie loops/knots around your ears). These locally produced masks cost about $80 for 20 masks, each individually packed inside. We've tried and tested this brand, the masks are soft and you definitely don't have to worry about your mask straps snapping.
Shop their masks online or find them in retailers and local pharmacies.
2. Maskology
If you don't want to go for the usual blue or white surgical masks, Maskology produces cute and quirky ones with animals (they had us with their corgi ones), or plain ones in varying colours. They are collaborating with A Plastic Ocean Foundation to introduce disposable masks that are biodegradable, the new products are yet to be released so stay tuned.
3. Medicom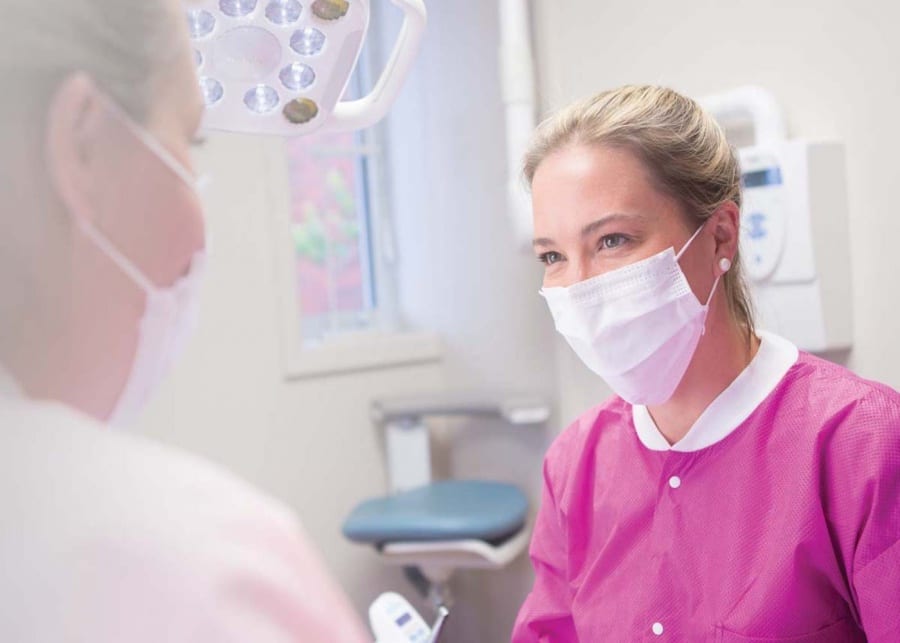 Aside from producing masks, Medicom sells a variety of medical supplies such as gloves, robes, disinfectants, and wound care. Being one of the leading surgical mask producers, there was a time when their masks would run out in a jiffy at pharmacies in Hong Kong. They have different series of face masks including Premier, Master, and SoftMask.
Shop their masks online or find them in retailers and local pharmacies.
4. ProCare
Why have a box full of masks of the same colour when you can have six colours? With sizes available from kids to adults, they sell a box of 30 colourful masks for $79. They've also done a crossover with HALO My SOUL and SPCA calling it "Love, Peace and Unity" that features cute illustrations of a poodle.
5. HKTV Mall
Are you a HongKonger if you haven't ordered something from HKTV Mall, yet? On a serious note, they sell 3-ply surgical masks costing $65 for a box containing 30. They've also collaborated with Sanrio to bring the public cute masks featuring local faves Gudetama, My Melody, and Ahirunopekkle.
The flamboyant and fashionable masks
1. KAZE
You gotta be in the know about craze over Kaze – the ergonomic shape ensures extra comfort and the vibrant colours ensure extra attention your way. The face masks have adjustable straps (really, this is much needed!), each box contains 10 pieces, two of each colour and they sell for $200 per box. You'll often see some of HK's biggest influencers sporting these puppies.
2. Masklab HK
Of course, we had to include Masklab on this list to stay on top of your mask game. Their out-of-the-ordinary designs and styles cannot go unnoticed. You can opt for their surgical mask series or KF series (Korean style), either way you're in for some floral and camouflage patterns. Each pack consists of 10 face masks and they cost $78.
3. Miss Modern HK
There's something subtle about satin, but it instantly adds sass to any outfit. The 3D shape in fact means less make-up smudging (who knew?). Miss Modern's masks can be washed and reused for up to 3 months and there's a slot for an extra filter. The outer layer is made of silk satin, the middle layer is a synthetic fibre, and the inner layer is made of Spanish silk.
4. Delirio
If you're looking to go all out, then Delirio's the one. These face masks are made using 100% cotton with yellow AB crystal mesh mask and are equipped with aluminium nose wire, filter pockets, and adjustable elastic bands. Wear this mask under light and you are your own disco ball! Perhaps, this will be your go-to mask for night-outs? You can go for plain colours (some are flashy), or go for the Rainbow Candy to go into a whole other zone.
5. 5678lifestyle
Yes, we're showing a ton of love to locally made face masks. 5678lifestyle has something for the lads and the ladies. We love their custom-made bridal collection (Every mask comes with one PFE 95% BFE 98% replaceable filter), they are the epitome of classy face masks that will undoubtedly match with bridal gowns. Other face masks are simplistic but still make a bold statement.
Shop 5678lifestyle masks on Instagram
Final note: If you're going for a reusable face mask, be sure to rinse thoroughly with warm tap water and wash using laundry detergent. Alternatively, you can soak your mask in bleach solution (make sure you dilute it before use) for about five minutes and then rinse using cold water.