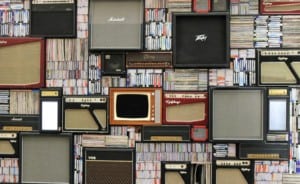 We spend ridiculous amounts of time watching TV shows and movies. Here are the best ones to catch in August
When we're not spending time at the best beaches in Hong Kong and checking out the latest exhibitions at our fave art galleries in town, chances are you will find team Honeycombers catching up on the best TV shows, latest films or classic Hong Kong movies. So here we present: what we're watching in August. Let the show begin.
What we're watching this August
Carly Wu – Writer
Together (2000)
Together is a Swedish comedy-drama film released in 2000 that illustrates the dysfunctional (yet relatable) lives of people who live in a commune/shared house. Some of them are having an open relationship, some of them are just recently divorced, and some of them just come to acknowledge their new-found sexuality – it sounds complicated and it will get complicated. It's a nice movie that addresses the delicate relationships between couples, friends and families.
Jak Lam – Writer
The Disaster Artist (2017)
The Disaster Artist is James Franco's biographical comedy-drama of Hollywood's strangest man, Tommy Wiseau. His film The Room was one of the first "so bad, it's good" movies and became a cult classic because of its terrible script, acting and general production. Joined by his usual cast of buddies, Dave Franco, Jonah Hill, Seth Rogen and more, they tell the story of the production of The Room and the ridiculous interactions that took place for this unintentional masterpiece to be created.
Anson Yip – Photographer/Videographer
Mindhunter
In the late 1970s, two FBI agents, Holden Ford and Bill Tench, dive into the minds of notorious serial killers to understand how the think, then apply this criminal science knowledge to ongoing cases. One big name you will spot on the crew list is David Fincher, the executive producer of the TV series and the main reason I love this crime drama. The cinematic style of Mindhunter is not common on TV: a dark, minimal light which can steal your breath away, in a similar way to Zodiac.
Kristy Or – Partnerships Manager
Audrie & Daisy (2016)
With the rise of the digital age, social media has become an intricate and almost unavoidable part of our day-to-day lives. Audrie & Daisy is a documentary produced by Netflix, that highlights the issues of social media bullying, the mass shame that can be brought onto individuals especially young girls, and the life-threatening consequences of having an online presence. Arguably one of the most heartbreaking documentaries out there, prepare to be informed, to feel angry at the social and legal injustices, and empathise with the many women who do not speak out on their sexual assault.
Sophie Cullen – Editor
Secret City
Like dark, gritty Australian dramas? Well, you're gonna LOVE Secret City. Political thriller meets spy drama in this tightly shot six-episode delight that melds wonderful writing and acting with fantastic production. Mock how some of the actors speak Mandarin all you want, it's one of the best shows to hit Netflix in ages, and it was made in 2016! #imlivinginthepast. Also, Mekhi Phifer makes a cameo, and if he's good enough for Eminem…
Picking up what we're putting down for what we're watching this month but still want more? Take a look at our picks for most binge-worthy trashy TV shows, laugh a lot at these stand-up comedy specials, or treat yourself to a date with the big screen at one of our favourite cinemas in Hong Kong.