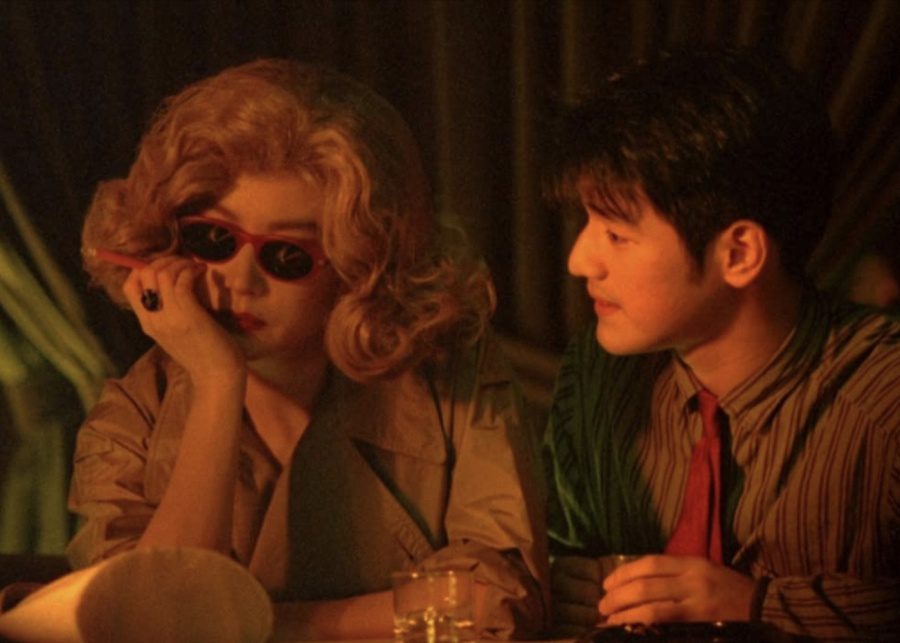 Chungking Express is a Hong Kong classic (Image: Jet Tone Contents Inc. & Block 2 Distribution)
Planning a night in with friends? Check out these must-watch Hong Kong movies that will thrill you, excite you, scare you, and have you in stitches.
After hitting up the best new brunches in Hong Kong and happy hours in the city, sometimes you just need a night in. And instead of the usual drama series, such as favourites like Sharp Objects and Miss Sherlock, we've listed the best (in our opinion) Hong Kong movies and must-see Cantonese movies to snuggle up on the couch with. So, just put on these HK movies for your next night in, and you won't be disappointed.
Must-watch Hong Kong movies
1. Chungking Express (1994)
One of the best known Cantonese movies written and directed by Wong Kar-wai is Chungking Express (重慶森林). Follow two quirky relationships – a cop and a mysterious drug smuggler, a cop and a snack bar worker – as the intriguing storyline calls for affection and sympathy for the characters. Chungking refers to Chungking Mansions located in Tsim Sha Tsui, where Wong grew up in the 60s; and Express means Midnight Express, a food stand located in LKF, Central. It's definitely one of our favourite Hong Kong movies – voted by the entire Honeycombers team.
If you're a fan of Wong Kar-wai's movies, make sure to check out In the Mood for Love (花樣年華) (2000) and 2046 (2004) as well.
2. Made in Hong Kong (1997)
Made in Hong Kong (香港製造), written and directed by Fruit Chan, won best picture at the Hong Kong Film Awards in 1998. The story centres around fresh high school dropout and Triad debt collector, Autumn Moon, and his relationship with a daughter of a Triad debtor, Ping, who is suffering from a kidney disease. Moon takes on an assassination contract in order to pay for her medical expenses and finds himself down a dark path at a point of no return. A classic Hong Kong movie that you NEED to see.
3. The Mission (1999)
Revolving around the brotherhood of five bodyguards who are brought together to protect a triad leader after a failed assassination attempt on his life, The Mission (鎗火) is a must-see action-thriller drama. The loyalty between the hired guards is tested when the triad leader discovers one of the men having an affair with his wife. Find out what happens next.
4. Kung Fu Hustle (2004)
Kung Fu Hustle (功夫) is an action-comedy kung fu film. Follow the story of Sing (played by globally renowned Hong Kong director and actor, Stephen Chow) and his friend, Bone, who try and scam the residents of a slum into thinking they are members of a mobster gang. See retired legendary kung fu masters battle it out in fantasy-like fights. Kung Fu Hustle is both heartfelt and hilarious, making it one of our favourite Hong Kong movies of all time.
For the comedy lovers amongst you, don't miss out on the other classics by Stephen Chow, including The God of Cookery (食神) (1996) and Kung Fu Soccer (少林足球) (2001).
5. Mad Detective (2007)
Mad Detective (神探) is a psychological thriller that stars renowned Hong Kong actor Lau Ching-wan as an unstable but brilliant police detective, who has the ability to see inside people's minds. He is asked to return to active duty and look into a disappearance case of a police officer. The film won Best Screenplay at the 27th Hong Kong Film Awards, the 2nd Asian Film Awards, Hong Kong Film Critics Society Awards, and the 8th Chinese Film Media Awards. This is a quintessential HK movie that you won't want to miss.
6. SPL II: A Time for Consequences (2015)
The second piece in the SPL (殺破狼) series tells the story of an undercover police officer. The film begins with his identity being blown, and he finds himself thrown into a Thai prison where the warden harvests organs from the prisoners. This dramatic film features corrupt officers, prison riots, and a black market organ trade – fans of crime thrillers, what more can you ask for?
7. Infernal Affairs (2002)
One of the most influential films of modern Hong Kong cinema, Infernal Affairs is a star vehicle for leads Andy Lau and Tony Leung. The film follows the exploits of a Hong Kong police officer undercover in the Triad while chasing after a Triad spy who has infiltrated the police force. The performances of Lau and Leung as the duelling men are a marvel to witness while the storyline is tight and fast-paced. You can't say you've seen all the greats of Hong Kong cinema without seeing this gem!
Infernal Affairs also got the remake treatment by famed director Martin Scorsese. The Departed went on to win Best Picture, Best Director, and Best Adapted Screenplay at the Academy Awards. Give it a watch and see if you can spot all the differences and similarities.
8. Ip Man (2008)
Biographical martial arts film Ip Man follows the life of Ip Man, a grandmaster of Wing Chun martial arts and eventual teacher of Bruce Lee. Hong Kong legend Donnie Yen stars as the titular character who struggles with the effects of the Sino-Japanese War while living in Foshan. Ip Man's prowess in martial arts and his gentle soul are at odds throughout the film while he clashes with the Japanese soldiers who push around the villagers. Yen quietly dazzles throughout the film and carries the Ip Man franchise to three more successful films.
9. Project Gutenberg (2018)
Project Gutenberg follows counterfeiter Lee Man's recounting of his relationship with a master forger, known only as the Painter. The film employs flashbacks to illustrate the story Lee is telling the police for his freedom. The tale of violence and crime is full of twists and turns as both the audience and the characters in the film try to find out exactly who the Painter is. The film was a critical and commercial success, and definitely worth the watch for a quintessential Hong Kong action film.
10. Suk Suk (2019)
Also known as Twilight's Kiss, Suk Suk tells the tender tale of two older men who discover a passion together they had long repressed. The film chronicles the struggle the men face when contemplating starting a life together due to all the outer challenges they encounter. A compassionate look at late-in-life homosexuality and romance in your twilight years, Suk Suk navigates complicated issues with ease. For a slower, nuanced, and romantic Hong Kong film, Suk Suk is one to watch!