Go for a dip with Vitamin A (Photography: Vitamin A Swim via Facebook)
C'mon, there's little reason not to care for the environment when we're reaping all its benefits – like surfing the stunning seas this summer. Make a change by shopping sustainable swimwear in Hong Kong.
Can't wait to rip off your mask and feel the fresh, ocean breeze? We hear ya! Summer has truly kicked off in Hong Kong, which means it's time for us to hit the beach and escape the urban heat. For those who'd like to grab a new bikini or swim trunks while sparing a thought for the environment, you've come to the right place. Whether you're an avid beach-goer, or a homebody looking for a chance to make a splash, our list of eco-conscious options will have you treading lightly and stylishly. Without further ado, here's where to shop sustainable swimwear in Hong Kong.
Shop sustainable swimwear in Hong Kong
1. Vitamin A
Vitamin A said it first: sustainable is sexy. And we're so backing it. Chic and eco-conscious, Vitamin A will make you feel and look your best with its sustainable swimwear. This is because the brand uses EcoLux, a recycled synthetic fibre designed in-house, to make its pieces. It also incorporates organic cotton, linen, and Tencel. Moreover, its products are manufactured either locally in California, or by fair trade artisans around the world. From loungewear to bikinis and bodysuits, you'll be able to find something you fancy at Vitamin A.
Shop Vitamin A online.
2. Vipop
Co-founded by Lenia Perez and Fabiana Gonzalez, Vipop was founded around the idea of uplifting Latin American artisans that use handmade, sustainable practices. With eco-consciousness in mind, Vipop presents SOL 23: a sustainable swimwear collection. The swimsuits are made with techno-fabric that's 100% recycled polyester from pre and post consumer materials while the beachwear is made from recycled PET. Additionally, Vipop uses natural fabrics like cotton and linen and practices ecological digital printing. A Hong Kong-based fashion brand that supports the environment? We're in!
Shop Vipop online.
3. Māzŭ Resortwear
Boys, look over here! We haven't forgotten about you. Māzŭ is a one-of-a-kind label based in Hong Kong, specialising in swim and resortwear for men. Paying tribute to our city's rich maritime heritage, Māzŭ fuses traditional colours and local motifs to create chic and comfortable swim shorts. Its signature Lei Yue Mun at Sunset swim shorts are made out of 12 recycled plastic bottles. The design is taken from a photograph shot in 1974, which shows a glowing sunset at Lei Yue Mun, with a traditional Chinese junk boat cruising through its waters. Both the imagery and materials demonstrate the brand's commitment to saving the oceans.
Shop Māzŭ Resortwear online.
4. Align Swim
The ethos of Singapore-based Align Swim is to, well, align its swimwear perfectly to each of our bodies, no matter our shapes and sizes, or the occasion. Aside from its versatility, Align Swim's garments and packaging are all sustainably produced and ethically distributed. Pieces are made from Econyl and Repreve, the latter of which is a fibre made from recycled plastic bottles. Both of these materials are durable and buttery soft to maximise comfort and longevity. On the manufacturing side, Align Swim's swimwear are handcrafted by local artisans in Bali under ethical practices. Above all, you can feel good about shopping the sustainable swimwear from this label as it makes monthly donations to women and children in need.
Shop Align Swim online.
5. August Society
Founded by Hong Kong-born Canadian Toni Chan, August Society is a label based in Singapore. It's been well loved for its eco-conscious and body-positive values. Crafted from materials like Econyl, rPET, and Xtralife Lycra, August Society's swimwear doubles as durable and functional activewear. In addition to the brand's popular Valencia V-Neck One-Piece, don't forget to shop up beach accessories and some cute swim shorts for your kids, too.
Shop August Society online.
6. Ozero Swimwear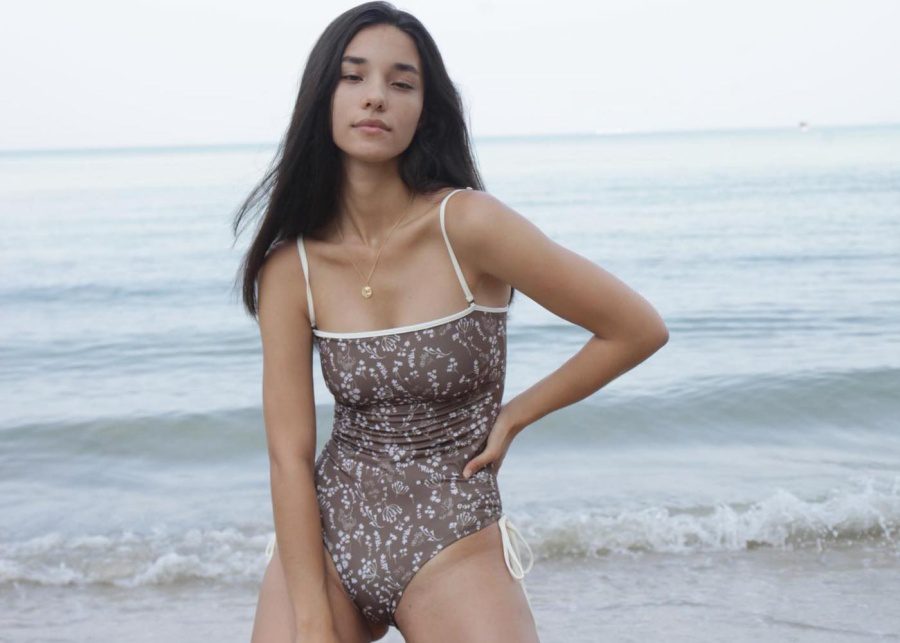 Founded and designed by Elena Cheurina from Russia, Ozero is a Malaysian brand that targets those who live in the tropics and enjoy modern adventures. Its simplistic designs often spotlight the outfits' vibrant colours, comfort, and functionality. Also, its products are made from Econyl, and are manufactured ethically in Indonesia. We're loving its Papaya and Scarlet Red shades, which are oh-so-summery.
Shop Ozero Swimwear online.
7. Rimmba
Rimmba is an Indonesian brand that takes pride in its durable and artisanal garments. From sourcing and dyeing the fabrics, to manufacturing and packaging, Rimmba always does its best in minimising its environmental footprint. Processes include using sustainable materials like Carvico Vita (composed of Econyl and Elastane), treating its pieces with 100 percent plant-based dyes, amongst others. By the way, Rimmba's silk chiffon series always catches our eye – the pieces are so dreamy, and they look perfect to go to the beach with.
Shop Rimmba online.
8. Baiia
Shopping for sustainable swimwear? We've got more up our sleeves. A champion in women's fashion, Australia-based Baiia is a sustainable brand that strives to empower and connect with all women. Using recycled nylon and water-based dyes, Baiia is committed to making long-lasting and high-quality garments. In terms of its best-selling products, Baiia's reversible wrapsuits are always rated highly, and it's not hard to see why. Bold, flattering, inclusive, and versatile – what more would you want?
Shop Baiia online.
9. Peony Swimwear
Named after the flower that marks the start of summer, Peony Swimwear is as charming as it sounds. Despite being a family-run business, Peony is one of the pioneers in the American eco-swimwear industry. Its printed fabrics are made from Econyl, while its custom textured fabrics and inner linings make use of Repreve. Simply put, Peony's designs and materials are all unique and timeless, and we just can't get enough of it (especially its Pomegranate series!).
Shop Peony Swimwear online.
10. Batoko
Batoko's swimsuits may be made from trash, but the end result is far from it. This independent English brand has been making headlines with its fun and inclusive swimwear. Aside from using fabrics made from recycled plastic waste, and ensuring its products are never over-produced, Batoko pays solid effort in marine conservation. The brand has an awesome track record in donating its profits to action-based organisations. These include the National Lobster Hatchery (cue the lobster-print swimsuits!), the Coral Gardeners, The Ocean Project, and more. So, when you shop from Batoko, you'll know you're making a difference.
Shop Batoko online.
11. Stay Wild
Founded by Natalie Glaze and Zanna van Dijk, both of whom are lovers of scuba diving and snorkelling, Stay Wild is understandably rooted to marine conservation. This sustainable and ethical swimwear brand is based in London with local manufacturers. Stay Wild offers stylish and eco-conscious swimwear made from Econyl and rPET, among which we especially adore the Nerida design. Clean lines, striking colours, and a flattering fit – what's not to love?
Shop Stay Wild online.
12. Wolven
A brand with a deep-rooted appreciation for the Earth, Wolven's swimwear is made of rPET materials. Fun-patterned and comfy, a few of these swimsuits are even reversible, giving you twice the bang for your buck. What's even better: if you email Wolven a photo of you recycling your old order mailer, you get 15% off your next purchase. Taking care of the environment while being able to save up? Sign us up!
Shop Wolven online.
13. Fantabody
Founded by Carolina Amoretti, a fashion photographer based in Milan, Fantabody touts important concepts of body positivity, diversity, and self-confidence, as well as environmental and human rights. In addition to products being made from Econyl, Fantabody promotes local artisanship by employing those in small tailoring family labs near Milan. Grab a swimsuit and join the community of Fantagirls!
Shop Fantabody online.
14. Ohoy Swim
Founded in 2016 by Anna Nielsen and Henna Kaarlela from Scandinavia, Ohoy is a Dubai-based swimwear brand characterised by Scandinavian aesthetics and values. One of the major goals of the label is to look after the environment, thus all of the products at Ohoy are made sustainably and ethically. If you've read through this article (thank you), you could probably guess which material is used by now… That's right, it's Econyl. Just how amazing is this fabric, honestly? Furthermore, one percent of Ohoy sales goes to Healthy Seas, a non-profit organisation that helps remove abandoned fishing nets from the ocean.
Shop Ohoy Swim online.
[This article was originally published in May 2021 and updated in 2023 by Min Ji Park.]