Joris Boutin, Paul Sedille and Elaine Ip from The Week Hong Kong
The power team Paul Sedille, Elaine Ip and Joris Boutin spill the beans about the highs and lows of putting together The Week Hong Kong on a shoestring budget
While more international bands have come to Hong Kong in the past few years, such as shoegazers Beach Fossils, noise rock band A Place to Bury Strangers and indie sweetheart Fazerdaze, the local music scene is also thriving. From 15 April to 21 April, local music festival The Week Hong Kong will bring together twenty-five brilliant local acts on seven different stages for fans of local hip hop, indie pop, rock, metal, shoegaze and post-rock. We interviewed the creative minds behind it – Paul Sedille, Elaine Ip and Joris Boutin – and see why they're so determined and passionate into making it one of best yearly music festivals in Hong Kong.
We chat with the organisers of The Week Hong Kong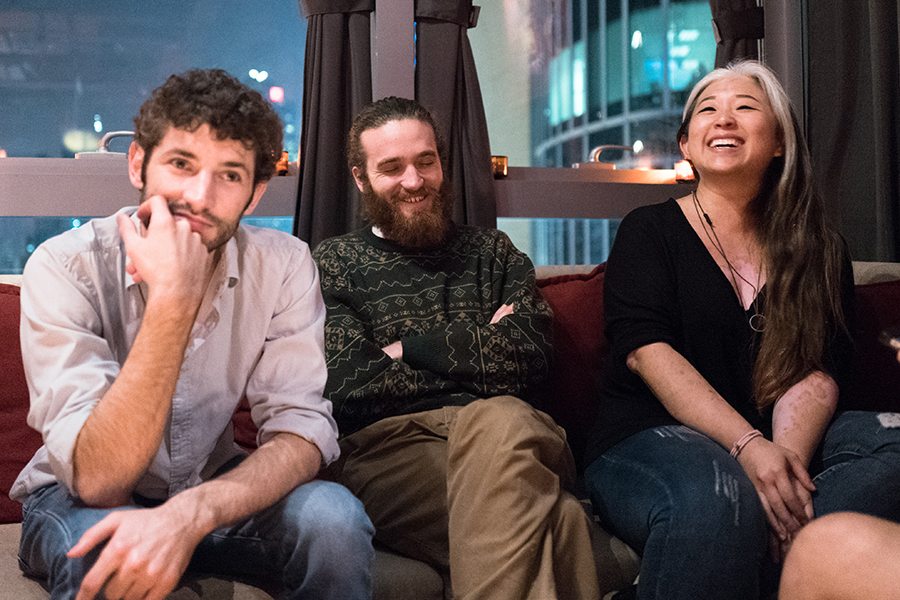 Hi, Paul, Elaine and Joris. Thanks for sitting down with us. How did you guys first come up with the idea of The Week Hong Kong?
Paul: A friend of ours got us together originally, Joris wasn't here last year, and he said let's do one week full of music. There is a healthy music scene in Hong Kong but not as many events as we would like there to be. I was just living in Beijing before and there was a really vibrant scene. But in Hong Kong I was having a hard time to find where the good shows are, so it seemed like the perfect thing to do. People around us are voluntary-based. We really did it because we like the music scene, I wouldn't have done this if it was about another industry.
Joris: We know how things are running in other places, such as Beijing. There is actually the same vibrant energy in the music scene in Hong Kong, it just might not be as well structured. Now that we are able to do things by ourselves, we want to invest some energy in it, participate in it and try to build that structure.
Are you guys involved in the music field? What do you guys do?
P: I am a videographer. I work for a news channel making videos. Sometimes I also work for New Ears Music, so I did have somewhat of a link with music but it's not the only thing I do. I do lots of different subjects.
Elaine: I am a freelance event planner. I like putting on different events with different teams, just to help my soul survive. And then I do a lot of corporate events for money in order to survive (laughs).
J: I work in a research centre.
P: This is what we call a core team out of convenience. There are other people helping us as well, we have folks working in digital marketing, in communicating and designing. We get help from a lot of people, because it's all voluntary, we kind of have to ask favours from lots of friends.
What are the advantages of having seven nights of different genres in one week?
P: It becomes an easy stop for people. If you have everything in one week and it's all marketed as one event, people can really have an idea of what's going on in Hong Kong, so artists get promoted, venues get promoted and the general scene is more healthy.
J: The difficulty to find the scene is because all the live houses are spread out in the city, so it's not easy to access them all at the same time.
E: I think it's also because existing events would only be marketed to existing crowds. When everything is together, there is a bigger chance for the crowd to discover something new. Like oh there's a bunch of metal bands that I never knew about!
Find out where all the music festivals in Asia are happening this year
What are the difficulties in holding a week-long music festival in Hong Kong?
E: Finding a venue that is within budget, that is big enough, that will let us play music and won't not get any complains. We do try to engage new types of venues, like restaurants and bars that maybe haven't thought about doing an event there. Hopefully if they see there is a crowd for it, they will cater to it more. There will be more chances for other bands to put on shows.
J: The general infrastructure in Hong Kong is kind of tough for small players, it's very difficult to access venues because of the price of real estate. It's easier for big producers because you have the financial means to access venues and get it done. There is also a lack of cultural policy that supports small players in Hong Kong.
P: One of the ways to grow is to get sponsors, but as a really small event that is new in the scene, we really have to prove ourselves. You can't just do one event or two events, you have to do a few and get people comfortable with you.
What do you guys personally like listening to?
J: I've been listening to My Little Airport a lot. Even though I don't understand the Cantonese lyrics, you can totally get the vibe. And sometimes they also have words in French or English which is great. 
E: Hip hop! Out of our group, I am going to be the most basic, mainstream, least qualified person to actually talk about the Hong Kong bands (laughs). That's why I do all the boring adminy organising stuff, and these guys get to choose the bands. I love Beyonce, that girl has a voice.
P: I listen to a lot of local hip hop. I find it really fun but I also have a hard time because a lot of Cantonese hip hop are lyrics-based. But something like The Low Mays, it's easy to understand where they are coming from even if you don't understand the lyrics. It's funny to experience it. Also, there are quite a lot of English-based local rappers that I enjoy, like 7on7, Txmiyama and Squarehead, who all have played or will play at The Week Hong Kong.
Which band(s) do you guys most look forward to seeing at The Week Hong Kong?
J: I was really impressed by GDJYB. I saw them at Indie Roaring and I was just amazed.
P: I'm looking forward to seeing Life was All Silence. There is a big prog-rock/post-rock scene here so I was fascinated because it is something that isn't popular in France.
E: After After Party! They are so much fun.
How did you guys pick the artists/bands for The Week Hong Kong?
P: It's a community effort. We don't have a programming team, so we pulled from a lot of people around us that we know and trust and we got a lot of great recommendations. Obviously we include a lot of locals as well, since Joris and I are two "gweilos", we need the help of locals to be able to get the whole feel. It gives it a more encompassing and more comprehensive mind and it represents a bit more variety than if it was just us two saying who we like.
J: Also, when you look at the lineup, we have twenty-five different bands and there are only five bands where you find women. Four of them are in the Girls' Night, and two others are Thud and The Majestic G. We came up with this idea of putting girls on stage for prime time show on a Friday night, and just to make it a Girls' Night. Music is very often male fronted, it's so much better when it is open to variety and diversity.
P: Hopefully it can inspire more girls in Hong Kong to do bands!
What do you want to bring to the music crowd in Hong Kong?
P: To bring local music to a large audience. To make Hong Kong music a popular thing that people can be proud of, not just because they know a guy working at Hidden Agenda or is in a band, but because it's fun to go to local shows. That's kinda missing in Hong Kong, so that's one little niche where The Week Hong Kong has a role to play.
E: Festivals like Clockenflap obviously rely a lot on larger names and it's a great opportunity for local bands to be able to play on a bigger stage at Clockenflap. But in terms of just focusing on Hong Kong musicians, The Week makes sure everyone knows that these guys are all from Hong Kong. I'm also hoping when some of the artists get together, some cool collaborations that wouldn't have happened before might happen.
J: Also we want to bring crowds together, people who usually go to Kowloon side or those who come to Hong Kong side can go the same venue and enjoy the same band at the same time.
The Week Hong Kong, various locations in Hong Kong
Want to discover more new music? Take a look at Chilean psychedelia with Föllakzoid, listen to Chrissybaby Forever by singer-songwriter Christopher Owens or experience the tunes by electronic duo Mount Kimbie.